UWP Companion review: Making third-party apps feel more native on Windows 10
UWP Companion helps third-party apps feel more native by opening links in their dedicated apps.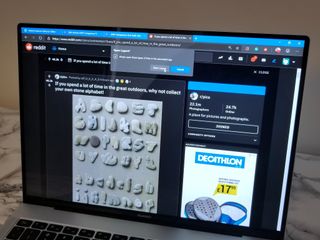 Windows 10 allows you to set default programs but ensuring links open in specific applications can be tricky. If the maker of a website wants to, they can enable a link to open in an app. For example, if you click a link to an app in the Microsoft Store, it can open directly to the linked content within the store app. But if website developers don't enable this feature, opening links will pop open a tab in your default browser. Enter UWP Companion, a browser extension that automatically opens links in dedicated apps.
UWP Companion is in beta, so you can expect some bugs. I didn't run into any issues in my testing, but that might vary from system to system. UWP Companion is available for Google Chrome right now. A Firefox version is coming in the future.
Opening dedicated apps
UWP Companion
Free (opens in new tab)
Bottom line: UWP Companion just works. It allows you to open dedicated apps when you click on links from anywhere on your PC. It's an excellent companion to anyone who uses the supported third-party applications.
Pros:
Free
Easy to set up
Has option to close browser tab
Cons:
Only works with a small collection of apps right now
What you'll love about UWP Companion
UWP Companion allows you to open links from anywhere on your PC in dedicated third-party apps. It currently supports myTube (YouTube), Spotimo and Xpotify (Spotify), Mixplay (Mixer), Legere and Redplanet (reddit), and Quarrell (Discord). If you open a link to one of these sites, you can have them open the link inside the third-party application. Clicking a link does open a new tab on your default browser, but there's an option to have that tab automatically close once the third-party app is launched.
This is a clever way to get around the fact that many sites don't support Windows 10's Apps for websites feature. That feature allows website makers to have links open directly in their app. Twitter, Pinterest, and some other websites currently support this. UWP Companion is also a way to get around the fact that many websites and apps are made by third-party developers. For example, Microsoft doesn't even have a Mixer app on Windows 10, so even if they wanted to support Apps for websites, they wouldn't have an app to open. Mixplay is an exceptional Mixer client and can now open when you click a link to Mixer thanks to UWP Companion.
What you'll dislike about UWP Companion
The downside to UWP Companion is that it only works with a small library of apps right now. Developers can opt to have their apps added to this list, but it's relatively small at the moment. You can elect to have links open in third-party apps for YouTube, Spotify, Mixer, reddit, and Discord, but that's it. These are good third-party apps, and in many cases are the best third-party app for their respective service, but the lack of options is disappointing.
It seems like an uphill battle to open links in dedicated apps on Windows 10. You either have to use a service that natively supports the feature or a service that has a third-party app that works with UWP Companion. I hope that in the future more developers jump on board.
Should you try UWP Companion?
If you use any of the apps that work with UWP Companion, you should absolutely use it. It makes it easy to jump into myTube when you follow a link from Twitter or jump into a Spotify playlist on Spotimo when you open a link from a friend. Even though the app is in beta, I didn't run into any issues and think many users would be happy with it right now.
Hopefully, over time, more sites will support Apps for websites by default, and more apps will support UWP Companion. It's an impressive addition to Chrome or the developer versions of Microsoft Edge.
Opening dedicated apps
An excellent companion to anyone that uses the supported third-party apps

Free at Chrome Web Store (opens in new tab)UWP Companion just works. It allows you to open dedicated apps when you click on links from anywhere on your PC. It's an excellent companion to anyone who uses the supported third-party applications.
News Writer and apps editor
Sean Endicott brings nearly a decade of experience covering Microsoft and Windows news to Windows Central. He joined our team in 2017 as an app reviewer and now heads up our day-to-day news coverage. If you have a news tip or an app to review, hit him up at sean.endicott@futurenet.com (opens in new tab).
Very cool idea for an extension. Hope more apps support it over time.

Does it work with the new edge beta?

If it works on Chrome I don't see a reason why It wouldn't work on Edge, the extension looks fairly simple so I doubt it uses Chrome-only APIs from the looks of it. Haven't tried it but will do once I get back home, I use myTube quite a bit so this is gonna be a helpful extension for me.

Yes, I've used it with the dev version of Edge. It works great.

Nice idea but too limited at the moment, maybe more support will be added

The biggest issue is that this is solving a problem that shouldn't exist. Android lets you set a default app regardless of what the website owner says is allowed or not. That enables any 3rd party app to be used to open links. Windows, on the other hand, hampers its fledgling UWP ecosystem by not letting 3rd party apps be first class citizens. NO normal person is going to download a browser extension just to use UWP apps. Talk about shooting yourself in the foot, Microsoft...
Windows Central Newsletter
Get the best of Windows Central in in your inbox, every day!
Thank you for signing up to Windows Central. You will receive a verification email shortly.
There was a problem. Please refresh the page and try again.