The Vector Smart Watch app gets its Windows 10 Mobile update later this month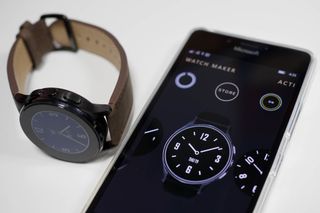 The Vector Smart Watch team has offered details on when people using Windows Mobile can expect an updated version of the Vector companion app. It appears that the new app, which is designed for Windows 10 Mobile, will arrive later this month, with the company targeting June 15.
The new version of the app is currently being tested internally. The company previously offered updates to its apps on iOS and Android, while the Windows app has lagged slightly behind. In an email to a Windows Central reader, Vector blames this on issues with Windows Mobile code and Microsoft Store policy. However, it's good to know that the app should be on its way soon.
The company previously announced that it would focus on Windows 10 Mobile for its future app updates. The team had originally hoped to have an updated app ready in April.
For more on the Vector Smart Watch, be sure to check out our hands on below.
See Vector Watches on Amazon (opens in new tab)
Thanks to Simon for the tip!
what are the other options for smart watch or fitness band for windows 10 mobile??

Fitbit, Misfit, Jawbone, Garmin and probably a couple more.

And those that actually mirror Notification Center?

Poor. Classy ones like Withings not supported.

https://www.windowscentral.com/e?link=https2F2Fcli...

I'd argue that the Runtastic Moment is classier. And fully supports Windows 10 Mobile: https://www.runtastic.com/en/moment

Withings was planning to make a windows 10 app, but I'm not so sure that's still the case since Nokia took over.

Was this before or after Terry told not to waste time on Windows mobile?

Well, there is the Microsoft Band, of course... ;p Actually, in terms of app quality and third-party support, the Band is probably the best option. I've seen the ratings for some of the ones -8- mentioned. They're a bit scary! From my Lumia 950XL

I think Daniel just sold me on this watch with that video.

Daniel actually sold me on this beauty :) Just ordered it at Åmazon for $224 but with shipping to The Netherlands and Dutch import tax my order totalled to €258, which is still a sweet deal to me.

I now have one since approx. 2 Month. Leather Band and Watch itself are both high quality (worth the price on a not smart-Model) and battery is now at 28% after 23 days of normal usage. Conclusion: I'd buy it again!

"Vector blames this on issues with Windows Mobile code and Microsoft Store policy. "
Do you know what the problem could be? Posted via the Windows Central App for Android

They may have changed out developers, which sometimes can cause problems with transferring to a new listing. just a guess, I don't really know.

I was told they have posted a beta version of the app to the Store, but it was hold forever and we can't download it.

Microsoft should release the Bluetooth profiles this smartwatch makers need, make things easier for them, and release or give an answer to android wear, hello MICROSOFT WEAR, before its too late, we are really lacking in the smart watch side, give those guys what' they want to make them builds smartwatches' for us

It's not really quite that easy.

Somehow i think smartwatches aren't going to take off like how a fitness centric device like the band...everyone will get curious and want to try one but not own one...it seems too much of a headache rather than convenience...i think MS has the right approach here. Fitness first and smartwatch like functions later.

or do both with alittle bit of style

Was the same to me until the Vector. I don't want to charge my watch every 2 days. Once a month, that's ok!

I just bought a FitBit Blaze, love it. FitBit also needs software for notifications to work. But it is finally coming. The Blaze is way better than my Gen 1 Band

A couple of weeks ago I contacted them and this is what they said: As far as the Windows 10 Mobile platform is concerned, we are facing the following issues: 1. We have uploaded the beta version for the v1.1 in the Windows Store, however we are still pending approval for 26 days now; we have repeatedly e-mailed Microsoft's Customer Support, but to no avail. 2. We were able to send out beta users the Windows Mobile APK, and are constantly receiving feedback, thus have opted for weekly beta version releases until we stabilize the production version, which is estimated for launch on the 15th of June. The Store issue they've experienced must be incredibly frustrating and it's sad they haven't managed to sort it with Microsoft when they're making a genuine effort to support Windows.

Apk? I know even field medic still lists it but do they know something we dont

I'm really interested in something like this. Was hyped about the AGENT, but haven't heard anything for ages.

AGENT seems to be as good as dead, unfortunately.

I have this watch and it does work well with my Lumia icon, the ESPN, BBC , alerts don't work but hoping the update will change it, until then I'll be wearing my Band2 which works great with my Icon.

Hey Guys I want to buy a band/smartwatch max 100$ for my Lumia 640 XL w10.Any suggestions or links?

I'm running the 1.1 beta now- Vector was kind enough to email me the .appx. While they fixed the horrible battery drain issue (the app drained the phone battery to a point where I had to charge it twice a day), and notifications work flawlessly, the weather stream no longer updates, and the step counter stopped working. I can live with all that for a phone that lasts all day. Keep in mind, even this beta is still two versions behind the current iOS and Android software, which just got 1.3. This means that this beta will probably still have unaddressed bugs that didn't get fixed on the other platforms until later (The watch's time zones stream ignored Daylight Savings Time until 1.2, and this is still broken in the WP 1.1 beta, for example.) So, while I don't exactly regret my purchase, and I'm glad Vector is working on improving the watch for WP, I'm not sure I can recommend that WP users plunk down $300-400 for a Vector watch until the software works a lot better.

Music controls... Need music controls.

Still rocking a band 1 and loving it. The later band 1's don't seem to have the build issues of the earlier ones. But yeah it's not exactly beautiful. But quite understated especially when worn on the inside of the wrist.

Looks like a great addition to the WM10 family

I am starting to look at smart watches would be nice if microsoft would come out with a round style....vector seems really cool and ahead of the game for windows phone with all the custom faces, options and style...

Except the touch screen support.

Touch screen would be an added bonus

I know more colleagues who have a Windows phone, than have a smart band or watch. I don't foresee them becoming anything other than a super niche product.

I've been an APPLE power user (sans i-phone) since 1982. I am weaning myself from Apple frustrations with being so focused on entertainment, and not (reliable, and backward compatible )high end power systems anymore. (Tired of Apple not including software I still use daily in new system "upgrades") In December I had a road job come along (still and video) production. I bought a Lenovo book, and a Windows phone, and have been loving life. I can't pay Pokemon Go. I was curious about a smart watch, figured they would be half the cost of the Apple watch. Not yet. But I can see giving one a try by this time next year. I suspect that my next desktop "upgrade" will be a Windows machine.

That's what I see for the Fitbit and MS Band....this vector is something different it's a wearable everyday watch that looks good. You can get a nice Seiko for the same price and get just a watch

Wilks7, you hit the nail on the head, at least for me. I wanted a nice looking watch first, "smarts" second. Most other smartwatches look like props left over from a sci-fi "B" movie. I call the Vector either the world's dumbest smartwatch, or smartest dumbwatch. It's really just about having a watch on your wrist that lets you see your phone notifications and decide if you need to grab your phone. Everything else is just a bonus. With the wrist gestures (lift to see the latest notification, turn away to dismiss) and hardware buttons, a touch screen really isn't necessary. This is a minimalist device- anything not absolutely necessary is jettisoned for battery life (no touch, no color, no mic/speaker, etc.) The latest software made the backlight brighter which seems to have cut my watch battery life from about 35-40 days to 20-25, but it was worth it- the light was almost worthless at the previous lower setting. (The Android 1.2 version, lets you set the brightness in the app.) It's easily the best smartwatch option for WP, and (like most apps and services, unfortunately!) works even better on other platforms.

I think brands like Seiko and Citezen, Timex etc.. are missing the boat on the "smart" watch market along with MS the watch market can take a big turn and vector is a good start.
Windows Central Newsletter
Thank you for signing up to Windows Central. You will receive a verification email shortly.
There was a problem. Please refresh the page and try again.