Verizon to give discounts to customers with off-contract phones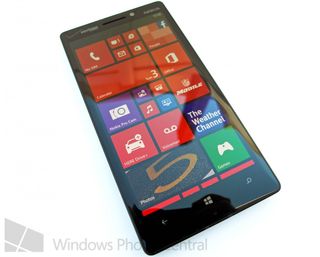 Verizon is finally going to give you a discount for off-contract phones. Starting April 17th, customers of Big Red are going to be able to bring their own off-contract devices onto shared MORE Everything plans at a discount. No longer will they have to pay a subsidy fee for a subsidy they're not using. Plans at or under 8GB will see a smartphone add-on reduction of $10 (bringing the fee to $30/month), while those with data allotments of 10GB or higher will see their fee sliced from $40 down to $25 per smartphone.
This move brings Verizon in line with the its competitors, who have for some time offered discounts for off-contract devices. Why pay a subsidy when you're not using it?
Verizon has been countering T-Mobile's recent announcements with their own tweaking of their plans. After T-Mobile announced that they were cutting cellular tablets to price-match their Wi-Fi versions and throwing in 1GB of data through the end of the year, Verizon countered with their own incentive, offering an extra 1GB of free data for the lifetime of a tablet on a MORE Everything plan. Just this morning,one they already own to a MORE Everything plan for either $30 or $15 depending on the data allowance they choose. When a customer brings his or her own smartphone, it must be compatible with the Verizon Wireless network.
These monthly access prices are also available to customers who choose Verizon Edge when purchasing or upgrading to a new smartphone. So, customers who choose a MORE Everything plan with 10 GB of data and four smartphones, either on Edge, moved from month-to-month contracts, or brought to the Verizon Wireless network, will pay $160 month for service and access.
To take advantage of this value, which is available for a limited time, customers can log in to My Verizon to add these devices and update their plans. They can also visit a store or call Verizon Wireless to make the change and to ensure they are on the right MORE Everything plan for their mobile lifestyle.
MORE Everything plans include unlimited talk and text, unlimited international messaging, 25 GB of cloud storage per line, and three months free of the International Long Distance Value Plan and FamilyBase service.
Verizon Wireless was the first wireless provider to introduce shareable data, and customers can have up to 10 devices on a MORE Everything plan. Currently, customers who want to activate a tablet and add it to a MORE Everything plan of 1 GB or higher will receive an additional 1 GB of shareable bonus data for as long as that tablet remains on the plan. Tablets can be added to the plan for $10 monthly access.
Windows Central Newsletter
Get the best of Windows Central in your inbox, every day!
Derek Kessler is Special Projects Manager for Mobile Nations. He's been writing about tech since 2009, has far more phones than is considered humane, still carries a torch for Palm, and got a Tesla because it was the biggest gadget he could find. You can follow him on Twitter at @derekakessler.
I'm still not understanding what this means for us with unlimited data

Nothing for us. You still would have to convert to a new plan to get the discount. Meaning losing unlimited data.

It should be for all plans! If you're no longer on a contract you don't need to pay a subsidy fee!

Verizon wants people off that unlimited plan. They can't force us off but they will use all the tricks they can to get us off.

They could force people off unlimited data by simply no longer following the terms of the expired contracts people signed. Once the contract is up they can legally change anything, can't they? That would be horrible PR, but not illegal if users with unlimited data are no longer under contract.

No, the contract remains in effect. It doesn't end after two years. That's just the minimum time you're obligated to it.

Verizon can technically change it at any time, they just have to let you out of the contract if they change it.

You would think that us grandfathered unlimiters, who are also likely among the longest tenured customers, would be treated better, but I guess that's too much to ask of Verizon ...

Ya, Ive been Verizon wireless customer since 1998, and have unlimited data grandfathered from my very 1st blackberry phone which I got in 2004. Kinda BS that us long standing legacy grandfathered customers cant take advantage of all this.

You can keep it if you have multiple lines. Cross upgrade away from your line to another. Don't believe the store reps I'd they tell you otherwise, I believe they're incentivized to get people off of unlimited.

Amazing. I might actually go to Verizon now! Did T-Mobile help bring this about? In that case, I did my part - I cancelled my AT&T and paid the penalty to go to T-Mobile, and let AT&T know why. I am a hero!!

I'm seriously considering Verizon because of this

You can find some decent devices on ebay and Craigslist...

Why? Because they're giving you a ten dollar discount when your contract is up? You're still paying upgrade fees and being raped every other way.

T Mobile is certainly piling the pressure in the USA! Keep it up TMo!

My wife and I are breaking off of each of our families plans with Verizon. What service provider has the best service to dollar amount for 2 people. Scared to leave the big V.

That would depend on each carrier's strength where you live. For me, if Verizon gets too bad, I'd leave and go to T-Mobile.

Funny how times have changed. Remember when Verizon said they didn't compete on price? Posted via the WPC App for Android!

Miss the days of unlimited data and paying $100 more to upgrade a device to get a 1 year contract instead of a 2 year.

I think At&t just recently did something similar. I got my Mobile Share 4G Value Plan reduced from $110/mo to $95/mo before any discounts. Also, I don't see the need for getting an expensive 3G/4G tablet and paying an extra fee to add it on my plan when I use my phone as a quick WiFi hotspot for my Surface.

Yep, with AT&T now i pay $20 less, went from 6GB to 10GB and bring my own device.

I just stopped in to Verizon to take care of some things yesterday. Got moved to a $60 2GB, unl. talk and text loyalty plan. It doesn't include tethering (which may be a problem down the road), but if you don't need it and are flying solo, call customer service and see if you can get on it! I've been with Verizon for 1.5 weeks, but talked to a friend that worked there. However, I've seen on slickdeals that people have moved to loyalty plans after only 1.5 months.

I've been on the $60. Loyalty plan with VZW since last June. Told them i was headed to Tmo. Got my mother the same plan with an iphone5. Can't beat unlimited Talk&Text 2Gigs data for $60. beans on Verizon.

That's pretty cool. I've heard they offer up to 6 gigs available for loyal customers.

For 6 gigs I would actually consider giving up unlimited data. I've never come close to using that much, but consistently go over 2 gigs just with 3g. I'd probably use more with LTE but unlikely it'd be over 6 gigs, at least not consistently. Of course it'd have to be at a cost similar to what I pay now ($69/m) to be worth it ...

The first paragraph says: Plans at or under 8GB will see a smartphone add-on reduction of $10 (bringing the fee to $30/month), while those with data allotments of 10GB or higher will see their fee sliced from $40 down to $25 per smartphone. I checked with Verizon today as one of my phones is not on contract. What Verizon told me was: Plans at 8GB to 10GB will see a smartphone add-on reduction of $10 (bringing the fee to $30/month), while those with data allotments of 10GB or higher will see their fee sliced from $40 down to $25 per smartphone. So at 1GB, I'd have to increase by data allotment by $20.00 per month to get the $10 Discount. Well at least we're trending in the right direction.