Verizon Trophy already sold-out online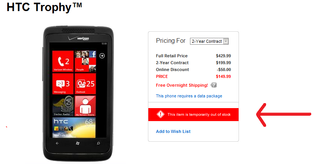 For those looking to get the Verizon Trophy, at least online, they have temporarily disabled ordering due to not enough stock. Yup, you've read that right.
We're starting to wonder if one of the reasons for the continued delay was the inability to stock enough of the phone in the first place. Granted, we assumed that the Trophy may sell well on Big Red, but not that well (though wouldn't we and Verizon like to be surprised).
We'll keep track to see if and when the phone is available for online purchases, but for now, taking a trip to your local store (or call to order) may be your best bet.
Source: Verizon Wireless (opens in new tab); Thanks, Jessie C,, Greg E., for the heads up
Windows Central Newsletter
Get the best of Windows Central in in your inbox, every day!
Daniel Rubino is the Editor-in-chief of Windows Central, head reviewer, podcast co-host, and analyst. He has been here covering Microsoft since 2007 when this site was called WMExperts (and later Windows Phone Central). His interests include Windows, Microsoft Surface, laptops, next-gen computing, and for some reason, watches. Before all this tech stuff, he worked on a Ph.D. in linguistics and ran the projectors at movie theaters, which has done absolutely nothing for his career.
I go through the process and it lets me get all the way to entering my CC information and never says out of stock...

Well just went to local Verizon store in SC and was told that the Trophy was available "Online" only???Just came home and ordered on line and it went through.Where did it ever say that this was an "Online" only phone?

Online only on May 26, in stores on June 2nd. That info came out over the weekend.

So either demand for a Verizon WP7 device is more than we could have hoped, or Verizon only stocked a small handful to begin with.

Yes... But regardless of what the stock level was, selling out before 9am on launch day sends VZW a message, and that message is, "WE WANT WINDOWS PHONES!" It's about time they got that message.

Most likely they had a very low amount of stock it seems thats how they always are with newer phones they almost always sell out the first day and people have to wait a few days and even at times weeks to get the phone. This is good though lets hope they get more windows phones.

There was a lot of demand for this phone, not just here, PPCgeeks and XDA. Trust me, this will be a hot little number.Verizon left money on the table, if they released this phone 2 months ago, they would of even sold more. I can count at least 40 people that I know on-line who moved to AT&T/T-Mo because they got sick of waiting for VZW to get WP7. It's about time they released this phone and maybe they'll know what they have now.I bet the next WP7 model will come sooner....MANGO models in a few months :)

im one of those people. t-mo dvp here :)

same here... my T-Mo DVP keeps me happy and big red no longer gets my money every month.

yeah, I went with Sprint a) because the Arrive has a physical keyboard, and b) I suffered enough on AT&T to not want the Quantum, and c) well, that's it really.glad Big red is getting on the bandwagon, but they should have done so 2 months ago.

I too left VZW for Sprint and picked up four Arrive phones for a couple reasons. First, the VZW CEO was bashing WP7 saying it wasn't a true competitor to Android and iPhone. Second, they charge WAY TOO MUCH for data plans for smartphones. I had 2 Blackberries and 2 feature phones on VZW and I am paying less per month for 4 HTC Arrives with unlimited data and more shared minutes on Sprint.And Sprint doesn't charge an extra $5/month per phone for features like streming TV and turn by turn navigation. Everything was included on Sprint except unlimited talk time. It was a no brainer for me.

The phone is still available you just need a different zip code to get it. 99403 will do

ZIP 53590 was also still working here in WI so give that a try if needed.

cool to hear it sold out, that means good things for the platform and its future prospects on verizon in my opinion.. sorry to anyone that got shut-out, i'm just glad i got mine in earlier today!

It is not out of stock. I just went to the site.

I'm in NY Metro...it's n/a. Not that New York dictates everything but we're a big market, so if sold out here, that means something...

You can also note, all the other models Verizon has released today...they are all instock besides the Trophy :)

Don't understand why you guys across the pond have had to wait so long for this model, I've had mine for months here in the UK. Really nice device, feels good in the hand.

Yea, I know it was one of the release models, not sure how everyone thinks it's the low end phone (all WP7 models are the same specs wise accept for memory)Everyone I have talked to who has one thinks it's a great phone.

Hope each of you enjoy the phone! And please, post a review on Verizon's website - I look at online reviews at retailers websites (i.e. Amazon, Best Buy, etc.) for feedback on items that I'm looking to purchase. In addition, not everyone actually goes to the actual brick and mortar to purchase items, so online reviews prove beneficial in a lot of ways. I think if the reviews are good on Verizons site, it will really help the general consumer (those who don't visit tech sites) consider and purchase WP7 phones.

I just hope that they don't keep this ridiculous early-adopter price point too long. I want this phone but I'm not gonna bite at this price.

You might wait a while, if the phone sold out like this, do you acutally think they will lower the price ?It's a supply and demand thing...

I see it as available as of this moment. Perhaps Verizon uses an IP geo lookup. Or maybe they overlooked a couple huge cartons in the back of their Indiana Jones warehouse. Regardless, I hope they sell a ton. I'll have to hang onto my Focus for a couple more months but will be getting one of these then.

It was sold out at 11 AM, but I went back on at 3:30 PM and it was available. I already got my tracking notice for FedEx. Go figure.

Well, those of us that are finally getting it are on Verizon. Which is notorious for just being too passive when it comes to new things. They didn't after the iPhone seriously, I understand that Apple had a contract, but you can bet that Apple approached them early in the process and they obviously passed. Then they slithered into the Android pool slowly. Now Verizon is the Android capital. Now comes WP7 and after the Kin debacle, Verizon has been acting like a spoiled child when it comes to MS. but they contributed to the Kin failure with the unreasonable data package for a kids device.But they are the best network in the country, best coverage and this is a BIG country. After much fighting and consternation with Verizon's website and customer support, I finally got a hold of a Supervisor that was able to process my order and told me that it would be here no later than Saturday. They upped the Memory, the HTC site says the trophy is 8G and the Verizon units are coming with 16G.

ordered one today, I went to the store because I got a great store and great reps there. Be here Tuesday.

I went to the Verizon Store before ordering online today in hopes of picking one up early. I was a little disappointed in the rep who did just about everything he could to direct me to an Android OS phone. I know thats Verizon's bread-n-butter, but please make a suggestion once and leave it at that. Even after telling him I was only interested in the Trophy, he didn't bash WP7, but he tried every angle to push Android. I ordered online just fine and it should be here tomorrow!

Good for you! That guy did not deserve that commission, anyway. It simply makes no sense to me why the sales reps simply don't take the easy sale. All of that 'hot air' and work he gave to you about Android, and he didn't get the sale. I just don't get it. Will they ever learn?

Ohh, good I ordered my at 6AM today and according to Fedex just be here on 5/31, however the fedex locations where the phone is at is about 25 miles where I live so I am hoping I get it by either tomorrow or Saturday as fedex do delivery on Saturday.

I ordered one online last night & should be arriving tomorrow. I held out a year for this upgrade & was going to leave verizon cause most of my friends & family had wp7 devices from their carriers. But hoefully they will throw away their pacifier & get the ball rollin'. I would love to see them introduce 4G wp7 devices this fall. VERIZON I WILL PAY RETAIL if i had too.

I actually got the Trophy today!!! Some retailers had them out and I was able to get one. I must say I am glad that I waited for this device. I have tried the HTC Surround, Samsung Focus, and all the other devices but the form factor of this one is the ideal fit for me. Some complain about the screen being WVGA but really its not bad at all comparing side by side with the Focus. And this thing flies.
Windows Central Newsletter
Thank you for signing up to Windows Central. You will receive a verification email shortly.
There was a problem. Please refresh the page and try again.