Verizon XV6975 is the HTC Touch Pro 2 (Update: or maybe the Touch Diamond 2)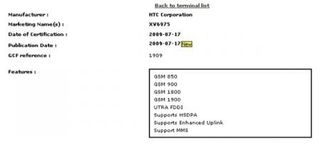 Yep, we're gonna just come out and say it: The Verizon XV6975 looks to be the HTC Touch Pro 2. Let's connect the dots.
Today comes word from the Global Certification Forum [via the:unwired] that Verizon has received approval on the XV6975, and that it's a World phone, as we believed it would be. (You can tell by the 850 and 1900 bands listed above.)
The other day we saw a CelleBrite unit that showed the Touch Pro 2 as 6975. (Here it is again, at right.) At the time it was purported to be from a Sprint store, but whatever. We don't believe in coincidences. Verizon uses CelleBrite as well.
So there you have it. All we need now is a release date and pricing information. You know, the really important stuff.
Update: nJmarc on Twitter and YumYum in our comments is telling us (and Engadget, apparently) that the Touch Pro 2 is the XV6875, and the Touch Diamond 2 is the XV6975. So there you go.
Windows Central Newsletter
Get the best of Windows Central in in your inbox, every day!
Phil is the father of two beautiful girls and is the Dad behind Modern Dad. Before that he spent seven years at the helm of Android Central. Before that he spent a decade in a newsroom of a two-time Pulitzer Prize-finalist newspaper. Before that — well, we don't talk much about those days. Subscribe to the Modern Dad newsletter!
OH FOR THE LOVE OF GOD WILL SPRINT PLEASE JUST ANNOUNCE THE RELEASE DATE ALREADY. BTW i dont want to see ANY MORE T-MOBILE TOUCH PRO2 INFO. im sick of it! SPRINT RELEASE THE PHOnE I HAVE MONEY. DOESNT HTC WANT MY MONEY?!

October -- maybe. HTC doesn't sell you a phone, Sprint does, and they rather sell you a Pre.

lol......you are too funny..... btw sprint will be the last one to realease this htc phone....they always are... :-(

I keep hearing Touch Pro2 T-Mobile release date rumors but none for Verizon. Anyone know it the Touch Pro2 is expected on Verizon about the same time as T-Mobile or will it be 6 months after, or other?

It looks like it will be pretty close to around the same time for verizon.
I'm with uranidiot though sprint needs to get on the ball and just release this phone already. I am tired of my centro which can't hold a charge and is prone to turning off even with a full battery. I'm even more tired of my Samsung flip phone which is 100 years old and has some weird lines running through the screen. Both are ready for upgrade.

I know a tester who has been a reliable source for me and just tested the TP2 for verizon. He said, verizon TP2 phones will be getting the jack. Also he said it still needs to be tested, and should be seen sometimes in a couple months so September, but he doesn't think it will get tested and approved fast enough.

Phil. VZW TP2 = xv6875 You may want to update the title of the post.

I totally agree with that first comment...all this TP2 T mobile info is getting old...Sprint needs to get on the ball and release the darn phone or the least they can do is announce the release date!

"The other day we saw a CelleBrite unit that showed the Touch Pro 2 as XV6975."
The cellebrite unit doesn't say XV at all, quit making stuff up.

D'oh! You're right. But two-thirds of the characters weren't "made up." :P

Sick!! I did get all hyped up about the Touch Pro2, though I'm reading that it could in fact be the Touch Diamond 2. Thanks to B-Real for the insider info on the release date from Verizon. I won't hold you to it :) HTC phone reviews

everything verizon branded after 6900 had a keyboard... why would they take it off all of a sudden?

Sprint? My only wish is that Sprint is converting all of theirs to 3.5mm Jack for the headphones and that is what is taking so long ;)

One thing I haven't seen anyone mention is that while the TP2 would seem to REALLY be model numbered as the XV6875, this is not bad news. A search turns up that an HTC phone with a marketing model of XV6875 was granted GCF certification all the way back in april... See link: http://www.globalcertificationforum.org/Application/onlinecertification/... Supports quad band GSM and HSDPA. So, hey, it might actually be even closer to verizon launch that we think.

It is coming out soon. I have been shopping verizon for the last month and the HTC Touch Pro was selling online the other day for $199 and the Diamond for $249 and today both the Diamond and Touch Pro are selling for $99....getting rid of old stock is what that tells me because new versions are coming in.....

The retailer for my company says it will be released August 7th, for verizon. 2 days from now.

Too bad that wasn't the case :( I NEED THIS PHONE NOW!!!!!

The release date for the HTC touch pro 2 will be: Hmmmm, never! VZW is killing me here. I want this phone NOW!!!!!

YES I HAVE BEEN WAITING FOR THIS HTC TOUCH PRO 2 FOR OVER A MONTH AND NO ONE KNOWS WHEN THEY ARE GOING TO BE IN STOCK FOR VERIZON.. COME ON IT IS THE HOTTEST PHONE AND THEY ARE NOT MEETING THE DEMAND FOR EVERYONE THAT WANTS THIS PHONE!!
Windows Central Newsletter
Thank you for signing up to Windows Central. You will receive a verification email shortly.
There was a problem. Please refresh the page and try again.