Verzion Omnia II at Best Buy Aug. 23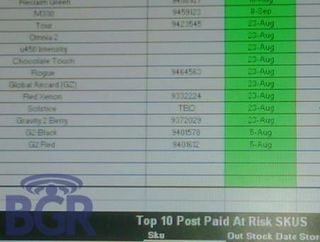 The headline and picture just about say it all here. It appears the Samsung Omnia II, apparently slated for Verizon, should be at Best Buy on or about Aug. 23. [via BGR] No word on pricing, or when the Omnia II would be available through other outlets.
We're gonna be rabble rousers here for a second, Verizon fans: Omnia II, or HTC Whitestone/Diamond 2? Vote in the poll below, and leave your reasoning in the comments.
Windows Central Newsletter
Get the best of Windows Central in in your inbox, every day!
Phil is the father of two beautiful girls and is the Dad behind Modern Dad. Before that he spent seven years at the helm of Android Central. Before that he spent a decade in a newsroom of a two-time Pulitzer Prize-finalist newspaper. Before that — well, we don't talk much about those days. Subscribe to the Modern Dad newsletter!
This really depends on what the ram is for the Omnia II. I've heard that it only has 1/2 the ram of the TD2, but a faster processor. The OLED Screen is a big plus for the Omnia, and it wouldn't be too dificult to run TF3D on the Omnia. These are both pretty good phones.

Last I heard was 8gb on board with microsd support up to 16gb according to Pda Phone Home I'm trying to decide between this or the Touch Pro

I think it's a no-brainer between the Omnia 2 and Diamond 2. Faster processor, more memory, class-leading battery life. Some people may have issues with the UI, but this is WM we're talking about here. You can make it look however you want. Give me the (much) better hardware and I'll tweak the software to my liking. Unfortunately, I'm on Sprint so I'll likely have to 'settle' for the Diamond 2 if that ends up being my on only option for SERO.

I have had the Samsung Omnia since December and love it. I can't wait for the Omnia II. I just hope they let me upgrade it without a problem. I also wonder if there will be an upgrade to Windows 6.5 because I think this version comes with 6.1. 6.5 looks awesome, I love the Today screen much better than the widget screen that Samsung offers. I have made my Omnia work and look the way I want like the previous poster said and I know I can do the same with the Omnia II. Please Verizon, let me upgrade without a problem.

It's all about the processor and memory. Omnia II wins hands down. Just hoping they have enough on hand to handle the demand. Can hardly wait!!

I'll believe it when I see more evidence. This "leak" doesn't pass the smell test. To believe this thing you have to think vzw is totally revamping how they release phpones. Four devices on the same day? They never do that. A US cdma version of a phone only released a month ago in Asia? They've never done that. Keep in mind the omnia was out for 6 months overseas before coming here. The Diamond was out for a fricking year...only relelased here in mid april by vzw, and even then it was an unpromoted overpriced smartphone. So I hope we do see these phones, but the phone rumor sites (like bgr and wmexperts) are so whipped that all they do is repeat the same baseless rumors and in an attempt to be "first" will suck on any fraudulent rumor...this one just doesn't smell right.

Well, considering Samsung has officially announced albeit without a date and it has passed FCC approval, its probably a pretty good rumour. Its certainly nice in concept that VZW might actually start releasing phones in a timely manner. They did release the newest Blackberry around the same time as the upgrades on the GSM carriers so I don't find this so far fetched.

I don't see anything on there about the Diamond. or XV6xxx. Does that mean there's no sign of the Whitestone in the next few months?

I cannot wait until the Omnia II comes out. The screen is going to be beautiful and the AMOLED technology should improve battery life. My only questions, will it be a world phone with wifi? It seems as though Verizon is going that way with all its smartphones these days.

Has the CDMA version of the Omnia II gotten FCC approval yet? If not, how could Verizon make an August 23 launch?

might be true. verizon lowered the price of the omnia back down to 99.00 from 199.00

It probably wont come out by the date proposed-but it would be awesome if it did. I love my Omnia and will happily upgrade!

Yes,love the article, I have the same belief with you,so let me introduce the area to you.Now vivienne westwood Jewellery become more and more popular within all kind of people. Juicy couture is a kind of juicy jewelry . It won a good reputation. Vivienne westwood often held its regular discount activities,such as vivienne westwood Jewellery ,juicy jewelry and fashion vivienne westwood jewellery earrings so on.In these activities vivienne westwood sale got great success. juicy couture consists of four main aspects, vivienne westwood necklace and vivienne westwood bracelet,vivienne westwood earrings ,vivienne westwood rings,vivienne westwood pins,vivienne westwood keyrings,vivienne westwood sale,vivienne westwood online ,vivienne westwood uk.
vivienne westwood series are worthwhile than other juicy charms coutures. They have a lot of vivienne westwood jewellery,for example vivienne westwood necklaces, vivienne westwood earrings, vivienne westwood bracelet , vivienne westwood rings ,vivienne westwood earrings and vivienne westwood sale. Vivienne jewellery is a new jewellery brand,it include all vivienne westwood keyrings ,such as vivienne westwood online , vivienne westwood necklaces, vivienne westwood jewellery ,vivienne westwood and vivienne westwood pins and vivienne westwood sale and vivienne westwood uk so on .We assure you of our best services at all times.

Just wondering what the better phone is out of the omnia II or the omnia i8910? also which is the latest release? they run differently and the II has only 5megapix camera while I'm told that II is the latest
Windows Central Newsletter
Thank you for signing up to Windows Central. You will receive a verification email shortly.
There was a problem. Please refresh the page and try again.