Video 360 app for Windows 10 now supports 360 degree photos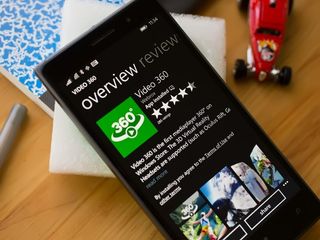 The developer behind the Video 360 app for Windows 10 on PC and Mobile has released an update. The new version now supports the viewing of 360 degree photos as well.
Like its support of 360 degree videos, the addition of viewing similar static photos will allow users to move their smartphone around so they can see the full image, or wear a VR headset for a more immersive experience. The photos can be locally stored on the phone or viewed in a URL link. In addition, the new version has some unnamed bug fixes.
Download Video 360 from the Windows Store (opens in new tab) ($1.99)
Sorry... I no get money to buy the app :(

Oh so you mean that you have so much money that you're willing to give $50,000 to Windows Central?

Whatbis a good Panorama App?

Cycloramic, DMD Panorama are the few options you have

Cycloramic is awful... never tried DMD

How is iOS a good Panorama App? Also I tried searching for it on the Windows Store with no results

360 degree reminds me of Photosynth everytime :'(

Same here! Microsoft is being dumb ... again... by releasing software too early, then dropping support just as that is becoming mainstream. They could be on the forefront of the VR due to all the work they put into photosynth, instead they are letting EVERYONE else get the market and mindshare here too.

I still have Photosynth on my Lumina 950 and enjoy using it. Even though the service has been deprecated, I can still make new 3D images

I think only the app has been abandoned, the website is in the beta of a new version.

That new preview is just sitting there now for a year and a half or more. With what I know about the team, consider it dead.

Oh, that's really not good...

Belive me brother its back!! 2 days ago I was going through my past apps and found out that download option was there beside Photosynth. I downloaded it and guess what! it works jst fine. for downloading Photosynth go to My Library in Store and find Photosynth if u have downloaded it before. or jst google it.

Wow that's a nice feature

What are some good 360 photo apps?

Good question but wrong place for that. Head up to the Windows Central Forums.

Really??? I'll have to take a look. The Windows 8.1 version was decent, but once I went full 360 the edges never lined up. Hopefully they fixed that with the new release.

Cool. Now Microsoft just needs to give us a way to take 360 degree pictures ...
Windows Central Newsletter
Thank you for signing up to Windows Central. You will receive a verification email shortly.
There was a problem. Please refresh the page and try again.