Not in the Xbox One Preview? Join us for a quick look at Clubs and Looking For Group
Xbox's latest preview build has delivered Clubs and Looking For Group ads to the console, and we're here to take a quick look.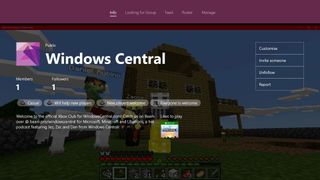 Join us for a walkthrough of the new features available in the Xbox One Preview, including how to set up your very own Looking For Group ad, as well as the creation of Windows Central's very own Xbox Club!
Clubs and Looking For Group give Xbox Live a potent social injection. Gamers will now be able to form their own groups based around any topic or goal, and share them with the rest of Xbox Live. Whether you're on Xbox One or PC, you will still be able to join in on the action, creating groups for your World of Warcraft guild, your mining corporation in Elite Dangerous, or just a group to share content privately with friends.
Microsoft is showing no signs of slowing down updates to the Xbox Live service, with competitive Arena features just around the corner as well.
For more detail on what this update contains, check out the links below. If you wish to join Windows Central's Xbox Club, navigate to the Community tab on the dashboard, select "Clubs," then search for "Windows Central" to apply!
Get the Windows Central Newsletter
All the latest news, reviews, and guides for Windows and Xbox diehards.
Jez Corden a Managing Editor at Windows Central, focusing primarily on all things Xbox and gaming. Jez is known for breaking exclusive news and analysis as relates to the Microsoft ecosystem while being powered by caffeine. Follow on Twitter @JezCorden and listen to his Xbox Two podcast, all about, you guessed it, Xbox!
Not sure why they will not open this up for people to join again, but I wish they would. I do not enjoy hearing about features I cannot get. I'm very impatient. Lol

I hear ya. They were supposed to be merging the program with the Windows Insider program, not sure what the roadmap is on that.

Looking for Group Ad is a nice feature. Over the years a lot of my friends who used to game have either stopped having the time, or we are on different platforms now. I too am usually too busy to play regularly, so I play when I can rather than every week. Be a good way to find other gamers to socialise with on the platform

Invites are open again. Just ask someone for invite ans in 3-4 they should get it. If not resend the invite after 3days and it will work.

I wonder how long before we can join with another Windows 10 device... Maybe in the net couple of preview builds?

I expect Xbox Beta app will get updated for Clubs pretty soon. It's available on le store.

Hey, a question for all at Windows Central and anyone who might have clues... With yesterday's announcement of the upgraded PS4 and the PS4 Pro, Sony stated that HDR would come to all current PS4 consoles via firmware update. So is there hope for the original Xbox One to also get HDR support via software update or in this case there is a hardware limitation as well? Cheers!

Her requires 4k display and hdmi 2.0b. Ps4 and xone have hdmi 1.4 so this firmware update is bullshit and lie.

HDR is not linked to the resolution of the TV, Dolby Vision was presented for the first time on a 1080p TV. The fact that TV OEMs started implementing 4K and HDR at the same time doesn't link them in any way. I also found this in techradar:

Will the PS4 and Xbox One have HDMI 2.0? Doesn't look like it. All of the tech specs released for the two next-gen consoles thus far point to the PS4 and Xbox One shipping with the existing HDMI 1.4 connection. That said, if firmware and hardware upgrades are possible, there might be a way for Sony and Microsoft to provide a conversion option post-launch, as and when 4K Ultra HD becomes more established.

So hopefully Microsoft did the same although not sure since they didn't mention it while unveiling the Xbox One S.

The PS4 Pro doesn't have a 4k bluray player, it can only stream movies in 4k. The X1s is a much better deal.

4 TFLOPS vs. 1.4 TFLOPS. Add PS-VR to that. It's game over for MS. By the time Scorpio launches early 2018 Sony will have PS5 and PS-VR 2 well baked.

Loled a lot at PS5 and PSVR2 in a year and half. Thanks.

So Sony has to move to a new generation to compete with Microsofts current generation. Cool. Scorpio 6 tflops, ps 4 pro only 4.

? PS4 has more power than current gen Xbox and PS4 Pro massively more. Scorpio is just vaporware at this stage.

You're a delusional hater.

Only if you're interested in playing 4K blurays.

And Xbox One S half arses 4K Blurays, what's your point?

When is this update dropping, i have been checking since yesterday but nothing yet, i cant wait to test this out.

I'm also waiting for my Xbox to get it. Hopefully in the next 48 hrs.

Seems to be a limited/slow rollout because I don't have it either... I have the One-S and haven't checked my original XBOne yet... Don't know if it matters?

yeah I'm pretty sure the reporting on this has been inaccurate on a few websites....I'm on the preview program and have received all updates as they've been released sometimes downloading them before they're even announced here but this latest one has yet to show itself. Must be a small group of testers and not the entire program.

On the preview forums they've stated that a small group of Insider consoles are being kept on the previous build for testing purposes and that there will be a future part in the XBOX Live Preview app that will allow Insiders to enroll their consoles into - essentially the Fast Ring for XBOX Insider Builds. I have two XBOX consoles. One has the latest build with LFG and Clubs, while the other doesn't.