Videos of Windows 10X on the Lumia 950 XL emerge, because why not?
By Sean Endicott published
Developers continue to get Microsoft's old phones to run things they were never meant to.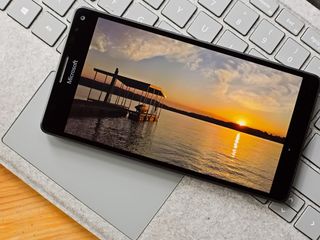 (Image credit: Windows Central)
What you need to know
Videos have emerged of Windows 10X running on a Lumia 950 XL.
Developers managed to get Windows 10X to support cellular connectivity on the mobile device.
Windows 10X will not officially come to any existing hardware.
Developers continue to show off Windows 10X running on devices that it was never meant to touch. Twitter user Gustave Monce, and expert on running unsupported software on things, recently shared several videos of Microsoft's new version of Windows running on the Lumia 950 XL.
Windows 10X won't ship to any current devices, and it especially wasn't meant for a smartphone from a dead platform, but Monce's videos are here, nonetheless. In the videos, the Lumia 950 XL handles touch, running apps, and multitasking fairly well.
When people first managed to get Windows 10X to run on the Lumia 950 XL, some key features weren't working, including cellular connectivity, cellular calling, and auto-rotation. Those features appear to be working now, as shown off in Monce's tweets.
It's important to note that this is an unfinished build of Windows 10X running on a device that it was never meant to run on. As a result, glitches, bugs and broken features are bound to happen. That might seem self-explanatory, but some online have complained about the performance of Windows 10X running on unsupported hardware.
Developers also managed to get Windows 10X running on a Surface Pro 7 and showed it off in a video as well.
There are resources and guides on the web that allow you to flash Windows 10X onto devices, but they can brick your device or cause other issues. We won't link to them here, but if you really know what you're doing, they aren't hard to find on the web.
You don't need to risk bricking a device to see Windows 10X in action. We recently went hands-on with Windows 10X and show off the operating system in a full video.
Sean Endicott is the news writer for Windows Central. If it runs Windows, is made by Microsoft, or has anything to do with either, he's on it. Sean's been with Windows Central since 2017 and is also our resident app expert. If you have a news tip or an app to review, hit him up at sean.endicott@futurenet.com.
This is great work. I should buy a 950

While this isn't something we can look forward to on current devices, I can certainly see this being a thing on future devices. It kind of gives me hope that a future version of the Duo will run Windows 10 X. If that is the case, I believe the Surface Neo would be the forerunner and then maybe the 3rd generation of the Duo, assuming MS doesn't throw it into their cancel culture of products. While Android was a good move to get back into the mobile space, ultimately, MS has to make the Windows OS truly capable of spanning across all form factors with little to no compromise. This in turn should, and I believe it would, help developers want to create more apps or web based apps that can run on the OS, because the device itself wouldn't necessarily matter. Only time will tell what the future of mobile will look like, when it comes to the OS. Right now, Android and Apple have it. While it's hard to see it happening, whether Microsoft or some other company, can come up with something that will leave Google and Apple playing catch-up. Considering Blackberry and how they failed to continue to innovate and adopt new technology, they quickly fell behind Apple and Google. Microsoft, had a slightly different issue. They innovated, but had poor and drawn-out follow through that led to developer and consumer frustrations and distrust. Microsoft lost focus and kept starting over. As a result, many carriers reluctantly carried their devices, let alone put them in the forefront of new devices. Anyone who's owned a Windows Phone/Mobile can probably tell you a story of how sales reps rarely, if every guided them to a Windows phone. I see Apple having this issue more than Google, at the moment. Apple, in my opinion, hasn't really done anything to try and innovate their devices. Yeah, I know... Just something this article had me thinking about, as I watched these videos. lol

As someone who worked as a sales rep at the height of Windows Phone I can confidently say I bucked this trend. I sold Nokia's on the competency of the camera experience.

Also didn't help that one of the largest carriers in the US rarely carried them and when they did it was about 2 models behind where MS was at the time. I really wanted to get one to replace my old Droid Charge but Verizon only had one that had released 2 years prior.

I thought 10X was only compatible with x86 not ARM

Intel and ARM but, as the article mentioned, this was done by one of a few notable individuals that make it a point of getting software to run on devices it was never meant to.

I'm guessing it is a pipe dream to imagine that this will ever be available in a format like a custom ROM. It would be awesome though if it was.
Bricking a discontinued, unsupported, financially worthless piece of old hardware seems like a low risk endeavor. Getting it to actually work reliably would be a great up-recycle.

If this becomes functional, that all functions work, like camera and other stuff, it could be better option than staying with WP. W10X have Chromium Edge, so PWAs will work better. It will have recent updates of camera, maps and other Windows apps that stopped updating on WP.
Windows Central Newsletter
Get the best of Windows Central in in your inbox, every day!
Thank you for signing up to Windows Central. You will receive a verification email shortly.
There was a problem. Please refresh the page and try again.