Virgin Mobile South Africa offering the Nokia Lumia 800 and 710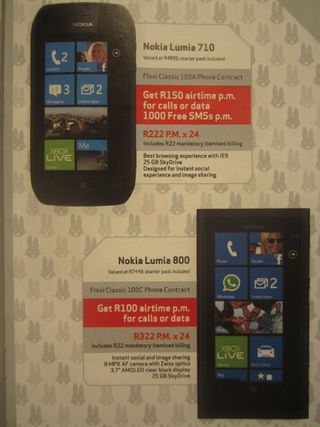 Virgin Mobile in South Africa is typically a bit behind the rest of the crowd. In-fact, it's only recently that they have realized that smart-phones should probably be on their offerings. And compared to the other service providers, they have a fraction of the subscribers.
So while some countries are celebrating the launch of the Nokia Lumia 900, it's with joyful surprise that we can now let you know that Virgin Mobile's latest specials pamphlet has both the Nokia Lumia 800 and the mid-range Lumia 710! The deals aren't too shabby either, especially the 710 where you are given close to your monthly subscription in airtime, plus 1000 SMS's! The deals are valid until the 6th June 2012.
That's good news for two reasons. First, Vodacom's exclusivity over the Lumia 800 has now ended, and second, if you really want a Lumia but don't want to port to Vodacom, then here is another option. And Virgin Mobile isn't actually all that bad. Their call prices are pretty competitive (especially if you manage to find another VM user to call), and R0.60 per MB out-of-bundle is about the cheapest you will find locally. For the entertainment of the international folk, R0.60 converts to $0.08 per MB of data.
It is rather strange that such a small provider can offer these phones before Vodacom's main competition, MTN. But it seems like you shouldn't be holding your breath if you are with them.
Virgin Mobile even has information we don't, and has uncovered that the Lumia 800's actual name is the E6! Yip, another branding fail...
Get the Windows Central Newsletter
All the latest news, reviews, and guides for Windows and Xbox diehards.