Vodacom's Nokia Lumia 800 launch party in South Africa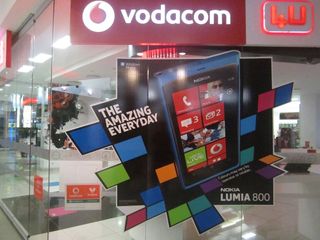 Vodacom just held a really amazing launch party to welcome the Nokia Lumia 800 (and the 710 at a later stage) Windows Phone to South Africa. This particular event was the one we previously spoke about being held in Midrand.
Nokia South Africa recently announced (opens in new tab) that the Lumia 800 would be available from the 7th February. However yesterday we learned of a promotion starting tomorrow (opens in new tab) for the phone. The latter turns out to be correct and will most probably mark the start of the rollout to stores nationwide.
The details of the launch package for the Lumia 800 are as follows:
R279 per month on Business Call
Deal is available from the Vodacom Dome in Midrand
Includes 100MB data per month for the first two years
Includes 20 minutes for weekend calls per month
The first 200 customers will receive a 4GB XBOX 360 including Forza 3
Deal is valid for both new customers, and ones upgrading
There is a lot of good news here besides the fact that the phone is being launched though. Nokia Drive has full support for South Africa and covers half a million KM of road. Nokia Music and Mix Radio is also supported, along with the latter getting local playlists crafted by locals. This means South Africans will be able to stream and cache music to their WP7's until there is local Zune support. And to go with the music, Nokia Purity By Monster headphones will be available at the same time.
Nokia made it clear that they are pushing local content, and with that Mxit was mentioned as coming to the platform. Mxit is one of the largest mobile chatting/social networks in South Africa, and many locals use it over competitors like WhatsApp. Unfortunately no timing was mentioned on the release.
Tonight's event has made it very clear that Vodacom is going to be working hard to make the Nokia Lumia range successful. This is affirmed by Romeo Kumalo (CCO Vodacom) who said, "I have seen a lot of phone launches, but never one this big.". And with comments like "The first real WP7 phones" and "People are ready to move off of a platform who's UI comes from a 4 year old design." being thrown around by the speakers, it is quite apparent that they (Microsoft, Nokia, and Vodacom) are excited for these phones - and excited for change.
Tomorrow is a big day for Windows Phone in South Africa...so go grab a new phone in support!
wow that's an awesome looking event. I wonder if canada will have a launch party for the lumia 800 coming to telus. as much as i'd love to see that, i HIGHLY doubt it. in fact, i'd bet against them having a launch party.

canadian carriers are like sprint and verizon's 3 little love babies. all are afraid to support windows phone. of course, none of them made statements like sprint, but the fact that i have friends with second generation windows phones in PHILIPPINES (read: POVERTY STRICKEN, THIRD WORLD, SOUTH EAST ASIAN COUNTRY) is a testament to the carriers not caring about the choices they provide to customers.

with telus already pushing galaxy nexus ads on the radio and tv, they'll treat the lumia as another windows mobile phone

Do you know what the prepaid price is? I am not a fan of contracts.

Vodacom said that the recommended retail price of the Nokia Lumia 800 will be R6,999
Windows Central Newsletter
Thank you for signing up to Windows Central. You will receive a verification email shortly.
There was a problem. Please refresh the page and try again.