Wal-Mart unofficially selling the HD2 early?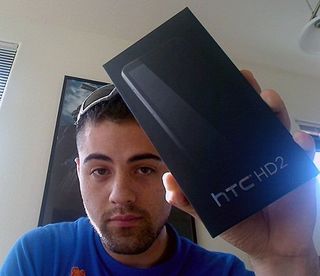 Want the new T-Mobile HD2? Live near a Wal-Mart and don't mind dropping $500? You may want to swing by your local Walmart and see if you can grab yourself one today and see if you can beat the official sell date of March 24.
Seems as a few people are having luck doing this trick and while they are paying the full-retail price, they get the joy of having what is no doubt one of the best Windows Mobile 6.5 devices to grace this planet.
Your best bet is to call ahead and just see if they have it available, then go down and see if you can find a store employee who is hopefully unaware of the launch date.
And if you want to vicariously experience unboxing the darn thing, you can check out these related videos of someone who did the above.
[Thanks, Jeremy, for the tip!]
Daniel Rubino is the Editor-in-chief of Windows Central, head reviewer, podcast co-host, and analyst. He has been here covering Microsoft since 2007 when this site was called WMExperts (and later Windows Phone Central). His interests include Windows, Microsoft Surface, laptops, next-gen computing, and for some reason, watches. Before all this tech stuff, he worked on a Ph.D. in linguistics and ran the projectors at movie theaters, which has done absolutely nothing for his career.
Go to Bing.com and sign up and get the HD2 for 35% off. That's $292.00 after discount.

nice very nice now if it only had 850 and 1900 3G bands!

bing.com and sign up where? how do i get in on this deal. please respond i am on the fence about the HD2 but for that price i am down

Had a chance to play with a demo model at a local Tmobile store and I was actually very impressed. The screen is amazing even compared to my nexus one and it was noticeably brighter (I know then amoled). It's a pretty killer device.

Hmmm.... not seeing it. I have a bunch of other results but nothing that will send me to the T-Mobile site (apparently) and nothing more than 7% off. Best price is $587. Is the deal over already? Am I doing something wrong? (Probably.) I AM logged into my cashback program. Hmmmmppphhh....

[Ignore the above post. Replied to wrong post. I am dumb.]

@Anonymous: Use Bing Cashback. I bought an HD TV over Thanksgiving and saved $200! In the search bar, search for "T-Mobile HTC HD2." On the top of the page (the VERY top) click "Shopping." This will bring up the Bing shopping results (not the same as Bing web results). Bing will direct you how to set up a Cashback account, and will transfer you to T-Mobile's storefront to make the purchase. You may wonder how Bing is monitoring your purchase, but don't worry - if you were transfered from the Bing shopping results, and have set up your Cashback account, everything will go through and you will get an email from Bing after a couple minutes. Be advised that the 35% promotion is NOT instant savings. You will be eligible to receive the difference as a check in the mail (I think you might be able to get the money through PayPal, too) 60 days after the purchase. Bing wants to make sure you don't return the device and make a profit. You might have to wait for launch on Wednesday, once the HD2 is actually listed as available on T-Mobile's site. This is exactly what I'm doing to get my HD2 and one for my dad. Bing will effectively subsidize my early termination fee. THANKS BING (and btw Bing is SOOOO much better than Google)!!!!

Hmmm.... not seeing it. I have a bunch of other results but nothing that will send me to the T-Mobile site (apparently) and nothing more than 7% off. Best price is $587. Is the deal over already? Am I doing something wrong? (Probably.) I AM logged into my cashback program. Hmmmmppphhh....

No, you are doing it right. BUT you WILL have to wait until it is actually listed as available from T-Mobile USA. That will be sometime on Wednesday. And I just checked, the 35% promotion is still going on. Let me know if you have trouble on Wednesday. I'll check back with this post to make sure you find everything and get the purchase to go through (I'm assuming you're the same person as Anonymous... but in any case).

I am NOT the anonymous above, but.... I found what you were talking about (35% discount). Thanks for the heads-up. However, it only seems to apply to new T-Mobile customers. When I go to T-Mobile site, I'm within the Bing.com "shell". However, as soon as I log in to T-Mobile (in order to use the same account and my current rate plan - cheaper than non-contract plan), I'm out of the Bing "shell" and there are no "cashback" icons. Ah well, it almost happened....

Oh, I'm sorry, that's not fun! Next time your contract is up maybe this will work. :(

Well this is true, I went to Wal-Mart last night and purchased one. It was $500 + tax without contract. Was really great until 2 freezes requiring battery pulls, bluetooth paired but would not produce sound through the speaker, 3G/Edge constant switching in a solid 3.5G area, and battery displaying 70% after being off the charger for 5 minutes. Keeping in mind this was 100% stock, no apps or anything added. Yet another half-baked phone from HTC, had terrible issues with the Nexus One as well. This is my last phone I will ever buy made by HTC, quality control seems non-existant. Good thing Wal-Mart has a nice return policy.

Interesting I found HTC build quality to be top notch and I've been using them since the HTC Mogul. Could this be ID10T errors perhaps?

That is obviously the easy thing to do is say user error but no I do not believe I can make the phone jump from 3G to EDGE constantly nor do I believe the phone should be unresponsive when trying to wake it up from idle overnight. I am not saying they are all bad, I am stating my experience that I found unacceptable. I have been a WM user since the Samsung Blackjack came out so I know my way around the OS. If you don't have anything productive to say other than calling me an idiot without knowing anything, how about not saying anything?

that sux. hd2 has xda developers.

I went to Walmart, and I found myself on a trip without NADA.

Worked! One nice HD2 sitting on my charger :)

Anyone know if this phone is locked to t-mobile? I am an AT&T customer and I like the fact that I can buy the phone without a contract.

You can buy it unlocked from T-Mobile (you shouldn't have to get service from them), and also unlocked at Wal-Mart (I believe). If you purchase through Bing.com's "Shopping" section (see sponsored link at the top), you should be able to buy it from T-Mobile at 355 off ($292! Unlocked!)

I tried to get one from a Walmart nearby my place and the lady there outright turned me down. I played with one of those at a TMobile store. It's drop-dead gorgeous (and huge too) but I'm still thinking if buying it at the point of WinMo dying would be the right step?

WM is not dying yet. If you want a multi-tasking phone from Microsoft, this is it for now... until multi-core phones arrive (or Microsoft redoing WP7.x or WPx).
Windows Central Newsletter
Thank you for signing up to Windows Central. You will receive a verification email shortly.
There was a problem. Please refresh the page and try again.