Here are 7 simple ways to speed up a slow PC
If your PC is getting a bit sluggish, try these handy tips to breathe a bit of life back into it.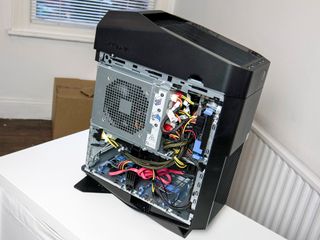 Over time, just as day turns to night, your PC will start to slow down. It could be caused by a number of things, but as modern computing advances there comes a time when the hardware just struggles to keep up.
Fortunately, you don't need to throw your PC into the nearest waste receptacle. There are a few ways you can speed it up and prolong its life a little longer.
Upgrade to an SSD
If your system has been running entirely on HDD storage, then one of the very first things you should do is add an SSD and move your Windows install to it. It takes a bit of time to do, but the results are instant and noticeable.
Boot times will be faster, apps will load quicker and the experience will generally feel a lot snappier. SSDs aren't as expensive as they used to be, and you can get either a good 2.5-inch drive (opens in new tab) or an m.2 SSD (opens in new tab) if you have a slot for it on your motherboard.
Add more RAM
You may well be experiencing performance issues due to having less RAM than your current needs necessitate.
Whether you're running a laptop or desktop, RAM is fairly inexpensive. You'll need to do a little homework and make sure you know how much your system can support, but after that upgrading it is easy.
Good brands to look out for while RAM shopping include Crucial (opens in new tab), Hyper X/Kingston (opens in new tab) and Corsair (opens in new tab).
Check what's loading at startup
Do you really need all those programs running as soon as you start up your PC? Probably not, but a number of services will be starting in the background, some you may not even be aware of. If you don't absolutely need a service to load at boot, disable it. It'll only negatively affect performance otherwise.
To do so, head into the Task Manager with the good old ctrl+alt+del combination. Select the startup tab and disable any apps that are enabled that you really don't 100% need to load at startup.
Run a virus/malware scan
It's entirely possible that your performance woes may be linked to a nasty piece of software hidden somewhere on your PC. If you don't use anti-virus of any kind, Microsoft's Windows Defender is a good place to start and should be running unless you disabled it for other software.
Head into the Start Menu on your PC and look for the Windows Defender Security Center. Here you can check up on your PC health and run scans to see if anything is amiss. Alternatively, there are a number of other anti-virus programs out there that you might prefer to use.
Best Antivirus Software of 2017
Free up some disk space
If you have stuff on your PC you just don't use any more, get rid of it. You don't want to run at near capacity since for one you need sufficient free space to be able to download and install Windows 10 updates.
If you've installed an app from the Windows Store simply right click it in the Start Menu to uninstall. Programs from outside the Store you'll need to head into the trusty old Control Panel.
Make sure you're up to date
You might not be keen on updating your PC all the time, but generally, updates are released for good reason. Security patches, new drivers, bug fixes, and performance improvements all are worth downloading to keep your PC running in top condition.
Windows Update can download most everything nowadays that your PC needs, so if you've been putting off updating for a while, head into Settings and check for updates. It could be something this simple to relieve your performance hit.
If you need to make sure you've got the latest drivers for your GPU, especially if you haven't updated in a while, the best place to start is the NVIDIA or AMD download pages.
Fresh install of Windows 10
If all else fails, maybe you need to get tough and start again with a clean install of Windows 10. It takes a while to get done, but it's a sure-fire way of getting rid of any junk or bloatware you'd forgotten about.
It should also put your PC back to a factory fresh state. Better than factory, even, in some cases. And when a PC is new it usually works pretty well, right?
How to do a clean install of Windows 10
Your tips
Got some tips to share we didn't mention? Share them with us in the comments below!
Richard Devine is an Editor at Windows Central. A former Project Manager and long-term tech addict, he joined Mobile Nations in 2011 and has been found on Android Central and iMore as well as Windows Central. Currently you'll find him covering all manner of PC hardware and gaming, and you can follow him on Twitter and Instagram.
I love fresh installs. If you're properly prepared with backups, they're not so bad. Just have to set aside a little free time.

What about a clean install and "reloading of programs" ? That's been the killer in the past, anything new to ease that pain?

No, not until all your apps come from the Windows Store and then MS can do something similar as to what you had with Windows Mobile in that after you restore your OS you apps are automatically downloaded and installed.

One great thing to do is once you factory reset, get all your drivers installed, all your programs you like to use installed and your data back on pc is to make a system image. I use the built in windows program to do this but there are others out there. That way if you get in a pickle again you can install from image you saved to external storage device to get a clean install without the hassle of reinstalling everything individually. I can be happy to assist or you can google tutorials as well.

Also defrag your pc will work wonders if you wish to not reinstall windows. Disk cleanup works well. If you do advanced you can remove previous wondows 10 iso images from windows update as well as older restore points. Also to fix windows corrupt files you can run this in cmd as admin: sfc /scannow & dism /online /cleanup-image /restorehealth Just copy and paste that in cmd as admin and make sure pc is connected to internet. Hope that helps as well. Also resetting browsers gets rid of search history and uneeded and or malware extensions.

Do the dism first as that makes sure all system files are correct before sfc :)

#1 Clear out your Internet Caches. Chrome/FireFox/IE/Edge all save tons of cache info and it slows the entire systems down. CCleaner (yes I know about the issue, but the never builds,and the x64 versions are fine) or something like it is a big help in this, BUT you can do it all manually.
#2 Uninstall everything you no longer use. You would be amazed as the crap many programs (especially in Startup) plunk down on your system without you knowing about it.
#3 Refresh your Windows Update. Go into Services and stop the "Windows Update" Service. Then go to "C:\Windows\SoftwareDistribution" and delete EVERYTHING in it. Then go back to Services and start the "Windows Update" service. It will rebuild the entire thing. Now go to Windows Update and run it.
#2 DEFRAG YOUR HARD DRIVE (or, if it's an SSD, run Trim on it) W10 makes this easy via "Properties/Tools/Optimize and Defragment". Yes, I know W10 has a "scheduled task" to do this but how many people actually let it run? >10%.
Right there you can increase the speed of your system without spending ANY MONEY.
After doing those things, NOW think about changing the hardware to speed up the system.

Check your core temperatures and CLEAN. My games were crashing and I tried everything. Turns out dust buildup on my graphics card had it overheating and when I cleaned out my pc top to bottom it was running shipshape again.
Windows Central Newsletter
Get the best of Windows Central in in your inbox, every day!
Thank you for signing up to Windows Central. You will receive a verification email shortly.
There was a problem. Please refresh the page and try again.