Make the Dell Inspiron 15 7559 faster with an SSD and RAM upgrade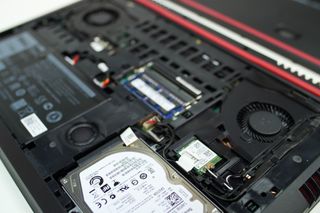 We recently reviewed the Dell Inspiron 15 7559 and thought it was a solid gaming laptop starting at just $799. Its biggest problem was the slow loading times because of a slow physical hard drive. But Dell designed this computer to be easily upgrade, and we're going to show you how to add an SSD and upgrade the RAM for improved performance!
The base model of the Dell Inspiron 15 7559 includes some decent specifications:
15.6-inch FHD (1920 x 1080) Anti-Glare LED-Backlit Display
6th Generation Intel Core i5-6300HQ Quad Core 2.3 GHz (6M Cache, up to 3.2 GHz)
8GB Single Channel DDR3L 1600MHz (8GBx1)
1TB 5400 rpm Hybrid Hard Drive
NVIDIA GeForce GTX 960M 4GB GDDR5
74 WHr, 6-Cell Battery (Integrated)
Wi-Fi 802.11ac + Bluetooth 4.0, Dual Band 2.4 & 5 GHz
We'll upgrade by doubling the RAM to 16GB and transferring the system files to a faster 250GB SSD drive. We need two parts:
If you want to spend more money, you can get the 500GB SSD option from Samsung for about $168. Since we're just putting the system files there, the 250GB option is more than enough.
First make sure the laptop is off. Next, remove the bottom panel with a screwdriver for just one screw.
It doesn't matter which part you install first. For the RAM, insert the edge with the circuit board contacts at an angle and then push down on the other side. It should click into place. You'll know you are inserting it the right way when there's nothing blocking the notches. We're adding 8GB of RAM on top of the 8GB we already had, for a total of 16GB.
For the Samsung M.2 SSD, insert it an angle and then lock it down with the screw.
That's it for the hardware. Put the cover back on and power up the laptop. You'll see a message that the amount of system memory has changed. Click Continue. You can confirm the RAM installation by typing "About your PC" in the taskbar. It opens the settings with information about your system. Installed RAM should now say 16GB instead of 8GB.
The next step is to move your system files to the new SSD. Fortunately, it's a lot easier than you think. You'll need to install the Samsung Data Migration Software (opens in new tab) (keep in mind this software only works with Samsung SSD products). Confirm the source and target disks, and then click Start. The cloning process takes a few minutes, and then you'll restart the computer when it's done.
The Dell Inspiron 15 7559 will boot off the new SSD drive. You'll notice a difference in performance at this point: boot-up is faster and apps open more quickly. Don't get too excited yet. The next step is to format the old drive. Start typing "Disk" in the taskbar and select "Create and format hard disk partitions."
Right-click on Disk 1 and click Online. Next, right-click on the D: drive and select Format. Name it whatever you want and hit OK. You should now have two drives. The classic C: drive is the new SSD where Windows is installed, and a D: drive where you can store your other files.
Make sure to go to Settings > System > Storage and change the default save locations to the D: drive. For example, new apps, documents, music, pictures, and videos can now all go to the D: drive instead of the default C: drive.
That's it! These upgrades cost just $125 in total and took about an hour from start to finish (most of that spent on the transferring files and formatting drives side of things), and will make the Dell Inspiron 15 7559 run noticeably faster. For example, it previously took 50 seconds to open Adobe Photoshop CC. It now takes about 10 seconds. If you're looking for numbers, check out the results for GeekBench 3 and CrystalDiskMark below:
Image 1 of 2
At $799, the Dell Inspiron 15 7559 is a solid gaming laptop. For an additional $125 for SSD and RAM upgrades, it becomes significantly better. Upgrading the Inspiron 15 doesn't take long and you're not required to reformat the computer, either. If you have the laptop, don't wait; Go upgrade right away.
Have you recently upgraded your PC? Let us know how it went in the comments!
Where to buy Dell Inspiron 15 7559
Windows Central Newsletter
Get the best of Windows Central in in your inbox, every day!
Great tip. Thank you for sharing.
That's why I love Windows computers. I started off using them and troubleshoot and upgrade. So many options and flexibility.

Absolutely. Any computer or laptop I buy needs to be upgradeable - I always factor the price of ram and pciessds... Though ddr4 I'd stupid expensive at the mo, for no good reason, though I upgraded my new alienware 17 with a whole bunch of ram. Glad dell are allowing access - hate the soldered rubbish on competitors. Apple could learn something - it's not pro without access. But then that's why I have a xps 12 alongside the sp4... Access!!!! Though its not ready. I will be getting a dell latitude 12 7275!!!

For a very good reason. It's kinda new. Not saying its right but that's the way it is.

Its nice but some ram isn't properly configured ive herd Thaiphoon Burner is a must have
HP could learn aswell their voodoo PC acquisition had promise but they continue to cater to the ipad dimwit generation.

Ahh, good thing to know. I was being confused whether to upgrade to Surface Book or this Dell Inspiron 15. I know both have their own pros and cons, but those pros and cons that made me confused, though. Anyone can help? Anyway, I need the upgrade for designing, mosely will be used outside the power adapter.

Quite different machines in a lot of ways. However the price of this starts at $799. The Surface Book, well, it certainly does not.

Thanks! :)
Although after the budget differences, it seems that I will go for Dell Inspiron 15 7559, although it's easy to get hot and does not have touchscreen. On the other hand, Surface Book is suitable for presenting the artwork/design for previewing and it's good at temperature handling, yet it's very pricey. I'd prefer to buy Dell first, and then Surface Book.

This Dell model does not easily get hot. I've never experienced using it where the temperature got to uncomfortable levels. I think the cooling system really works in this one. I have the one with i7-6700HQ.

I'm thinking of getting the i7-6700hq model, is the processor really fast? For example is it quick to load up programs? Also what's the wifi like? I've heard it is worth changing the wifi card but I don't know how to do that

Firstly decide on your budget. Then, after that, search the options you have (Windows Central has made some great guides that can help you). Finally look into reviews of the products and make your choice based on them (the pros and cons, what you need) and what will you be using it for).

Add an SSD and memory to any pc/laptop and it will be faster.
Anyway once you get an SSD you can not go back to an HDD. Ok you can but you it will drive you crazy.

Some say it's best to upgrade both sticks of ram so they're the same specs for dual channel function... All we know is they're called sticks.

Memory is alot more stable then it used to be. The most important thing now is just matching timings, placing in a faster stick will only realize you the speed of your slowest one.

Top Gear: Computer Edition :P

Its hit or miss 1 brand might work & another wont either way if its ddr3L based system your quite limited

will this work on a Dell Inspiron 15 59993? iT ALREADY HAS 16gb of Ram and the thing flies... the initial load time is just not very good.

SSD is all you need, 16gb is considered by some people as overkill Posted via the Windows Central App for Android

But is the install essentially the same?

I just replaced the slow 5400 RPM 1 TB HDD with a Mushkin 1 TB SSD in my Asus N550JV and the difference is incredible. Boot time (to where the computer is usable) went from about 3 minutes to about 20 seconds after cloning. After refreshing Windows the boot time is around 10 seconds. Probably the best investment you can make in your computer.

Right on. And with older systems, upgrading from spindal to an SSD can revive the system altogether. I've swapped in so many SSDs into older/first gen i series computers and it gave them new life. An SSD upgrade really does wonders for apparent responsiveness/snappiness. Awesome investment for the dollars these days.

Would it help my old gateway laptop? I only use it for easy tasks, but it's kind of getting sluggish.

I think for most daily tasks, especially casual use, an SSD would really help with the snappiness (programs will open faster, system would boot significantly quicker, anything that depends heavily on hard drive read/write, vs. processing/RAM requirements). It's one of those upgrades that's relatively cheap and you would notice the most return from normal use (especially when you think it's sluggish at the moment). But having said that, at one point, an old processor/limited RAM capacity would also bottleneck your system (or an older build of Windows, you haven't reformatted for a while). Perhaps if it's anything prior to the Intel core i series (core duo, core 2 duo, etc.), it might just be time to upgrade the machine altogether?

yup, my laptop boots pretty much instantly with the ssd - (it takes afew seconds) so what I do now is I press the power button on my laptop and by the time I turned my TV via the reverse on switch it's already at the login in screen :D.

Awwww i love that COD map! Do you play Zombies too? Great guide btw to upgrade that particulair machine.

You know, if this thing is this ridiculously easy to fix and service. I might consider this model for the siblings when the price comes down alot lol. Never the less in it goes into my short list. Cheers for the handy guide mark :).

Does it have to be ddr3-l 1600 or would any faster ram be of benefit?

I would bet that the DDR3-l RAM they have has a CAS latency is 11 or higher (pretty bad). You don't have any really fast DDR3-l RAM at 204-Pin config but the best I can find is probably getting a 1600 with CAS latency of 9. Will make it a bit faster. You can go all the way to 2133MHz, but the CAS latency is 11, which isn't much difference to the 1600MHz with 9 CAS latency.

Thank you mark for this great tip. Many people are thinking that the reason of their computers being slow is only because of RAM and processors, but a slow physical hard drive can me a big reason too.

What about moving the temp files from the SSD to the regular drive? Those constant read\writes are what busts SSD'S. You didn't included how to do it. Also what about hibernation? It also reduces SSD life significantly!

Ssd tech has moved on from those days ;)

Nice guide, I go SSD on all my machines and max ram. It really does make a difference

Thinking about getting this laptop along with the mentioned upgrades later on. Would it be wiser to install all programs and games on the SSD or the HDD? Posted via the Windows Central App for Android

What are you guys doing? Amazonare selling the same laptop with 256 ssd for the same price.

Quite impressed with that for the money, plus how little it cost to upgrade, also the difference will be a completely different experience I guess. Never fancied dell always read bad reviews about customer service & support, so I ended up using Asus Intel icore,

Hi. It will cost about £200.00 GBP to upgrade it (this is including throwing out the old RAM and including a faster 1600mhz stick, adding a better WiFi card and 500GB SSD.

Can the 960m on this output 4k at 60hz to a TV?

I just ordered the 7559 from "Dell Home" with a coupon code for $690+tax, free shipping. It's the one with the 1TB HDD. I also ordered the above mentioned Samsung m2 SSD with 250GB and the recommended 8GB Ram stick from Amazon for a total of $128 incl tax for FL. Coupon code for the laptop: T$1048B2Q72KHB Dell order code: dncwpw5716haff worked on Feb 19/2016 As I am currently traveling I will not get my hands on it before mid of March. I will follow the steps given here (thanks for a clear step by step guide for the rest of us). Looking at the Samsung migrate software it says to run CUSTOM if the source drive is bigger than the target drive. Would that refer to the physical size of the drive 1TB HDD > 250G SSD? Or the space occupied? As the total files on a brand new 7559 should be way under 250G wouldn't the standard/default work? No image or media files etc to exclude at this moment.perhaps someone who did it can comment. This replaces my 7548 that had a total HD failure and is waiting for warranty HDD replacement before it will be sold. Nice slim with touchscreen, but I rather go with the clunkier style that allows easier upgrade and service. I also found not using the touch screen a lot so I might not miss it. Because of the integrated Grafic the 7548 was very slugish for video editing (no gaming here) and I hope the 7559 with the recommnded upgrade will perform better.

I have bought this computer, and separately the m.2 ssd, and ram. I would like to remove all the dell bloatware with a clean win10 install. First time clean install, but always wish I had years later while housekeeping.
What is recommended method? Can i use the windows reset and then move to a new ssd? Does that get rid of all bloatware?
Or do I need to take an image on flash drive and boot from there. When do I install the ssd and ram in relation to refreshing win10?

If I'm upgrading my dell inspiron7559 ssd will I have to replace it with the old 1 TB hdd or can I keep both of them ?

The 7559 has room for 2 drives. One is the 2.5" bay that usually has the 1Tb HDD, the other is a M2 slot where one can install an additional SSD drive that has to be an M2 drive. So you can have a total of 2 drives. The drive in the regular bay can be a typical HDD or an SSD, the drive in the M2 slot can be an SSD. Typical setup: M2 SSD for the OS (windows) allows for much faster startup. The drive in the 2.5" bay is now used for storage. For optimal performance yiu have to migrate the OS from the regular drive to the M2 drive.

Hi Mark, I am facing a weird issue. After installing Samsung SSD 850 EVO m.2 on my inspiron 7559, I no longer see my old HHD. There is no drive D: (or any other letter). Any ideas for the solution? Thanks.

OK I do see the drive but its offline due to signature conflict. Still looking for solution to fix it. Thanks.

One option that i can think of is to take the HDD out and format it using a different laptop?

Got it. Right click on "Drive 1" and click on "online" and the drive will be online again. :)

Exactly what I did when I gotten my laptop! I used a 850EVO m.2 500GB instead but sadly I couldn't achieve your random read/write speed and my startup wasn't as fast as I was expecting. Anyone could shed some light onto this?

Exactly what I did when I gotten my laptop! I used a 850EVO m.2 500GB instead but sadly I couldn't achieve your random read/write speed and my startup wasn't as fast as I was expecting. Anyone could shed some light onto this?

Hi i just did everything on the video on a brand new dell 15 inspiron 7559 i7 but when i try to install itunes or go pro studio i get an error message. Other apps were installed just fine. Is this related to the upgrade or something else? And can you pls help me solve this? Tnx!!!

Great guide - convinced me to upgrade my SSD in my i7559 (i.e. add the Samsung one in on top of my 1tb). What did you guys do about the recovery image/winretools partitions? I just noticed I have "WINRETOOLS" on both my SSD and HDD. Debating which one to delete.

I want to buy the SSD and RAM, but doesn't the voltage mean something? Doesn't it have to be something specific?
Thanks in advance!

DDR3L is low voltage (ie laptop) spec - 1.35v.

Thanks you for this guide. I do have couple of questions about a competing drive from Sandisk. This is fairly new, a 1TB X400, SanDisk SD8SN8U-1T00-1122 X400 M.2 SSD 1TB (https://www.amazon.com/SanDisk-SD8SN8U-1T00-1122-X400-M-2-SSD/dp/B0194MV...), they reviews have been great but no one has tried it in a Dell Inspiron, at least on Amazon reviews. Do you think it will work in the Dell i7559? I have not even opened the Dell box yet. I would like to add the extra memory and the SSD, migrate the OS before I start using it. Any suggestions would help greatly. Its about $100 cheaper than the 1TB Samsung m.2. But they don't seem to have great support for consumers and its not clear they have any sort of migration software. Is it worth the possible pain of zero mfg. support? Is it just as easy as plugging in a m.2 SATA drive and it works or does it need tweaking?

Hey
I would like to know that after using the Samsung software for data migration, do i need to change the boot to the SSD via BIOS when the system restarts or does it boot directly from the SSD

It's automatic. Basically just disables/unmounts your Original/"old" drive so the SSD becomes the boot drive but you will need to remount the old drive in Windows next time using device manager (after formatting presumably).

Was wondering if the samsung data migration tool transferrs everything because I will be using the computer a bit before upgrading and dont want to transfer all my files to the ssd and then have to delete them later.

Hi I am trying to install the ssd samsung evo 850 m.2 on my dell inspiron 15 7559. The idea was to use it for the OS and programs. I was following thisyour tutorial: I put the SSD on the computer and activate it on the disk management section. At the first time it started normally. I used the samsung data migration but it didin't work, never advancing the 0% progress. I closed the program and restarted the computer, but it would only open windows 10 blue troubleshoot screen. I tried all fixing options avaliable, but none worked. I reinstalled the windows, but it came back to the same screen. I could only start my PC when I took the SSD off. I Tried to put it again, but the same problem happens, the computer boot normally without it but won't boot with it. How can I start the computer with the sdd and how can I intall it properly? Regards

Hi, the exact same thing happed to me. Have you found a solution? Or anyone else, pls? DELL support didnt help... -_-

Could you please tell me how can i find the size of screw for the ssd m.2? Thank you for your help in advance. :)

Hello there, i have the same issue, cant seem to find the m.2 screw size, i bought my i7559 on ebay, came sealed just like dell's deliveres, and yet missing the m.2 slots screw

you should know you can get anything on Amazon, search there...I can't send you the link, the windowscentral site is blocking me

Thanks for this useful information. Since this article is based on the i5 model , will this update work well for the Dell - Inspiron 7559 with Intel Core i7 also ? Thanks

Anyone of you guys know the height the 2.5 slot can accept? Expecting the comp,to arrive in ten days. Samsung evo 250 and 2x8gig gskill waiting patiently on my desk already :-) I would like to swap out the 1tb hdd (will go into another laptop) for a faster hdd, momentus, WD Black but I cannot find info anywhere about the height it accept's. Is it 7mm max (will limit my options) or can I go 9.5mm?

Maybe this is a bit late but the processors does not make a difference. Its the same chassis so it shouold work. It took me less than 5 minutes. Make sure you close the HDD to the SSD before you install it AND remove the HDD before you reboot. If you want to re-use the HDD in the same slot reformat it before you put it back in. I learned this from the arstechnica forum. The have an active SSD thread going back several years and a lot of experts there.

Great Read and Advice! My configuration came with the 256 SSD, 8 DDR, but not the 1 TB hybrid drive. I'm a novice with installing hardware. Can you advise me on which Hybrid drive to buy and how to install (if the process deviates from the samsumg software and process above?) Thanks so much!!!

Hey! i think you'd rather want to install a pretty capable SSD drive instead of a hybrid...not to say that the hybrid wouldn't perform, but the experience would be tremendous if you can afford to have for instance a Samsung 850 EVO M.2 MZ-N5E500BW SSD (500 GB) and a Samsung 850 EVO 500GB 2.5-Inch SATA III. That's a fail proof configuration that should make your dell a solid investment for the years to come.

Dear Friends, Have anyone tried using this Dell Inspiron 15 7559 with a pair of DDR3L 1866 memory? For instance, 2 x 8GB DDR3L 1866. Will the laptop run at 1600 or 1866? The i7 6700HQ supports 1866 but I'm not sure if the bios supports it or not. Any assistance or feedback is very much appreciated. Ray Mak

According to Crucial you can: http://www.crucial.com/usa/en/compatible-upgrade-for/Dell/inspiron-15-%2... But I went with Wirecutter's recommendation (http://thewirecutter.com/reviews/the-best-budget-gaming-laptop-so-far/) and went with: Crucial 8GB Single DDR3 1866 MT/s (PC3-14900) SODIMM 204-Pin Memory - CT102464BF186D (https://www.amazon.com/gp/product/B00LTV2BBK/ref=ask_ql_qh_dp_hza) But when I upgraded to the SSD I went with Sandisk.

Can anyone say teh size of the screw of M.2 slot, and where can i buy it? my laptop came without it now i cant fix ssd on m.2 slot.

This is a great article but has s significant limitation: "You'll need to install the Samsung Data Migration Software (keep in mind this software only works with Samsung SSD products)." What if you DO NOT buy a Samsung SSD product? Right now my 1 TB SSD is sitting in my laptop, is cloned from the 1 TB HDD, but won't boot up. HELP!! (And THANKS IN ADVANCE!) Ron

I bought a Sandisk SSD and it came with a free Acronis True Image copy. Read the SSD forums in arstechnica, a fantastic resource. The addition of the disk, and cloning took all of 15 minutes. The key thing I learned from a forum thread was that I had to remove the original disk for the first reboot. Once the SSD is recognized by Windows as the main disk you can reinsert and use the HDD as an extra resource. Good luck

My system is still booting off of the old drive. Any thoughts?
Windows Central Newsletter
Thank you for signing up to Windows Central. You will receive a verification email shortly.
There was a problem. Please refresh the page and try again.