#wcpodcast 5: Resurfacing Windows 10
The Windows Central Podcast is your weekly dose of everything Microsoft, from Windows 10 to Surface, Xbox, HoloLens and everything in between!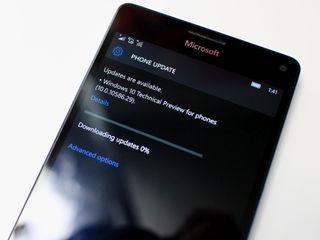 It's official: Windows 10 Anniversary Update is coming August 2nd. This means that all 350 million Windows 10 users will have access to new features, and Insiders will be pushed to the RS2 builds. In this episode, Daniel, Daniel, and special guest, Zac Bowden, discuss what that means for current Windows 10 users.
They also talk about double-tap-to-wake coming to the Lumia 950 and 950 XL, and how the Anniversary Update is setting the stage for a big comeback for Windows 10 Mobile in 2017 alongside a so-called Surface Phone.
Speaking of Surface, there's a new rumor that Microsoft will be releasing a Surface-branded AIO (all-in-one) PC for the living room to take on the iMac.
And they also talk about Microsoft's decision to rethink its Messaging Anywhere strategy to focus on Skype, and compare the Huawei MateBook to the Samsung Galaxy TabPro S.
Plus: Q&A!
Why is the Surface Pro 4 so much more stable than the Surface Book? -@jmetzendorf
What does Microsoft have planned for LinkedIn? -@abhimadasu
Help us make this show the best Microsoft podcast in the world. Tell your friends, share it on social media using the hashtag #wcpodcast, and give us a five-star rating wherever you download your podcasts! Thank you so much for listening!
Show Notes
Windows 10 Anniversary Update coming August 2nd
Subscribe to the podcast
Hosts
Make this show great by participating!
Send in your comments, questions, and feedback to:
finally get to here Zac's voice again, yay!

Guys,please make videos for podcasts.

Thanks for the info. But it would be awesome with you and Zac. Or please say "will consider in the future" Dan.

That's a bit of a rude answer considering it comes from a professional from a popular site lol

He was not rude. He was polite and said sorry too.

Agreed he wasn't rude, but it's totally common nowadays for people to overuse things like "sorry" and "no offense" as a means to let fly any statement, regardless of content. Saying "sorry" isn't something that equates to being polite, especially on the Internet.

Yeah. I agree. But at least he wasn't rude.

He wasn't being rude. He was being Daniel.

Can't wait to listen! No Michael again though! Posted via the Windows Central App for Android

Zac does sound good, but I want to see him and Daniel in a one on one video podcast.

Would like to see timed breakdowns of podcast topics. I'd be interested to listen to the SP4/SB answer, but I'm not goign to ruimmage through a lengthy podcast I'm uninterested in for one answer.

Thanks for the feedback. I agree this needs to happen, and will look into doing it for future episodes. The SP4/SB answer is towards the end, in the last 10 minutes.

Thanks, I'll try to check it out when I'm done making dinner.

Great podcast - these are really good to listen to. One request: Can we keep the language clean. Couple of sh@t last week and another this week. Like listening to it with family around and it's not really needed. Thanks.

Not interested. Just made the switch to Android. I Love Windows on PC but Mobile is dead. Oneplus 3 here I come

Windows Phone/Mobile is dead. True.
Good thing the podcast isn't just about WP. Which you'd know if you at least read at the title. Unless you moved your entire ecosystem elsewhere (you now use Chromebooks or iMacs, you play on a PlayStation etc) the death of WP isn't really a reason not to listen to the Podcast. Or does the rest of the Windows ecosystem doesn't matter to you? ;) Posted via the Windows Central App for Android

I dont agree that Windows 10 Mobile is dead. The system works alright now, and I have noticed that many UWP apps have coming recently. Yes it got a low marketshare. My guess are that Microsoft must have something in the ARM platform for the future.

Great, thanks for the info because everyone here cares that you moved to Android... no serious.. I was SOOOO hoping for an update from you as to what you were going to do.. I was holding my breath in anticipation... what a tool!

Hahahaha thank you, you made me laugh!!! :D By the way, you said it just RIGHT!

Could you keep holding your breath? For like... A month? Then tell me what happened. Thanks. Posted via the Windows Central App for Android

Its so funny how many people blindly follow a platform. I said this and was out of point yes. The reason why I switched was because I love customization, a lot of customization and Windows Mobile doesn't offer that over Android so in my best interest I decided to switch. Lemme ask all you Windows Fan Boys. What do you actually prefer about Windows Mobile over Android? I can swear that half the people that Reply wouldn't even have a Valid reason. See a platform for what it actually is. Another reason why I switched was because of the Apps problem. Yes. everyone says this but the truth is, its a very serious problem. I recently purchased an iPod just to see how the apple platform was and to be honest I ended up enjoying it more than my Windows Phone. That's because of the variety, and choice I had to download apps and was finally able to use Snapchat. In todays world, no matter how much you love something or support something, if that thing offers no advantage over another thing, why choose it? What can Windows Mobile do that Android cant? Now ask the other question, what can Android do that Windows Mobile cant? There are three for me, and its enough to move over. Customization, Apps, and wonderful Flagship devices that interest me. No one is saying you should move over, but why persecute someone for moving over? Its my choice and I decided to finally give up on a platform I have supported for years because its clear that Microsoft is not even trying to improve the situation. Funny enough, all you guys that talk about the platform know nothing about it. I am a Windows Developer. Yes a developer and Ive had my ups and downs when developing for the platform. Im a really young person and have one app on the Platform but I know enough to say that the Windows Platform is difficult to develop for. At least for me. Most of the time, when building my apps, I discover that I spend a substantial ammount builing simple, basic UI elements. What I mean is, to build a sign in page, ill have to do it myself. On Android, I dont. They have Activities. So they have The login activity and so much more. Its just recently that Microsoft really just started enforcing or using one app design language. On Windows, there is WinJS and you can use this for UI and you still basically have to code simple stuff. Thats just a tip of the Iceberg. There are so much more. When I am developing for Android, I really dont have to worry about UI and simple UI pages and elements like the Sign in page. All that is done for me. I just basically worry about the Backend of the program. All in all, you guys that speak about the platform dont know **** about it. Not really. Thank you for reading

There's no point trying to reason with fan(atic)s around here. They're most 13 year olds who can't for the life of them formulate a simple argument. That's why all they do is attack people who jumped ship, like a bunch of dogs with rabies. It's just sad. Specially because they are also the ones that make what's left of the WP-fanbase the worst around the tech world. iSheep are less lunatic than many WP-fan(atic)s. Posted via the Windows Central App for Android

To debunk DJCBS comment that everyone here is a 13 year old.. I am happy to explain my point of view of why I love and use windows mobile.
I used to be a big fan of android and its customization, my fav device was the Motorola milestone series but I started to notice some serious issues with android, the system slows down.. you start to get "such and such.apk has crash/is not responding" or a total phone freeze.
Now I consider myself to be a power user, I use a LOT of apps very quickly that tend to sit in memory and I have often been told that I will ruin most phones - when I was on android.
Ive had iPhone and its a damn good system but I dislike ios personally and I'm not a fan of the apple ecosystem.
I'm in the windows ecosystem on my PC and my tablet so I decided to try windows with an old 520. I tried it for a month side by side against my android at the time and windows mobile ran far more stable and didn't do crashes/resets unlike my android.
So my personal opinion on it is that despite the "app gap" which I personally don't notice my windows phone just works in a way an iPhone does.
I use Cortana daily quite a bit for stuff that I then rely on when on my desktop and I like the integration it has, especially as windows mobile updates and expands.
That's my personal opinion and I know some android fans will shout me down but its an opinion and as such cant be wrong because its not a fact statement.

I understand your statement very well. Windows 8.1 was smooth as hell. I really never had problems with the OS and I only experienced the app gap. Windows 10 mobile on the other hand is a sea of bugs and now, mid range devices like my Lumia 830 cannot run smoothly. For the flagships, there is a sea of bugs. I know android has the issues you speak about and I only go for android if im getting a flagship device. No one can tell me that a phone with 6gb RAM would hang? Or a phone with the latest 820 SOC will slow down? Personally, Microsoft needs to go back and rethink its strategy. In my time of trying to convince people in the past to switch to Windows Mobile (My whole family switched) people usually say, "doesnt windows 10 have a lot of bugs?" they funny thing is people do think about Windows Mobile, or consider it but there are certain things that make them re-consider such as these bugs, the app gap, and Microsoft not showing they are dertermined or that they care about mobile. If for example the only problem was the App gap, which was the case of Windows Mobile 8.1, ill stay for sure because thats the only issue. Today, there are bugs, my device is super slow, apps crash and close unexpectedly now. Now my main argument, why would I fork out 800 Canadian dollars for the lumia 950xl when I can get a phone with 6gb ram and an 820 Qualcomm SOC for 519 CAD. It makes no sense!!! Its funny that a year ago, I bought my 830 for about the same price. In my oppinion, microsofts flagships are too damn expensive especially when they are trying to compete. Imagine if walk into a store and I see a samsung galaxy s6 edge or s7 edge going for almost about the same price of the 950. For an average user, who knows nothing, which one do you think he would choose? The important thing Microsoft needs to do is look at their pricing. Compete wisely. Also, Market!!! Market!!!. I hardly see any Microsoft ADS for the mobile platform. Get rid of the speculation that there are a lot of Bugs. Also, get rid of the bugs because there are bugs

You say in your lengthy response below why should anyone "persecute" you for having switched to Android. In other words, you are preaching "live and let live". Fine. But why then would you bother even making your initial post above? It was a flippant and totally unnecessary post, contributing absolutely nothing to the world, but once you chose to post it, you forfeited all rights to cry foul when others take you to task for it. If you can't take the heat, stay off of the blog posts. Oh, and by the way, your statement ..."[Windows] mobile is dead..." should have been written something like "Windows mobile is dead FOR ME". Because you see, ANDROID IS DEAD FOR ME, and Windows 10 Mobile is very much alive, viable, vibrant, far more productive and useful FOR ME. See, that's how it's done.

Your post just proved what DJCBS said. My post clearly just said what Microsoft should do. I never insulted the platoform or anyone on here and was recommending that Microsoft should slightly reduce prices of their flagship devices to create some apeal when they come up against giants like samsung. We microsoft fans need to look at what MS is doing and maybe advice them on what they need to do right, the android community is that way. You guys just follow blindly and think everything would be ok by just being an insider. There are business side of things too and microsoft isnt getting that part right thats why their mobile devices are not selling. It was just a recommendation so if youre going to start throwing tantrums, you can keep going on. Thank you.

Oh, and by the way, lets end it here. You like windows, no problem. I like Windows but its not for me right now, and im moving, No problem. Ok?

Watch this. Exactly what im talking about: https://www.youtube.com/watch?v=_zbsvN-dNDs

Cant see latest podcast in the podcast section.(mobile app)

Podcast have been like unicorns

Overall I think the best laptop made is the new ThinkPad x1 Yoga. I bought a Surface Book and gave it to my son and got the ThinkPad. It has fingerprint reader and can use one finger to log into one profile and another into another one. Better keyboard. Superb machine--I do however like the aspect ratio of the Surface Book. And for me I have to have a trackpoint. First thing I do is disable the trackpad. So really makes no difference to me the quality of the trackpad--I refuse to use them period.

Great podcast! I very much enjoyed and appreciated the well-researched, well-reasoned, informative & useful way Daniel, Daniel & Zac reported the facts and gave their individual takes on each topic. Very good stuff and I hope WC will be able to continue keeping us up-to-date with more podcasts like this one. Thanks again for a job well done.​

Isn't this podcast available on SoundCloud?? Posted via the Windows Central App for Android
Windows Central Newsletter
Thank you for signing up to Windows Central. You will receive a verification email shortly.
There was a problem. Please refresh the page and try again.