'Double-tap to Wake' is slowly being released to Windows Device Recovery for Lumias
Microsoft may be readying to push double-tap-to-wake to the Lumia 950 and Lumia 950 XL in time for the Anniversary Update.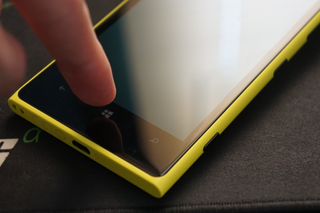 Windows Central forum member boorya121 posted a thread about new firmware being available on the Windows Device Recovery Tool (WDRT) starting yesterday, which is used to reset a user's Windows device back to factory state. Since his original post, he has since shared some screenshots of the feature, which is found under Settings > Extras > Touch.
The new feature appears to part of firmware version 01078.00053.16236.35009. That is a substantial jump from 01078.00038.16082.36005, which is the latest for the Lumia 950 XL in the US.
What makes this story complicated, however, is that this firmware is only confirmed for unlocked devices in Russia. One user in India and another in Sweden have also claimed that the firmware is on their WDRT server for their phone.
The firmware is tied to the particular SKU of the phone model and region, but not related to the OS version. People who use WDRT will actually wipe out their phone's internal memory and start with an older version of Windows 10 Mobile, but with newer firmware (if available). From there, they would have to use over-the-air updates then to either get to the latest Production build or re-enroll in the Insider rings for the Anniversary Preview.
It has also been noted that Lumia Motion Data is missing, as that feature has now been deprecated. The feature is not going away per se, but rather it is being merged into the Windows 10 API code for wider adoption across more devices.
Not all Lumia 950 and XL phones...yet
We checked our Lumia 950 XL dual-SIM (US) and Lumia 950 (UK) yesterday and this morning, and while we did have new firmware (technically from April), it was not the advanced version containing the double-tap-to-wake. Once Microsoft signs off on the firmware for wider release, it should go broader and be over-the-air.
If we had to guess, the new firmware and 'double-tap to wake' will come with the official Windows 10 Anniversary Update scheduled for August 2. Waiting a few weeks is likely your best course of action to avoid re-installing all your apps and software. Users will get the firmware regardless of their OS version at the time or Insider status.
Microsoft had to re-write the drivers and APIs for 'double-tap to wake' so while Windows Phone 8.1 devices upgrading to Windows 10 kept the feature, phones that ship with Windows 10 Mobile do not have it.
Jump into our ongoing forum thread to follow this story: "Double tap to awake 950XL is here! New FW available in WDRT".
Thanks, boorya121, for the tip
Windows Central Newsletter
Get the best of Windows Central in in your inbox, every day!
Daniel Rubino is the Editor-in-chief of Windows Central, head reviewer, podcast co-host, and analyst. He has been covering Microsoft since 2007 when this site was called WMExperts (and later Windows Phone Central). His interests include Windows, laptops, next-gen computing, and for some reason, watches. Before all this tech stuff, he worked on a Ph.D. in linguistics, watched people sleep (for medical purposes!), and ran the projectors at movie theaters because it was fun.
I'd given up hope thinking it was a HW issue since utilizing it from the start would've been a no-brainer in my books. Anyways, I'm very excited about this!

What about super sensitive touch? I'm still waiting for that. Pretty much the only advantage an Iris scanner has over a fingerprint scanner is that you don't have to take off your gloves during the winter to unlock your phone. But then you have to take off your gloves anyway to actually do anything useful, which is dumb.

Aye, something else for them to consider...although I live in Florida and only wear gloves off and on for a month or two. However, when I go to Ohio or Pennsylvania, it sure is handy.
..
Besides, MS should cater their work around my personal needs, right? Forget everyone and everywhere else who do not have palm trees in their yards like me /s.

use cortana or come to mediterranean countries :D

Using hey Cortana is a good idea. Moving to the Med, not so practical.

HMMM....AT&T will hold this firmware update hostage for awhile...well, because they can.

They only have power over what affects their network stack is my guess.

Power is power, regardless of how little it may seem to be especially if it is more than the power you or I hold.

This is very, very true, but they are AT&T and we are not, so their power is greater than ours...

Do you know who I am!?!?!

I am powerless to understand your comment. Help me understand.

I was only kidding :( Was implying that you couldn't know if ATT is more powerful than me .

Ii was playing too! I understand your comment now and it is humorous!

Dan, I curious about the statement "Users will get the firmware regardless of their OS version at the time or Insider status​". I believe I remember Gabe mentioning this on twitter, but WDRT currently has a firmware newer than the one on my 950XL (US unlocked). I assume that newer version has never been pushed OTA? (This is of course a significantly newer version than that.) edit: getting Tap to Wake is great news too :)

All you need to know: You don't need to touch your device. If this firmware is available for your phone and model and it is officially released, you will get it OTA. WDRT releases sometimes come ahead of OTA updates, but I do not recommend wiping your phone for something that will come as just an update. You can check the WDRT servers for the firmware, but it is likely not there at this time.

There's actually an important consideration that could justify, or even require using WDRT for that. You might have been unlucky with a defective 950 XL unit, especially if you purchased it around the last holiday season (when it was running out of stock everywhere due to low supply). My sister got one such 950 XL (she seems to always get defective phones, and no, this is not a "PEBCAC" issue ;) ). It would randomly reboot and had some GPS misalignment issues, bluetooth reliability problems, and more. All of these issues had been fixed in the current firmware for the XL, but for some reason unknown to Microsoft themselves (as mentioned on an Answers post), some specific devices just didn't get the firmware update. They got all the OS updates (through Production or Insider) but not a pending firmware update. I thought perhaps hard-resetting her phone would fix the issues, so I connected it to the WDRT. And bam, there it had a firmware update for the phone (this was a few months ago) when the phone itself didn't show any updates OTA. "Updating" it using the WDRT has since fixed all of her phone's issues and it no longer seems to restart. So I would suggest looking at the version numbers (if the phone's FW is below the CURRENT -- not Russian SKU -- version as mentioned in the article), use the WDRT and flash away your problems. :-)

I'm going to try this, as my L950XL got broken after some updates in the recent months (after hard reset or WDRT, I can't currently reboot my phone or else it goes into endless reboot loop). I might give the new firmware a shot and see if it fixes the problem, which I'm doubtful about, but it's worth a shot.

I bought my 950xl on Dec 23. Had the same issues. Unfortunately no update or firmware fixed it. Finally got a replacement Thursday. I would reboot or turn off 20 times a day at point.

Double Tap to wake is there for 640XL already..? Or is it a new feature..?

Sure, it's part of 640/640XL. New to 950/950XL.

Well the 920 as well .. doesnt mean that the newer pureview devices got it

8.1 devices are not part of this conversation. Always had double-tap to wake if part of that model. We are only speaking of the Lumia 950 and 950 XL at this time as they do not have this feature.

What about the Lumia 650 ?

That's what I was hoping for, but no biggie. I've slowly gotten used to not having it.

Honestly, it's part of the "We'll see" catagory. Only the 950 and 950 XL has seen reports, but you can always cross your fingers and hope the 650 gets it too (since the 640 and 640 XL has it, there's a chance).

no just forgot to add to x50 series....

This reminds me of Glance Screen which I miss badly on my L930.

Me too on my 535 :/ And it's crazy, that even my little brothers 532 has it, but my 535 doesn't :/

But in 535 we got Double Tap... Glance could be awesome, but is also awesome battery survive until the end of the day.

Oh yeah, I love the double tap to wake and double tap to sleep features on it :D I barely use the power button of my phone :D

yes, my L535 have this feature but doesnt work double tap to wake. very disappointed

If I recall correctly L930 doesn't has proper hardware(different screen type) to support Glance screen. Was slightly disappointed with this since this was my first Lumia device

I hope you're not implying that there are actual technical reasons for these features to be omitted for certain models and it's not just Microsoft making stupid arbitrary decisions specifically to spite their loyal fans. /s

Which is why the 1520 had been, and somewhat still is, king.
..
My heart broke and my soul died a little bit when my red 1520 broke.
..
I like my 950, but I miss some things from my 1520. Admittedly, it twas too big, which is why I am pressuring my woman, who is sick of the buggy OS (in her SAVAGE opinion) on her 1520 to get a 950 XL - so I can take it from her allowing me to have the screen size I prefer whilst gifting her my used 950, lol. I have a new red MOZO case in the box for the occasion, which will come, sooner or later.

Hahaha I broke first my yellow and then my green 1520, I cried inside for days. Damn tile floor. The 950xl with insider builds is only now just starting to feel like an upgrade.

Oh thank god... Lumia 950 XL, here I come, I guess.

Surely this was in the works with your boy Gabe long ago...

Doesn't matter. Whoever is at the helm at the time is responsible, for the wins and the failures. That's how it works ;)

I got a firmware update in my Lumia 950 xl ( Firmware: 01078.00053.16236.35013 OS version: 10586.13169

What country are you in? If you are in the US, what carrier do you use? I am wondering this firmware update will need to be approved by the carriers.

If you are in the US, no carrier sells/brands the 950XL, so no, they don't need to approve ;)

So? Does your 950XL now have DTtW?

Ha, I have only just got used to not being able to double-tap to wake on my 950! Happy to relearn. Good news. :)

I still do it, even now... force of habit.

Give continuum for Lumia 930. It has already double tap .s.s

Lumia 930 - Continnum is harware-related stuff. New hardware needed for continnum

EDIT: Oh, I see your removed you sentence claiming 930 doesn't have DTTW. Has DTTW, but not Glance (there's a hackish version of Glance). Correct about your second sentence...

Wut what hackish version?

Are you in India ? Did you get it OTA? as one l950xl from India has got it according to the article..

When I hear firmware updates I kinda take it with a grain of salt because of...you know US carriers.

Unlocked is the only way to go with these high end devices.

Feels like a "get out of jail Free" Card, doesn't it?

Yessssssssssssssssssssssssssss waiting for 950 and 650


Flagship phones off the rack no dbl tap....lol rotfl, way to go Microsoft!

It was a complaint about 950/950XL since day one.

If you are just finding this out, clearly it didn't affect you. Bugger off. My iPhone 6S and Nexus 5x don't have it either.

Well i have that option in my 640DS

At first, WDRT wasn't showing and update. So, I uninstalled the WDRT from my PC, reinstalled it, hooked up my 950XL, and got a notification of the firmware update mentioned in the article. Downloading now. My 950XL is the single sim international version.

Touch to wake is indeed in settings, now, and it works. Lumia 950XL RM 1085
US

I'm not looking at my phone at the moment, but I'm almost certain that it's the new firmware mentioned in the article.

And this is why we hate you right now...

I'm sorry. I'm sorry. Ha ha

Now, Lumia 950/XL is complete and perfect.

Nope. Once DTtW is implemented it will be about 90% complete/perfect.

Finally. Best news I've come across here in a long while. Now it's just playing the Waiting Game.

Another 8.1 feature being brought back, when will we have new features

You do realize this feature just simply had to be rewritten into Windows 10 Mobile for every single Windows 10 Mobile device?

But, he does have a point. If they left the double tap goodness in from the beginning, this would not have to be "re"written in...

It was because they were rewriting the sensor core APIs for 10

Ahh, always nice to see MS working on years-old software features like this and background music on XB1. IT'S THE FUTURE.

In theory, this should be the last time something like this needs to get rewritten with the unified Windows 10 code base (but there's no guarantee--look at the Messaging, Messaging+Skype, Messaging Anywhere, Skype debacle). The updates from here on out should really interesting now that they have a solid foundation to work on!

IDK, still haven't gotten lock screen artist art back in Groove in 8.1 or W10M. There are little things that XB1 and W10M are still missing, though I'm guessing some (like artist art on the lock screen and local music storage on XB1) will never come back.

Good to hear the feature is making a return. I still to this day, on my 950XL, try to dbl tap on the screen to wake it. It's funny how it had become such a habit that I still unconsiously do it.... ;-)

What about non Lumia phones? Will it come those phones as well?

It is a manufacturer firmware addition (the manufacturer being Microsoft Mobile). Other OEMs will need to implement their own version of DTTW in their own firmware.

Daniel, why my 950xl dualsim US still on 16025? No OTA to 16082 yet?

16082 was never an OTA update. The reason for that is because it was just a combination of the previous firmware updates, nothing new.

Thanks.... I too am on 16025!

Dan, any idea what the three colored boxes in the lower right hand corner of the screen indicate? It's also on my current version (US 950).

@Dan Rubino: Is there any chance Microsoft will enable the pen support that the 950xl was supposed to have on board? I do miss double-tap-to-wake, but I was most looking forward to jotting notes on my phone. I *so* miss that from the Pocket PC/Windows Mobile days (back when folks on wmexperts used to ridicule the "stylus-challenged people" going for those new, very plastic-looking black phones from Apple).

I also got it for my Lumia 950 Dual SIM, India. http://i.imgur.com/pMuuvmw.jpg

hi.. tell me.. do you have any issues with Headphone on build 14379 build. in my 950 during picking the call by headphoine no voice nothing was coming . when call by using headphone also i have issues.. did u face any issues??

Has anyone in UK got DTTW yet

Has anyone in UK got DTTW yet

Why did that post twice hhmmm

THIS!! Fix and ill buy my L950 tomorrow

As long as the HP Elite x3 has it I'll be happy. Else #FAIL

I got this firmware 01078.00053.16236.35034 up from the firmware shown above :/

Usb otg to all lumia plz MS

And USB Audio Class 2 support.

The most anticipated "update" this year! And it's not even really an update, it's more return of feature that should never have gone away.
I'm not a technician but it seems strange that this seemingly simple feature which has been heavily requested be users, have had to wait for so long to return...

Oh so very nooice! Just got a 650 and double tap to wake is about the only thing missing from making this one of my favorite Windows Phones.

I don't understand a single letter on the screenshot but that what I been waiting for.... fingers crossed!!!

Works just fine on my L1520..☺ Most excellent feature.

What are those three tiny squares at the bottom right? They show up only on this setting only!

I really missed this! I can't wait.☺

I've been waiting so freaking long. Why doesn't Microsoft officially announce that it is coming?

Because it's not official yet

Doesn't get much more official than being covered at Windows Central ;) The leak venue of choice by MS PR depts worldwide. ;)

And im lucky that this still keep on my L830.

Got it for Lumia 950 India yeh !!!

Hope it comes for 650 too

Will be all supported devices.

Nothing for my UK 950xl...... yet

Try again in few hrs. I've installed in my L950. DTTW works!

Gave up waiting in UK so followed a Forum advice http://forums.windowscentral.com/microsoft-lumia-950-xl/430090-4.htm#pos...

Finally! I reflashed my L950XL just to see if I'd get DTTW and there it is. Works great too. Better than on any previous Lumia I've owned.

maybe the icon gets it too

CAN SOMEONE PLEASE TELL ME THE LATEST FIRMWARE NUMBER FOR LUMIA 950XL DUAL SIM IN INDIA . THE MOST RECENT FIRMWARE UPDATE NUMBER, NO THROUGH WDRT THOUGH, THROUGH WINDOWS UPDATE

Your Caps Lock seems to be stuck.

bring this to the lumia 640 xl :D if possible

Lumia 640 xl have this double tap feature..

Congrats to those users then :D :P By the way what are those three dots in the bottom right in touch settings? They are also in my 730's settings

I too have always wondered what those yellow blue and red dots are! (on my 950XLDS)

I'll be glad to have this feature back on my 950. :)

That's a must have feature.

I have a 950xl. For about a month so far. All I can say is, I MISS MY 1520. Sadly, I sold it...

I sold out 1520 and get 950XL, very happy. 1520 is out

Just flashed my 950XL, and double tab to wake now works. Sweet!

What region are you in please?

I bought mine in HongKong

Thank ****!!! It's about bloody time!!!!

In the meantime, WP10 totally ruins double tap to wake on phones like the Nokia 930. Posted via the Windows Central App for Android

Slowly but surely! Fingers crossed

great its coming but its very very slowly and sometimes surely, hell we still havent goten gestures beta back well they stuck inm a mute function lol but wheres the turn on speakerphone, the single most useful features of gestures beta. Mind you in the time gestures disapeared microsoft have made a lumia 950 and removed gestures ans tap to wake up and 6 months later tap to wake up is comeing but no gestures beta working.

In India the WDRT is showing an newer firmware update namely 01078.00053.16236.35013.
But it seems logical to wait for OTA update rather than flashing the phone.

Flashed and working. I'm in Australia.

I´ve always wanted to do a double tap, look at my phone and unlock it, it will be AWESOME!

I just got my 950 last week and was gonna ask where tap to wake and sensitive touch went. Miss those from my 920.

I got this awesome features, Doutble tap to wake up on my Lumia 950 DS in India. here i upload my phone screen shot.

Firmware version 01078.00053.16236.35007 is the new firmware for my lumia 950 DS in india which is capable of DTTW.

hi.. tell me.. do you have any issues with Headphone on build 14379 build. in my 950 during picking the call by headphoine no voice nothing was coming . when call by using headphone also i have issues.. did u face any issues??

make it happen ! oh lord :P

really shocked their flagship phone doesnt have such a basic and useful feature, hell its like gestures alover again, give us something then take it away, thats the bigest issue i have with windows 10 and microsoft. Outlook was the same for 12 months, skype was the same till this month and it still havs festures like audi and video settigns missing, a overlay to see friends feed when multitasking. Calender took nearly a year to get a weekly view. I tihnk this is one are miv=crosoft really need to sort out cause i know alot of people moved to android or even mac devices casue they were fed up with loosing feastures. Double tap is a feature and wwhile im sure 950 owners are prasing its iminent arival i bet most that came from windows devices have been cursing its exclusion. Whod blame them. Double tap Gestures beta built in? skype camera (though 2 days its been exelet) still needs some missing features too. menu bar? who cares anymore edge is finished for me. no more hoping just to be disapointed by removing features.

Just waiting for OTA release, then.

I have the "double tap to wake up" in my Lumia 1520 it was working perfectly on Windows 8.1 but it isn't working on Windows 10 mobile, even though the feature is available, I turned it on restarted it didn't work, tried a lot of things but didn't work

Works fine with my 1520 with windows 10 which I've now retired.

If you did a hard reset after W10m, it will be gone as it is not part of the OS. It comes from the Lumia apps from WP8.1. Mine is working fine.

When will come LED notification feature for l730?

I was waiting for it too, but, I guess that will never happen.

In Finland 01078.00053.16236.35015 shows with ​WDRT and L950.

in Malaysia 01078.00053.16236.35005 installed on my L950. It works! DTTW is finally here! Finally feel it is a proper upgrade from my former L640! Love my L950 now.!

Anyone got "use speech to announce caller ID" after this WDRT update?

Its (16236) showing up on My 950XL DS using WDRT in the US. Backup my stuff now to get the new firmware.

I have got the update too on my WDRT..

Compass apps and DDTW would have made the 650 the perfect phone for me, but at least I hope 650 users will get DDTW.

There is some hope for all windows 10 mobile phones

That will be good. I still have the odd problems that for half the time I can't use the screen if my Lumia 950XL is on a flat surface, It's as though there's a proximity sensor on the back as well as the front. I lift/tilt the phone and all works. ODD. I hope this firmware update will fix that too.

I have it on my 730 even after updating to win10m

YES! Works great on my 950XL. Retarded why it wasn't included from the begining since it isn't a hardware thing... Now super sensitive touch would be great.

Hey, by any chance did you lose visual voicemail after recovering and applying latest fast ring update (assuming you are getting insider previews)?

Anyone got this in the UK yet?

Will that be sucking extra battery juice to standby for the doubletap?

already do not touch land to the 950 XL dual sim version USA and neither to the 950 DS version USA

Yeah! I still absent mindedly double tap my 950xl like it was my "primitive" 920 of yesteryear.

Please to confirm that I have just received a normal update (build 10.0.10586.420) in Hong Kong on my 950XL with firware 01078.00053.16236.35009. No need for WDRT or insider, just confirm restart after update was (automatically) installed. Good to have them giving back stuff we had before....
Windows Central Newsletter
Thank you for signing up to Windows Central. You will receive a verification email shortly.
There was a problem. Please refresh the page and try again.