Windows Central 6: How Microsoft got its Groove back
The Windows Central Podcast is your weekly dose of everything Microsoft, from Windows 10 to Surface, Xbox, HoloLens and everything in between!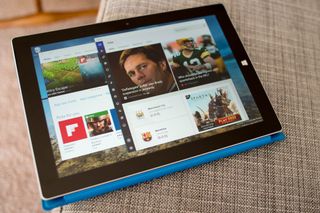 This week, Daniel Bader, Daniel Rubino and Michael Fisher talk about the latest rumored Surface devices, including a refresh of the Surface 3. Can Microsoft find a way to get a Core M processor into the new Surface 4? And does the Surface Book need a refresh in 2017?
Next, Windows 10 Anniversary Update is almost here, and Microsoft has begun the sign-off process for finalizing the code. What does that mean for the next few weeks of Insider builds, and for the future of Windows 10? They discuss.
And CNN has discontinued its aging Windows Phone app on July 18. Does that matter? The team discusses the future of Windows Phone apps in light of the Universal App strategy.
Finally, Your Groove is a great new feature coming to Microsoft Groove. Can Microsoft's expertise in Machine Learning and AI propel the company's music streaming service to new customers?
Help us make this show the best Microsoft podcast in the world. Tell your friends, share it on social media using the hashtag #wcpodcast, and give us a five-star rating wherever you download your podcasts! Thank you so much for listening!
Show Notes
Plus: Q&A!
Subscribe to the podcast
Hosts
Make this show great by participating!
Send in your comments, questions, and feedback to:
Most recent articles won't load on Windows Central app. It is essentially dead.

(1) Not seeing this on any of my devices on any builds (2) Not having a lot of reports about this (3) Please use UserVoice and not random articles/off topic (4) Try to uninstall and reinstall app (5) Thank you for your patience

I think you meant something like "Thanks for the report. We're not seeing this on our devices or new builds, but, reinstalling the app might help. We'll take note of the issue but in the future if you use UserVoice for bug reports we'll be able to do a better job tracking them." -- Just translating for you.

Reinstalling the app fixes all those issues. Lagged like crazy and crashed constantly until i reinstalled and now it works like a charm.

It does that on my PC too (10586.420), I have to switch between phone and all news a couple of times to see the newest articles. But it works perfect on my phone. Anyway, hope it will be improved.

Why is the app showing new podcasts only after a few days? (under podcasts not the actual article) Have always to use another podcast app.

I just checked my app on two phones and I see Ep 6 under Podcasts subsection. Edit: I see the issue on PC. Put it UserVoice and I'll flag it.

Ep 6 still not there on my lumia 950 xl . I'll up vote the uservoice

Good podcast, I really enjoyed the broad range of topics. And yeah occasional digressions add some nice flavor too! Keep it up guys :-)

Really appreciate the comment, thanks!

And speaking about the Surface 3 successor, I feel MS should probably only continue with the Pro line (m3 processors and above) and leave the Atom tablets for OEMs to handle. Lots of Chinese OEMs are coming out with some really decent Windows 10 tablets running Atom chips (Xiaomi for example has a pretty impressive one). The Surface line should simply stick with a minimum of an m3 processor (or equivalent). The Atom is good mostly for casual use and not so much for more productive scenarios which the Surface drives as a significant selling point..

The smaller form factor is perfect for a travel device or for students. They should definitely keep it. Intel has the new Apollo Lake chips coming out, hopefully soon enough for an end of year launch of a Surface 4 (non-pro). Maybe offer Pentium for the entry-level model (which would still be drastically more performant than the current Atom-based Surface 3) and a Core m3 high end model.

Yes I forgot about the Pentium line. That would be a better fit for the Surface 4 if it's released. The Atom though should not be used in another edition of the Surface except it gets significantly improved from the BayTrail/CherryTrail performance -- the current Atom is mainly suitable for the casual consumer.

I'll have to see what's changed in Groove, but it's been such a piece of junk app. Its local library handling's been terrible for years, and I can't bring myself to start up Groove and have it mistag a bucnch of my music AGAIN. The Garage question intrigued me, so I listened to that. I also liked the point of how MS basically told a half-truth on the Lumia 950 line--the phones aren't that good, so calling it "for the fans" is kind of a slap in the face. Having things like widespread creaking on the chassis/case and the numerous launch bugs really felt like this was more a fanboy beta device than a real attempt to service the fans with a high-quality device.

Maybe Surface 4 will use Pentium. Pentium is pretty good lately for everything if you don't play any games or do heavy-duty video editing.

Great podcast. Always entertaining and good to hear a variety of insight.

Great podcast guys. You three on a discussion is always a blast. I really don't think Microsoft should have a surface anymore. I think they should leave it to their OEMs to make entry level tablets or 2 in 1s. The surface pro and surface book are enough. I think they should stay in the high end segment. Posted via the Windows Central App for Android

Great episode, really liked the Show Notes parts with the minutes, please continue this. Surprised that Daniel Rubino forgot to mention his own Instagram.

Great podcast, Mr Mobile is awesome Posted via the Windows Central App for Android

Did anyone join Groove Music Pass through the old MixRadio? Were supposed to get a bonus month after free trial in the form of a promo code. My email with promo code finally arrived but where the code should be all it said was "Sorry, this promotion has expired". Right underneath it says that the promo code expires on 07/31/2016. What the hell does that mean? Anyone else?

Sorry to ask on here... but have I missed issue 7, I can't seem to find it ??

HI DBS2 ! HERE YOU CAN CLICK EVERY WINDOWS CENTRAL PODCAST http://www.windowscentral.com/podcast AND WINDOWS CENTRAL PODCAST 7 http://www.windowscentral.com/windows-central-podcast-7-all-about-mclaren-special MESSAGE AT ANY TIME T5NET
Windows Central Newsletter
Thank you for signing up to Windows Central. You will receive a verification email shortly.
There was a problem. Please refresh the page and try again.