This week's Deals with Gold will take you to the stars and beyond in Elite Dangerous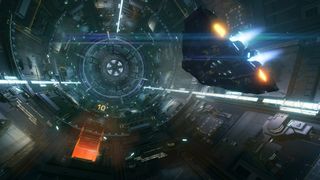 It's Black Friday this week, ensuring many take advantage of enticing deals and discounts on a variety of products. Microsoft has announced this week's Deals with Gold, which will enable those with an Xbox One or Xbox 360 console to add a few games to their collection, without paying the full listing price.
Xbox One
Xbox 360
Duke Nukem: Manhattan Project - 50% off
Fireburst - 80% off
Hunter's Trophy 2 – America - 80% off
Sonic & Knuckles - 50% off
Sonic & SEGA Racing - 50% off
Sonic & SEGA Racing – Metal Sonic & Death Egg Zone (Add-on) - 50% off
Sonic & SEGA Racing – Unlock All Characters & Tracks (Add-on) - 50% off
Rich Edmonds is Senior Editor of PC hardware at Windows Central, covering everything related to PC components and NAS. He's been involved in technology for more than a decade and knows a thing or two about the magic inside a PC chassis. You can follow him over on Twitter at @RichEdmonds.
Anyone tried Beyond Eyes?

It is definitely an interesting game with an excellent story. I think if you like 'different' games, you may like it. It is a pretty short game, and limited replay value, and it can be challenging if you do not use a guide, but then using a guide takes all the 'fun' out of this game. For the price on sale, it is definitely worth at least trying the game.

Been debating if I should get Elite or not.. Am I missing much if I don't get the DLC? I can't get a clear picture of how it works with and without Horizons... Damn it

You still get a lot of the content without Horizons, but Horizons brings so much more. Horizons gives you Planetary landings, access to engeneers (they allow you to mod various parts of your ship, like better engines and weapon mods), on-board fighter ships you can launch and control, passenger missions where you outfit your ship with passenger quarters and take them to various sights around the milky way, and new starports. It's like a season pass and there are still two more content packs coming with Horizons.. Multicrew, that allows friends to be crew on your ship, and they are adding a commander creator so you can make your avatar.

Agree. Horizons adds so much to the game it's well worth the purchase.

Do you play it on Xbox or PC. I've been saving up for a new flight stick for my PC, thinking I'll get Elite on there. Was wondering how the Xbox experience was.

I've played on both. I still prefer the controls on PC using a combination of flight stick and keyboard, but was pleasantly surprised with the experience on Xbox. It obviously lacks some of the control customization that the PC has due to the lack of buttons on the controller, but for what is there it's pretty solid. It just takes some getting used to. I've been moving away from gaming on PC recently though as my PC is due for a serious upgrade and I honestly don't feel like spending the money on it.

Yeah, that's what did it for me as a final push into maining on my console. I'll always be a PC gamer at heart, born and raised, but till I have a lot of money spare to build me a new monster PC and VR later on for some serious business, my Xbox One is more than enough.

Wow, that's a very quick and thorough reply. You actually painted a whole different picture on the DLC than I had and what the metacritic user reviews implied. So its all or nothing now. Is all that really based on Horizon? I thought that the missions and engineers were just part of the patch that added the Horizon's DLC with what is to come you made me really want the DLC now. That explains why its called Season Pass Horizons :p Thank you so much for the reply. :)

Got the Deluxe earlier. Couldn't help it!

In my opinion, either get it all or don't get it. Also, keep in mind, this is the most PC game ever brought to consoles (arguably). If you are patient, love getting lost in games, and....well, VERY patient this is an amazing game with a TON of gameplay. Planetary landings are a great part of the game which is only included with Horizons. Definitely purchase the DLC for this game.

Well when it comes to games I'm like cyclothymic.. lol I literally have mostly about everything but I tend to prefer the opposite of games like this. I'm aware what I'm more or less getting into if I buy this. It's always a coin toss on if it will be a wasted money purchase for me or not. Got about 270 games installed on my Xbox alone. I really haven't played them all :p Now I just need to decide if it's the deluxe version or something else. Enough shopping games. Damn Black Friday! Thank you for the reply and the heads up btw :)

Thanks. Now You Spin Me Round and Brand New Lover are stuck in my head.

What game is that screenshot of? Looks like Destiny. Also, does anyone think Virginia is worth the sale price?

Elite is awesome, been playing since gpp and love it. The horizons season pass adds alot more to it, just recently an update enabled certain ships to be able to launch fighters to help protect your ship if u hire an noc crew member to fly the fighter or u can fly the fighter and the npc crew flys your main shop. There is a steep learning curve for beginners but once u get the hang of it, you will be hooked. I recommed new players try the turtorial videos and missions to get feel for the game. There is so much more to come in the future as well

Thanks for the responses. This game looks pretty awesome. I have been waiting for a game to rival Colony Wars back in the day, will have to try this out when the cost comes down a little.

What game is the screenshot from?

EVERYBODY BUY ELITE DANGEROUS!!! Sorry for shouting but this game is easily my best game of the generation. The scope it's incredible and they just keep adding more. Oh and get Horizons either now or later, it adds so much more to the game.
Windows Central Newsletter
Thank you for signing up to Windows Central. You will receive a verification email shortly.
There was a problem. Please refresh the page and try again.