What are your must-have apps for Surface Pro 4?
Tell us which apps you're using on your Surface Pro 4 right now!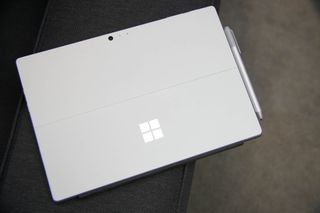 The Surface Pro 4 is an awesome piece of Windows 10 gear, but the hardware alone is only half the story. What you do with it is more important than the processor inside or how thin it is.
Naturally, we're big fans of the Surface lineup, and that extends beyond our editorial staff. The Windows Central community does things with their devices that some of us would never even think of.
And that's why we're turning it over to you.
We know what apps we love to use on the Surface Pro 4, but we're more interested in finding out about the software you use on your device. So, please help us out by hitting the link below, dropping into our forums and sharing details on all your apps.
Windows Central Newsletter
Get the best of Windows Central in your inbox, every day!
Managing Editor - Tech, Reviews
Richard Devine is a Managing Editor at Windows Central with over a decade of experience. A former Project Manager and long-term tech addict, he joined Mobile Nations in 2011 and has been found on Android Central and iMore as well as Windows Central. Currently, you'll find him steering the site's coverage of all manner of PC hardware and reviews. Find him on Mastodon at mstdn.social/@richdevine
DRAWBOARD pdf! As an engineer making redlines all day, this app is a must have!

I use Xodo PDF. It is a free alternative with little to no compromises compared to Drawboard 😜 (I do not work at Xodo, btw. This is purely my opinion.)

Twitter, Facebook, OneNote, Wunderlist, Kindle, Netflix, Poker Conquest

OneNote is the best app period. Can't live without it, and it keeps getting better. MS has really proven themselves with OneNote.. If only MS could come up with a Social Media app this great, and market the 💩 out it.... Anyways, GO ONENOTE❗

Agreed about OneNote. I've been slowly migrating a bunch of personal and work stuff I have scattered around into OneNote to get better organized. One thing I would like to see added is the ability for more layers. Currently, a "notebook" can have "sections" and those sections can have "pages" but that's as deep as you can go. Subpages, or whatever you would call it, would be nice.

You can do subpages. Right click on a page and click "Make subpage" or just drag a page to the right to make a subpage.

Thanks Gwazi! I had no idea - awesome! Goes to show there is always something in the comments... Hope this helps others...

BlueSky2112, in addition to sections and pages, you can create "section groups". So, for instance, you can create a section group called "Projects" and then individual sections for you individual projects. You can also create section groups within section groups... To create a section group, right click beside your tabs and select "New Section Group" from the right-click menu.

Right. These are the things that make OneNote great... The inking, page, and section options, and the newly added password protected page support..... XBOX CENTRAL NEEDS TO DO A COMPLETE ARTICLE ON ONENOTE, IT'S PAST, PRESENT, AND WHERE IT COULD POSSIBLY GO. Not just a how to, rather an in depth article about OneNote as an experience.

I love your not-so-subtle "Xbox Central"

Thanks TabletWriter! Good stuff - i'll be sure to check that out.

Agree OneNote, to learn it view some Youtube video's and you are up and running. Nice would be posibility to insert more sorts of different file types, like DWG or DXF. I use it every day for all my note's. I will maybe try Teams as Social Media app, saw the presentation, looks promissing.

My 4 year old son loves Cortana lol, always cry if I give him my android phone so I can use the surface, he doesn't like Google now lol... "Cortana sing nicely" the other one sound bad 🙅 lol...

You can get Cortana for Android now assuming it's available in your country.

Staffpad, that app is a must for me everyday, can't work without it.

I wish I could afford it hahaha

Facebook, messenger, onenote,outlook,viber

I don't own a pro 4 but do own a first gen surface pro. apps on pri one can be used on a pro 4. Top 5 I use most: 1. Outlook windows store mail app 2. OneNote windows store app 3. Nextgen reader 4. News app nu.nl 5. Microsoft Edge Other apps: Nebo Office mobile Wordfeud

I don't get all the hate for Edge. I'm a casual web surfer and I've been using Edge for a few months now. It sems to be just as good as Chrome.

Drawbord PDF
OneNote
Edge
Todoist
InstaPic
Tweetium
News (Microsoft)
Facebook

Here's my take:
Office 365
Drawboard PDF
Nebo
OneNote
WindowsCentral!
Photoscape X Pro
OneDrive
GDrive.net

I also love Nebo. By far the best note taking app when using the stylus as input. I hope there will eventually be an easy way to port note from Nebo to onenote.

How do you compare it with OneNote?

I use them both. All my Notes are sync in OneNote. I use Nebo for specific needs like creating flowchart / converting ink to text. Nothing beats Nebo in creating flowchart for me. I would also love to have a function to transfer notes between OneNote and Nebo too.

Should ask what your must have apps are for Surface in general.... (Surface 3)
1. Xbox Central
2. Facebook
3. OneNote
4. Outlook
5. All Office
6. Phototastick
7. Sketch it
8. MS weather
9. 6tin
10. Messenger..... List goes on, but I use those the most..... Can't live without OneNote. That app has become life. OneNote is one of the best products that MS has ever made.

I still love your not-so-subtle, yet engaging "Xbox Central"

There are apps?????? ha ha ha! OneNote is awesome, as it drawboard, 3d builder, and one drive are the ones I use the most. The rest are win32.

OneNote, Autodesk Sketchbook, Netflix

Drawboard PDF, Autodesk , Adobe Photoshop , Twitter , Twitter client(Tweetium , Aeries & Tweet It) OneNote , SofaScore , OneFootball & File Downloader.

I use these on the SP3 but it'd be the same on the SP4 or 5. Apps - Xbox and Xbox Games. Then everything else is in proper program format. - Chrome for everything social media, browsing, banking, OneDrive etc. - Microsoft Office (well... Word. I don't use any of the others). - PaintShop Pro X8 - Sketchbook Pro I should also disclaim that the SP3 is used as a portable device to use outside or in bed or when travelling. My main computer is a proper tower desktop machine and will remain so.

Based on how frequently used, the top 10: NY Times Crossword, Edge, Office 365 (including Outlook), Movies & TV, Netflix, Fitbit, Groove, Photoshop Elements, Power Director, Sonos.

Office suite especially onenote

Everyone says OneNote.. Lol. Just saying.

Cook and do my dishes, and maybe get me another beer from the fridge.

I won't go into details as they've been covered but OneNote is downright awesome, I'm always plugging people to use it, superb App.

Imagine if our Facebook app was as good as OneNote.. That would be awesome.

Twitter, Facebook, Messenger, Adobe Photoshop, Adobe Premiere Pro, Visual Studio, OneNote, Office, Groove, Netflix and Windows Central of course 😊 but I have a surface book with performance base.

*OneNote (O365 Pro Plus Edt)
*Polarr Photo Editor Pro (Light Weight, But powerful enough)
*VS Code
*Visual Studio
*Skype Preview with SMS Sync & Relay
*Open Live Writer
*Winamp - Yes, WinAmp, the drop slider view is great. (Wished all UWP apps had Slider / Shade enabled), Currently WinAmp & ConEmu constatntly runs in bg with Quake style dropdown.
* Adobe CC2017
*O365 Pro Plus w/ Visio & Project
*Sync Toy
*All Mainstream Social Media Apps
*others.

Does it still kick the llama's ass ? I'm afraid it went through a bad patch (I think when it got bought by AOL) for me and I changed allegiance to music monkey.

Assuming we're talking the modern apps here even though this comment section is filled with win32 mentions. Baconit, Wunderlist, Skype Preview probably get the most use, for Reddit, task management and sending / receiving SMS from the PC. XBox app if I want to stream my videogames to the bedroom.

I only use Dynamic theme apps which update my lockscreen and background to daily new bing picture, i downloaded from windows store. i use pre installed onedrive, edge, onenote,cortana, mail. dont think they are store apps maybe they are win32 apps. but onenote & mail apps r preinstalled store apps that i know. rest of them r win32 such as steam,rainbowsixsiege,chrome,xilosoft converter,uplay,warface,my.com,office 365 and many more. so i only use three store apps: One note, Dynamic Theme & mail apps i suggest everyone to download Dynamic Theme if u r fan of Bing Picture.

Onenote and Facebook are the only apps I have on mine I use regularly. Well I have a Surface Pro 3 but close enough. Mostly use X86 software not in the windows store like adobe products.

Windows Central, Xbox app, Edge, Groove, Torrex Pro, Outlook, Onedrive, Google Earth, Steam, Store, Microsoft authenticator, Skype preview, Cortana, Wallpaperme, Onenote, Weather, News, Opera developer, Twitter, Virgin TV, Kodi, Calendar, Sticky notes, Photos, Maps etc, I had a SP3 for a year and traded in against SP4, I hardly ever use it as a tablet and sometimes nearly forget it is one, I haven't used the pen as much as I used to but it is an incredible feature in that it works very well practically. With UWP coming along at steady pace my SP4, L650 and XB1 are becoming more familiar, closing an app on one device and picking up where you left off on another device is fantastic for me and a very underrated achievement. Surface rocks!

Fun: Microsoft Solitaire, Mahjong, and Sudoku
Fast Words, Wordament, Setsi
Watchbox Work:
Office 2016
Visual Studio 2015
Metro Studio
Paint.Net
Time Master Personal Info
Fuel Log
Bucks News & Info
Weather
News
Windows Central Social:
Tartan
Tweetium
Xbox One Smartglass
Facebook Other:
Edge
Cortana Extensions

Well, MyerSplash of course! The most beautiful wallpaper app for Windows 10.

Apps I use on SP4: Full MS Office (including OneNote)
Microsoft Project
Microsoft Visio Slack
Adobe Photoshop
Maps - I find myself using this more when I project onto a TV though to discuss trips and events.
MSN News
Edge
Onedrive
Xbox
Movies/TV
Netflix
Hulu
Weather Channel
Twitter (We need a proper LinkedIn App! and YouTube)

I use to many to list them all but I will comment on 3 that change the way I use my Surface Pro 4 the most. 1st AMIDuOS - I came from Android so I paid for some games and apps and of course miss about a handful of them after getting a HP Elite X3. So this is basically running an Android VM (virtual machine) on your Surface, you can even pin Android apps to your start menu and click them, it will launch AMIDuOS and then the app. 2nd PPSSPP - This is a PSP emulator and the only reason I mention it is 3 yrs ago I tried this, was not impressed, now it is so light weight, easy to use, and its like owning a big screen PSP. 3rd Web Tiles - now this I could not live without on phone and Surface, due to the lack of apps I have created my own sorta - I found small square images of all the websites I go to, say ebay, best buy, etc..... then you tie the URL to the image with Web Tiles and they are on your home screen on cell or start menu on Windows 10. App works great (only time it didn't was due to a fast ring update) also after a while of use you will be asked to donate $1.00 but can still use the app for free (but donate, its worth a $1!).

TouchMe Gesture Studio! https://www.windowscentral.com/e?link=https2F%2Fclick.linksynergy.co... Add touch features that windows 10 lack =)

All of these I commonly use and are very high quality UWP apps: OneNote, Flowkey, StaffPad, Netflix, Readit, MyTube, Poki, Slack I would like to give some extra credit to Flowkey for anyone that likes piano and have a Surface. Great application that I sadly never hear anyone talk about related to UWP. I just place it at the notestand of my piano, plug it in and start playing. The ratings right now are sadly unfair because in the beginning it didn't have the full functionality implemented. Now it's all there working perfectly and getting all updates instantly :) https://www.windowscentral.com/e?link=https2F%2Fclick.linksynergy.co...

Hyper for YouTube, awesome app that lets you download and watch youtube videos offline, very simple to use and looks very nice.

does anyone know of any good video converter apps? let me know, thx

the surface pro needs revel pearson for students. its only available for iTunes or android. it also needs kindle, not a desk top down load link for a majority of the apps.
why can't the apps be universal on brands. not multiple devices just to do home work.I got the surface pro 4 for home work and i still have to use my ipad for books and home work on revel and kindle.