What do you want to see from the Windows Insider Program next?
What would you like to see the Windows Insider Program focus on now that new leadership is in tow?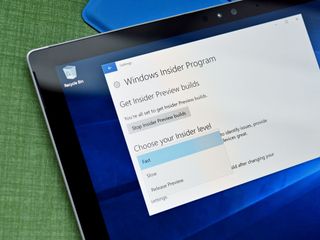 (Image credit: Windows Central)
Change is afoot as Microsoft's Dona Sarkar steps down as head of the Windows Insider Program, which has caused some discussion online as to where people want the Insider Program to go next. With new leadership in tow, many are hoping to see the Insider Program go back to its roots through technical deep-dives of upcoming features, changes, and more.
Under Dona Sarkar, the Insider Program saw expansion into more than just testing Windows. Several community fellowship programs saw the Insider Program leveraged as a way to teach those in less fortunate circumstances how to code under the Insiders4Good initiative. This is just one example of how the Insider Program was being used to help people across the world.
I have personally found this focus with the Insider Program to be humbling and an excellent use of the program's community. However, many online are asking Microsoft to return the Insider Program to its roots, asking for buggier builds, with earlier features, and more technical deep-dives into plans and upcoming changes to the OS as a whole. The Insider Program used to be a great place to hear about what's next for Windows, but it's been a while since the program was used to talk about Windows' roadmap.
We want to know what you want to see from the Insider Program next. Would you like to see more community fellowship programs that teach people how to code, or would you prefer more technical deep-dives into the testing and previewing of Windows? Perhaps you have a radical new idea that the program hasn't yet seen? Let us know your thoughts in the comments.
Zac Bowden is a Senior Editor at Windows Central. Bringing you exclusive coverage into the world of Windows 10 on PCs, tablets, phones, and more. Also an avid collector of rare Microsoft prototype devices! Keep in touch on Twitter: @zacbowden.
All the workshops and all were probably good and noble - but why did they need to become part of the Insider program? Why not do that as a separate program inside Microsoft, and perhaps even give it a more important position instead of stuffing it into something that's unrelated? I get the feeling the fellowship programs and so on are what Dona actually wanted to do and where her passion lies, so she tried to shoe-horn it into the role she was given. I'd like to see the Insiders program to become more technical again, and I'd love to see more deep-dive articles into design and development decisions. I'd like to say "like in Gabe Aul's days" but there weren't actually so many articles even back then.

Free DUOs and NEOs to all participants so we can provide lots of feedback and help ensure the launch of these are as flawless as possible. ;-)

They need to get back to actually fixing requested Feedback.

At the very least, we need to be able to download Windows 10X or WCOS in its various forms and experiment with it on a variety of platforms.

As a prelude, I participating in the Insider Program, mainly reporting bugs/sending feedback as I encounter things in my normal workflow. Most serious issue I ever reported was starting one of the builds earlier last January desktop color configuration was broken, leaving my screen looked absolutely washed out in its default settings. I posted detailed feedback on the issue and it sat for *months* unlooked at. After a a few months I started politely harping the reddit post that announced to builds knowing the engineers look at those, and still nothing seemed to change. Then finally I just happened to get lucky and other people finally started noticing the same issue I was trying to expose and either created their own reports or commented on mine. Finally noticed by devs, finally addressed, mere weeks before rtm. So that my suggestion: The fundamental problem with the Insider Program as it works now is that if you run into a bug that only you happen to notice, you can post to the the feedback hub and all but there is no way to create exposure for the bug unless someone else happens to run into it and actively searches for it in the Hub. Thurrott was ******** on his little webcast the other day about an astronomically small number of Insiders actively participate in the reporting bugs/feedback. Well no ****, when the average experience of reporting a bug is that your report sits there with no upvotes or comments, and is never ever recognized. This has had disastrous results in build quality as evidenced by last years rollout. The program needs a system that does something like notify users of low-exposure feedback and prompts them to take a look, cause otherwise the experience of reported bugs is like rolling dice in the dark no matter how grievous the issue might be.

I've had very similar experiences. Aggravating the situation was the ridiculous limitation that you could only see feedback in your own language until not so long ago so unless you lived in the US or UK or something most feedback you could see was bad, and you would barely get upvotes for your own.

I agree 100%. I think they should use the bug bashes they have every few months and include low reported issues and see if more people run into these issues.

I joined insiders because I have been invested in Microsoft products for some time. I do allot of SQL, Visual Studio and Access Development. I was curious about Microsoft moving towards cloud first, touch first interfaces and what this meant for moving windows into other form factors. I loved Windows Phone and was delighted to hear UWP/.NET was moving to IoT in the form of One Core where Windows would be developed for small Arm based systems. I wasn't all that excited about the Insider program for the desktop... just phone and IoT. Years later phone is dead.. and who knows if anything more will be done for IoT beyond enabling Azure for all the IoT devices that run someone else's OS. So, I stay an Insider hoping someday soon I'll stumble across a new version of Windows for the Raspberry Pi 4. :). Other than that, the membership is just a good excuse for Windows to grab all of my telemetry data and push ads to my PC. I don't need updates to Windows on my Desktop every 10 days.

Inside program along proper QA team testing on real hardware. Even Microsoft own hardware... The amount of bugs and problems on their own hardware is really shameful.

Personally, I think moving closer to how it was before is good. The rings are fine, but maybe they are too safe, even for the Skip-Ahead ring. To be honest, Skip-Ahead doesn't really feel all that "ahead". To be fair, maybe it's because Microsoft really isn't doing anything all that exciting, new or innovative (actually, that's what I really believe) and that's why it all seems so "safe". Fair enough. Also, I agree with others who've expressed concern that Feedback is not very useful if there's not a closing of the loop. 360 feedback is really important if Insiders are to actually feel like our contributions--positive or negative--are getting any attention. Just seeing a "Got it" tag tells us nothing. I would love to see some sort of graded response, much like a commonly-used PICK chart (Possible, Implement, Challenge, Kill).

It is interesting that this topic is being discussed... I had a thought about this earlier today. Since Microsoft fired all the testers a few years ago and insiders cannot test 10X as there is no device to test it on, what kind of quality could we expect from what they will deliver next holiday. Remember what a disaster Windows 10 Mobile was when it first came out on the Lumia 950? If anything, this could be much worse. Maybe they will release an emulator during build, but still, no insider business seems feasible. Maybe there will be an emulator for android dual screen also, for that "other" device. All this is not sounding like we will have a good outcome, looking back at what has been the situation since 2014. They need to make these new devices and OS's as solid as Windows Phone 7/8, else these are dead on arrival. Also, I am hoping that they will not insist on that swift keyboard which ruined Windows phone... Hopefully, some binaries of the original Windows Phone autocorrect are still lying around somewhere, to reuse... I would love to re-enable auto-correct once again, on my pocket device.

No disagreement on that. The swift keyboard was the one thousand and one'th issue, but I just wanted to make it public, in my attempt to make Microsoft aware, since I am afraid that they will bring it back and not learn from user opinion... and I also got reminded that the original UI was so good till they put hamburger menus on all corners, as if sabotage was the intent, and surprisingly the only guy I used to think was still sane on that team, Joe B, did not seem concerned... it was sabotage. Bing took decades, they never gave the phone a fair chance after the misstep due to sleeping on CE resistive touch platform. Almost like it was premeditated that they wanted Android to rule... someone needs to investigate exactly what conspiracy was being cooked

I would like to have an optional mode on my tablet device that splits the screen in two and shows me the screens as they would look on one of the new dual screen devices. Would be good for devs too

A refocusing of why they are there. For all the cute pictures and fluff that we have seen lately, where was the actual testing of new builds where we as consumers have an idea of what is actually going on. There have been a lot of mistakes recently. Cute and humorous doesn't get you past a PC that just crashed.

Both must exist
I think program insider must be for accompagned builds, with rings, okay
And gateways to professionnal and novices programming
Insider, an ecosystem in continue to development

Primary: I would like to see the long list of half baked tablet (mode) features, currently in the library of insiders sinds 2015 prioritized, adressed and fixed within 12 months.

True global "One Microsoft" mentality would be epic.
Sitting in Denmark, I get the sense that only engineers in the US will look at my (poorly translated) feedback. I wish Microsoft would expand the program full power into all the Microsoft HQs around in the world, so we could feel like one big family instead of this US-focused thing it is now.
It gets tirring after a while to re-explain things again and again to engineers that some of the issues are region specific not to mention all the translation corrections I write, which are then ignored because lack of understanding or a misinterpretation. TL;DR: To minimize misunderstands, have the program expand to all Microsoft HQs in the world, not just US.

Reading this almost one year later... And things haven't really changed. I think MS is betting AI translations, once good enough, is the way to go. That's a shame. It'll be a long time before AI can truly replace the contextual understanding of a certain meaning of feedback written in a specific language to the level that it can reach the same level of native understanding.
Windows Central Newsletter
Thank you for signing up to Windows Central. You will receive a verification email shortly.
There was a problem. Please refresh the page and try again.