What to expect from the Forza Horizon 4 Service Check update
The next big Forza Horizon 4 update has been revealed, here's what to expect.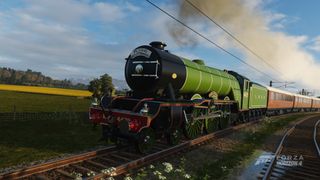 The Playground Games team continues to produce new content for Forza Horizon 4 on a weekly basis, but the current trend of monthly game updates is continuing. Hot on the heels of the Route Creator update, the next has been revealed as the Horizon Service Check.
It's not quite as glamorous as the October content update, but it's got plenty of new goodies with it and some important, but less glitzy stuff, too.
Horizon Service Check
You know that annoying bug with the barn finds achievement not unlocking you've likely been tweeting and jumping into the Forza support forums in a rage about? Things like that are why the Service Check exists, even though that particular bug has been fixed before it releases.
It does set the tone for what the Horizon Service Check is all about. The game has been out now long enough to gather a ton of feedback on every aspect of it, the bugs and things that could be made better.
The Horizon Service Check is the first major pass at addressing this and responding to the community feedback. There will be many more in the future, and it's great to see that the developer is actively engaging with the community to make the game even better.
New paint and upgrade options
Fans of customizing cars will love the Service Check update for its additional options for both paint and wheels. More detailed painting options will be coming to the game, including the ability to paint specific parts of the wheels on your cars.
In addition, 41 new rim styles from 22 different companies will be coming with the Service Check update.
Horizon Racing Cup
The Horizon Racing Cup takes the idea of seasonal exclusive events and expands it a little into a championship with a prize pot.
There's not a lot to go on just yet besides there being 12 seasonal championships, and that you'll need to choose and tune your cars carefully.
More seasonal content
The weekly season changes have been bringing fresh activity to the map since launch and that's not slowing down.
The weekly change will continue and in the next batch of content, we'll be getting another 12 new events and a monthly rivals event.
Forzathon will be getting some attention, too. We're new stocks for the Forzathon shop and a continuation of the regular Forzathon challenge drops.
There will also be four new exclusive cars that are additional to anything from the Car Pass.
New Car Pass drops
If you own the Forza Horizon 4 Car Pass, the good news is there are another eight cars coming after the next update. These will continue on a two per week schedule as they have since launch, but other than the number we don't have any indication yet which cars these will be.
The Car Pass has been pretty kind so far, handing out things like the incredible Koenigsegg Agera RS, the Gymkhana 10 Hoonigan Hoonitruck and the BMW i8 Roadster. It'll be interesting to see what comes next.
The Car Pass costs $30 (opens in new tab) on its own or comes included with the Ultimate Edition (opens in new tab) or Deluxe Edition (opens in new tab) of the game. In total the Car Pass will deliver 41 cars over a 21 week period.
All GymkhanaTEN vehicles coming to Forza Horizon 4
Besides the Hoonitruck and Escort Cosworth that recently arrived in the Car Pass, the remaining three vehicles from Ken Block's GymkhanaTEN will be coming to Forza Horizon 4.
Two more will be arriving in November, with the final one coming in December. Microsoft announced these alongside a promo for an Amazon Prime show going behind the scenes of the four-wheeled extravaganza, the trailer for which you can see above.
Better still, Microsoft says the three Hoonigan cars still to come will be available to all players, not locked behind the Car Pass.
First expansion scheduled for December 13
The first DLC was officially revealed at X018 in Mexico, and it'll be taking us to Fortune Island from mid-December. If you don't have the Ultimate Edition you can buy these ahead of time individually (there's currently two planned) or in a bundle.
Playground Games says its the largest expansion they've ever built packed with extreme terrain and some form of hidden treasure hunt. It's not part of the Service Check update directly, but it's a first look at what's to come beyond that.
Is the Forza Horizon 4 Expansions Bundle worth it?
No announced release date
The Service Check update doesn't yet have a release date but it would be safe to assume it will land at the end of the current four weekly cycle sometime in late November. To catch up on the announcement and everything else new to the world of Forza, be sure to rewatch the most recent Forza Monthly episode on Mixer.
See at Amazon (opens in new tab)
Updated November 12, 2018: We added the most recent announcements from Microsoft's X018 event including the first DLC reveal and the newest cars joining Forza Horizon 4.
Richard Devine is an Editor at Windows Central. A former Project Manager and long-term tech addict, he joined Mobile Nations in 2011 and has been found on Android Central and iMore as well as Windows Central. Currently you'll find him covering all manner of PC hardware and gaming, and you can follow him on Twitter and Instagram.
Would like to see.an update to forzathon live, there's little skill and the formula is exactly the same each time just a different location. Perhaps the time limit needs to be more strict or score increased.

They did say on the stream they've been monitoring the data from Forzathon live, so I expect there will be some kind of changes in the future. We've got to remember that a shared world game like this is new to the developer so they've got to run with some things to figure out what ultimately works best.

Trees and enviroment still sucks it load just before the car. Even horizon 3 trees looks more precise and sharpened but forza 4 all blurry even on extreme settings

Sure would be nice if damage were at least somewhat realistic. It's silly to have this open sim-like world of hard core street racing and yet... you're completely indestructible. For me having no real consequence takes away the fun and made racing games boring years ago. Burnout had the right idea with crazy damage but they turned that into their whole gimmick of causing crazy carnage... too extreme in the other direction... and then the franchise died. Grid seemed like it was going to get there and they introduced rewind... and then the franchise died. Need for Speed was even playing with detailed damage in the NFS online days and that all went away. Meh - maybe someday someone will get it right.

There is damage. Both visual and mechanical. No the car does not crumple into a million pieces and the tires don't fall off but if you go thrashing around and wall-riding your car will shift roughly, handle weird, will eventually not get out of 1st, etc. I always have damage on in racing games but with Horizon sometimes I have to turn it to cosmetic when traveling to other locations because I can take short cuts, drive through woods, hills, have fun and trash the car. Motorsport I'd just keep it on full all the time.

You can't have simulated damage turned ON in horizon 4 online racing. Horizon 4, with its team racing idea, makes people want to crash you out (so their team wins) which ruins your chance at a victory, or even a good placing. Sad aspect of the game, one reason I sold my copy.

Unfortunately that's not exclusive to Horizon. EVERY online racing game has jerks that just smash into people.

I would really prefer instead of limited time cars just make them a couple million dollars. The game will just be a more enjoyable for me if I buy the car myself then wait whatever amount of time

How about a fix for the checkpoint counter restarting?
Maybe a fix so you can reset your car after flipping it onto its roof. Considering Horizon 4 online racing promotes crashing your opponent (so your team wins), these two fixes are desperately needed.
Having a choice on what I want to race (A,S1,S2, dirt, asphalt,snow) would be nice too lol.
Windows Central Newsletter
Get the best of Windows Central in in your inbox, every day!
Thank you for signing up to Windows Central. You will receive a verification email shortly.
There was a problem. Please refresh the page and try again.