What is NVIDIA Broadcast?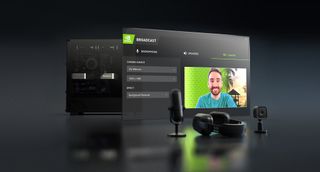 (Image credit: NVIDIA)
What is NVIDIA Broadcast?
Best answer: NVIDIA Broadcast is an app for Windows 10 that uses AI enhancements for voice and video to enrich your live streams, voice chats, and video conference calls. It only works with NVIDIA RTX GPUs and can remove background noise from audio, add a virtual background, and track movement in the video.The whole package for NVIDIA RTX GPUs: NVIDIA Broadcast (Free at NVIDIA)The best microphone to go along: Blue Yeti X ($170 at Amazon)
NVIDIA Broadcast features
NVIDIA Broadcast offers some nifty features to clean up your audio and video feeds for your streams, meetings, and chats. The most impressive feature is Noise Removal. This feature was initially launched as the beta plugin, NVIDIA RTX Voice, and has since then graduated into the NVIDIA Broadcast release.
It eliminates the background noise in your audio, including keyboard clicks and clacks, fan noises, and even microphone static. What's even better is that Noise Removal*can also eliminate the background noise from the audio you're hearing through your speakers or headphones. So even if the person you're video calling does not have NVIDIA Broadcast, you can still remove the noise from their audio on your end.
In addition to this, NVIDIA Broadcast also has a couple of video enhancements. Background Removal, Replacement and Blur is a beta functionality that acts as a virtual green screen. This is a handy feature for streaming and can also come in handy for those who need to hop on a quick call but have a messy room.
Also present is the Auto Frame beta functionality, which tracks motion and automatically crops and zooms the video feed to ensure you're always the frame's focus.
What GPUs support NVIDIA Broadcast?
NVIDIA Broadcast is designed only for the NVIDIA RTX Series GPUs. Basically, if your NVIDIA GPU has the word RTX in its name, rest assured, you can use Broadcast. NVIDIA lists supported GPUs as NVIDIA GeForce RTX 2060, Quadro RTX 3000, TITAN RTX, or higher. Additionally, NVIDIA recommends that your system have 8 GB or higher RAM and have at least an Intel Core i5 8600, AMD Ryzen 5 2600, or better, in terms of CPU.
However, NVIDIA Broadcast doesn't really need all of that hardware might. Broadcast was released alongside the new NVIDIA RTX 30-series GPUs and is thus a feature addition to the RTX GPU lineup. However, if you have an older NVIDIA GTX GPU, you can use the RTX Voice audio plugin instead, which does not come with video enhancements.
Get NVIDIA Broadcast now!
Honestly, if you have an NVIDIA RTX GPU, you should definitely be using Broadcast. Whether you're working from home or someone who wants to become a streaming pro, NVIDIA Broadcast will be a good addition to your setup. It can eliminate the need to buy additional equipment to have clearer video and audio, making it worthy of your use for most folks.
Get your RTX money's worth
Clean up your streams

NVIDIA Broadcast is your ticket to cleaner audio and video feeds in calls and streams without having to invest in additional equipment. If you have an NVIDIA RTX GPU, there are zero reasons why you should not be using NVIDIA Broadcast already.
Step up your voice game
Best of both worlds

Blue Yeti X is the best microphone you can buy without blowing a hole in your wallet. It's a no-nonsense pick for streamers, but its great sound quality pretty much makes it a great option for most folks and worthy of being paired with NVIDIA Broadcast.
Get the Windows Central Newsletter
All the latest news, reviews, and guides for Windows and Xbox diehards.