What Phil Spencer's promotion means for Xbox and gaming at Microsoft
Xbox head Phil Spencer recently got promoted to Microsoft's executive leadership team, in a big show of confidence for gaming. But what does it mean?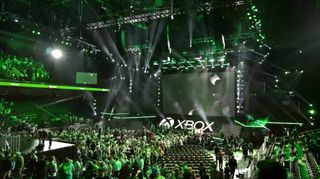 (Image credit: Jez Corden | Windows Central)
For years, Xbox hasn't really been viewed as central to Microsoft's core operations, sitting underneath Windows in terms of corporate hierarchy. Commentators and speculators have called on Microsoft to spin off Xbox into its own entity or sell it on to another tech company, for some reason. But despite all the highs and lows, Xbox has soldiered on, leading us to today.
Now, owing to the efforts of Spencer and his team, gaming has been elevated to the senior leadership table at Microsoft, sitting alongside Azure, Office, and Windows, rather than beneath them. Xbox head Phil Spencer will answer directly to Microsoft CEO Satya Nadella, cutting out Windows chief Terry Myerson as the middleman. And that's quite important.
But what does it all mean for Microsoft, and more important for us as gamers?
Cutting out the middleman
Phil Spencer (left), Terry Myerson (right).
With gaming having its own voice on the senior leadership team, essentially, Spencer will have a little more room to maneuver moving forward.
Previously, for larger projects and sign-offs, the Xbox team would've had to seek the blessing of both Windows chief Terry Myerson and, thus, CEO Satya Nadella before any action could be taken. Myerson likely sees everything through the lens of what benefits Windows, rather than gaming, not specializing in gaming himself. It's quite easy to imagine how he could've potentially hindered important decisions.
One of the reasons the Windows 10 Store is so atrocious for video game delivery is that it's handled by the Windows team, rather than the Xbox team. The Xbox Store has no issues delivering larger files, unlike the Windows Store, and it enjoys much better categorization and usability. There are multitudinous issues with the Windows Store for gaming, but as a quick example: Forza Horizon 3 last year suffered the same download issues that Forza Motorsport 7 suffered from these past weeks – a year on, and still no fix. It's a basic example, but it just doesn't feel like gaming is a priority for Myerson's Windows team, so it's easy to imagine how this attitude could've hurt Xbox.
Phil Spencer will have one-to-one strategy sessions with CEO Satya Nadella on a more frequent basis, as a result of being part of the executive team. Spencer's passion for gaming and his intimate understanding of the industry, his team, and the platform itself will be far better placed to advocate for blessings that benefit us – as gamers – than it would've been coming to Nadella second hand via Terry Myerson.
Gaming as core
The future of Windows is a little shaky at the moment, frankly, with assaults coming from all sides. ARM-based mobile devices have chewed into Windows as a casual computing solution for billions of people, eroding the necessity to own a PC at all for many. Cheaper browser-based Chromebooks have hurt Windows in education and other areas, and PC growth has essentially flatlined – in all but one area.
Gaming is the only PC sector that is experiencing any form of meaningful growth at the moment, as the hobby continues to expand at a rapid pace. The rise of eSports, service-driven PC games like League of Legends, and game streaming has led to a huge interest in PC gaming as a hobby, whether it's custom-built rigs that cost $3,000 or cheaper devices running budget GPUs.
PC gaming is exciting right now, but ironically, despite owning Windows, Microsoft has almost completely alienated themselves from the sector. Between botched DRM like Games for Windows Live and the quality of the Windows 10 Store, Steam remains the de facto distribution method for PC games, but under Phil Spencer, the collaboration between Microsoft and Valve – who owns Steam – has ramped up.
Spencer has been open with his admiration for Steam, and impressively, has worked to open up the wall between Steam and Microsoft's own PC distribution platform. Games can now fully function across the Windows 10 Store and Steam, including Rise of Nations and Killer Instinct.
Valve's CEO Gabe Newell had plenty of negative commentary for the Windows Store when it opened up back in the Windows 8 days, calling it an attempt by Microsoft to grab a monopoly on software distribution. As time went by, though, it's quite clear that isn't really the case.
With Windows 10 as a service, i.e., free upgrades in perpetuity, some form of passive monetization is going to be necessary, outside of OEM license sales. As far as consumer PCs are concerned, that monetization has to come from the Windows Store, in the form of games, apps, and entertainment – at least in part. The biggest ticket items in the Windows Store right now are games (with hardware soon to follow). I noted earlier that the Windows Store isn't exactly in a great position right now, but with Phil Spencer leading the charge, there's a real chance this could change, at least when it comes to gaming.
Disregarding monetization, Spencer should be able to advocate for a better Windows for developers and gamers alike, putting more effort into features like the Game DVR, Game Mode, the Windows 10 Xbox app, and streamlining the OS for future paradigms. I'm still not convinced VR is the future of gaming, but for Microsoft's own Mixed Reality platform, video games will form a large chunk of its marketability – especially considering SteamVR will be coming to the platform. Naturally, the Xbox division is far better suited to shore up this aspect of Windows, and Spencer will have the authority to see it through.
Cash money
While Xbox is still part of the Windows and Devices group, Spencer will have more leeway to discuss budgets with Microsoft CFO Amy Hood and Satya Nadella.
Some have accused Microsoft of underfunding Xbox, which doesn't seem to pump out big-budget "AAA" photo-realistic games as frequently as its chief competitor, PlayStation. A lot of Microsoft Studios' exclusive game efforts have revolved around lower-budget "AA" games like ReCore, or 2D titles like Ori and the Blind Forest, while others have suffered repeated delays (and even cancellations).
While simply throwing cash at Microsoft's oft-criticized first-party games effort probably isn't enough by itself to fix the situation, Spencer should have far more leverage to splash the cash on big projects than he did previously.
It's all positive
There are no negatives here. Phil Spencer's promotion isn't just an acknowledgment of his efforts, but of the whole team that has made Xbox a staple in the industry.
The negativity surrounding the Xbox One's botched 2013 launch is still there in the background, and the shadow of Kinect, forced-online, and Games for Windows Live are ultimately ingrained in the consciousness of core gamers both on console and PC, but that needn't always be the case.
Phil Spencer has heard the criticisms of Xbox and Windows as a gaming platform, and the team has worked hard and long to turn Xbox into something that is providing good value for gamers, a welcoming platform for developers, and ultimately, a service worthy of having fans – which is something Microsoft really struggles with.
While the Xbox team's newfound authority might take a couple of years to manifest in any meaningful way, we already have the Xbox One X, the new 1710 update, and much more to look forward to in the near-term.
Xbox Live generates huge amounts of revenue, and shouldn't be seen as something Microsoft would cut on a whim, like say, Groove. The team is in it to win it, and from here, things can only get better. It will be really interesting to see what the Xbox team does now that it has a seat at the big boy table.
Get the Windows Central Newsletter
All the latest news, reviews, and guides for Windows and Xbox diehards.
Jez Corden a Managing Editor at Windows Central, focusing primarily on all things Xbox and gaming. Jez is known for breaking exclusive news and analysis as relates to the Microsoft ecosystem while being powered by caffeine. Follow on Twitter @JezCorden and listen to his Xbox Two podcast, all about, you guessed it, Xbox!