Where to buy a Surface Pro 4 and Surface Book in the United States, Canada, and the UK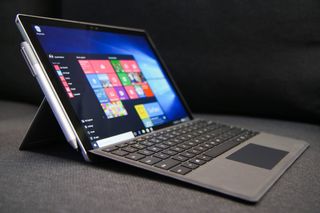 We have been waiting for quite some time. We had seen them for the first time when Microsoft officially introduced them into the world during its Windows 10 Devices event in New York City, and now you can actually buy them. Of course, we are talking about the new Surface Pro 4 and Surface Book.
On October 6th, during a huge hardware event, the software giant unveiled a number of devices including the Surface Pro 4, Surface Book, Microsoft Band 2, and two new premium phones, including the Lumia 950 and Lumia 950 XL. All amazing devices that are available starting October 26th, as such today we'll be listing some of the retailers in the United States, Canada, and in the UK, where you can buy the new Surface Pro 4 and Surface Book.
Note: Microsoft has not publicly shared any information on exactly when it will begin shipping the new Lumia phones, but this far we know that it will occur sometime in November.
Where to buy a Microsoft Surface Pro 4
If you have been waiting to purchase your first Surface, or you want to upgrade your current tablet, it hasn't been a better time than this one. After three generations on perfecting the tablet, the Surface Pro 4 is truly the tablet that can replace your laptop. In the fourth generation, Microsoft is adding to the device the latest sixth-generation Intel Skylake processors. It als has a slightly larger and higher resolution display, facial recognition camera to make use of Windows Hello, an improved cooling system to help the device to perform much better while increasing the lifespan of the components, more memory and more storage configurations.
128 GB SSD | 6th Generation Intel Core m3 | 4 GB RAM - $899 USD
128 GB SSD | 6th Generation Intel Core i5 | 4 GB RAM - $999 USD
256 GB SSD | 6th Generation Intel Core i5 | 8 GB RAM - $1,299 USD
256 GB SSD | 6th Generation Intel Core i5 | 16 GB RAM - $1,499 USD
256 GB SSD | 6th Generation Intel Core i7 | 8 GB RAM - $1,599 USD
256 GB SSD | 6th Generation Intel Core i7 | 16 GB RAM - $1,799 USD
512 GB SSD | 6th Generation Intel Core i7 | 16 GB RAM - $2,199 USD
1 TB SSD | 6th Generation Intel Core i7 | 16 GB RAM - $2,699 USD
Where to buy a Surface Pro 4 in the United States?
In the United States, you can buy a new tablet from:
In Canada, you can also buy a Surface Pro 4 from the Microsoft Store (opens in new tab), Amazon (opens in new tab), Best Buy (opens in new tab), and Staples (opens in new tab).
Where to buy a Surface Pro 4 in the UK?
In the UK, the new Microsoft's Surface Pro 4 starts at £749 for the Core m3 model, £849 for the entry-level Core i5 model, and all the way to £1,799 for the Core i7 model with 16GB of RAM and 512GB of storage.
Those residing in the UK can purchase the tablet from:
It's worth noting that you can buy a Surface Pro 4 from various places, but in the United States, the Microsoft Store is the only store that offers you the chance to configure the tablet with exactly the processor, memory, and storage that fits your budget.
Also, remember that the Surface Pro 4 only comes with the new Surface Pen, as always you have to purchase the new Type Cover separately. You can either buy a new Type Cover for $129.99 (opens in new tab) in the US, $169.99 in Canada, and £109.99 in the UK. There is also the Microsoft Surface Pro 4 Type Cover with Fingerprint ID for $159.99 (opens in new tab), or you can use your old Type Cover, if you're also a Surface Pro 3 owner.
If you're looking to have more ports available to connect to an external display, more USB ports, and connect to a network using a wire connection, you can also pick up the new Microsoft Surface Dock for $199.99 (opens in new tab) in the US, $259.99 in Canada, and £164.99 in the UK, which is also compatible with the Surface Book.
Keep in mind that while Surface Pro 4 will begin shipping on October 26th. This release date is only for North America, as Microsoft plans to start shipping its fourth generation of the tablet on November 12th for customers in the UK. In addition, currently for UK customers won't have the Core i7 model with 1TB of storage, only up to 512GB. (we yet don't know if the company will make available this configuration in the future.)
The new Type Covers and the Surface Dock will also be available on October 26th in the United States and Canada, and on November 12th in the UK.
Where to buy a Microsoft Surface Book
If you need a powerful laptop, more than you need a tablet, then Microsoft can help with that too, as the company has now introduced the Surface Book. The Surface Book is the first laptop built by the Redmond company, and it sports a 13.5-inch PixelSense display, an interesting "dynamic fulcrum hinge", and with configurations up to 16GB of RAM and up to 1TB of storage.
Of course, the Surface Book packs the sixth-generation of Intel's processors with the choice of Core i5 and Core i7. Customers can also get the laptop with an optional discrete NVIDIA GeForce graphics card.
128 GB | 6th Generation Intel Core i5 | 8 GB RAM - $1,499 USD
256 GB | 6th Generation Intel Core i5 | 8 GB RAM - $1,699 USD
256 GB | 6th Generation Intel Core i5 | 8 GB RAM and NVIDIA GPU - $1,899 USD
256 GB | 6th Generation Intel Core i7 | 8 GB RAM and NVIDIA GPU - $2,099 USD
512 GB | 6th Generation Intel Core i7 | 16 GB RAM and NVIDIA GPU - $2,699 USD
1TB | 6th Generation Intel Core i7 | 16 GB RAM and NVIDIA GPU - $3,199 USD(In Canada, customers can get the Surface Book the Core i7 model with up to 512GB for $3,499.)
Where to buy a Surface Book in the United States?
In the United States, you can buy a new tablet from:
In Canada, you can also buy a Surface Book from the Microsoft Store (opens in new tab) and Best Buy (opens in new tab).
Where to buy a Surface Book in the UK?
Unfortunately, Microsoft hasn't announced a pricing and release date for the Surface Book in the UK.
More resources
If you're already a Surface owner, and you can't decide whether to upgrade to the new Surface Pro 4, don't forget to check our previous article to help you make a decision.
In addition, remember to read our definite Surface Pro 4 review with everything you need to know about the new tablet.
For more information, you should check out our resources:
Surface Pro 4 coverage
Surface Book coverage
Note: Prices shown today in this article are based on the current Microsoft Store online prices in the US, Canada, and the UK. Also, availability, configuration, and pricing of the new devices may vary per store and region. Also, the Microsoft Surface Book is currently listed for pre-order with shipping dates expected in 4-7 weeks depending on configuration.
Are you planning to get a Surface Pro 4 or a Surface Book, or both? Let's know in the comments below.
Mauro Huculak is technical writer for WindowsCentral.com. His primary focus is to write comprehensive how-tos to help users get the most out of Windows 10 and its many related technologies. He has an IT background with professional certifications from Microsoft, Cisco, and CompTIA, and he's a recognized member of the Microsoft MVP community.
Waiting for them to take my money! Surface books seem to have started shipping already. Charge my credit card and gimme my surface pro 4!!

Ttsoldier, the msstore took my money for my suface book on Monday but has still not shipped. I was hoping they would be delivered on mo day as opposed to being shipped on Monday but I'm starting to think that's not the case. Has anyone's Surface Book/Pro 4 actually shipped from msstore?

There is a thread on the forum where people are saying theirs shipped

Mine is scheduled for delivery within the next two hours. Right on time.

holding the box in my hands right now. Off to unpacking and setting it up.

"When in India......भारत देश में कब.
हमें न तड़पाओ जल्दी launch करो Microsoft India."

Surface book I guess won't be a big here in India. Celebrities here hardly use laptops they use more iPhones and the dumb ones use Macbook bcoz either status symbol or they really don't know how to sur windows. Microsoft would I guess give full freedom to oems like Asus, Dell, Lenovo to sell good devices. India doesn't have a good OSX share. I would prefer Microsoft to only keep surface pro 4 in retail stores.

I hope it is available in India soon. Apparently you need a new computer because the one you are using now has a defective keyboard and is putting a lot of strange characters in your comments.

Hah, he just wrote the "when in India" text in Hindi, India's major language. I think those are the strange characters you're referring to. (You may have noticed and perhaps that was a joke but if it wasn't...)

Yes, I was making a joke.

what's that jibberish you wrote?


how long before best buy has these to play with in their store?

I was at BB over the weekend. They had the SP4s on display, but not the Surface Book. Associate said they'd be out today.

Hey Mauro what about Costco here in the US?

Good call. Costco is also offering Surface Pro 4 and Surface Book. I just added the links. Though, keep in mind that not all the configurations are available at this place. Thanks,

Yep! And if I remember correctly they do have discounted prices

So the surface book comes included with office personal and a Microsoft wireless display adapter. And the SP4's come included with the keyboard, but are just a little bit more than the MS store ($50-$100) depending on whether or not it also comes with the display adapter.

I am surprised that they are offering the Surface Book but that's awesome though.

John Lewis in the UK usually carries a wide selection or can get you the model you want easily, they currently stock the Surface Pro 3 but probably switch over to the 4 in a short while. Price is on par or sometimes slightly cheaper than the MS Store. They may also carry the usual accessories such as the keyboard and spare power packs.

Hopefully they will as I want to use my JL voucher to buy Surface Pro 4 from their store.

Hoping to have a fondle of a SP4 before Xmas at John Lewis. Hopefully they will get some stock before Xmas. I need to see and feel before I order such an expensive device form MS store.

Hopefully they will also offer the free 2 year warranty - this always adds value to the purchase. I had 2 year warranties on my Surface RT/Surface 2 and my current SP3 - but never had a problem!

Wasn't Dell (and HP, I believe) meant to be carrying the Pro 4 as well? Haven't seen anything mentioned for a while...

I keep checking Best Buy to order a Surface Book everyday but everyday the status remains "Coming Soon". I'm hoping I can just walk into one of the 4 Best Buys I have access to and get one on day one.

Pre-order Surface Pro 4 and Surface Book at B&H Photo Video In the US

You mention Canada except don't show any links for Canada.

No they haven't. We're mentioned in a bracket and a small sentence as to where to buy but not good enough to have our own section but US has 2, oh wells oh wells.

They are there. Just follow the links describing where you can purchase the devices in Canada. Thanks,

My apologies. I missed that somehow.

Thanks for explaining that. In the Windows Central app for Windows Phone, that wasn't immediately apparent. :-)

Really pissed off about the title of this article. There's me thinking the Surface Book was announced for the UK and then after reading the article all my hopes and dreams where shattered.

I appear to be the only one in the UK with the SurfaceBook!

For North America, also Pro 4 i7 models will be available on 26th?

Gimme a surface book with 256gigs, 16gb ram, i7 with gpu. O_O

I wonder if these will be available for sale in the physical stores on the 26th? One of the advantages of being the underdog is that there's still hope that ou can just walk in and buy one as opposed to Apple where kids are dropping out of college at MIT to get online for the next iPhone.

looked at costco's website last night. seem to be the better deal. I hope they have the i7/256gb/16gb RAM available in store on 10/26!

costco only has the i5 256gb model?

Amazon delivers internationally, doesn't it? I guess anyone can buy Surface Book from outside US as long as the country is in the list of supported by Amazon Global.

I just tried to order one from the US for UK delivery, but Amazon says "This item does not ship to the United Kingdom". Why? Here I am willing to hand over this month's pay packet, and it doesn't ship? Blatant discrimination!

Why isn't bestbuy accepting preorders for the Surface Book?

I pre-ordered mine from Bestbuy a few weeks ago. I going to pick-it up after lunch.

I Pre-Ordered mine the day they offered pre-Order and my status shows backordered. :(

What about other parts of Europe? Can they ship from closest country?

I m wondering why Canada before other countries with more "buy power".... Maybe only a shipping/tax thing...

With your thinking, Microsoft should have sent all the Surface pro 4 and Surface book to China and India.

How many SP3 and hiend Lumia have been sold in India and Cina ? Just to compare to the small Italy.

Was the SP3 available in India? Anyway, the number of people in a country doesn't always show the sales volume that a company would do. Look @ Japan and the xbox one.

Probably because Canada is right next to the US which makes logistics a little easier.

How to buy SP4 in Ukraine?
​I guess only waiting...

So there's 3 countries. What bout the rest of the world???

Costco.ca (in Canada) is also showing a couple bundle listings for the Surface Pro 4

Seems it is coming to Japan on 11/12. Excited, but also looking for the Surface Book sometime soon.

Tip! You can trade in any laptop for $100 credit towards a surface pro 4 at Best Buy in the U.S. starting today.

For the Surface Book too if any BB had them

How about in the Philippines? Posted via the Windows Central App for Android

My Best Buy Pre-Order for SP4 is showing ready for store pick up as of this morning. Pretty Easy.

FYI, both the surface Book and SP4 are sold in bundles from Costco.ca in Canada

I have an SP3 and live in Canada and want to get the SP4 Keyboard with the finger print reader but you can't buy it here. I was down at the store and one of the employees said it's not available in Canada because of security reasons. That makes absolutely no sense!!!! I hope it comes to Canada, it makes no sense that it is not sold here. Does the keyboard need to go through cultural sensitivity training like Cortana? Geez.

Maybe they want to embed something that copies your fingerprints and sends it to a dubious department situated in a seedy warehouse. Now where did my tinfoil suit disappear to, I wonder? :P.

I apparently should have ordered from anywhere other than Best Buy. I get an email this morning (only probably after bugging them this weekend about why my order still is "in progress". that it's "DELAYED". Pretty upset right now, not exactly sure how I want to handle this when I call. I'm on the border of calling and cancelling and just ordering the 1TB version (which I would have ordered if it was available when I ordered). since I have to wait some non-defined period anyway. THANKS BEST BUY FOR STARTING MY WEEK ON A HIGH NOTE!

Don't forget your student discount at the online Microsoft Store if you are qualified.

Sweet, thanks for reminding me. Glad I haven't bought yet, cancels out the taxes XD Posted via the Windows Central App for Android

Just drove across town to get mine after two emails that it was in a ready to be picked up. They didn't have a single i7 in stock. CALL AHEAD and make someone get EYES ON your order before leaving. Pay absolutely no attention to the email they are sending out confirming. Got one from corporate AND a manager at the store. They'll "call me" when it's ready and gave me ZERO indication of when it was coming in.

I bought my Surface Pro 4 and Type Cover keyboard in Canada from https://www.windowscentral.com/e?link=https2F%2Fclick.linksynergy.co... (Canadian Store), and it shipped last week with a delivery date of today (current status: out for delivery). Canadian electronics retailer London Drugs also has the all the Surface Pro 4s listed as available on their web site: - http://www.londondrugs.com/Search?q=surface+pro+4&simplesearch=Go No Surface Book listed yet, but you can buy a spare power supply: - http://www.londondrugs.com/Search?q=surface+book

All Best Buy stores in the Philadelphia suburb regions are completely sold out of the cheaper Surface Books but they have plenty SP4s. I guess it's a successful launch?

Walked into my local best Buy around 11am, and two salespeople were setting up a surface book. Almost didn't pull the trigger as the screen "flopped" a bit when using touch, and if typing on a movable surface. Then I took a roam around the store poking at all the other laptops, including Apple and guess what? Very similar flop, the only one that was rather stiff was a larger, older macbook. They only had two i7 models, the 256gb/8gb ram versions. Walked out with an i7 256gb model, now the only challenge is to tell my wife!

Microsoft really pissed me off today! I have a Surface Book on pre-order with a Order "In Process ships in 7-8 weeks" Status. When I found out I could by the same Surface book TODAY at my local Best Buy I called to CANCEL my pre-order which I expect to get by Christmas.... So they tell me that they can't cancel the order because it's "In process". So my only option is to PAY for the pre-ordered surface book and request a return if I buy one today! Now while I can afford to have my credit card charged an additional $2250 for 3-4 weeks, it really gauls me that they say they can't cancel an order TWO MONTHS before they ship it!

Man what is up with all the money-grab referral link articles lately? Are you guys hurting for cash? This grab alone I saw post twice in the last week for SP4.

So, it will soon be a good time to buy a Surface Pro 3. I presume their prices will be dropped as soon as SP4 is available to buy..... here's hoping!

Lol so Canadians pay alot more for the 512 Gig version than their American neighbours. That sucks.... No point speaking about the UK we generally pay more given the conversion rates.

Title: Where to buy... ...a surface book... ...in the UK.
*read article*
Answer at the bottom of page: You cant. Cheers for that windows central!
Windows Central Newsletter
Get the best of Windows Central in in your inbox, every day!
Thank you for signing up to Windows Central. You will receive a verification email shortly.
There was a problem. Please refresh the page and try again.