Should you upgrade your Surface Pro 2 or Surface Pro 3 to the Surface Pro 4?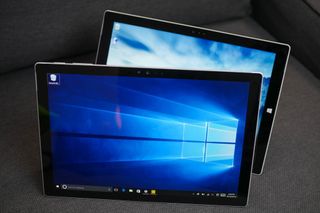 During its Windows 10 Devices event in New York City last October 6th, Microsoft announced the Surface Pro 4, the next generation of the ultimate tablet that can replace your laptop. This is the latest version of the most popular device built by the software giant that brings many improvements over the Surface Pro 3, and even more over the Surface Pro 2. Are you thinking of updating your tablet to the much-improved Surface Pro 4?
Making a choice can be somewhat difficult when you have many different options and price points to choose from. Adding to the mix that you probably already own a Surface tablet, it can make the decision a little more complicated. As such, today, we are taking a closer look at the new improvements and benefits of the new Surface Pro 4 to try to figure out if it's worth the upgrade for Surface Pro 2 or Surface Pro 3 owners.
Surface Pro 4 is the result of three prior generations that helped shape the best Windows tablet you can get today. The fourth generation of the tablet is faster, lighter, and thinner than any of its predecessors. Statically, there have not been a lot of significant changes since Surface Pro 3, as both devices look very similar. They both come with a silver body, they both come with the same available ports, such as USB 3.0, Mini DisplayPort, power connector, and the same microSD card reader to expand storage even further, and the same full friction hinge design for the kickstand.
Also, both devices have exactly the same dimensions (height and width), but Surface Pro 4 features a 12.3-inch PixelSense display with a resolution of 2736 x 1824 pixels (267 pixels per inch). This is 60 percent more pixels, and it translates into over 5 million pixels, which the company describes as one of the best display ever shipped on a Surface. Microsoft was able to accomplish this by reducing the bezel by 0.3-inch that allows to fit an even bigger screen in the same form factor, without compromising its original and elegant design.
The advantage of being the same size also helps with compatibility, as Surface Pro 3 customers can save some money by using the same Type Cover, dock station, and power port, which technically could make the upgrade a bit cheaper.
Besides the new display, the Surface Pro 4 comes with many improvements and refinements. The new tablet, features Intel's latest 6th generation processors, including the options of Core M3, Core i5, and Core i7 that offers boost on performance and battery life, helps to generate less heat, and offers large improvements on graphics.
Overall, Surface Pro 4 is 30 percent faster than Surface Pro 3.
The Surface Pro 4 running the new Intel Skylake Core i7 processor is the fastest and more productive tablet you can purchase. This model has a lot of power aimed for demanding professionals working with video editing, 3D modeling, and performance-intensive applications, including a great experience on PC gaming.
The Core i5 model is aimed for those people who need the productivity of a great laptop, they like to play PC games that wouldn't run optimally on the lower-end model, and they can't spend a lot of money.
There is even a Surface Pro 4 without fans that features Intel's Core m3 processor, which the company says that will run with the same performance as a laptop on the same category and with great battery life thanks to the low power processor. However, this is the model that replaces the previous Core i3 model, and it's aimed to be a consumption device, more than it's a productivity device.
Surface Pro 4 also doubles the RAM on its different configuration options of up to 16GB of RAM and up to 1TB of internal storage, which were some of the most requested features by customers.
Should you upgrade your Surface Pro 3 to the new Surface Pro 4?
After looking at some of the improvements, the Surface Pro 4 is a great upgrade. Now, you are getting more powerful processors, more memory, more storage, larger and better screen on a package that is 8.4mm thick, down from the 9.1mm thick from the previous version.
However, Surface Pro 3 is still a great device. The hardware inside of this tablet continues to be very good, and battery life still in the same 9 hours range. In addition, the older generation of the tablet can also take some of the benefits available in the new tablet.
For example, Surface Pro 4 comes with the necessary hardware to enable Windows Hello, which is the new security feature in Windows 10 that allows users to sign into their accounts using only their face, ditching passwords once for all. Surface Pro 3 doesn't include this capability, but purchasing the new Type Cover with fingerprint reader (which by the way, it includes a 40 percent larger trackpad and resigned keyboard) that allows users to take advantage of Windows Hello as well.
If you like the new Microsoft Surface Dock, you can also get it for your Surface Pro 3, as both devices, including the Surface Book, support the new dock through the power connector. Though, pixel support output is greatly improved on the Surface Pro 4 and the Book.
The new improved Surface Pen is also compatible with Surface Pro 3. The Pen features interchangeable tips, tail eraser, and 1,024 points of pressure sensitivity instead of 256 on the previous model. However, only the Surface Pro 4 and Surface Book support the increased points of sensitivity.
As you can see, Microsoft isn't forgetting Surface Pro 3 owners, and it seems we will continue to see the tablet for a while longer. Furthermore, the tablet runs Windows 10 perfectly, and the performance is still outstanding.
So, should you upgrade your Surface Pro 3 to Surface Pro 4? Well, the answer depends on many factors. If you're a Surface fan, and you can spend the money, the Surface Pro 4 is a great upgrade, and you'll even be able to use your same accessories, which can help you save some money.
If you're a professional with a lot of demand for performance, work with a large amount of data, and need to connect to more than one 4K monitor, you may be able to take advantage of the new configurations with more memory and storage that the Surface Pro 4 offers.
If you fall into the category of heavy users, heat might have been a problem with Surface Pro 3. The new models of the refreshed tablet running Intel's Core i5 and Core i7 really improve on the heat dissipation with a new "hybrid cooling" system. It uses liquid inside of the cooling pipes to dissipate heat more efficiently, making the device run cooler, quieter, perform better, and extends the lifespan of the components. As such, if you have been using a Surface and overheating was an issue for you, then the new upgrade might just be what you have been waiting for.
If you can get the work done with the current performance of the tablet, you will probably OK with what you have now. Though, you could upgrade to the new accessories, and in the future, if your tablet dies, you can purchase a Surface Pro 4 knowing that you can also use the same accessories.
Should you upgrade your Surface Pro 2 to the new Surface Pro 4?
The Surface Pro 2 is a different story. The second generation of the tablet is already a two-year-old device, which might not look like very old, but a lot of innovation has happened since the original launch back in October 2013.
Surface Pro 2 featured a 10.6-inch 1080p ClearType display, which is significantly smaller than its successors. However, despite the tablet being heavier, bulkier, and smaller, it packed great hardware as well. In fact, Surface Pro 2 and Surface Pro 3 feature the same fourth-generation Intel processors.
The biggest difference was that Surface Pro 2 only shipped with the Core i5-4200U, where Surface Pro 3 offers more choices, including Core i3-4020Y, i5-4300U, i7-4650U, which are the same generation processors, but more capable.
Note: In December 2013, Microsoft updated the processor on the Surface Pro 2 from the Core i5-4200U to Core i5-4300U.
Accessories are another problem. While Surface Pro 3 accessories are compatible with Surface Pro 4 and vice versa. Surface Pro 2 accessories aren't compatible with Surface Pro 4.
The second generation of the tablet offered a dual-position (22 and 55-degree angles) kickstand, which didn't deliver on "lapabilty" like its successors, which include the full friction hinge design that helps position the kickstand on many angles (up to 150 degrees).
Surface Pro 4 offers more capable hardware for today and future performance demands. While the new tablet won't replace your gaming PC or workstation, it has been greatly improved with the latest hardware that helps to run the tablet faster, quieter, and cooler. It also comes with an amazing 12.3-inch PixelSense display with a 3:2 aspect ratio, compared to the 10.6-inch 1920 x 1080 pixels display with a 16:9 aspect ratio included in the older version of the tablet.
So, should you upgrade your Surface Pro 2 to Surface Pro 4? The answer depends on various factors, but looking at the improvements on Surface Pro 4, the decision seems a little simpler.
When you compare the Surface Pro 2 against Surface Pro 4, the new tablet is far more capable, lighter, thinner, and larger. In addition, performance and battery life have been greatly improved.
If you need a more powerful device with an amazing screen, supports more pixels to external monitors, more storage, and can take full advantage of all the new features of Windows 10, then the Surface Pro 4 is a great upgrade from the Surface Pro 2.
Also, if you skipped getting a Surface Pro 3 last year, you probably won't go wrong upgrading to the new Surface Pro 4.
Wrapping things up
Surface Pro 4 is an amazing device that delivers on the promise of being a tablet that can truly replace your laptop. If you're a user caught in between of wanting a laptop and a tablet, the Surface Pro 4 is the perfect solution. If you are a Surface Pro 2 owner, the new tablet can dramatically increase your productivity with a larger canvas packed in a thinner and lighter package, and a much-improved kickstand.
However, if you already own a Surface Pro 3, then there will be a little more thinking you have to do, as the third generation of the tablet is still a great device.
If you're not completely convinced, one thing you could do is try to sell your Surface to help you get a brand new Surface Pro 4. Previously, I wrote a [guide to get safely rid of your tablet](http:// /how-sell-surface-pro-3-for-surface-pro-4), and while it focuses on selling your Surface Pro 3, the same concept will work if you're trying to sell your Surface Pro 2.
Surface Pro 4 will be available on October 26th in the United States, and in the UK on November 12th. The tablet starts at $899 in the US and £749.00 in the UK for the Core M3 model with 4GB of RAM and 128GB of storage. The Core i5 model starts at $999 in the US and £849.00 in the UK, and prices go all the way up to $2,699 for the Core i7 with Intel Iris graphics 540, 16GB of RAM and 1TB of Storage.
Are you planning to upgrade your tablet to the new Surface Pro 4? Let us know in the comments below.
Pre-order the Surface Pro 4 at the Microsoft Store (US) (opens in new tab)
Mauro Huculak is technical writer for WindowsCentral.com. His primary focus is to write comprehensive how-tos to help users get the most out of Windows 10 and its many related technologies. He has an IT background with professional certifications from Microsoft, Cisco, and CompTIA, and he's a recognized member of the Microsoft MVP community.
I'm still rocking the SP1.

me too, still the best PC in my house. I would have upgraded to newer Surfaces by now, but Microsoft still didn't get the international thing right so I could buy it.

What do you mean? Surface is available in so many countries. I have the SP2, and I'm going to upgrade it this year to the SP4.My device runs perfectly, but I want a larger screen and a MUCH better trackpad! The trackpad is the worst thing about the SP2. My partner has the SP3, and many times we sit at the table and use them and I die of envy xD haha.

It's still a really short list of countries compared to the broad availability of real PC manufacturers like Dell, Acer, HP, etc And I'm talking about MS products and services in general, the Band is still vaporware in most of the world, Cortana is only available in the US, with betas in a handfull of countries missing many features, everywhere else it doesn't even have a concrete date to be available, with more and more features depending on it (like quite hours,search in Edge, and now the SMS and missed calls integration to the PC) that became simply unavailable to most users. Not to mention that only MS restricts its language preferences or services like Cortana by country. Google and Apple lets anyone who wants to use their voice assistants in english do it regardless of the country, the same goes to changing the language on consoles like Nintendo's and Sony's, you obviously can use it in english if you want, but not the Xbox. That is getting international thing wrong.

Yup. I got the power keyboard last year for Christmas. I expect to rock the SP1 for several more years.

Rocking my Surface 3. The Pro 4 is nice and all, but I'm not really in this for power. Being a backend coder really just makes me like the thinness, lightness and fanlessness we get with the non pro Surface... with the S3 being the first of the smaller Surface tabs to run full Windows, AND being even lighter than the RT-powered Surfaces it was a dream come true. I really hope Microsoft doesn't forget about us buyers of the non-pro Surface. If they did as little as putting in a Core M with USB Type-C replacing the USB micro (for a hypothetical Surface 4) that'd be my upgrade right there.

You still might consider the fanless m3 SP4, if it interests you at all. It should be a nice performance bump from the Atom-based S3, it's still quiet and fanless, and your get the larger display, better accessories, and possible futureproofing. Of course, if you feel comfortable with the smaller device and find the performance good, you can wait for a S4 or SP5.

I'd be sold on the m3 SP4 if it had USB Type-C, all other arguments you gave are perfect. Oh, another one, the new keyboard on SP4 is probably better than the one at S3.

I'm debating the upgrade from my SP2 i5, I don't know what to get. The m3 or the i5? :-\ Is there a huge difference in speed? The heat and fanless design is what attracts me most. But I also like that my i5 really is a desktop replacement as it's so powerful. I use my desktop all day, and when I go to my laptop (mostly for documents, browsing, and editing stuff) I want a good powerful machine. Hmm...

I'm in the same boat as you. I figure an i5 with the 16Gb RAM would be the good compromise with power and less heat (since it's got enough guts to not be overly taxed)...

Me too, with Visual Studio on it.

If the SP1 still works well for you, that's awesome.

Same here. I picked mine up at TechEd 2013 for only $399 The original Surface Pro is still a fast device today and meets my current needs. As I mentioned in another thread if Microsoft would make the pen an extra cost and include the type cover instead then I would be willing to upgrade.

I still use the SP1 myself, but about to upgrade to a SP4 and let a friend inherit my SP1 instead. The SP4 has so many improvements that prove a massive time saver to my work. It's still very capable for what I do, it's just sometimes a bit slow when dealing with RAW conversions and a lack of storage is starting to give headaches.

Should you upgrade your surface pro 4 to surface book?

Surface Pro 4 is the bridge between a laptop and a tablet. Surface Book is a tablet first. Do you need a laptop or something in between? "In between" Surface Pro 4, "laptop" Surface Book. Thanks,

The Surface Book is a laptop first, and can be used as a "clipboard" for about 3 hours. The main guts are in the keyboard area. The Surface Pro 4 is more tablet. The question is do you prefer a laptop (Book) or a tablet (Pro 4)?

I believe the Surface Book is actually a laptop first. ;)

BOOK is a laptop first. It CAN be a tablet, but it's primary function is to be a laptop.

I have the SP2 and will stick with it for a little while longer. I'm not in the financial position to replace my computer every other year. Even when I do replace the SP2, I'll probably just set it up for my kids to use as a school PC.

Same here. The SP2 has all the power and portability I need for work, though I might consider the Surface Book to play at home.

I actually want the smaller form factor of SP2. No upgrade needed.

I agree. My SP2 is running PERFECTLY! But I have a few issues that are making me upgrade to the SP4. Size (larger screen = more productive on the screen) and the trackpad. I love SP2, best device I've ever owned. It was a real game changer for me and in my life. BUT ... the furry trackpad is HORRIBLE! I usually carry a mouse with me in my bag to AVOID it. I'll use it for little things here and there, but I find it impossible to really use... So the glass trackpad is really exciting for me, coupled with the larger screen, thinner and lighter device.... I'm sold. I really don't think a PC Should be purchased this often, but I think 10 inches is too small for my productivity uses. I think the SP4 will last me longer than the SP2, which I originally bought thinking the screen was also too small, but I needed it for work.

Don't have a surface but I would get the top of the line with the largest memory possible so it can last for years and yes I mean the surface boom

I think it's too early for this kind of article. We need some real data not just iAdjectives like: Thinner, faster, cooler. Also M3 is probably all you need for Office use and that is enough for majority of users. The biggest problem for M3 version is storage.

I don't think there is anything wrong with the article. Even without tests there is a lot you can glean from the spec sheet. Stil, I agree waiting for a full review so you know what issues you may run into. But a spec-by-spec comparison is harmless.

I'd love to get rid of my yoga2pro for one of these but still can't find fault in an i7, 8gb ram system. If only I could trade it for the i5 surface 4, I would.

I think i finally made up my mind. I will upgrade my SP1 to SP4. I will forego the SB for now, and look back at it in about 18 months from now when i really need to replace my old Lenovo i7 X220 Thinkpad when hopefully the price of the SB has come a bit down from the stratosphere.

If you just do word processing and other light work things then you can stick with the 3. I have the surpface pro 3 and I might upgrade the keyboard to the finger print one. I don't need the extra performance of the 4.

Man I saw SP3 in 'The Martian' movie, looks like it's really getting famous. Btw it was just a glimpse of the SP3 but still it's quite good to see it in a movie. Posted via the Lenovo K900

yea microsoft has a deal with the NFL so all teams are using sp3s for drawing up plays, looking at recent play footage etc etc...it was also used on the show StrikeBack...so yes its getting pretty mainstream... i got it cuz i saw it on the show and my only regret is the guy that sold it to me 2 months ago at the microsoft store didnt at least hint at a new one coming out cuz i couldve jus got the surface pro 4 :/

Don't see a point really, I like my pro 2, since I do design, sketching on it is great and with Wacom drivers I can use the bamboo pen and its and doesn't take any batteries unlike pro3&4

Yeah, the inquisition from Wacom to N-trig can be a deciding factor for many people. I hope, though, that Microsoft will revolutionize the N-trig technology and make it better than Wacom Active ES, just to give Wacom some competition. Wacom hava been a monopoly of their grahpic tablet game for too long. They need some challenge from big companies like Microsoft and possible Apple with the iPencil, haha.

Regular Surface 3 is all I need. Not looking to replace my desktop(s). A non-pro S4 would be nice...if they'd make it at some point.

to me, Surface 3 and 3 pro are same thing, you still can install windows 10 pro or 8.1 pro on your Surface 3

I am still perfectly fine with my SP2. Maybe the SP5 will get me to retire it, but honestly the SP2 is still fast as hell and im not seeing enough to justify dropping another $1000+. upgrading now would be throwing money out of the windows.

FIX ARTICLE Its i7-4650u not 4300u And the surface pro 2 was also packed with i5-4300u, not just 4200u

Thanks, the Surface Pro 2 originally shipped with the 4200U, but later was updated to 4300U. I have made the changes.

I have a SP2 with 512gb SSD. Bought on Craigslist this year for $525. I think it's a steal and won't give up until it breaks. Still faster than most ultra books and tablets!

Holy crap, that's a sweet deal! I paid like $300 more than that for the 128 GB version last year.

If you haven't already, I'd recommend picking up the power cover for it. Just checked-$62 @ Amazon.
http://www.amazon.com/Microsoft-5VX-00001-Surface-Power-Cover/dp/B00IZMK... No backlight and weighs almost as much as SP2, but it's great.

Should I upgrade my non-existent surface pro to a surface pro 4?

Definitely. You'll be making a huge upgrade from your current nothing to a SP4.

Lol! This lightened my day up a bit.