Should you upgrade your Surface Pro 2 or Surface Pro 3 to the Surface Pro 4?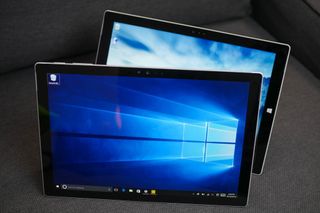 During its Windows 10 Devices event in New York City last October 6th, Microsoft announced the Surface Pro 4, the next generation of the ultimate tablet that can replace your laptop. This is the latest version of the most popular device built by the software giant that brings many improvements over the Surface Pro 3, and even more over the Surface Pro 2. Are you thinking of updating your tablet to the much-improved Surface Pro 4?
Making a choice can be somewhat difficult when you have many different options and price points to choose from. Adding to the mix that you probably already own a Surface tablet, it can make the decision a little more complicated. As such, today, we are taking a closer look at the new improvements and benefits of the new Surface Pro 4 to try to figure out if it's worth the upgrade for Surface Pro 2 or Surface Pro 3 owners.
Surface Pro 4 is the result of three prior generations that helped shape the best Windows tablet you can get today. The fourth generation of the tablet is faster, lighter, and thinner than any of its predecessors. Statically, there have not been a lot of significant changes since Surface Pro 3, as both devices look very similar. They both come with a silver body, they both come with the same available ports, such as USB 3.0, Mini DisplayPort, power connector, and the same microSD card reader to expand storage even further, and the same full friction hinge design for the kickstand.
Also, both devices have exactly the same dimensions (height and width), but Surface Pro 4 features a 12.3-inch PixelSense display with a resolution of 2736 x 1824 pixels (267 pixels per inch). This is 60 percent more pixels, and it translates into over 5 million pixels, which the company describes as one of the best display ever shipped on a Surface. Microsoft was able to accomplish this by reducing the bezel by 0.3-inch that allows to fit an even bigger screen in the same form factor, without compromising its original and elegant design.
The advantage of being the same size also helps with compatibility, as Surface Pro 3 customers can save some money by using the same Type Cover, dock station, and power port, which technically could make the upgrade a bit cheaper.
Besides the new display, the Surface Pro 4 comes with many improvements and refinements. The new tablet, features Intel's latest 6th generation processors, including the options of Core M3, Core i5, and Core i7 that offers boost on performance and battery life, helps to generate less heat, and offers large improvements on graphics.
Overall, Surface Pro 4 is 30 percent faster than Surface Pro 3.
The Surface Pro 4 running the new Intel Skylake Core i7 processor is the fastest and more productive tablet you can purchase. This model has a lot of power aimed for demanding professionals working with video editing, 3D modeling, and performance-intensive applications, including a great experience on PC gaming.
The Core i5 model is aimed for those people who need the productivity of a great laptop, they like to play PC games that wouldn't run optimally on the lower-end model, and they can't spend a lot of money.
There is even a Surface Pro 4 without fans that features Intel's Core m3 processor, which the company says that will run with the same performance as a laptop on the same category and with great battery life thanks to the low power processor. However, this is the model that replaces the previous Core i3 model, and it's aimed to be a consumption device, more than it's a productivity device.
Surface Pro 4 also doubles the RAM on its different configuration options of up to 16GB of RAM and up to 1TB of internal storage, which were some of the most requested features by customers.
Should you upgrade your Surface Pro 3 to the new Surface Pro 4?
After looking at some of the improvements, the Surface Pro 4 is a great upgrade. Now, you are getting more powerful processors, more memory, more storage, larger and better screen on a package that is 8.4mm thick, down from the 9.1mm thick from the previous version.
However, Surface Pro 3 is still a great device. The hardware inside of this tablet continues to be very good, and battery life still in the same 9 hours range. In addition, the older generation of the tablet can also take some of the benefits available in the new tablet.
For example, Surface Pro 4 comes with the necessary hardware to enable Windows Hello, which is the new security feature in Windows 10 that allows users to sign into their accounts using only their face, ditching passwords once for all. Surface Pro 3 doesn't include this capability, but purchasing the new Type Cover with fingerprint reader (which by the way, it includes a 40 percent larger trackpad and resigned keyboard) that allows users to take advantage of Windows Hello as well.
If you like the new Microsoft Surface Dock, you can also get it for your Surface Pro 3, as both devices, including the Surface Book, support the new dock through the power connector. Though, pixel support output is greatly improved on the Surface Pro 4 and the Book.
The new improved Surface Pen is also compatible with Surface Pro 3. The Pen features interchangeable tips, tail eraser, and 1,024 points of pressure sensitivity instead of 256 on the previous model. However, only the Surface Pro 4 and Surface Book support the increased points of sensitivity.
As you can see, Microsoft isn't forgetting Surface Pro 3 owners, and it seems we will continue to see the tablet for a while longer. Furthermore, the tablet runs Windows 10 perfectly, and the performance is still outstanding.
So, should you upgrade your Surface Pro 3 to Surface Pro 4? Well, the answer depends on many factors. If you're a Surface fan, and you can spend the money, the Surface Pro 4 is a great upgrade, and you'll even be able to use your same accessories, which can help you save some money.
If you're a professional with a lot of demand for performance, work with a large amount of data, and need to connect to more than one 4K monitor, you may be able to take advantage of the new configurations with more memory and storage that the Surface Pro 4 offers.
If you fall into the category of heavy users, heat might have been a problem with Surface Pro 3. The new models of the refreshed tablet running Intel's Core i5 and Core i7 really improve on the heat dissipation with a new "hybrid cooling" system. It uses liquid inside of the cooling pipes to dissipate heat more efficiently, making the device run cooler, quieter, perform better, and extends the lifespan of the components. As such, if you have been using a Surface and overheating was an issue for you, then the new upgrade might just be what you have been waiting for.
If you can get the work done with the current performance of the tablet, you will probably OK with what you have now. Though, you could upgrade to the new accessories, and in the future, if your tablet dies, you can purchase a Surface Pro 4 knowing that you can also use the same accessories.
Should you upgrade your Surface Pro 2 to the new Surface Pro 4?
The Surface Pro 2 is a different story. The second generation of the tablet is already a two-year-old device, which might not look like very old, but a lot of innovation has happened since the original launch back in October 2013.
Surface Pro 2 featured a 10.6-inch 1080p ClearType display, which is significantly smaller than its successors. However, despite the tablet being heavier, bulkier, and smaller, it packed great hardware as well. In fact, Surface Pro 2 and Surface Pro 3 feature the same fourth-generation Intel processors.
The biggest difference was that Surface Pro 2 only shipped with the Core i5-4200U, where Surface Pro 3 offers more choices, including Core i3-4020Y, i5-4300U, i7-4650U, which are the same generation processors, but more capable.
Note: In December 2013, Microsoft updated the processor on the Surface Pro 2 from the Core i5-4200U to Core i5-4300U.
Accessories are another problem. While Surface Pro 3 accessories are compatible with Surface Pro 4 and vice versa. Surface Pro 2 accessories aren't compatible with Surface Pro 4.
The second generation of the tablet offered a dual-position (22 and 55-degree angles) kickstand, which didn't deliver on "lapabilty" like its successors, which include the full friction hinge design that helps position the kickstand on many angles (up to 150 degrees).
Surface Pro 4 offers more capable hardware for today and future performance demands. While the new tablet won't replace your gaming PC or workstation, it has been greatly improved with the latest hardware that helps to run the tablet faster, quieter, and cooler. It also comes with an amazing 12.3-inch PixelSense display with a 3:2 aspect ratio, compared to the 10.6-inch 1920 x 1080 pixels display with a 16:9 aspect ratio included in the older version of the tablet.
So, should you upgrade your Surface Pro 2 to Surface Pro 4? The answer depends on various factors, but looking at the improvements on Surface Pro 4, the decision seems a little simpler.
When you compare the Surface Pro 2 against Surface Pro 4, the new tablet is far more capable, lighter, thinner, and larger. In addition, performance and battery life have been greatly improved.
If you need a more powerful device with an amazing screen, supports more pixels to external monitors, more storage, and can take full advantage of all the new features of Windows 10, then the Surface Pro 4 is a great upgrade from the Surface Pro 2.
Also, if you skipped getting a Surface Pro 3 last year, you probably won't go wrong upgrading to the new Surface Pro 4.
Wrapping things up
Surface Pro 4 is an amazing device that delivers on the promise of being a tablet that can truly replace your laptop. If you're a user caught in between of wanting a laptop and a tablet, the Surface Pro 4 is the perfect solution. If you are a Surface Pro 2 owner, the new tablet can dramatically increase your productivity with a larger canvas packed in a thinner and lighter package, and a much-improved kickstand.
However, if you already own a Surface Pro 3, then there will be a little more thinking you have to do, as the third generation of the tablet is still a great device.
If you're not completely convinced, one thing you could do is try to sell your Surface to help you get a brand new Surface Pro 4. Previously, I wrote a [guide to get safely rid of your tablet](http:// /how-sell-surface-pro-3-for-surface-pro-4), and while it focuses on selling your Surface Pro 3, the same concept will work if you're trying to sell your Surface Pro 2.
Surface Pro 4 will be available on October 26th in the United States, and in the UK on November 12th. The tablet starts at $899 in the US and £749.00 in the UK for the Core M3 model with 4GB of RAM and 128GB of storage. The Core i5 model starts at $999 in the US and £849.00 in the UK, and prices go all the way up to $2,699 for the Core i7 with Intel Iris graphics 540, 16GB of RAM and 1TB of Storage.
Are you planning to upgrade your tablet to the new Surface Pro 4? Let us know in the comments below.
Get the Windows Central Newsletter
All the latest news, reviews, and guides for Windows and Xbox diehards.
Mauro Huculak is technical writer for WindowsCentral.com. His primary focus is to write comprehensive how-tos to help users get the most out of Windows 10 and its many related technologies. He has an IT background with professional certifications from Microsoft, Cisco, and CompTIA, and he's a recognized member of the Microsoft MVP community.