Where to buy a Windows phone in 2022
If you need a new phone and you don't want anything but a Windows phone, there are still easy ways to get one.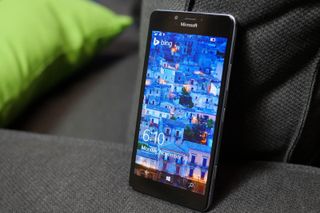 The future for Microsoft-powered smartphones is bleak. But nevertheless, the platform is still supported and will be for some time. The harder part is buying a new phone, since no one is making them anymore, and stocks aren't exactly high.
But if you know where to look you'll still be able to find one.
Amazon
If you can buy something there's always a strong chance you'll find it on Amazon. Prices are pretty random, but there are a lot of resellers on Amazon, selling new, refurbished and used items, and it seems like there are plenty of choices.
Newer phones like the Alcatel Idol 4S (opens in new tab) can be had for $170, as can a Lumia 950 (opens in new tab) in various states of new, used and refurbished for differing prices.
See at Amazon (opens in new tab)
eBay
As with Amazon, if there's something you want to buy there's a solid chance you'll find it on eBay. Gone are the days of buying only used products, since many merchants use the platform now as a storefront for new and refurbished hardware.
The great thing with eBay is that if there's a particular phone you want, you'll probably find it.
See at eBay (opens in new tab)
Swappa
Whether you're buying or selling, Swappa is a great place to go. There is a set list of conditions that a device must meet before it can be sold, which also gives the buyer more confidence. If the device doesn't meet expectations, PayPal's protection should handle it. Sales go through PayPal so you've got some good options if you're not happy.
And, again, the choice will be pretty varied, though the chances of landing brand new hardware are less.
See at Swappa (opens in new tab)
Craigslist
This is not necessarily the first place we'd recommend you go looking for a new phone, but Craigslist remains a popular enough way to buy and sell items. You're more limited in a sense, because you'll have to actually go and get the item from the seller, so unless you're really keen you'll be keeping to your local area.
And it's always a good idea to meet in a public place to close the sale, with people around, preferably.
Windows Central Marketplace
The Windows Central community is full of avid Microsoft users, meaning there are often devices for sale and for trade. Go check it out!
Check out the Windows Central marketplace
Your tips
If you've got a hidden gem we didn't mention that can help folks find a Windows phone in 2018 be sure to drop it into the comments below!
Updated August 23, 2018: As Microsoft no longer sells Windows phones we've removed it from the list.
Windows Central Newsletter
Get the best of Windows Central in your inbox, every day!
Managing Editor - Tech, Reviews
Richard Devine is a Managing Editor at Windows Central with over a decade of experience. A former Project Manager and long-term tech addict, he joined Mobile Nations in 2011 and has been found on Android Central and iMore as well as Windows Central. Currently, you'll find him steering the site's coverage of all manner of PC hardware and reviews. Find him on Mastodon at mstdn.social/@richdevine
Where to buy? I can tell you where to find one. In a pit 6 feet under!

Okay. So, objectively, the Windows 10 Mobile platform has no future. It won't evolve beyond what is now. But: - It will cointinue receiving patches and updates probably for a couple more years, at least one more year. - The OS is in a good state, it runs well and it's perfectly useable, and preferrable to the alternatives for many people. - Most big apps update together with their UWP desktop counterparts. - There's hardware still around (at least 4 really decent phones) that you can even get at cheap prices. All this looks pretty good to me for someone who still wants to keep using W10M. It's not like we were waiting fot Windows Central or Microsoft to tell us that "it's dead" and we're supposed to drop the device to the floor and run away to buy another phone. You can perfectly keep using your device as you've been using it. And if you've been using it because it's the OS you like, why wouldn't you be using it? Or even, replace your current phone for another one of those few available. I'd love to get an Elite X3 if my 950 XL broke. OR an Alcatel Idol 4S. This is what I think of when people say "it's dead". It has no future but it has a present. Being a very small niche, I don't think it's mandatory to leave the platform for those who are comfortable with it, while they wait for the next step in the Microsoft mobile ecosystem. Personally I'll stick to it until the Andromeda device comes out, and then, if my current device still works, I can hold out a bit more, even, because it does everything I want it to do. I know I'm not part of a big majority of people, but there's a number of people who'll want to do the same, and basically, they can.

My kind of approach as well. If it ain't broken don't fix it. I intend to keep my smartphone for at least 8 years (provided it does not drop / fails). Was never an issue with my former BB's so why would this not be possible with my 950XL I did by spare batteries yes - true.

Me too, I replaced my battery once and might do it again this year. But if it keeps working, I might even keep using it beyond the release of new mobile MS hardware. In case I get an itch to buy the flashy new device they'll come with, zero problem, I know someone in my family will keep using my 950XL, which is a really great phone.

I broke the camera lense on my 950XL so I bought the Elite X3 that is Verizon compatible. I finally decided to get my 950XL repaired as it was cheaper than buying one on SWAPPA and the swappa ones sell fast. X3 is a battery beast but there were some things I liked better with the 950XL. Oh well I will have two to swap back and forth.

Both are awesome. I just love them both for different reasons.

It costs about $15 dollars to replace the glass covering the actual lens. I just replaced the glass on mine. Take the back off, undo 12 torx 5 screws, push out the glass from behind and remove the broken pieces and adhesive. Then reassemble. Hardly worth replacing the whole phone.

I'm holding onto my 950. I hope we can be in the "MS mobile platform survival club" if Andromeda arrive and works out. I've started with WM5 (on Dell Axim x50v), so I kind of want to keep the streak. 😋 I cheated a little because I've just received my family members' old iPhone 4s and 6+. Yes there are apps, but that's probably it. I'm keeping my 950 as the main phone. Let's see if I can stay all the way 😁

Well said fdruid! I am in the same boat with my L950. It is like traveling from point A to point B. You can use a Mercedes but a Pinto does the job too!

Except that I feel my Lumia 950 XL is a Ferrari 😁

It's more of death by a thousand cuts than a sudden end to the platform. If you want something to stream music, you're limited with the unusable Spotify app. If you want to identify playing music, you're entirely out of luck. If you want to do mobile check deposit, you can't. At some point Facebook, Instagram, and Twitter will stop being supported. Then you basically have an email client and a web browser (that nobody tests their sites against) in your pocket. I'm still using mine because I prefer the interface, but buying a new one now would be silly.

The Spotify mobile app becomes useable when you close all background apps. With several apps open in the backgound it will crash or get into a loading loop - it's a bug in the app that, unfortunately, will probably never be fixed on mobile.

That's a great tip, I've been having that loading loop, but I've noticed it's random.

Ah, cool. Didn't try that with the background apps etc. 😀

I get a total of zero cheques a year. We have Interac email money transfers here Canada for exchanging money easily. And my banks website works just fine in Edge.

Not silly at all. Just git three more!!! 😀😎 Use Deezer to stream if Spotify sucks, which it does, but that's why they should have kept Groove.

There's Tidal and iirc a couple other streaming services.

Have you tried Deezer to stream music ? It works fine on my 640

Spoticast one damn good universal app.

jeffgeno, to recognize music that's playing use SoundHound, it free and works well.

Same here, I had a 930 untill a year ago or so and replaced it with 950XL for my new carrier
The phone works great for me, I love everything about it:
1) UI/UX
2) Customizing options (That Bing lockscreen is awesome)
3) Notifications, elegent and simple (Idealy I would have liked to also have an LED) 4) Great Camera for videos and stills
5) Integration with my band 2
6) Durability - I dropped it few times, no cracks, no dents and scracthes... I know it's not an aluminun phone with curved screen, but I'll take that over dents and cracks
7) SD card
8) Headphone Jack
9) FM Radio
10) Great 3rd party apps that receive timely updates such as sound hound (to replace Cortana's ability to identify songs) Zonos, Home Remote, N10, Poki
11) Great games like Chess, subway surfers, SBK16, Metro 2033, Iron blade, Dawn of steel, shadow fight and many more
12) Great 1st party apps like Whatsapp, Edge, Roku etc
13) Great call quality
14) Consistantly great performance
15) Decent Battery
16) Good maps app
and the list goes on. I've been using Android and Blackberry before and I can honsestly say this is the best OS and hardware for me.
I'm in no rush to become a part of the iDroid herd, I'm happy where I am and I'll see what the future brings.

Fdruid, you hit on the head of the nail for me. Using a Idol 4S and quite happy not to switch with until absolutely needed.

Hey, you are using my picture of my car!?

It is a bug in the app. No one uses that pic beside you.

This was why I kept giving them hell about the "death" they keep promoting in the articles. The phone still works and if you were using it before, there is honestly not much that has changed, the main apps that were there before are still there. At the end of the day phone and text still work and the web still works for things that lack an app. It's like writing articles about the death of Windows Mobile 6.5 when there are businesses still actively using the handhelds as barcode scanners in the enterprise. It's not like the core services are dead so if it works, don't call it dead. Use better terminology.

Yep! X3 is a brilliant phone.

Not perfect, but not to mention, you can use WebToApp on the store to solve your PWA urge.

I moved from Android to Windows Phone, and I am perfectly happy to know that a three year old phone like the Lumia 950/950 XL would still receive updates and patches directly from MS. Even when I installed custom ROM on my Android device, I have no guarantee that I would receive updates.

I just moved from Mr 830 to an android (free via work). The more I use android the more I miss wp10 mobile. I was holding out for Andromeda but who knows if or when that will happen. Was looking for a 950xl but its hard to spend money on a dead OS.

Absolutely. I have my son using my 950 but everyone now and again I go back and realize how much I miss that O/S. SO much better than IOS or Android for me. Currently on the IPhone and only happy because I can get just about all the apps again. Miss those Daffodil apps.

Or, you could visit the shelf in my closet...I've got an 822, 520, 635 (2), 735, 640, & 950. I loved each one of them for their unique characteristics. So sad it didn't work out.
I have a Note 8 now, which is really great, but it doesn't make me happy like the Lumia 735 did back in 2015!

Why 950 or 640 on shelf, still better than the Note 8.

I went from a 929 to a Note 8 (after Microsoft blacklisted features)… I installed Launcher 10... Feels like a Windows phone, it's got the apps I need and I even get live tiles from some apps.. After being a HPC user from 1..0, to PocketPC to WIndows Mobile to WIndows Phone, I honestly feel screwed by Microsoft. I liked the OS but, would NEVER buy a Microsoft portable device EVER again after this.

Keep it alive for a new device in the future, but for now, feel free to enjoy the alternative environments readily available...without being vitriolic to those that have "given it a shot" and are reporting back positive results (not that you're doing that, aitt!)

I'm perfectly happy with my Lumia 950xl and I bought an Alcatel Idol 4s on Microsoft store clearance sale (200$ CAD in Canada) so if my 950xl fails I'm covered. I'm using Facebook, Messenger ans Twitter apps besides what comes built in so I'm covered.

Okay, so they say you don't know what you've got till it's gone... Seriously, I'm feeling this applies to me and WM10. So after the tweet by Belfiore 'officially' announcing the 'death' of WM10, I tried a couple of Android phones (including the OnePlus 5) following the footsteps of Dan, Zac et al, and frankly, I just couldn't get into them :-(. Really tried different skins, launchers etc., Android just feels so damn messy to me, can't really place my finger on what exactly feels that way to me, maybe because every single one I tried was just different in its own way, or maybe I've been way too long into Windows Phones that I'm finding it hard to break the habit. Finally went back home to my 950XL, and I now have three Android phones in my drawer :-(. I'll probably pick the Idol 4S on the cheap today, while I look out for a good deal on the Elite X3. I never really used any apps, since I anyways spend 98% of my 'active' time on my desktops, so the app gap doesn't mean much to me (though I know it's very real), guess I have my Androids for maybe when I join the IoT bandwagon with them smartbulbs and stuff. But for now, it's WM10 phones for me until they absolutely stop working.

Of course. In real life, not this imaginary Apo world that these reviewers live in, Windows phones are just perfect.

Swappa can't keep 950XLs in stock, they have been selling almost as soon as they come on the site. Got the camera lense repaired for less than a replacement and will continue to keep it as a spare to my X3. X3 is a battery beast but I actually prefer the 950XL from a size perspective.

I like both and feel I don't have to choose because I have both. When I want a smaller phone I take the 950 out. When I want larger I take the X3 or 640xl (still amazing).

I totally agree with fdruid. I broke my 950xl and I just got an HP Elite X3 for 320€ (!) on Amazon.es. Oh, it just got the security update from Microsoft because of this new bugs found in almost all CPUs.

I mean, right? Even my gf's 640 got that update, keeps updating every now and then. Supposedly more alive platforms have been known to strand even more recent phones.

I have my L950 still. And still works for me most of the time, maybe need to have a new battery. I was planning a new phone but the problem is that I can't be bothered. I have no interest in any phones out there any more. Was thinking of just getting a feature phone instead, just to send texts and some calls.

To fdruid: excellent post and insight - you hit several nails on the head.

Considering that Microsoft has officially stabbed all of us in the back and killed off Windows Mobile, it's not worth spending money on a new Windows device. Even recently, I saw that they turned off a service that I've been using on my current Windows device. I know I need to replace our phones, but when I do, it won't be Windows.

I`m still rockin the L650 till the day it dies and probably try to get an L950 or IDOL 4s after that

Microsoft UK are selling the Alcatel Idol 4S at £419.99.... T_T. If it was £100 I'd buy it in a heart beat, I need a replacement for my almost dead as door nail L930 but.. settled for a £49.99 ebay L930 replacement. Not spending more than £150 on WM10 as it stands currently.

LOL - running out of things to write about?

Look, I loved it too at first but obviously Microsoft has other plans... So what you do is: Move On, for now, and pick it back up later when they actually care. That might be never, though, so be prepared. So, at this point, buy Android. Load it up with all Ms apps since they're a software company and make do with that. My LG G6 is rather good with Android bulk disabled, and all Ms apps loaded. No custom ROM even. I write to you now at 41% battery after 52 hours. I don't use my phone a ton like some, I have unlimited data so IDC about WiFi either... But it's good nonetheless. MS has no more music, barely any video, lacking apps, UI has added a lot of Android-esque looking features anyway. Microsoft can still keep their innovation with focus elsewhere. Meanwhile the rest of us will look at you like you're XP users trying to milk the last few uses out of it even though support died ages ago! Bottom line: It'll be ok. You're not a traitor... It's time to let go now.

So we are all supposed to just buy new phones for the sole reason that no new developments will occur? 🤔 First-world problems on full display.

Hahaha . You got a point here

Hard to believe people are still buying MS phones. Really only a matter of time before they pull the plug.

Jacksmith, MS they said where covered untill 2019. thats good enough for me & i hope Surface not phone will be out by then :-)

I'm in the same boat. The Lumia 950 as a peice of hardware is perfect, smartphones have more or less stagnated the past couple of years anyway so I'm not bothered about upgrading, but where is there to upgrade to? If I had to jump tomorrow I guess I'd have to go to Android, Sony or Nokia would be of interest, but really what I see doesn't do anything I cannot do today. A very odd state of affairs. Personally I'm hoping I can keep my current handset going until something new comes on the scene in a couple of years time, although I'm not holding my breath on Microsoft under Nadel producing anything useful as that guy just seems to be a hatchet man.

They are not pulling the plug so far . And even they do , Win10M is still far superior to Crapdroid

An AT&T rep told me in mid-Dec that they had 200 refurbished L950s in stock priced at $299. Might be worth a call to them if you want one.

And the rest of the world (WC readers)?
Where do they go?

Here in Malaysia easy to get a 950 for as low as 200$ . 950XL is harder to find though . Which ok to me , as prefer smaller phone

At this point anyone knocking people that haven't jumped ship at this point is silly, in my opinion. Anyone that has jumped realizes what they didn't have with WinPhone, useful and useless apps with Android or even iPhone. That said, I have jumped to a Samsung S8 Active from a HP Elite x3, 950, HTC One M8, 920, Titan, others that I've forgotten about, and duplicates of the same phones as well, I'm hard on phones. Windows was my first smartphone OS ever. I love it, know it, and can even tweak them to a certain extent. I was the odd man out in a crowd but proud of my WinPhones. I actually thought long and hard about jumping and the truth of it is what made me jump was when MS decided to shutter Groove and recommend a less stellar product called Spotify. My opinion is that Groove was the most awesome music app ever for all my Win OS's and once again they just shutter it. I know business is business but Spotify, really? That said, I still use Spotify as I went all in before even thinking about it and bought a year subscription, after that, don't think I'll keep using it. I've said it before in the forum, Windows has some really useful apps, albeit most are seemingly missing certain functions that their counterpart apps have in other OS's. In other words WinApps still had a long way to go to even catch up. People are even taking their apps out of the store. UWP hasn't caught on in the WinPhone area and I don't think PWA is going to be an equalizer for it either, not in this era of WinPhone, perhaps the next generation, if there is indeed a next one. I even offered paying people to bring certain apps back or to rework them in UWP along with offering them a WinPhone if they needed one. Obviously to no avail if I went to Android though. I have about 15 useful apps that I used on a regular basis on my HP Elite x3 and I actually have about 40 on my Samsung S8 Active that I use at least every other day. That alone says something about what I was missing out on. I can't say I love the Android OS like I do the WinPhone, but I also can say, I do love the apps and the usefulness of them on Android like I can't and don't on WinPhone. Truth of it is though if there is a new WinPhone that comes with the same useful apps as Android then I will be one of the first to slap down the $600-1000 for it, if indeed it is a superior product in every way. Until then, Android it is. Also, just like on my phone, the usefulness of Android is amazing on tablet since MS released Office to it, I now do all my office work in the truck and office on a $140 Amazon Fire HD 10 tablet, slightly modified to include Google Store of course for other useful apps as well. Is it a power house, no, but it does fit in the glove compartment of my work truck instead of lugging around a laptop bag in the backseat. (I know, off track, sorry). So if you want to stay on Windows, do so, but knowing you are losing out on invaluable apps that you probably don't know about and didn't even realize they would have existed for that matter. Just like I didn't!

No crapdroid , nor scroogle for me . Thanks

Thanks for the article but as 95% of the world population i am not living in the US . Now my problem is do i wait for the new surface phone/computer ? or do i buy a Lumia 950 ? To replace my ageing 640 . Crapdroid and scroogle totally out of the question , thanks but no thanks .

About to list two 950s on ebay (europe). Both in good condition.

Had to jump ship to Android cause I needed apps for cryptocurrency...sigh. Still have my 950XL in the drawer; pull it out every once in a while and fire it up. Can't use it as a phone anymore but still works great on wifi...can even call with Skype. As soon as I use it I remember why I prefer Win10 mobile.

Just look at the number of comments, you will understand everything.

There is no such thing as a good windows phone.

Love Windows Phone. People are fascinated with it and always asking me to demo. Especially young people. They are the ones that like to be different and trend setting. When everyone is iPod-phone and Android, it's cool to be Windows Phone.

Why would anyone buy it since Microsoft has officially declared it dead. If you have unwated money please tell me, you can donate to Kerela relief fund it will be better than buying a Windows Phone as of now.

Wouldn't mind being able to find a real battery for a Lumia 950, but I gave up after the last "genuine" one I bought ended up being mostly a dud. It held a charge, but was subject to overheating quite a bit and really didn't hold a charge any better than the old one that came with the phone. I eventually gave up and got my wife a used S7 for ~ $200. She gripes about it, but can use apps that matter to her and I can get the battery replaced if necessary for < $100. It's not as good as the Lumia for pics, but it works and the ability to use apps does matter to her.

I still have my alcatel idol 4s could not let go of windows mobile, but also have iphone 8 to get with the times. I swap back and forth and still love the interface with windows mobile.

Recently I bought for my sister a new 950 to 150 €... There were 6 pieces available and they were sold out in short!

I want to try 950 XL though i already have a nokia lumia 1520

Salvage yard.
Consignment shop.
Dark web.

I got 2 Alcatel Idol 4S phones for under 100usd each when Microsoft was running a big sale. I really like the phone running Windows 10

This is my fourth windows phone Lumia 640

What about a Cerulean thingy?... I'll get my coat. But in all seriousness, if the 930 was rereleased with a better battery and an SD slot, I'd buy one before you could say Cerulean. I might even see if there's any good deals on the black and gold 930.

I'm actually looking for a HPx3. I know the Microsoft store had them for $300 with dock, but I already have the lap dock so I'm looking for it a little cheaper. The $100-$200 range

I sadly moved on to Android and it does the job. Anyone who still wants a Windows Phone and, like me, is based in Asia (Thailand for me) can use Lazada to buy Windows Phones.

Yeah okay, no just no. Windows on a Phone is not a thing anymore, atleast not in 2018. Ive been a major advocate and enthousiast of the platform, for several years... And it pains me to say. But it's over and I'm finally in a place where I can honestly say that's okay that it's no longer a thing. So WC, accept the fact and move on. There's so much more exciting going on in the world of Microsoft that we don't really need to rehash old washed up hasbeens. Like really, It's okay, to move on!!

I had a HP Elite x3 ProtoType, and loved it. Just finally jumped off it as the Battery swelled to a point it was no longer safe. I tried the LG G7 Thin Q, it was ok, nothing amazing... so I jumped over to the Samsung Note9. Its better, although I still really miss my Windows Phone.

Still working my Lumia 640 on win 10 ! Stay to the end !

Great phone, although I upgraded to a 950 XL and the difference is incredible performance wise.

Some small online stores here in Denmark might still have the Alcatel S4 pro for sale and I have even seen the HP elite x3 and Lumia 950 XL as well. Beside that Ebay gotta be the place. People could have bought the Lumia 950 XL as me from the start. I also have a Samsung Galaxy s8 with a Microsoft Launcher installed for the few apps not supported by win 10 mobile.

Anybody know where I can fix my 950XL with a fast battery discharge problem? B2X dropped me before solving my issue. It's a great phone, except for this issue. Currently using an Idol 4S, holding on until the next iteration of a Windows Phone.

Mine too with my Lumia 1520...I think, it's a software problem😪

Can anyone help me. I want to reset my phone to Factory settings, can i do this with the state of the apps @ the Microsoft Store?

Today I got my first Lumia 950 XL , which replaced my 640 XL which replaced my L650 which replaced my L925, it is an amazing phone and runs great compared to any Android phone!

I suggest Aliexpress to buy any window phone

In my case as a Malaysian, I would rely most on mudah.my if I want to buy used and lelong.my to buy brand new.

Aaaand if you bought one or have one what are you going to play on it? Well, I can suggest my game that I did some time ago, and is free with no ads or any stupid sh*t like that - check "Vorn's Adventure" ;)

You can buy one from me...!