Which of Microsoft's refreshed Windows 11 apps are you most excited about?
Alongside the design refresh in Windows 11, Microsoft is refreshing some of its most famous apps.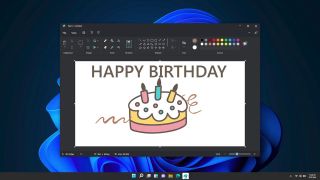 (Image credit: Microsoft / Panos Panay)
Recently, we've seen a steady stream of app news for Windows 11. The new Clock app rolled out to Windows Insiders this week, including support for Focus Sessions. Microsoft also announced that it's giving Paint a fresh coat of paint. Last week, Microsoft announced refreshes for the Snipping Tool and several other apps. We'd like to know which Windows 11 app from Microsoft you're most excited about.
In addition to visual refreshes to some of Microsoft's most famous apps, Windows 11 includes a new Chat app powered by Microsoft Teams and a revamped Microsoft Store that emphasizes Microsoft's recommitment to apps on Windows.
Some of Microsoft's apps, like the Calculator, are getting minor refreshes. They'll receive options for dark mode, round off some corners, and be done. Others, such as the Clock app, will gain new features with Windows 11.
The Clock app has a new look and the new Focus Sessions feature. These sessions bring together Spotify, Microsoft To Do, and a timer to help you plan your workflow. The feature lets you plan time for breaks, set daily streak goals, and listen to music as you work.
If you'd like to try out these apps for yourself, you can sign up to be a Windows Insider. You can also check them out in our hands-on Windows 11 video.
Which app are you most excited to try on Windows 11? Let us know in the poll above and share your thoughts in the comments below. Maybe you aren't excited about any of the apps or think Microsoft doesn't make the best Windows apps. If that's the case, please share your thoughts as well!
News Writer and apps editor
Sean Endicott brings nearly a decade of experience covering Microsoft and Windows news to Windows Central. He joined our team in 2017 as an app reviewer and now heads up our day-to-day news coverage. If you have a news tip or an app to review, hit him up at sean.endicott@futurenet.com (opens in new tab).
I just hope they keep improving the Explorer until Windows 11 releases. It would be nice to have it completely modernized, not just it's ribbon and context menus.

It would be amazing to have it modernized, but I'm not hopeful they will change any functions as it's been the way it is for years. Would be nice to have tabs, file tagging, smooth scrolling, native PDF thumbnails, some kind of a split window option to browse two folders at a time. It's just a hassle to work with when I have to work within (out of) sub-folders that are 4 or 5 deep.

i do hope Microsoft adds all that it would make life hell of alot easier for everyone.

I love all, they did a great job

If the chat app improves and supports sending sms from linking a phone like Skype did it'd be great. The sms support is limited and sends spam my messages to recipients. Although most my family and friends use Teams, a few don't and it sucks I have to resort to using Google messages.

Without WhatsApp support, which they may not be able to do anyway, it's DOA for millions sadly. Would love integrated messaging but your customers are in WhatsApp, iMessage and WeChat. People live in Teams for work, Microsoft has never got people dislike using work stuff after work.

You are correct, a lot of people use their phones for that sort of thing anyway, more mobile they are not stuck in one place for a start.
The chat app in Windows 11 only do chats as far as I know, so will not work for businesses, they will still have to download the teams software.
I realise that the chat app on Windows 11 is to try and get us to use the personal version of Teams. Tomorrow (monday) Teams start for us at work, I do not see any point in it for my job, so I will not be using it, just like I don't use Yammer, so I will probably upset a manager tomorrow, or I just may stay nothing and ignore him. Depends on the mood I am in the morning.

@ad47uk you'll actually see despite the it's glaring short comings. Teams is an extremely useful collab tool. That's providing IT have set the damn thing up correctly. For instance IT can control drag and drop into folders by policy. I know this because I have used two different domains on the same campus. Drag and drop works on one domain but not the other. Whereas on SharePoint it works just fine. Also moving file and folder management is a pain in the arse on teams with a mouse (it's more suited to touch). So is search - as you can't navigate to the directory in the search result. Whereas on SharePoint you can. One thing I would suggest is use "open in sharepoint" (also best way round the bad gateway error that crops up on sharepoint) to open a folder in sharepoint for file and folder management. Also use SharePoint to search for specific files and folders - not teams. It will save you alot of headache lol.

@bradavon well, Microsoft tried with the messaging hub but the third party services were having none of it as they wanted to silo users within their own app experiences.

I'm looking forward to a modern and more touch focused platform mostly.

None of them get me excited to be honest, I may use file explorer for quickness, but if i am doing a load of file stuff I use a third party file manager, Snipping tool, I will use now and again, but again I have a third party one that I prefer, that is the point, I have to see if that works in Windows 11, I will boot into Windows 11 and try that in a bit, before I take the computer apart to clean it.
Paint is useful, but I doubt it is going to be a big update, Calculator I have one on my desk, a nice big Casio one. I need to get another one for downstairs. The chat app I will never use. I will use Windows 11 more or less like I use Windows 10, as a platform to run the software I want to run.

"I will use Windows 11 more or less like I use Windows 10, as a platform to run the software I want to run." True, and a bit sad. I too have long since past loving Windows. Now I use Windows because I have to, not because I want to.

I use Mail, Calendar, People, Calculator, Clock, To Do, and MSN Weather daily. I would like to see People return back to a top level app accessible from Start, and not just accessible from Mail or Calendar. It would also be nice if they could port these apps to iOS and Android. When I used Windows 10 Mobile, I enjoyed having the same apps on desktop and phone. It was like a consistent workflow on all my devices. Porting these apps would give me a closer experience on my phone to Windows since I'm in these apps so much. I realize that Outlook on the phone is the direction they have chosen, but Microsoft ported apps should be nearly identical across platforms. It just makes for a more unified experience.

"I would like to see People return back to a top level app accessible from Start, and not just accessible from Mail or Calendar" Yes! This is one of the most irritating things. I should be able to search the name of someone in Start (that only works for someone in my Exchange group, not anyone else in People); barring that, I should at least be able to pull up People without opening Mail and Calendar. Talk about ruining your flow.

The Store is a mess and it needs help, big time. An overhaul of search and discovery will make things so much easier. I can literally type in the name of an app and the app doesn't show in the first page of the search results! Terrible.
Windows Central Newsletter
Get the best of Windows Central in in your inbox, every day!
Thank you for signing up to Windows Central. You will receive a verification email shortly.
There was a problem. Please refresh the page and try again.