Windows 10 bug that can cut laptop battery life to be fixed by Microsoft and Intel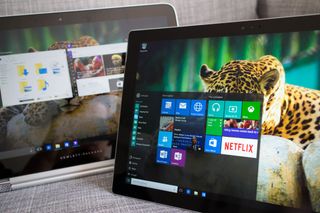 With just five days to go before Windows 10 begins its rollout on July 29, Microsoft and its major hardware partner Intel are working to fix some last-minute bugs, including one that can cut the battery life on some laptops by almost 10%.
PCWorld got a statement from Intel on their efforts to fix this Windows 10 battery issue:
While Microsoft is not expected to release new builds of Windows 10 before the launch date of July 29, it continues to fix bugs in the current 10240 build, including one that was released late on Thursday. PCWorld says there are rumors Microsoft could release a big "day 0" update for Windows 10 on July 29, along with updates for several of its Windows 10 apps. Microsoft would not confirm these plans, saying only, "A benefit of delivering Windows 10 as a service means we continue to offer ongoing innovations and security updates, continuously improving Windows 10."
Thanks to WPit for the tip!
Source: PCWorld
Why don't they just make one more build? Oh yeah, because it was already released to manufacturers.
I guess we have to download lots of updates at day 0-1

Oooh so this why why as soon as I disconnect from the mains and switch to battery my percentage drops fom 100 to 90? Thought I needed a new battery. Second; has anyone been able to activate the mobile hotspot in Windows 10 yet? Mine is greyed and can not be clicked to activate.

I had to do a hard reset on my phone to get it working, and now it works like a champ.

There is no mobile hotspot for PCs, unless you have an LTE tablet.

Or a latitude with mobile sim module or an Acer aspire one with mobile module or etc.

Thought the same. Though according to dell/aw diagnostic app it has lost some capacity

In order to activate mobile hotspot, you have to connect a dongle to your laptop or PC. I connect my Huawei 3131, and the mobile hotspot button start functioning.

Yes, but I think sense all devices will be on windows 10 by then, they can benefit from the torrent like update system built in and can do that very quickly. Even if you have 10 devices on you home network, it's like you virtually download one copy of the update, then that one will be shared with the other 9... Cool I think.

Another battery bug they need to fix is the estimated time it will last. I doubt my Stream 7 is going to last 25 days -_-

How did the upgrade go for you on the Stream? I have been wanting to, but don't have the guts to do it.

Quite well. It has a couple of bugs, but it completely usable. The only thing you might have to do is reinstall the drivers from HP's website.

This may seem like a stupid question, but how do you get the update to the Stream? I made a disk from the ISO file for my desktop, but I don't know how to get that to the Stream.

I installed on my Toshiba 8" tablet as well. I downloaded the 10166 build ISO and put it on a USB stick. I used a USB to microUSB converter to plug in the USB stick and ran the installation from the USB stick. I upgraded to 10240 using the Windows Update. Works GREAT on my tablet! Smooth as butter and no glitches with the latest updates.

If you are a Windows Insider, you can install it as updates. I think it is available to Slow and Fast rings now.

You will probably need an external optical drive, an adapter from male micro USB to female full USB, a USB hub, and a wired mouse and keyboard. Plug it all in. Then load it on like a ISO on any other device. Easy.

Hopefully they get the battery issue fixed in time for the launch?
Anybody know if the firmware update for S3 & SP3 was just preparing for win 10 didn't find anything new on my S3.

I probably lost a solid 25-30% average battery performance switching from 8.1 to 10. I hope they get this out quick.

I have Windows 10 (10240) on my Surface Pro 3, Dell Venue 8 Pro and the latest Mobile build on my Lumia ICON. I have seen at least 30% loss on my Surface Pro 3 and Dell Venue 8 Pro. In fact, sleep mode on the Venue 8 Pro is not like it was on 8.1. I have to charge my Venue 8 Pro daily now with mostly light use. Sleep/standby used to last at least 5 days. I have to set hibernate on the Venue 8 Pro now. While not an Intel Device, my Lumia ICON is also suffering bad battery drain on the latest build (which I do find good for daily driver). I hope across the board they fix this.

They are copying the battery life features of Android, first Hamburgers now battery life.

I tired 10166 (latest build) on my Lumia Icon and had all kinds of problems. I had to revert it back to 8.1. I'm waiting on the next build (possibly 10240??) before I attempt to upgrade again.

Then again, I get 2 days om my Lumia 735 running W10M 10166. I did a factory reset.

have you downloaded the new BIOS update for your V8P?

I'm still down between 20 and 40% (depends on day, performance seems quite random even if restarted before) on yoga 2 pro

Windows XP and 7 were no different to having updates to it once the RTM was released. This is what Microsoft does. It is stable enough to launch, but if that sways you, just wait 2-3 months. I'm sure most bugs will be gone by then anyway. My experience only gets better and better with each new update they post. :)

For AMD A8-6410 the screen extend is just not work fine, so yes still to many bugs in this build!

Still using non intel HD windows 7 hardware. So I'm not sure there's any fix coming my way.

"Do know that we expect battery life on Windows 10 systems to be nearly the same as on Windows 8.1 systems" Nearly the same? So they're admitting now that Windows 10 is not as power efficient as 8.1 even after they update drivers. I agree with those above saying they've lost 30% battery life going from 8.1 to Windows 10. I've certainly seen way more battery loss than 10%.

I suspect part of the issue is the way that windows 10 operates compared to windows 8. Consider that Windows 10 allows you to have alot of apps open and running in the background without suspending them. This is not true in windows 8. This change is intentional and welcome.

I'm kind of surprised battery use isn't worse, considering every phone app just keeps running now. It is a little weird now having to manually close browser tabs and apps that have piled up.

That's not just due to Microsoft. Hardware manufacturers will need to release updated drivers for various hardware to stabilise battery life.

My Lenovo laptop with AMD processor has also lost about 10-20% battery life on average after upgrading from 8.1 to 10

That's not good. My Lenoxo X1 CT already is 3-3.5 hrs on Windows 8.1. It says 5-7 hours in documentation, good luck with that. Was hoping for some improvement with W10.

Looks like this is not problem that drains almost all battery of my SP3(i7/256) for 6 hours in backpack. Offtopic: Someone else encountered this problem: you put device to sleep by button/Start menu or by closing typecover and cooler turns off. Device is slightly warm(after use/charge). After few hours it was in backpack it is really hot. Any fix for this?

10%? my sp3 drains 30-40% in an hour and it gets crazy hot on the upper right within minutes which triggers the fan. on windows 8, 1 hour of just general use, it may go down less than 10% and it would take something like a game or running program to get the fan to trigger. Now, MS edge triggers the fan within minutes. Hope they fix this, 2 hour battery life sucks.

They should have delayed windows 10. I feel like its better to release software without huge bugs like this. Once the media catches on, you will have nothing but people talking bad about your product before you can fix it.

On my Dell XPS 13 (2015) i5 laptop, the battery life hasn't been bad. I do notice that the estimate of time left on battery jumps around a lot, but Microsoft's way of doing time estimation has caused that sort of thing with numerous operations for years. I think Windows 10 is solid enough to be let into the public. I'm ready to see it. There will be little glitchies here and there and they will be addressed. No software and no OS is totally without any bugs whatever, but I like Microsoft's new approach to software development because I think it means we will see things addressed in a more timely manner. In short, let's do this thing!

Had the same problem with aw 18x r2 which according to their diag app has lost some capacity

Please! Can someone tell me where I can get this desktop wallpaper... I like it so much...

Taunting Eyes By TaraCna - Taken in Tabasco, Mexico. A Jaguar resting and enjoying a sudden ray of light hitting him.
https://interfacelift.com/wallpaper/details/3903/taunting_eyes.html

Just one of the many reasons I'm keeping my non-testing machines on Windows 8.1 and running people off of Windows 10 as hard as I can.

For school i got a windows 10 toshiba touch screen. i need battery life for 6 hours but evenn when i'm in battry saver mode i only get 4 hours. i need those 2 hours!!!!! our school does't allow us to charge things either so i can't charge it at school. Can you suggest answers please.
Windows Central Newsletter
Thank you for signing up to Windows Central. You will receive a verification email shortly.
There was a problem. Please refresh the page and try again.