Windows 10 build 10162: Minor update with bug fixes, but with official ISO files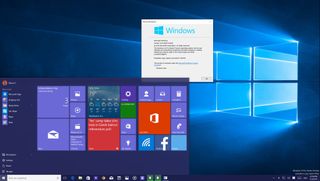 Microsoft didn't release one, two, but three builds of Windows 10 in a single week. On July 2nd the software maker released Windows 10 build 10162 to the Fast ring of the Insider program. Hours later the company decided to roll out the ISO files for this new build ahead of the Slow ring, which means that Windows Insiders finally get to download the official ISO files to do a clean install of the operating system!
This release is a great news for those who are stuck on Windows 10 build 10130. For some reason, Windows Update either isn't able to find and download the new preview or because there are some installation issues. Microsoft making the ISO files available to Insiders will help to move a more stable and polished version of the operating system to more users.
Here's what new in Windows 10 build 10162
For those who were hoping to find new features and changes, Windows 10 build 10162 may disappoint you. That is because Microsoft is not releasing any more big features or significant changes before the RTM release. Instead, the company is only focusing on smashing bugs, polishing the UI, and making Windows 10 stable enough for the July 29th launch. However, build 10162 packs a number of bug fixes and improvements over the previous builds, including better reliability, battery life, performance, and improvements on compatibility.
It's worth pointing out that users will now also begin to see the new popup tips to help users discover features they haven't used in Windows 10. For example, in the chance that you haven't tried Cortana on the desktop, you're likely to see a popup tip similar to a Toast notification. This tip gives you quick instructions on how to use a particular feature, and it should prove valuable for new users unfamiliar with Windows 10.
These tips will be tailored to how you use the operating system. That means you shouldn't shouldn't see tips for things you already know how to use in the final release. But that might not be the case at this stage, as the company still testing the new feature.
This week, Microsoft also released Windows 10 build 10159, which included a centered UI design with the new Windows 10 hero wallpaper for the login screen. The desktop also included the new wallpaper as well. Finally, according to the company this build includes over 300 bug fixes, but it hasn't specified what was fixed.
Earlier on June 29th, Windows 10 build 10158 was also released, and this is a build that users will find with the most changes since the release of Windows 10 build 10130. Build 10158 includes many new features, improvements, and changes, such as modifications to the Start menu, taskbar, Action Center, and Tablet mode. Cortana got a few welcome tweaks, Microsoft included a working version of its Phone Companion app, and Microsoft Edge received a large number of improvements too.
And, of course, all the changes we saw this week are also included in build 10162. The new build feels more stable and should be ideal for many devices. If you want learn more about all these changes, you can check my previous write-up here and here. And you can also watch our video review of build 10158 and 10159 by Daniel.
Looking at this week events with so many releases and the unexpected release of Windows 10 build 10162 ISO files ahead of the release to the Slow Ring, we can safely assume that it's not the end of it. We will probably see more builds before the launch date on July 29th.
Mauro Huculak is technical writer for WindowsCentral.com. His primary focus is to write comprehensive how-tos to help users get the most out of Windows 10 and its many related technologies. He has an IT background with professional certifications from Microsoft, Cisco, and CompTIA, and he's a recognized member of the Microsoft MVP community.
What was the 4th build? In the past week, we've only got 10158, 10159, and 10162.

To clarify, there has been 3 releases this week to day we're just simply getting the ISO files ahead of the Slow ring release, which could happen very soon. Thanks,

Nah, only 3 builds. They can't get away with 4 builds in a week. Build vs target audience are not technically same.

When did 10162 go to slow? Gabe said on twitter that they're releasing them ahead of slow ring.

You're right, I have updated the post to reflect that. Thanks for the heads up.

@Jas00555, that would probably be the leaked build.

Watch those broken pixels top left on your action center;) they will hunt you forever once you see them. :))))

Ooh hunting pixels :P. You meant haunt right? :)

Can anyone send me the link to download 1080p or 1440p or 2160p Windows 10 Hero wallpaper....?

It's looking great, I can't wait install windows 10 on my laptop.

Okay here's a dumb question, I know that Microsoft works on the functionality of the software/OS first and then focuses on UI in the later part of the development when the former is over, as evident from earlier versions of Windows. But the themes Windows 10 currently has (buttons/caption/title bars etc) are also planned for final release? (as the build is nearing its final stage there are less chances of seeing any drastic change in themes)

I may be wrong, but since same themes packages work either for Windows 7 or Windows 8.1 believe you will be able to use same microsoft website to change your themes for WIndows 10 once its released. It will be funny to see if there is an option to use a classic Windows theme (something that can be used in Windows 7 so it looks like Windows 95).

I really hope so. Running Windows 7 themes on 8/8.1 has been a mess for those who liked 7 themes.
Lol! I've been a fan of those classic Windows themes before. The performance on those themes were admirable during those times.

I could not install via WU. Kept crashing at 25%. Finally used iso file after much nashing of teeth.

Why the ISO link on insider page still show build 10130?

Where? I'm seeing 10162 http://windows.microsoft.com/en-us/windows/preview-iso-update-1504

Me too. You can click the direct links above download the ISO directly. Do you need a different language? I can get you the link if you can't see it.

I use gabe's link on his twitter, it stated build 10162 several hours ago but only realized it is build 10130 after download is completed. Nevermind, I'll download again using link provided on the link below this article

10162 isn't slow yet, it's just it's available as ISO.

You're right, I just updated the post to reflect the correct information. Thanks,

Overall quality is good but why are the Microsoft Universal apps so crippled? News app won't share or allow any real customization as the 8.1 app does. Mail app won't empty folders, mark email as junk, or show up in the share menu. I don't get it. It is almost as though Microsoft is deliberately killing their own apps.

Yeah, I don't quite understand this either. Windows 8.1 apps have better functionality. Frustrating, but not a deal breaker to me. I hope once the OS is released they will add back the functionality to the Universal Apps.

It's easier to hunt for bugs in limited code.

All I want is a new Enterprise build. 10074 needs all of these bug fixes.

I am using 10162 Enterprise. It seems pretty good. If you can't get the ISO, download the encrypted ESD for enterprise and convert it to ISO, mount and setup. :)

But how? Where can i find a link to 10162 Enterprise ESD?

Just when I thought Windows 10 was ready

Final slow ring build before RTM?

I would say most definitely.

Installing the x64 ISO right now!

Damn the new ISO still wont install on my Pro 3. Crashes then rolls back. It's been doing the same thing with the previous two ISO's. :(. I hope they get it fixed in the next 3 weeks

Check free space on your main partition/drive. For x64, sometimes you might require more than 20GB free space for setup to proceed. You can clean all the old files and setup files using the disk cleanup utility after upgrading.

Older builds weren't installing for me until I've cleaned 70 (!) GB of space on C

The Magnifier havent Changed Since Vista n In Windows 10 its look awful n Odd too..

What's an ISO? Would someone mind explaining that?

Disc image for writing to disc/usb

Basically it's a virtual CD/DVD disc but on a file that you can then burn to a disc.

ok i realy need help im facing problems updating my pc from 10130 and the artical says that i can update from the ISO but my problem here is that i dont know how to use it and i realy wanna know if i will lose any files if i have udated my pc please somebody help...

@hotraia, best ask in the forums.

Think of it as a virtal DVD. Your computer treats the .ISO like an actual instalation disk. So it is actually easier to deal with a lot of the time.

Thank you for explaining.

Except that you can't boot the computer from the ISO file. Once I learned how to create a bootable USB stick I stopped wasting DVD disks, just copy the files from the ISO file to the USB stick and boot from there.

But you don't have to boot from USB to install the build right? I've been installing new builds from ISOs while my device was powered on and haven't experienced any problems. Just wondering if anything would be different if I booted ISO from USB instead of running it when the device is already booted (i.e. run immediately after ISO install is complete)

Via USB, option of clean install

I always prefer to do a clean install, upgrades slow down my PC. Am I the only one ?

I'm with you on this one. Don't mind to do clean install each time new build is out on ISO.

Although you're right in a way, I haven't noticed any performance drop when doing an in-place upgrade.

I've noticed some slowdown, but I think that's to be expected with pre-release software. There's probably still some debug code in there, and drivers that aren't finalized. I'll do a clean install from ISO once the official release is out. Gives me the opportunity to swap out my hard drive for a brand new SSD!

No, I always do clean installs too. Thanks,

ì have for my grilfrend x86 upgrate and problen and now clean install this oky

Do disk cleanup and defragment and it should run the same as an ISO essentially

I hope some of those UI polishes include redesigning the volume drop down from Windows 8

Also, if you install from an ISO, is that a clean install? Or is it only a clean install if you don't keep any of your programs, because mine all stayed.

Then you performed an upgrade. During the setup process, you're asked if you want to upgrade or perform a clean install. To do a clean install you can to make sure to delete the previous partition and then continue with the installation. After a clean install, you should not see anything from the previous installation...

For me a clean install always involves formatting the C drive where I'm installing the system.

That's generally what a clean install is :p.

Interestingly the win10 now says. Windows 10 Available early August.

Still not liking that hero background, it's off centre and not flat like everything else on Windows.

Glad to see this. I finally installed the TP on my main PC, but it hasn't been able to find the update from 10130.

So can one pin tiles to the desktop? Or if not, what is the desktop used for in W10?

No tiles on the desktop but you can still put shortcuts and files there just like any other version of windows.

Thanks. Hmm. Wonder if it will look like an ugly hotspodge between W7 and W8 then.. would have preferred all desktop elements would look like W8/W10 as well. In fact I have always thought that the start menu shouldn't include the tiles, and instead the tiles should occupy the desktop. I.e more like W8 with a start menu at the corner. What's the point of live tiles if you can't see them other than going to the start menu? Perhaps I am missing something. Anyway, I have not tried W10 so I should hold my judgement. :)

Try it first, in a virtual machine. Also you can completely unpin the tiles from the new start menu. Or use something like classic shell if that doesn't work for you.

Don't get me wrong, I will 100% sure switch to Windows 10. However, seems like a stunning, almost inexplicable decision and a waste to hide all live tiles under the start menu.. Is there really no way to have some of the permanently visible on the desktop? Imagine e.g. a nice lean strip of live tiles on the right side of the screen.. what an elegant and efficient way to display some of the most frequently wanted information. I hope I am just missing something here. :)

It takes one button press to get to the start menu so its not much of an issue.

Yes, I know its only one button press. However, it would be an unnecessary additional step if one could _also_ pin favorite/most important tiles onto the desktop. Not much of a live tile if its really live unless you call it. :) Again, just seems to me like a lost opportunity to make Windows 10 even better, and stand out from the competion. Instead the whole big desktop is, if I understand correctly, occupied by either nothing, or old school file and app/program static icons.

It would seem that Microsoft would develop on version of Windows 10 that would allow you to operate in PC (Laptop) or Tablet (any touchscreen device) that would automatically switch to the Tiles screen when switched to Tablet mode. I don't have any touchscreen devices or tablets so I wouldn't know how to go about testing this theory.

Can't pin apps to the Start Screen. It did work for a while, then all of a sudden stopped executing the actual pinning to the Start Screen.
Seen on three different PCs / Notebooks.

Can't pin ANYTHING to Start Screen.. Apps, Folders, Shortcuts. Also, when logged into computer using MS account rather than local account (now required with Win 10 and a serious privacy risk)... Cannot access other computers on LAN via Workgroups.

They are finally putting the "fast" in fast ring. Cant wait for windows phone to get this much attention.

Are they going to completely remove the control panel yet?

Er no, not really. Settings app = for beginners.
Control panel = advanced users. Personally I prefer the control panel and as its more of a desktop orientated o/s. If it was more touch centric like Windows 8, then it would have made more sense. But I can see them slowly migrating away from the control panel and removing it in the home version, just like you can't defer updates.

Then they could make a settings app with an advanced button. Posted via the Windows Central App for Android

Still there..looking at the control panel in build 162. I really don't think they can fully get rid of the control panel. There is just way too much stuff they would have to cram into the settings app.

If they could make the control panel in the first place they have to be able to make the settings app. Posted via the Windows Central App for Android

I don't know whether to try this or not. I tried W10 for the first time earlier today, and it gave me Build 10130. The installation process was fine (as was the uninstallation process later, which was a nice surprise), but once I was into the OS I discovered that I couldn't connect to any wifi network. I Googled for answers, and found a ton of people who had the same issue with W10, many of whom had been using W10 without problems until 10130 and then suddenly couldn't get networks. I know someone who is successfully using W10 at the moment, so I borrowed his Wifi adapter and that didn't work for me either. I've tried every fix I could find and nothing worked, so I guess there's a basic compatibility issue with a network controller in my motherboard or something. Will I be able to try these ISOs without ever having had a fully successful install of W10, or am I better off waiting until this build is the default installer?

Its still a "successful" install of windows 10 it just doesn't have networking. Try the ISO and see if it fixes it

I've the same problem too. I can connect to wifi but can't access any sites , ping is successfull but can't access any sites :( do you have any solution to this problem?

It does not appear they have the 10162 ISO for Enterprise version yet. I'll have to get the ESD and convert to ISO, like I've done in the past. But am very excited they're releasing updates quickly now anyway!

So we install this and there's three more versions next week? Looks like some of us aren't going to get much sleep lol!

The phone companion is functional now... Anynody tested it with Android/iOS devices?

I see the 3d rotating tiles are back..

I've tried all the new builds and its seems I have a fps locking issues even when i have vsync off. Its even locked to 60fps on my 120hz monitor. I have tired a number of things however nothing seems to be working. Not a major bug right now but will be for gamers. Other then that the OS does seem pretty good, sometimes you get a bit of slowness.

'bout time. I've not been able to install anything via Windows Update since I joiined the program. I think this will be my last time, though, then back to W8 so I can actually use my tablet again.

sweet, downloading now...

On a side note; I randomly found the 'Phone Companion' app when looking for the previous Windows Phone app, so doubt much ppl know about it and so I was glad to see it mentioned in this article. On that note, it took some playing around to understand it but i think its worth a hands-on article/video by WC, so ppl can know about it and possibly understand how it works.

I haven't used it yet but I will soon.

I'm using windows 7. Never been on windows insider program. Can I download to install now ?

Go to http://insider.windows.com and sign up there.

Just installed this build on another partition. The OS looks beautiful but it keeps on freezing, randomly. sometimes at the start up or sometimes when the cpu usage increases. Is anyone facing a similar issue? I've updated my nvidia driver and everything, the problem is still there. Nothing's wrong here on 8.1.

Have you restarted at least once? I found after my own restart it seemed to help a little.

OMG! Edge is the worst browser I've ever experienced. I thought it was just an issue with the previous build, but even with the latest, Edge hangs and crashes frequently. It takes forever to type anything because it randomly drops letters or words or simply freezes mid-typing. And you can't pin any websites to Start. I have to use another browser just to get things done.

Hey, you might have a memory leak on Edge, it was caught as a known issue on the leaked released notes of the last build. Im sure it'll get resolved soon. The next 2 weeks are going to be builds after builds on top of builds lol.

Is anyone else experiencing extremely tiny text in third party modern apps like the WPCentral or Twitter or Facebook apps from the store? I have a 2015 Dell XPS 13 with the high resoluton screen. Everything looks great in Desktop apps and in First Party Microsoft Apps from the store like News and Sports. The display settings are already set to increase size in apps by 250% (Recommended) but third party modern apps do not seem to be obeying this setting. Anyone else seeing this?

Deal breaker for Australians: Inability to sign into Microsoft account when locale is set to Australia. Which means i can't submit any feedback as the app requires MSA signin. Not to mention that the folder redirection via group policy doesn't work when domain joined.

Well. One thing that really buggs me is that you cant move apps. Why did they change this?????

What do you mean? I'm moving apps now.

Wait, can you move apps in the latest build? Wonder why I can't. And I have tried on my PC and my tablet? Any one have a suggestion?

When I open settings, the store opens and gives me an error 0x00000005?? No way to access settings no more.
A clean ISO install fixed the problem.
A clean install does work much better than an upgrade from the last build.

Running windows in separate process is still buggy, launches 2 or 3 of the same windows upon opening somn, I can't believe that with the size of the win 10 insider program no one spotted this yet

Rolling back to win8.1.. Not liking win 10 :(

Windows10 is the best windows yet IMO...and this is coming from somebody who previously thought Windows 8.1 was the best Windows previously. Windows 10 wouldn't be as good as it is if it weren't for Windows 8 and 8.1, but 10 takes the crown for me at this point, even if it's not quite as good on dedicated tablet devices as 8.1 was

im on 1058 i haver had problems with update wont update. just showed 0159 now I am going to try to install it.

Please read my comment below.

I'm having issues from build 10301 I can't seem to download the other builds

Try the direct ISO build. If you are trying it through windows update you will have problems. Go to the article on windows central a few days back it has the direct link. You will have to choose your country and your bit.

Cannot pin anything to Start Screen or access LAN with preview #10162 which also requires computer login using Microsoft account, not a localaccount. This is a DEAL BREAKER.!!!!!!! Like a reality show.... attractive, but non-functional! A long way to go to catch up with Win 7 or Win 8.1.


The MS account requirement is just for Insider Builds. Come off the insider program on the 29th and you can go back to a local account. It's fair for them to place certain requirements on people using Insider builds in my opinion.

Yes you can pin stuff to a full start screen. The setting is located in settings-personalization-start-use start full screen. Then toggle using the Start button in your lower left corner. There is a hamburger menu at the top when clicked that lets you see your settings in that mode. This start lets you scroll top t bottom and not left to right. Then with the start button you can toggle between the desktop view and the start view.

Problem is, when i select Pin to Start in right-click on folders, etc, OR in the All-Apps menu, it never appears in the Start Screen. The only things that get pinned are by dragging something in the All-Apps menu, which doesn't include everything.

I used the ISO to update my desktop from Windows 8.1 (Had the preview on my Surface Pro 3 for ages now) The upgrade experience using the ISO was extremely smooth, I'm leaving the Surface on Fast Ring and the desktop on Slow. Gaming Performance was my main concern putting it onto my desktop. But performance so far is as good as,or even slightly better than before, and that's without a clean install too.

Build 10162 works pretty well on my core duo CPU test desktop Computer. I hope that Microsoft fixes the bugs Windows 10 has in time I will tell folks I know to go upgrade or buy Windows 10. Windows 10 is much more fun to use with it's free apps. a feature you wont get with good old Windows 7. I have been useing Windows 8. 8.1 and Windows Tech previews so long folks I don't remember Windows 7 and since I would miss using My windows 8, 8.1 or Windows 10 Apps I wont even think of going back to Windows 7. Do any of you folks out there in Internet land think Googlewill make an official Windows you tube Universal App. Google must Know by now that Windows 10 in a few years is going to be on hundreds of Millions of Desktop, Laptop, Tablets and even on smart phones. There will be no excuse for Google not to make an official You tube Universal app for Windows 10 devices because they will be every where. Also the Apps developers for Android and Apple devices should make Unuversal Apps for Windows 10 devices. WHY ! = Because Windows 10 is going to be on hundreds of Millions of Desktop , Laptop, Tablets and Windows smart phones all these devices will have a Windows store for Apps developers to sell their Apps. This is a money making oportunity only a nut would pass up

Buggy on my hp omni 10 tablet

anyone else having issues with updating to this build from the previous one through windows update?

Yes I did but I had a much smoother experience on fast ring through the ISO 64 bit link through the insider link for 10162 to do a clean install. Try that and it will go smoother. An article here on Windows Central a few days back has the direct link. You choose your country and your bit. I have installed it now for two other people and myself.

i would love to see things like a tabbed explorer, new universal apps for the desktop apps i.e windows media player, wordpad, etc. integration of Bing Wallpapers as an option for desktop wallpapers across my windows 10 devices extensions are the only thing holding me back from using Edge an easier way to install themes for the entire operating system. Hopefully theme support will be for Edge and if so Themes, Extensions, Web Apps could all be in the unified store

Hello I downloaded the ISO of this build but it shows me error while installing plz help me someone...i also downloaded build 10130 but it showed me error :(

Try deleting previous temp files and directories from previous attempts. Then delete windows\temp files. Also make sure you're installing the same version. Not 64bit over 32bit.

Smooth as butter on my gaming desktop, finally a build that's worthy of a clean install. Rawk awn \m/

I have an issue. I do not have the option to save programs to the SD card. It is grayed out and stuck on This PC C:. Everything under that is fine and can be selected. Any suggestions on how I can fix this? I would really like to be able to install to the SD card.

People, I am experiencing problem with this build, windows update finds the updates but can not install them?
what to do ?
Windows Central Newsletter