Windows 10 build 14271 for PC: Everything you need to know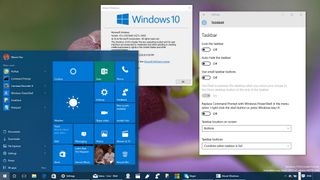 When Microsoft announced that new Windows 10 builds will be releasing on a faster pace, the company was serious. On February 24th, only a week after releasing build 14267, the software giant began to push Windows 10 build 14271 to the Fast ring of updates.
The new build of Windows 10 is not a significant update, but the company is including some fixes to improve the functionality of the operating system. In addition to the official changes, digging a little deeper, we also see that the software giant continues to introduce small fixes that eventually will be part of the next major update, which we currently know as Redstone.
Windows 10 build 14271
Settings app
In the new Redstone preview of Windows 10, we can see that Microsoft continues to move options that you would normally find in Control Panel to the Settings app.
System
Starting with build 14271, the Settings app includes a new Taskbar section on System. The new section adds the ability to enable and disable various aspect of your Taskbar, including "Lock the taskbar," "Auto-hide the taskbar", and "Use small taskbar buttons."
Also, you also have an option to replace the Command Prompt with PowerShell on the Power User menu -- when you use the Windows key + X keyboard shortcut.
For multiple display configurations, the new Taskbar section on System includes the options to change the location and various button configurations for the taskbar as well.
These settings should look familiar, as these are the same settings, you will find in "Taskbar and Start Menu Properties", but now Microsoft is moving these options where they belong -- in the Settings app.
Accounts
In the Accounts section on Settings, Microsoft is now also breaking the "Your email and accounts" in two sections: Your info and Email & app accounts.
On build 14271, you will see a Your info section that it's exclusively the place to manage your account. The place, where you can change your picture account, switch to a local or Microsoft account, and more.
The new Email & app accounts section is now the place to store your different accounts for email, calendar, contacts, and work or school accounts.
Desktop
On the Windows 10 desktop, there are no new features, but the software giant is adding a few bug fixes and improvements.
Users will notice that the taskbar will no longer unexpectedly auto-hide or appear when apps are in full-screen mode.
In the Action Center, now you can right-click the app's entire header to see available options, instead only the app name or the close button "X". It's also now easier to dismiss all notifications from a specific app by making the header easier to click.
The only visual change users will find on the desktop is the new playback buttons icons that are shown on previews in media player apps (e.g., Groove), which now have been updated to support high-DPI displays.
Other subtle changes include Microsoft addressing an issue where borders of a window on apps would appear using a black color after the upgrade, and when the accent color doesn't automatically change when the slideshow feature is enabled.
The software giant fixed a problem that causes traditional desktop applications to disappear from the Start menu. Picture password received an update to work as expected when using fast user switching. And there is a fix to an issue that caused the "Hide notifications while presenting" setting to disappear after upgrading.
Along with the new improvements, Microsoft is also listing the known issues for build 14271, which include problems with hibernation, Kaspersky antivirus, Microsoft Edge, and more.
More on Windows 10
For more tips, coverage, and answers on Windows 10, you can visit the following resources:
Windows 10 help, tips, and tricks
Have you installed the new preview? What do you think about changes in Windows 10 build 14271? Let us know in the comments below.
Mauro Huculak is technical writer for WindowsCentral.com. His primary focus is to write comprehensive how-tos to help users get the most out of Windows 10 and its many related technologies. He has an IT background with professional certifications from Microsoft, Cisco, and CompTIA, and he's a recognized member of the Microsoft MVP community.
The Accounts section change will hopefully make it to Windows 10 Mobile with the next Fast Ring build. The remaining changes are not really applicable to Mobile. Posted from the Windows Central app Built for Windows 10

Also Accounts section should really handles other accounts not just for email, like it used to be from Windows Phone. The Accounts should manage all accounts from apps and services too. Even Android does this.

That would be nice. I'm tired of having to resign into everything. Windows Central Universal Application for Windows 10; Nokia Lumia 830; Microsoft Lumia 640

Off topic though saying....pay attention to the old Lumia mobiles to update with Windows 10

Off topic on the off topic comment. My menu and the apps always freeze every time (even system apps), I've tried opening the task view and it says everything is running normally. Is the only fix updating or going back.

Kept happening to me. It was Microsoft Edge. Open and close it a few times. Did fix it for me. - Posted via W10M device

I'll try. But I did open it and it froze, then I tried to close it and since its frozen it doesn't close. I'll try to close it and wait until it does close. Thanks anyway.

Off topiception? Posted from Windows Central for Windows 10

I love my girlfriend Posted via Universal Windows App on Windows 10

soon™ Posted from Windows Central for Windows 10

I'm your moms secret lover!

Settings app is now a lot faster to load things, also smotter animations.

I just wish there were a way to have color in the taskbar without also having it in the title bar. Grew to love the look all throughout the preview period and they rained on my parade shortly after launch. Haven't been able to settle on settings since.

Its nice that more settings now moved to new Settings app, I hope that virtually all important settings will be moved over there.
The new Taskbar thumbnail alos looks updated. Though the Action buttons on that screenshot only improves to support High DPI settings (which is a must), but forgot to even bother again to update the looks of the button and icons into wireframe.
Action Center really needs Snooze feature to make a notification(s) reminded in later time even it's been cleared up from Action Center. I really hope that they continue to improve the UI and make everything finally consistent, even the context menu is still inconsistent down to pixel level, animations and even shadows (which is still from XP/2000-era). Also I hope they will implement at least an opening window animation for Universal/Modern apps which is still static.

"but forgot to even bother again to update the looks of the button and icons into wireframe.​" They could easily be preliminary, think of the various iterations the File Explorer icons went through. There is still enough time for them to fix this and for us to provide feedback - I agree the buttons don't look finished and should feature the wireframe design.

I'll take back what I have said that the Taskbar thumbnail changed, I just realized that the screenshot use different option from "Always combine, hide labels" for Taskbar buttons, so thus the thumbnail layout is different from the default. So the Taskbar thumbnail layout didn't change at all. Back to the Taskbar Action buttons, yeah I also realize that this might be just a preliminary changes just like before but I hope that it is a preliminary changes since I kinda don't trust them when it comes to UI as they have yet to make everything cohesive in Windows 10 completely. Since that Redstone 1 release is not going to happen anytime soon, there is still a time to change those. I hope that Redstone is at least a start of complete UI cohesion in Windows 10.

There's opening window animation for Modern apps since TH2. But yeah, opening animation for WIn32 and Modern should be better. Actually, all animations. Right now, they are pretty simple. This is the one thing that OS X rocks.


Nope there aren't any opening animations at all for Modern/Universal apps even since TH2 (and with latest update). I think you mean in Tablet mode which is yeah, they finally did it since TH2 but on desktop mode, there aren't any animations at all when opening Modern/Universal apps, only closing which is really a head-scratching implementation why only closing only have one (half-attempt). I also wish animations would be little bit more less too ordinary, but I rather them have all animations implemented in every element for now just like Windows Phone does (W10M too but it also equally less polish on animation choices). Btw OS X as far as I know didn't have opening and closing animation either, only on dialog boxes?

How to stop my tablet trying update Windows Defender which ALWAYS fails anyway. Happens when I check for update

I had this situation on a Windows 8.1 PC. After many hours, over the course of weeks, working with Microsoft on the issue (via their remote access to the system) it was determined that the OS install was bad and critical system file(s) were corrupt (which files, who knows.) Microsoft overnighted a new OS DVD set to me. After a clean install with the new disks, the system acted normally. Fun fun fun. From a command prompt (as administrator) try these (individually): sfc /scannow dism /online /cleanup-image /restorehealth If that does not cure your ills, a new clean install is in your future ... Just a thought. Don

i'd like to know how to upgrade my W10Pro build 10240 to newest one (non-insider program) i know that is something like 1511 (november one) but im not able to. Itried by creating media tool, by upgrading over software, by updating under update setting and nothing.. my settins are all fine.. and i still not able to update.. any clue about, please?!

Join the insider release preview ring

You can only join that if you are on 10586 as far as I know.

Did you make sure to download the newest version of the Media Creation Tool?

Are you getting an error message?

IT just say that an error occurred and I need to reboot to try again.. But no error code appear..

Remote troubleshooting is not really comfortable on a comment section...I suggest you post a thread about your issue in a Windows 10 support forum here or elsewhere (though probably not the Microsoft Answers forum). I can't replicate it right now, but I'd assume the setup leaves behind a log file (ether in C:\$WINDOWS.~BT or C:\$WINDOWS.~WS) that could be analyzed.

Try downloading .iso file from lates Media Creation tool and then update using that .iso file, i had the same problem on my win10Home edition and I did as above and got the update.

I tried as i sais.. Using the auto update from The tool and creating The media.. None worked.. :/

Would be nice if interactions with the Action Center were consistent across mobile / desktop.

Nice, there should not have borders on windows. Posté depuis l'appli WindowsCentral pour Windows 10

Why so late in covering, yet announcing the update. It was released yesterday. Posted from Windows Central for Windows 10

This article is for the changes they've noticed since the release of the build, where as the others were listing the changes MS already mentioned.

Good changes, particularly the one with the taskbar properties and the music playback buttons - although to be honest those don't really seem finished. Nice music taste you have there, by the way. ATS is LP's best album imo.

Hoping for a fix to the issue I'm seeing in vSphere consoles on my Surface Pro 3 (Can't see the full screen of the guest due to scaling issues)

Edge ia terrible....crashing constantly...beginning on last build edge is very unstable

When I had downloaded edge on my laptop it was horrible specially on payment sites. Now after 3 months edge had been the best browser for me and works very well. Now I just need adblock or u block origin extension on edge and then I might uninstall Firefox and Maxthon as well.

I had the same opnion as you, until last two builds. Now it crashes, hangs, do not know what to do, hate using chrome again

Hope they fix the issues with IE back button.

Why are you not using Edge? Posted via Universal Windows App on Windows 10

Have you tried edge on a forum site loaded with ads? Posted from Windows Central for Windows 10 from my Lumia 950XL on Redstone.

I am in the fast ring and this new update still does not show up. How comes? Am in the UK. Grrrrrr! Posted from Windows Central for Windows 10

Hope they change those ugly toggle buttons in redstone and actually make the settings app look professonal.

What's the problem with those toggles?

Start Menu, Store apps, Action Center not working after this update. Help.

The right click to refresh should also look modern design...

Is there a way to get the WHOLE window 7 front end into windows 10? I totally hate this new windows. I am using 10 hours a day since before Christmas and am not enjoying it. Posted via the Windows Central App for Android

you can try that start 10 software...it makes the ui look a little more windows 7/xp-ish

I am now facing an issue with the installation, after setup reaches 81%, a BSOD occurs and the system reverts back to current build. Error is pade fault in page view, TMUMH.sys I think. *//I posted a comment instead of posting in a forum, cause I often found solutions faster through them, and hardly anyone bothers helping in forums.
Posted from Windows Central for Windows 10

I had to roll back. I kept getting bsod kmode exception when running visual studio...ill wait for the next build...

Hate it! Hate the new taskbar and worst of all it broke my Kaspersky! I can't even uninstall and reinstall. They need to fix this fast!
Windows Central Newsletter
Get the best of Windows Central in in your inbox, every day!
Thank you for signing up to Windows Central. You will receive a verification email shortly.
There was a problem. Please refresh the page and try again.