Windows 10 build 14385 now available for PC and mobile for fast ring Insiders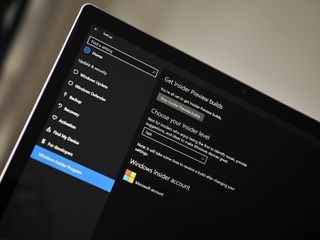 Yep, you're not dreaming. Microsoft just pushed the button to drop yet ANOTHER Insider Preview build, on a weekend of all things! I'd almost call that rude, but we Insiders are willing to accept new bits any day of the week. Today's drop is build 14385, for PC and mobile, and includes lots of new bug fixes.
From the official blog post:
Improvements and fixes for PC
You should no longer see a notification pop-up once a day saying that your Windows evaluation copy expires on 7/15/2016. I know this has caused a lot of you some angst so thank you for being patient.
We have improved battery life for Surface devices.
We fixed an issue resulting in Spotify sometimes crashing while playing music.
We fixed an issue resulting in the Google Chrome window being clipped on the top when maximized.
We fixed an issue with Mobile Hotspot that could result the host device bug-checking (bluescreen) and rebooting if it was sharing on a 5GHz band and the connected device browsed to certain websites.
We fixed an issue where the pin prompt shown when connecting to certain VPNs would display behind the other open windows.
We fixed an issue resulting in LastPass and AdBlock extensions for Microsoft Edge not showing the expected context menu items or status information in subsequently opened Edge windows. We also fixed an issue where the current tab in Edge might hang after exiting Web Notes.
Projecting to a PC auto-discoverability is off by default. To have your PC beacon so it can be discovered and you can project to it through the Connect quick action from a Continuum enabled phone or another PC, go to Settings > System > Projecting to this PC and set "Windows PCs and phones can project to this PC when you say it's OK" to "Available everywhere" or "Available everywhere on secure networks". You can also set other settings on this page to your preference.
Improvements and fixes for Mobile
You can open PDFs in Microsoft Edge and use touch to interact with the PDF (such as scrolling, pan or zoom) again without it constantly reloading the PDF
We have improved battery life for older devices, such as the Lumia 830, 930, and 1520.
We fixed an issue where setting the SIM name on a dual SIM phone would sometimes fail.
Known issues for PC
A recent fix went into place for the Hyper-V firmware that will that affect the ability to boot Windows Server 2016 Tech Preview 5 VMs with Secure Boot enabled. A fix for TP5 builds has been developed however, due to release schedules, the Insider Preview build changes will be released before the TP5 fix is released. During that time, if you try to boot a new TP5 VM with Secure Boot enabled, it will fail. The workaround is to disable Secure Boot during this period.
After you install this build on a PC using a non-EN-US language, you may get error code 0x80004005 when enabling Developer Mode on the "For Developers" Settings Page. Even after seeing this error message, your machine is in developer mode and you should still be able to use Visual Studio to develop Universal Windows Applications. In most cases, this error indicates that extra components required by the operating system to enable additional debugging features in Visual Studio or the Windows Device Portal could not be installed automatically. To fix this:
Go to Settings > System.
Click on "Apps & features"
Choose "Manage Optional features"
Press the button "Add a feature"
Select the package for Windows Developer Mode
Click "Install"
Reboot your PC
Launch Command Prompt as Administrator
Run: sc config debugregsvc start=auto
Finally, return to the "For Developers" Settings page. You will still see the error code, 0x80004005 but you should now be able to enable Windows Device Portal and the Device Discovery features.
Known issues for mobile:
Voice Recorder does not show up consistently as an option for Call Recording. We heard your feedback and are working actively on this.
The keyboard doesn't show up consistently for InPrivate mode on Microsoft Edge. We're working on this. A workaround is to click on the Microsoft privacy statement hyperlink on that page and then the keyboard works in the search/address bar. We're working on fixing this.
REMINDER: We have changed the backup format for Windows 10 Mobile devices to reduce the size of the backup stored in OneDrive. As a result, if you do a backup on a device running the latest Windows 10 Mobile Insider Preview builds and move back to the released version of Windows 10 Mobile (Build 10586) and restore from your backup – your Start screen layout won't restore and remain the default Start layout. Your previous backup also gets overwritten. If you need to go back to Build 10586 temporarily, once you are on Build 10586 you should disable backup so it doesn't overwrite the good backup from Windows 10 Mobile Insider Preview builds.
Microsoft are currently in sign-off mode for the Windows 10 Anniversary Update, meaning all these builds are pretty much identical to what the public will be getting on August second, minus the few remaining bugs that Microsoft are squishing. My insider sources say Microsoft is aiming to have a final build for the Anniversary Update sign-off on by Friday the 15th, so at some point next week.
Zac Bowden is a Senior Editor at Windows Central. Bringing you exclusive coverage into the world of Windows 10 on PCs, tablets, phones, and more. Also an avid collector of rare Microsoft prototype devices! Keep in touch on Twitter: @zacbowden.
How come OS builds are available on weekends but firmware is not!!!

I want my 950xl firmware. I want double tap again. Miss it so much.

Pro-tip: it's "rogue". But close.

But it is available for download. I got it last week

Same here (950XL, NL CV). Got it last week.

Not for everyone. It's rolling out. I'm still waiting. Vodafone UK.

It's not out for UK non carrier either

I've seen a comment to the contrary in another thread. Maybe he was lying...

EU probably gets it first, UK after

UK is not considered Europe any more?

SAme here got it yesterday Lumia 950 Belgium Proximus

Probably Brexit issues for him

Hopefully this fixes all the issues that I was having on my 1520 after the last one.

Glance screen and double tap wakeup gone in this build my 1520.

I'm no sure why that is, but I have it on mine. What is missing though, the option to turn on "Hey Cortana." The has been missing since a few builds back.

I cant get my 930 to download it... Its stuck at 4% ... Past 4hrs.

Change your phone language in to supported Cortana languages, eg:- English us. For enabling hey Cortana.

Unfortunately, that's doesn't seem to be the issue, as everything is set to English US. I'm in the US and on ATT. This has been my default setting from the beginning.

Open settings. in the search type "Hey Cortana". (You'll probably only need to type "Hey"...)

Yeah, not sure why, but the option to turn it on isn't even available in the Cortana settings. But, thanks for trying to help.

Same here. Hoping this will be sorted out soon.

Not mine. Seems ok pre and post build update.

I honestly don't know what some of you are talking about. I use a1520 as my daily driver and I have been using double tap to wake for years on it now. I can't tell you what build it was, but it was more than 6-8 months ago when one of them disabled glance screen in the settings, but that was ages ago. Glance screen is under personalization and has been forever now; as stated,, I've been using double tap to wake since on my 1520 for years now.

Me too same..2years ago using double tap for wakeup.But after I install the last build 14385 today I found this problem. I checked glance screen settings, but nothing new or off. I love it and missing..on my 1520

I think firmware is a regional rollout. I'm in the US & I got updated 950XL (single sim international) late yesterday afternoon. Double Tap is back... :)

Your phone doesn't seem to be nam cv...

You must not have AT&T... Still waiting for my 950 to get it

Hey, at least voice recording is the only issue to fix in mobile... /s

Have to laugh at that comment! Hey Cortana doesn't work unless set to USA. Voice recording not available on older phones. Wallet payment not available outside USA. But then again newer phones like 950 have no problems either do they? If this is what MS are planning to release it will be yet another win for Android and iPhone. Might be time to join them. Sick of MS ignoring feedback hub and insider tweets.

I'm sick of it too and i have given up holding my breath for cortana, especially now that i don't see any changes coming with the anniversary update. In my country we had siri support in 2012 after launching in 2011. How long MS!?

You know that Cortana will be supported in more countries with the anniversary update? I don't know about "Hey Cortana" though.

Because ios and android has no problems of their own, right? :P

I have my phone set to UK it's a 950 and hey Cortana works fine the wallet app works too although UK banks aren't using it yet we need more people pushing UK companies to use windows 10 apps it not all down to Microsoft we need to get our consumer voice heard

I cannot download Voice Recorder since 14383.

Because OS and firmware belong to two different groups. And win10 mobile has totally separate the OS updating and firmware updating to devices. Especially this OS build is insider preview build.

Even when good news, there are always someone who has something to complain about.

Maybe this is important update as the build number water mark has gone from my screen

It's a release candidate that's why the watermark is gone.

Awesome! Didn't expected, love the new strategy Dona has. Downloading.

You know what they say...leave it to a woman to get the job done!

What a time to be an Insider! I didn't even get a chance to install the last one on my laptop due to network issues :P

upgrade your network bro :3

Mine installed last night lol.

Mine has already downloaded but I postponed its installation. Now I'll have to clear everything up again. Happening third time.

Still haven't received firmware update for 950 (O2 UK)

Neither have I but unlocked UK 950xl

Apparently I'm getting down votes for anything I write this evening.

How very kind good sir lol

Upvoted u. How happy are u now?

I don't know why. But I gave you an upvote to compensate the random dvs :D

I got the firmware update three days ago here in Italy (no brand)

Me neither, though I'm not sure where my firmware will actually come from if/when it comes. I have a handset that was originally locked to o2, but currently has a Three SIM in it. It still branded as o2 though as I get the o2 splash screen when it boots. Who pushes/approves the firmware in this situation?

I feel sorry for the people working this weekend.

I feel sorry for the people working any weekend. :D

Pretty normal in the IT business. I can't even guess how many nights, weekends and holidays I worked over 45 years.

Good to see the long awaited battery improvement finally here! Posted via the Windows Central App for Android

How is your battery fairing so far? I've been looking forward to this but it would be nice to get some confirmation before I resume life in the fast lane.

Been using this new build since yesterday on the 830. Battery life does seem a lot better than before. I thinks it's too early to say though.

Any confirmation on improvement on 830/930/1529 battery life?

Same, svchost.exe still use 25% cpu...phone heats when is in startscreen... can be fixed with 3-5 shutdown/restarts.. Lumia 930

i can confirm.its better than previous build..but still poor.930

How is the battery life on the latest 14385 on Lumia 950 dual sim.

It clearly says Microsoft is committed to Windows 10 :)

I wish single sim lumia 950 to have option to turn on/off the sim card.

You could turn cellular data off. But I get what you mean.

Ummm, turn on airplane mode then enable wifi/bluetooth/nfc.

I dont want a workaround, I want to be able to turn off sim just like I can turn other stuff on/off..

I don't think that is a workaround. Is "turning off the SIM" a thing on any phone? People have given you what I imagine is the most mainstream solution. You can turn cellular data off/on.

But he wants it and might hold his breath until he gets it.

turn on airplane mode... and turn back on the things you want to use... bluetooth wifi etc

Battery improvements are the most exciting!!

Oh yeah WE (Windows External) Insiders

How are the latest fast ring builds running on the 640 XL I'm tempted to jump in now since these updates are coming so frequently

I've been using it and its great, no major issues as a daily driver. (installing this build right now)

They are ok on my 640 xl. They are better then official ones, faster, more responsive but still have some bugs. But that is just a win 10 thing.

Have they solved the wifi connection issue?

Firmware update?? I doubt that since non of the older devices has got any firmware update since the 10586 builds... Or am I wrong?

Most of the wifi issues are on 950/xl phones that's based on the feedback on uservoice. My 920 connects fine to wifi. My 950xl sometimes disconnects

Okay.. So I think it's time to get on-board.. Thanks for the info.. But I wonder how you were able to install RS builds on your L920.. If you are kind enough to share I can at least make use of the old lumia 625..

http://forum.xda-developers.com/windows-10/windows-10-mobile/windows-mob...

Yes please, tell us how you got Redstone builds on your lumia 920 Posted via the Windows Central App for Android

Only firmware has been for the 950 phones

My 640's last firmware update was in July 2015. And it was an update from WP8.1.2 Denim to WP8.1.2 Denim, ie No seeable changes.

I have a different WiFi issue on my 640.
It would stay connected with No Internet written on the toggle. Disconnect - Connect doesn't work and only a restart fixes it.
On my 640, the Feedback Hub has been in Pending since 4-5 builds.
And the battery life has deteriorated since the last build. It used to be 1day 2hours or something two builds back. Now at the same 100% charge, it says 15 hours remaining.

I've the same Wi-Fi issue with my Lumia 730

It's fantastic. Even the proximity sensor bug for notifications is fixed so I no longer pocket dial people when I get a notification!

How about when using a Bluetooth headset? Does the screen turns off when the proximity sensor "sees" something?

My wife' 640xl is running the latest build with no issues what so ever.

Daily driver for lumia 950s?

WiFi issue resolved for non-950s?

So far so good on my Lumia 930 :) Just tried switching between networks on various places and its looking good!

Easily... Has been for months! (950XL)

Looks like you have a 950XL. What about 950? Daily driver worthy? 950XL seems to be more stable and reliable then 950. Wife's XL never has issues. My 950 has reboots once a day for past week. anyone with 950 feel RS is ready for daily use?

My wife's 950 always giving her problem my 950xl is working fine.

No issue with my wife 950 on redstone since I started her on 14371, I have 950xl

Still no fix for a glance :(

I'd like glance to show every time I considerably move the phone... This way I need to swipe over the sensor, plus, glance reacts slowly that way anyway...

Pulling it out of your pocket shows the screen in time

Not complaining but glance and double tap to wake are slower on the 950xl than the features used to be

Not just 950xl. On my 640 it's been slower and less reliable ever since they moved the setting from Extras to wherever it is now.

Glance now also can't be turned off while charging which is a bit annoying sometimes

Flip the device over and turn up your volume then

I just noticed right now that covering the proximity sensor does the trick! How weird!!

Why's that weird? That's how it works. Turns screen off when you pocket your phone..

Previously "during charging" it could turn off without covering it anyhow just by a timer! Now it's just impractical and weird

Can't do that with wireless charging. Or, well, you could but that would be highly impractical

Is anyone else having issues updating Windows Voice Recorder in the store for the last few builds? Does it possibly tie into the first Mobile issue listed above? It's kind of an eyesore having it always have an available update but getting an error message when I try to update it.

Same, I just ignored it, as long as voice recorder works.

I did a hard reset on my phone and restored from a backup. It installed the correct voice recorder finally. That's all I could do to fix it.

Since 14379 I get error 0x80246013 when trying to update Voice Recorder. The error even continues after hard reset. L950XL DS

I did that and the issue showed up again a short while later.

Please don't say MS is rude for releasing on the weekend... I love it. (yes, I know you're kidding, so am I) :)

Thanks guess I'll jump in too

Someone please let me know how the battery life is on the Lumia 1520 so I can install it.

Mine is fine. It was better since the last build for me. 1520

How does it compared to TH builds? This is actually more important. The wording "improved battery life" only sounds like reference to older builds which indeed have horrible battery life.

I use it as my daily and the battery last a long time.

Sounds interesting, though not surprise for 1520 devices since it's been regarded to have one of the highest battery-life on Windows phone devices. Though that "long time" means lasting a day with moderate usage, like with Wi-Fi with occasional mobile data usage?

I use mine probably a bit above average and my 1520 on the latest fast ring builds is usually somewhere between 30 to 40% when I go to bed and place it on the charger.

Thanks! Well that actually sounds alot, though Idk what apps you use and the usage patterns, not to mention having 1520 having that percentages left is achievable. Still good to hear at least that the latest build in your case didn't make Lumia 1520 battery champion into loser.

Am I able to switch back to the release preview ring once this officially launches without using the device recovery tool to go back?

Not sure I fully understand your question, but if you're running a Redstone build you can't go back to Threshold builds without the recovery tool. You're free to switch rings whenever you like, but that won't do anything to help you roll back to earlier builds. As far as I understand the system, at the point that the production build catches up to the insider builds (i.e. When anniversary update become available) you can revert to the production ring/opt out of insider completely and stay there.

Hey my phone is having major battery drain problems (Lumia 950 XL u.s.) from the build released earlier this week so I hope this update fixes that.

Probably just your phone reorganizing files after the update. It happens every time you update. Give it a day or two and it should normalize.

I have found that a couple of soft resets cures a lot of issues, like this.

This is the worst build EVER. (950XL US) Slow SUPER HOT charging. Rapid drain!

Edge has been great on these builds for PC. But Edge mobile has been a total mess! For some reason the font rendering is totally messed up. And it's happening in some non-Edge apps as well, like WinBeta. This build didn't seem to fix it, and it also didn't list it on the known issues. Frustrating!

I think this issue is caused by the text scaling in the Ease to access option in Setting is set to more than 100%.

Thanks. There's clearly something very wrong with text scaling in these builds. I'm somewhat visually impaired, so I usually keep the scaling at a nice comfortable 130% on my 5" 640. At that scale, Edge text in these builds is ridiculously enormous, even though it's been fine on production builds. Even turning it down to 100% (where system font is too small for me to read with strain) the text in Edge and other apps is still on the large side. I really hope they fix this soon!

Lumia Icon battery life improvements? YES! Downloading...

Both 1520, 950 XL are updated.

Does this build work for Lumia 920?

No. Stop asking. You are limited to TH2 10586.x builds

Yes if you hack your phone but glance and brightness won't work

I gave up and bought a 650. Runs 10 much better. The only thing I miss is the camera.

it doesnt.but release preview work good on 920;)

NICE! Can't wait for the new firmware now too!

Just update my Lumia 830 from 10586. Seems much faster! :) I didn't like some desing modifications, but this build is (from now) very good to me!

How's battery life and app stability ?