Windows 10 build 14385 now available for PC and mobile for fast ring Insiders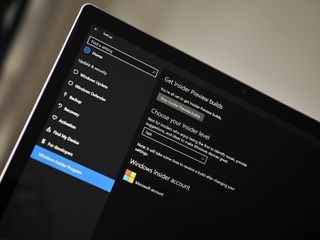 Yep, you're not dreaming. Microsoft just pushed the button to drop yet ANOTHER Insider Preview build, on a weekend of all things! I'd almost call that rude, but we Insiders are willing to accept new bits any day of the week. Today's drop is build 14385, for PC and mobile, and includes lots of new bug fixes.
From the official blog post:
Improvements and fixes for PC
You should no longer see a notification pop-up once a day saying that your Windows evaluation copy expires on 7/15/2016. I know this has caused a lot of you some angst so thank you for being patient.
We have improved battery life for Surface devices.
We fixed an issue resulting in Spotify sometimes crashing while playing music.
We fixed an issue resulting in the Google Chrome window being clipped on the top when maximized.
We fixed an issue with Mobile Hotspot that could result the host device bug-checking (bluescreen) and rebooting if it was sharing on a 5GHz band and the connected device browsed to certain websites.
We fixed an issue where the pin prompt shown when connecting to certain VPNs would display behind the other open windows.
We fixed an issue resulting in LastPass and AdBlock extensions for Microsoft Edge not showing the expected context menu items or status information in subsequently opened Edge windows. We also fixed an issue where the current tab in Edge might hang after exiting Web Notes.
Projecting to a PC auto-discoverability is off by default. To have your PC beacon so it can be discovered and you can project to it through the Connect quick action from a Continuum enabled phone or another PC, go to Settings > System > Projecting to this PC and set "Windows PCs and phones can project to this PC when you say it's OK" to "Available everywhere" or "Available everywhere on secure networks". You can also set other settings on this page to your preference.
Improvements and fixes for Mobile
You can open PDFs in Microsoft Edge and use touch to interact with the PDF (such as scrolling, pan or zoom) again without it constantly reloading the PDF
We have improved battery life for older devices, such as the Lumia 830, 930, and 1520.
We fixed an issue where setting the SIM name on a dual SIM phone would sometimes fail.
Known issues for PC
A recent fix went into place for the Hyper-V firmware that will that affect the ability to boot Windows Server 2016 Tech Preview 5 VMs with Secure Boot enabled. A fix for TP5 builds has been developed however, due to release schedules, the Insider Preview build changes will be released before the TP5 fix is released. During that time, if you try to boot a new TP5 VM with Secure Boot enabled, it will fail. The workaround is to disable Secure Boot during this period.
After you install this build on a PC using a non-EN-US language, you may get error code 0x80004005 when enabling Developer Mode on the "For Developers" Settings Page. Even after seeing this error message, your machine is in developer mode and you should still be able to use Visual Studio to develop Universal Windows Applications. In most cases, this error indicates that extra components required by the operating system to enable additional debugging features in Visual Studio or the Windows Device Portal could not be installed automatically. To fix this:
Go to Settings > System.
Click on "Apps & features"
Choose "Manage Optional features"
Press the button "Add a feature"
Select the package for Windows Developer Mode
Click "Install"
Reboot your PC
Launch Command Prompt as Administrator
Run: sc config debugregsvc start=auto
Finally, return to the "For Developers" Settings page. You will still see the error code, 0x80004005 but you should now be able to enable Windows Device Portal and the Device Discovery features.
Known issues for mobile:
Voice Recorder does not show up consistently as an option for Call Recording. We heard your feedback and are working actively on this.
The keyboard doesn't show up consistently for InPrivate mode on Microsoft Edge. We're working on this. A workaround is to click on the Microsoft privacy statement hyperlink on that page and then the keyboard works in the search/address bar. We're working on fixing this.
REMINDER: We have changed the backup format for Windows 10 Mobile devices to reduce the size of the backup stored in OneDrive. As a result, if you do a backup on a device running the latest Windows 10 Mobile Insider Preview builds and move back to the released version of Windows 10 Mobile (Build 10586) and restore from your backup – your Start screen layout won't restore and remain the default Start layout. Your previous backup also gets overwritten. If you need to go back to Build 10586 temporarily, once you are on Build 10586 you should disable backup so it doesn't overwrite the good backup from Windows 10 Mobile Insider Preview builds.
Microsoft are currently in sign-off mode for the Windows 10 Anniversary Update, meaning all these builds are pretty much identical to what the public will be getting on August second, minus the few remaining bugs that Microsoft are squishing. My insider sources say Microsoft is aiming to have a final build for the Anniversary Update sign-off on by Friday the 15th, so at some point next week.
Windows Central Newsletter
Get the best of Windows Central in your inbox, every day!
Zac Bowden is a Senior Editor at Windows Central. Bringing you exclusive coverage into the world of Windows on PCs, tablets, phones, and more. Also an avid collector of rare Microsoft prototype devices! Keep in touch on Twitter: @zacbowden.
How come OS builds are available on weekends but firmware is not!!!

I want my 950xl firmware. I want double tap again. Miss it so much.

Pro-tip: it's "rogue". But close.

But it is available for download. I got it last week

Same here (950XL, NL CV). Got it last week.

Not for everyone. It's rolling out. I'm still waiting. Vodafone UK.

It's not out for UK non carrier either

I've seen a comment to the contrary in another thread. Maybe he was lying...

EU probably gets it first, UK after

UK is not considered Europe any more?

SAme here got it yesterday Lumia 950 Belgium Proximus

Probably Brexit issues for him

Hopefully this fixes all the issues that I was having on my 1520 after the last one.

Glance screen and double tap wakeup gone in this build my 1520.

I'm no sure why that is, but I have it on mine. What is missing though, the option to turn on "Hey Cortana." The has been missing since a few builds back.

I cant get my 930 to download it... Its stuck at 4% ... Past 4hrs.

Change your phone language in to supported Cortana languages, eg:- English us. For enabling hey Cortana.

Unfortunately, that's doesn't seem to be the issue, as everything is set to English US. I'm in the US and on ATT. This has been my default setting from the beginning.

Open settings. in the search type "Hey Cortana". (You'll probably only need to type "Hey"...)

Yeah, not sure why, but the option to turn it on isn't even available in the Cortana settings. But, thanks for trying to help.

Same here. Hoping this will be sorted out soon.

Not mine. Seems ok pre and post build update.

I honestly don't know what some of you are talking about. I use a1520 as my daily driver and I have been using double tap to wake for years on it now. I can't tell you what build it was, but it was more than 6-8 months ago when one of them disabled glance screen in the settings, but that was ages ago. Glance screen is under personalization and has been forever now; as stated,, I've been using double tap to wake since on my 1520 for years now.

Me too same..2years ago using double tap for wakeup.But after I install the last build 14385 today I found this problem. I checked glance screen settings, but nothing new or off. I love it and missing..on my 1520

I think firmware is a regional rollout. I'm in the US & I got updated 950XL (single sim international) late yesterday afternoon. Double Tap is back... :)

Your phone doesn't seem to be nam cv...

You must not have AT&T... Still waiting for my 950 to get it

Hey, at least voice recording is the only issue to fix in mobile... /s

Have to laugh at that comment! Hey Cortana doesn't work unless set to USA. Voice recording not available on older phones. Wallet payment not available outside USA. But then again newer phones like 950 have no problems either do they? If this is what MS are planning to release it will be yet another win for Android and iPhone. Might be time to join them. Sick of MS ignoring feedback hub and insider tweets.

I'm sick of it too and i have given up holding my breath for cortana, especially now that i don't see any changes coming with the anniversary update. In my country we had siri support in 2012 after launching in 2011. How long MS!?

You know that Cortana will be supported in more countries with the anniversary update? I don't know about "Hey Cortana" though.

Because ios and android has no problems of their own, right? :P

I have my phone set to UK it's a 950 and hey Cortana works fine the wallet app works too although UK banks aren't using it yet we need more people pushing UK companies to use windows 10 apps it not all down to Microsoft we need to get our consumer voice heard

I cannot download Voice Recorder since 14383.

Because OS and firmware belong to two different groups. And win10 mobile has totally separate the OS updating and firmware updating to devices. Especially this OS build is insider preview build.

Even when good news, there are always someone who has something to complain about.

Maybe this is important update as the build number water mark has gone from my screen

It's a release candidate that's why the watermark is gone.

Awesome! Didn't expected, love the new strategy Dona has. Downloading.

You know what they say...leave it to a woman to get the job done!

What a time to be an Insider! I didn't even get a chance to install the last one on my laptop due to network issues :P

upgrade your network bro :3

Mine installed last night lol.

Mine has already downloaded but I postponed its installation. Now I'll have to clear everything up again. Happening third time.

Still haven't received firmware update for 950 (O2 UK)

Neither have I but unlocked UK 950xl

Apparently I'm getting down votes for anything I write this evening.

How very kind good sir lol

Upvoted u. How happy are u now?

I don't know why. But I gave you an upvote to compensate the random dvs :D

I got the firmware update three days ago here in Italy (no brand)

Me neither, though I'm not sure where my firmware will actually come from if/when it comes. I have a handset that was originally locked to o2, but currently has a Three SIM in it. It still branded as o2 though as I get the o2 splash screen when it boots. Who pushes/approves the firmware in this situation?

I feel sorry for the people working this weekend.

I feel sorry for the people working any weekend. :D

Pretty normal in the IT business. I can't even guess how many nights, weekends and holidays I worked over 45 years.

Good to see the long awaited battery improvement finally here! Posted via the Windows Central App for Android

How is your battery fairing so far? I've been looking forward to this but it would be nice to get some confirmation before I resume life in the fast lane.

Been using this new build since yesterday on the 830. Battery life does seem a lot better than before. I thinks it's too early to say though.

Any confirmation on improvement on 830/930/1529 battery life?

Same, svchost.exe still use 25% cpu...phone heats when is in startscreen... can be fixed with 3-5 shutdown/restarts.. Lumia 930

i can confirm.its better than previous build..but still poor.930

How is the battery life on the latest 14385 on Lumia 950 dual sim.

It clearly says Microsoft is committed to Windows 10 :)

I wish single sim lumia 950 to have option to turn on/off the sim card.

You could turn cellular data off. But I get what you mean.

Ummm, turn on airplane mode then enable wifi/bluetooth/nfc.

I dont want a workaround, I want to be able to turn off sim just like I can turn other stuff on/off..

I don't think that is a workaround. Is "turning off the SIM" a thing on any phone? People have given you what I imagine is the most mainstream solution. You can turn cellular data off/on.

But he wants it and might hold his breath until he gets it.

turn on airplane mode... and turn back on the things you want to use... bluetooth wifi etc

Battery improvements are the most exciting!!

Oh yeah WE (Windows External) Insiders

How are the latest fast ring builds running on the 640 XL I'm tempted to jump in now since these updates are coming so frequently

I've been using it and its great, no major issues as a daily driver. (installing this build right now)

They are ok on my 640 xl. They are better then official ones, faster, more responsive but still have some bugs. But that is just a win 10 thing.

Have they solved the wifi connection issue?

Firmware update?? I doubt that since non of the older devices has got any firmware update since the 10586 builds... Or am I wrong?

Most of the wifi issues are on 950/xl phones that's based on the feedback on uservoice. My 920 connects fine to wifi. My 950xl sometimes disconnects

Okay.. So I think it's time to get on-board.. Thanks for the info.. But I wonder how you were able to install RS builds on your L920.. If you are kind enough to share I can at least make use of the old lumia 625..

http://forum.xda-developers.com/windows-10/windows-10-mobile/windows-mob...

Yes please, tell us how you got Redstone builds on your lumia 920 Posted via the Windows Central App for Android

Only firmware has been for the 950 phones

My 640's last firmware update was in July 2015. And it was an update from WP8.1.2 Denim to WP8.1.2 Denim, ie No seeable changes.

I have a different WiFi issue on my 640.
It would stay connected with No Internet written on the toggle. Disconnect - Connect doesn't work and only a restart fixes it.
On my 640, the Feedback Hub has been in Pending since 4-5 builds.
And the battery life has deteriorated since the last build. It used to be 1day 2hours or something two builds back. Now at the same 100% charge, it says 15 hours remaining.

I've the same Wi-Fi issue with my Lumia 730

It's fantastic. Even the proximity sensor bug for notifications is fixed so I no longer pocket dial people when I get a notification!

How about when using a Bluetooth headset? Does the screen turns off when the proximity sensor "sees" something?

My wife' 640xl is running the latest build with no issues what so ever.

Daily driver for lumia 950s?

WiFi issue resolved for non-950s?

So far so good on my Lumia 930 :) Just tried switching between networks on various places and its looking good!

Easily... Has been for months! (950XL)

Looks like you have a 950XL. What about 950? Daily driver worthy? 950XL seems to be more stable and reliable then 950. Wife's XL never has issues. My 950 has reboots once a day for past week. anyone with 950 feel RS is ready for daily use?

My wife's 950 always giving her problem my 950xl is working fine.

No issue with my wife 950 on redstone since I started her on 14371, I have 950xl

Still no fix for a glance :(

I'd like glance to show every time I considerably move the phone... This way I need to swipe over the sensor, plus, glance reacts slowly that way anyway...

Pulling it out of your pocket shows the screen in time

Not complaining but glance and double tap to wake are slower on the 950xl than the features used to be

Not just 950xl. On my 640 it's been slower and less reliable ever since they moved the setting from Extras to wherever it is now.

Glance now also can't be turned off while charging which is a bit annoying sometimes

Flip the device over and turn up your volume then

I just noticed right now that covering the proximity sensor does the trick! How weird!!

Why's that weird? That's how it works. Turns screen off when you pocket your phone..

Previously "during charging" it could turn off without covering it anyhow just by a timer! Now it's just impractical and weird

Can't do that with wireless charging. Or, well, you could but that would be highly impractical

Is anyone else having issues updating Windows Voice Recorder in the store for the last few builds? Does it possibly tie into the first Mobile issue listed above? It's kind of an eyesore having it always have an available update but getting an error message when I try to update it.

Same, I just ignored it, as long as voice recorder works.

I did a hard reset on my phone and restored from a backup. It installed the correct voice recorder finally. That's all I could do to fix it.

Since 14379 I get error 0x80246013 when trying to update Voice Recorder. The error even continues after hard reset. L950XL DS

I did that and the issue showed up again a short while later.

Please don't say MS is rude for releasing on the weekend... I love it. (yes, I know you're kidding, so am I) :)

Thanks guess I'll jump in too

Someone please let me know how the battery life is on the Lumia 1520 so I can install it.

Mine is fine. It was better since the last build for me. 1520

How does it compared to TH builds? This is actually more important. The wording "improved battery life" only sounds like reference to older builds which indeed have horrible battery life.

I use it as my daily and the battery last a long time.

Sounds interesting, though not surprise for 1520 devices since it's been regarded to have one of the highest battery-life on Windows phone devices. Though that "long time" means lasting a day with moderate usage, like with Wi-Fi with occasional mobile data usage?

I use mine probably a bit above average and my 1520 on the latest fast ring builds is usually somewhere between 30 to 40% when I go to bed and place it on the charger.

Thanks! Well that actually sounds alot, though Idk what apps you use and the usage patterns, not to mention having 1520 having that percentages left is achievable. Still good to hear at least that the latest build in your case didn't make Lumia 1520 battery champion into loser.

Am I able to switch back to the release preview ring once this officially launches without using the device recovery tool to go back?

Not sure I fully understand your question, but if you're running a Redstone build you can't go back to Threshold builds without the recovery tool. You're free to switch rings whenever you like, but that won't do anything to help you roll back to earlier builds. As far as I understand the system, at the point that the production build catches up to the insider builds (i.e. When anniversary update become available) you can revert to the production ring/opt out of insider completely and stay there.

Hey my phone is having major battery drain problems (Lumia 950 XL u.s.) from the build released earlier this week so I hope this update fixes that.

Probably just your phone reorganizing files after the update. It happens every time you update. Give it a day or two and it should normalize.

I have found that a couple of soft resets cures a lot of issues, like this.

This is the worst build EVER. (950XL US) Slow SUPER HOT charging. Rapid drain!

Edge has been great on these builds for PC. But Edge mobile has been a total mess! For some reason the font rendering is totally messed up. And it's happening in some non-Edge apps as well, like WinBeta. This build didn't seem to fix it, and it also didn't list it on the known issues. Frustrating!

I think this issue is caused by the text scaling in the Ease to access option in Setting is set to more than 100%.

Thanks. There's clearly something very wrong with text scaling in these builds. I'm somewhat visually impaired, so I usually keep the scaling at a nice comfortable 130% on my 5" 640. At that scale, Edge text in these builds is ridiculously enormous, even though it's been fine on production builds. Even turning it down to 100% (where system font is too small for me to read with strain) the text in Edge and other apps is still on the large side. I really hope they fix this soon!

Lumia Icon battery life improvements? YES! Downloading...

Both 1520, 950 XL are updated.

Does this build work for Lumia 920?

No. Stop asking. You are limited to TH2 10586.x builds

Yes if you hack your phone but glance and brightness won't work

I gave up and bought a 650. Runs 10 much better. The only thing I miss is the camera.

it doesnt.but release preview work good on 920;)

NICE! Can't wait for the new firmware now too!

Just update my Lumia 830 from 10586. Seems much faster! :) I didn't like some desing modifications, but this build is (from now) very good to me!

How's battery life and app stability ?

The phone has been updated 2 hours ago, so I'm not able to give a good feedback, I need to test for 1 or 2 days. But from now, 10% used in 2 hours, connected on wifi, just on stand by. About app stability, I didn't see any bugs or instabilities in any app. Actually, they're opening faster than build 10586.

I'm not quite sure u understand the literal difference between 10586 and 14385
Obviously things hv changed drastically from 10586 to 14385..... The numeric difference is d proof.
Yes, battery performance is the issue for 3rd gen Lumias

Yeah, it's obvious, duh. I'm talking about my impressions about the changes.

Incredibly frustrating. No mention of phone number links in mail and calendar. This ever going to happen? Cannot believe that more people are not wanting this. Sorry I know I am like a broken record but this is such a basic function, not even a feature.

Report it in the feedback app and share feedback with your friends.

What do you mean exactly? You want an phone numbers highlighted in an email you receive so you can tap on it and it goes straight to a contact card? I believe it does that already.

Please help! You get this then show me what I am doing wrong. Email and calendar. Just like WP8.1. Worked 100% all the time. Even tech sup says it is not there??? Ideas? This is a really big pain point for me. Really a basic function

I have just downloaded it and a couple of issues not mentioned and happening on my handset are edge doesn't open including pinned tiles and when typing in boxes the keyboard comes over the box and I can't see what i am typing .

Hopefully Edge issues would be sorted out once and for all around next builds before official release. For some reason, Edge often gets some sort of bugs often. We are very close to public release.

Dimming is broken again. When screen dims, I tap to bring back brightness to default setting, but nothing happens. I need to turn the screen off and back on to regain default brightness. Lumia 950

When I downloaded the update, it got to 100%, and started again from zero and went to 100% again. I never got an error message. Has anyone else ever had a build overlap (for lack of a better word), then cause problems? This was weird, never happened before, but I'll see if I have any issues..

The downloads have been doing this more lately. The first pass is the file downloading, then the next pass is the file installing. The phone then reboots and you should see the gears, meaning that the installation is continuing. Then it goes to the finishing phases and reboots to the start screen after that.

MSN News and MSN Finance don't work anymore, showing a white page asking me to refresh the page. Taping it reloads the same page. It has happened every time in the last few builds. Hard reset and it works, setup account and update apps from the store and boom, dead MSN apps... Anybody has any idea what happens ?

Msn news works on my l950.

Mine are working as expected, on 1520.2

Finally they heard to me , call recording feature is coming to voice recorder .

Where did you hear/read this?

Did you read complete article??

It's been there for a long time. Just recently has the bug popped up not letting you use it.

It's important to note that for some reason, this has ONLY been on the 950 devices since TH2. Maybe RS1 brings it to others. Maybe not.

Glance don't work, msn apps fail... on l635 still can get navigation bar to vanish or apps to fit screen as nav bar over writes bottom lines. Messaging abd Skype fails if skype uninstalled despite it saying doesn't need Amy other apps. Skype won't reinstall.

Did you put all this in feedback.
As for the Skype issue; do you have the beta UWP installed or the regular app? If you do, this is your issue and you can grab the package from XDA to reinstall it.
Had similar issue with UWP MS apps quite a few builds back and a hard reset fixed it.

Shouldn't need it. Messaging and Skype says clearly no other apps needed. Standard was installed, but didn't sync with tablet, laptop or other phone so removed. Now stuck on installation bug for beta, despite other phones installing standard version and all on same OS...... Its going like android with no standard.

Must be your phone. Glance and MSN apps work for me.

Aaaaand Wi-Fi disconnect is still happening on my 640.

Anybody got 2 glance menu in 640?

Not got any. Won't turn on

its cool...now you can set up glance screen meanwhile you set up glance screen. just kidding))

better..but still should be better like it was on wp 8.1

exactly...but...overheats when i use facebook,messenger(these new apps ported from ios recently) like i run GTA V on it

oh yes..and edge browser that eat half of my battery

Yes!! So glad they fixed the windows expiring on 7/15 message. I have been trying to figure that one out the last 2 builds!

I wonder if WiFi calling will ever work again? Have not been able to get it to work on any build of WP 10. Worked great on 8.1.

I doubt it. They can't get simple fixes sorted.

This installed fine for me on my 930 but I'm not seeing anything yet for my PC

I am getting: There were problems installing some updates Error 0x80246019

i had this error going into advanced option and ticking the update other microsoft products solved it for me

Thanks for the idea, although it didn't work for me. In the end I made up an ISO from an upgrde I did on my SP4 and used that instead. Now all seems OK.

"This is not the firmware you are looking for..."

Don't you just love Dona Sarkar, updates turning a norm,love it

Is it just me or are these build pure hell?

Finally, battery life is improved in this build. I will try it on my Lumia 1520 and tell you. Thanks Microsoft and Windows central

Let me know if the over heating issue is still around.

Ok, will do... Posted from PornHub

Still present for me, apparently looks like a constantly uploading WiFi connection it's running my battery down causing the heat. This just started on my 950 XL after build 14383. This build did not correct it. If anything, it made it worse. I have to turn WiFi off entirely to save battery.

I just moved from Slow to Fast on my 1520.2, downloaded, let migration complete, did soft reset, then power cycle. Result: Very happy with what I'm seeing. Excellent speed and fluidity, no glaring issues to report. So far I'm happy.

My brightness adjustment is still broken :(

Me too, it's a little bit disappointing... (Lumia 735)

2 days more for non-insider update.

Battery and mo battery, thats what im looking for

Battery improvements is most welcome one
Remainder spelling wrong in issues for mobile

Like Christmas in the summer

Finally, a fix for the PDF issue on mobile :) YAY!

Yep, but not for the HTC M8. Buggers

What happened to the little microphone to speak into when texting!?

We have improved battery life for older devices, such as the Lumia 830, 930, and 1520. This. I can't be any happier than this. Perfect gift on my birthday.

Woehoe a build in the weekend. Great stuff. Hope insiders have the signed of build before 15th

Can new firmware update in 830

Where is Double tap in Lumia 950? Not able to see such option in this and previous build.

Do updates still download the whole build or just the parts ?

Is that for only the mobile or both pc and mobile?

I have been using a 950 xl for the past four days (ebay purchase of a brand new phone at C$ 579 vs C$ 850 from MSFT store). The production build Windows 10 drained my battery like crazy but moving to insider fast seemed to dramatically increase battery life).. Really enjoying Redstone. Got double tap to wake yesterday.. So miss my L1520 which needed to be sidelined for camera OIS woes after I dropped it last week. The L1520 was getting me 30-36 hours between charges.. So far the 950xl giving me more like 18-24 hours between charges... Downloading the latest inside build right now

True.... battery on my 950 is better with the preview build than the production. And again it's averaging to around 20 Hrs on normal usage.

how to update in lumia 640?

Why you people are creaming for anniversary update? I didn't find anything great in it. Only bug fixes. Wp has introduced a great feature that start screen and notification bar. Nothing else different i could see from other sw. Animations like as were of DOS of windows starting package. * The greatest draw back I have noticed that the phone switched in to aeroplane mode when change data connection.
*the hotspot connection, that couldn't do well at least at bench mark.
we are using windows sw with the expectation that we had amazed in seeing our computer performance.
what the changes you makes that has done android or BB 4 or 5 years back.
you are telling that bcos of windows wp restriction. After wp 8.1 there were more than enough time to mould it. Over 2 and half years.I thing wp sw trying to make sw in differentway. It'sgreat and appreciated. But There has to met basic need with a phone for our ws lovers. Its already time lapsed you might thing differently. When I bought windows phone I have proud that I gonne buy something more than phone or BB. Bcos. The name WINDOWS . But now. Very disappointed.. Sorry.

Is your lagdroid as secured as WIN10M? I guess no. So that's why!

Yes windows is a secure network and mostly lag free

Still after 5yrs we will be waiting for bug fixes.... By that time we need to purchase phones with 32gb internal storage, 5gb ram, x100000 series processors... Still MS releasing only bug fixes for It's secure mobile. People are still getting trolled for telling about It's bug's....

Still after 5yrs we will be waiting for bug fixes.... By that time we need to purchase phones with 32gb internal storage, 5gb ram, x100000 series processors... Still MS releasing only bug fixes for It's secure mobile. People are still getting trolled for telling about It's bug's.... oops, just clicked the "report" button, didn't mean to do that hahaha, sorry.x

I bet anniversary updates will not resolve all the issues, they are just releasing redstone updates to It's official mobile OS users. It means we are going to get new bugs. Troll me please for telling truth.... I still love the Windows Phone but it doesn't mean i ignore It's bugs..

I wonder why are you even using a WP if you are so hassled and annoyed with the so called "bugs". Please stop using it and do some justice to urslf.

If u have any issues with your life will u kill yourself ? I didn't get my mobile for free of cost, I purchased it. I have all rights to express my issues, so don't suggest me what to do..... Ask WC admin to block me if i have to keep quite.......... Understand ? People like u never understand what are the problem Windows phone users are facing.

haha, good chat. I totally agree, we are all allowed our say wether positive or negative and every one has a different subjective perspective. Personally ive had a windows phones right from the lumia 800 and although i appreciate WP had and still has certain short falls, it's come an astonisingly long way from the 800 and WP7. I have had and still have a "lagdroid" as people say (which for record doesn't lag) so i feel i can be fairly objective in saying that WIN10M is honestly a fuctional thing of beauty, and despite having an S7 i still sometimes long for the slick simplicity of WIN10 on my L930. Just a shame the camera hardware on the 930 isn't up to par, not awful though:-)

Honestly I do not understand what you said. Posted via the Windows Central App for Android

What is the revolutionary change from lollipop to marshmallow?

The logo 's changed, the food used as codename 's changed. A new statue was built at Google's office. Those're all the change.

Thanks God. It fix everything broken by 14383. In 14383, my store always forced close and I have no internet connection from wifi. They work fine now at 14385.

No watermarks or expiry date on these new builds so the next one to get an ISO I'll be installing on my main pc, currently I test insider builds on VMs Posted via the Windows Central App for Android

Is anybody facing issues with the Windows Iris setup? I'm not able to set it up on my Lumia 950, the setup stops halfway saying 'Couldn't detect eye'. I tried all kinds of resets and even going back to the production build, but facing the same issue now. Any way to sort this out?

May be you'll have to take it to service centre.

Error code 0x80246019 what is that

On the pc goto update & security advanced settings and uncheck any boxes in there reset your pc and check for update again it should update without the error now.

Voice recorder not update

Have they fixed the wifi disconnecting issues?

No. Your 535 drains the battery.

How's the battery life on the 1520? Anyone who's installed this build can shed some useful light?

I know a lot of people are c complaining who use a 1520 and I don't know what the difference is between mine and theirs, but I get a fill days use or of mine and I really use my phone all day for work, play, and my tube use.

After installing this update, I had a restart request saying that my phone or SIM card settings had changed. I've not had this with any previous builds... Anyone else had this?


Did you install the previous build? I got this message after installing the previous build on my 950.

I always get this when phone is updated. Its nothing new. Even for the firmware update I got the message.

Awesome, another new build to try on my poor 925 :)

Phone heats,cpu loading svchost.exe 25%...so no improved battery.. lumia 930

so far impressed with this build. few app crashes. battery better on lumia 640 but still needs work. MS rocks

how to update the build in the lumia 640?

Booyah!!!! Can't wait to update my dad's 550 "the normal way" and show him all the awesome new stuff :-)

Battery life on Lumia 830 is bad so far. Drop to 84% within 4hours without a single use.
Not recommend to update. Really frustrated with what they claimed.
Posted via the Windows Central App for Android

That is really disappointing. I have a 930 and I was really hoping this build would fix the battery drain issue. Hope they fix this by Anniversary Update.

My Lumia 930 is at 77% after approximately 6 hours with some internet (4G) and a few phone calls. Compared to previous builds, it's ok, I think.

Based on what you stated that's impressive

Don't get too commercial with the titles, it's horrible.

We fixed google chrome... Horror.
Why waste development time on google?

I agree. What if Google really design their chrome to freeze Windows 10?

After hard reset, my lumia 640 works great! Battery is awesome!

How big is this update? How much mb? I m on official 420, how much i must download for thia update?

What I'm still missing is the VPN in the "fly-out" it's still not sorted alphabetical and when you clikc on a VPN it redirects to the network, where you have to look for and find the VPN and then click it again to start the VPN... why can't this be just like in Windows 8.1 and previous versions? ;-) :(

Happy beta testing for QA's!

Hope this build really fixed battery life for 1520

Yea, my 1520 has gone crazy. It sends the battery critically low message, then crashes. I plug it in, it reboots, and shows 15%. I soft reset, while plugged in, it shows a high percentages, say 85%!!! Very strange.

950 dual sim still experiencing "no internet" issues on wifi

I wonder why windows central apps always bring back forced close bug that fixed before, every time a new build's installed.

No issues with windows central app on my Lumia 1520; swiping this message from the app now.

That's awfully hopeful to get a sign-off on 15th July for the Anniversary Update considering that's only 5 days away and the stack of issues from simple to serious must be massive. Equally, one would expect some new, better or alternative features and updates to the stock o/s to improve the apperance, functionality, usuability of WM and firmly put it back in the market as a 'go to' option. I have Lumia 950 dula-SIM and the last few updates have been like one step forward and two steps backwards. I thought many of the issues (all reported here and probably many others) would be fixed by now and they weren't. The wifi connectivity issue was horrendous and seriously made me think whether WM was the way to go and I've had a Windows mobile phone (in all its guises) from the very first ever. Either MSFT are on a rolling and serious schedule of bug fixing which will see many releases between now and Friday 15th alongside a whopper of an Anniversary Update otherwise we're all going to be underwhelmed and thinking 'when, what and why not this or that?'.

If you can't bare the bugs better not to be an insider. I'm aware the stable release is worse than the latest preview build.

Actually I can toelrate the bugs, What I didn't need was a 'sarky' comment like yours. If you spent more than 3 seconds reading the comment you may have realised it was about the little time to sign-off on 15 July of the Anniversary Update when there are still so many issues out there plus the absence of significant new features.

Battery not charges quickly on Lumia 640

Finally took the plunge and jumped to the fast ring on my L930. It's only been a couple of hours so far. Battery has dropped 25% but that's expected from what I've read. Everything seems smoother though.

Try a couple of soft resets.

On PC - the Evaluation Copy and build number is no longer displayed bottom right of main screen and This PC/properties just shows Windows 10 Pro, but Insider is still active. Is this the release version?

No. We are nearing it though.

When will we get the option to chose default apps in windows 10 mobile like the one in PC

Not sure if it will work for everyone else but, as I am based in Thailand, my 950XL region is set to USA and I got the firmware and all the latest fast-ring insider builds. This latest build still doesn't fix the phantom Windows Voice Recorder app update.

Also took the plunge from release preview to the Fast Ring after release notes stated the battery issues had been fixed..830. After 3-4 hrs battery was almost drained with very little usage. Someone is lying to someone at MS.

So you assess the battery life soon as you install the build?

No, did it twice.. Last night and this morning. Took off charger at full this morning at 8 by around 1 it was completely drained.. May have to do a hard reset.

All day battery life on my wife's Lumia 830.

Changed for the release preview to fast ring and installed this on my 950. Night and day difference! Phone is much more responsive and battery life is much improved! Keep up the good work Microsoft

I'm having problem with lock/unlocking my 640XL.The lock button isn't responding at all. Is this only me????

It is hardware error. Fix it from a reputable Microsoft Care Centre

The problem started shortly after updating to build 14372...

Anyone else get stuck at 87%? My Surface Pro 3 will not update

Yes, me too..stuck at 87%..29 mins so far...takes almost an hour, then goes to 91% and finishes fine

Still too afraid to test on my laptop Posted via the Windows Central App for Android

Plz button call recording.plz

I no longer have Visual Voicemail on my L950Xl with this build. My wife received this build for her L950 and still has VVM. I'm on Cricket Wireless and always had VVM, till today.

Thanks for pointing this out! I just checked my L950 XL DS AT&T. Visual Voicemail is gone. WTH?

Mine was gone too. Had to go back into sim setting and turn it on from there. Hope this helps.

I don't see any Sim Setting on my phone to turn visual voicemail back on. Neither could the AT&T Business Support guy I called today. He even tried to reinstall the visual voicemail software. He suggested that I go into an AT&T store to get a new IMEI number. Who knows?! I'll keep searching in the Sim Setting options. Can you provide any more details? Thanks!

No improvements on battery life of 1520

On my 1520.3, I still have, since months of Redstone, very strange "battery critically low" warning, then immediate shut off, even when I have 15% left. More strangely, if I soft reset, it says the battery is full. Anyone else? If yes, please report to Microsoft feedback.

Anyone else experiencing overheating (950XL)?

I don't have the Firmware update yet, but the 14385 W10m update seems to be running very hot for me. L950 XL DS

Edge is crashing like crazy. Posted via the Windows Central App for Android

Edge won't open on my L730. Some other apps weren't open too, such as WhatsApp. I've managed to get them open by reinstalling them, but for Edge, it's impossible! What should I do? Hard reset?

Photos app now duplicates device and OneDrive pics.
How did they manage to break this app

My laptop is not showing any update. It's on fast track.

I'm stuck at 99% since yesterday on Lumia 1520...

Try a soft reset to start it again

Hopefully, this build will improve the utterly dreadful battery life on the Lumia 930 that the previous build had. I was getting 3 hours battery life out of a fully charged battery on the build previous to this one. That was with all background apps switched off.

Still no update for pc to 14385 from 14383 even thou I'm on fast setting

Usually a soft reset will start it up again.

Sorry, just noticed that you said PC..

Don't see any battery improvement on Lumia Icon, battery draining at >5% an hour. Used for half hour after full charge and it from 100% to 83%. Having issues installing apps I have purchased as it is asking me to pay for it again and does not recognize that I have bought it / Own it. I had to go back to 8.1 using Windows Device Recovery and then back to latest build to get Hey Cortana working. When I restored my data, Hey Cortana did not work and so had to go back to 8.1 install and train Hey Cortana and update it all the way to latest build. Now, having tough time installing the numerous apps I have purchased and hopefully I can contact someone to resolve this issue!

WhatsApp notification stopped working on this build again...
Otherwise great build.

Anyone have problems putting it on pc? Tried twice, can't get past 87%.

Leave it sit at 87 % ,it will go to 91 % in about 55 mins...then it completes fine from then on

Have They Released A Firmware Update For Lumia 930 yet??

Don't think so, I haven't with 930 unlocked in Aus

I have used on daily pc for at least 5 months, have never been major issues on pc for me thankfully

Update went well for my 930 but my wife`s 930 gets hot and drains the battery in few hours even after a restart .... Seems just fine on my phone... anybody else experiencing this ?

Mine is staying at 87%. All day yesterday, several hours. never moved from 87%

Notification for text message stop working on this build for me, lumia 640

Broke Netflix on my 950XL.

Uninstalled, changed settings to install on device and then was able to install it. Works fine now.

Battery drain faster than a bullet train. Lumia 1520 Posted via the Windows Central App for Android

Well, build 14385 started off ok then for some reason my phone started getting hot and the battery usage shot up to 23%/ hour. So I went though the normal steps of powering it down then a soft reset. Still, the phone stayed hot. Went through 45% of the battery till it was almost dead in about 1.5 hours. Was thinking when I get home Wii need to do a hard reset. Now the phone feels cool and it's going through 2.83%/hour. Wonder what the heck happened? Holding off on a hard reset. 950xl ds unlocked and in New York. Still no firmware update.

Exact same thing happened with me. Started fine. Heated up the first time I charged and went from 100% to 15% in the first 6 hours with minimal usage. Charged again and it went from 60 to dead in an hour of listening groove in my car. Charging again, hopefully it will hold it's charge.

Please disable glance screen..same happened to me now its better than ever..

Display tiles not updating in Outlook mail and Calendar in my 640 XL build 14385...any one else has the same problem..?

Solved my problem on my Surface. Boiled down to not enough storage space to complete the install. Make sure you have adequate space. My SSD had fallen to 13gb free. Just a quick clean and single uninstall got me up to specs.

I moved back to 8.1 after 14379 due to battery trouble. After switching back I really appreciate the battery life 8.1 provides. I hope MS will be able to improve upon when the anniversary update takes place.
Till then m happy with 8.1
Lumia 435

Just to mention now I m getting more than 24 hours with my regular usage. Sometimes it goes upto 40 hours

It doesn't show insider preview in bottom right of screen any more?

Yeah we on Release Candidates now that removes the watermarks.

I m Using. Lumia 730 .after updating the build 14375 . Camera is not Working.

MS Health app causing issues on this build again. Draining my 930. Prevented it from running in the background and all is OK now. Sent feedback.

Settings app still not working for me. What can i do!?

Double tap to awake is slightly buggy. it takes a good second or two to register the tap . like wise its a miss most of the times. certain apps suddenly have become really laggy ( whatsapp , weather) which wasnt the case with the previous build. Lumia 950XL

I have Lumia 920 with build 10856.420 insider fast, I am not having any updates. What's the problem

Your phone is not compatible.

The battery improvements are not true I came from the release preview that the battery was already bad I can honestly say that this version is even worse it drains the battery of my 930 in about 6 hours now :(

Is it right time switch from public build .450 to this rs build

nope... never switch to Fast rings if u r using mobile has daily driver... may upgrade to slow ring.... I am using 14372 slow ring, very much stable but still has hell of minor bugs.... current slow ring build working better than production build in my L730

Using a Dell Inspiron 15 7000 series, Nokia lumia930 and Microsoft Lumia 950 xl, just installed the latest build on all of the devices and the dell and the lumia 950 xl have some issue with the drive getting disconnected very often for the dell and the memory card being unavailable. not getting same issue on the lumia930 but it is somewhat unstable. so in brief i have noticed some unstabilities with the latest build.

"We have improved battery life for older devices, such as the Lumia 830, 930, and 1520." Funny fact is, that my battery life on this build is actually worse than on previous :( Lumia 830

Don't know if this is anything but I go into the power options and checked the power use by apps and things like Facebook , twitter , fb messenger all use about 7% and right up at the top of the list is windows central app using 49% why is this app so high? Or am I interpreting this wrong and its showing WC app so high because I use that app alot more and longer than other apps at the moment.