Windows 10 build 14388 for PC and Mobile now available for Fast Ring Insiders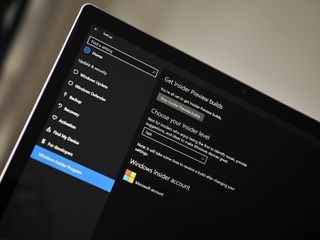 Wait, another Insider build?! Microsoft is pushing Insider builds out like there's no tomorrow, and with good reason too! We're at the final stretch of development now with the Windows 10 'Anniversary Update', so every build compiled is pretty much good to go for Insiders to begin testing. Today's build is 14388 for PC and phone, and includes many more fixes over the previous drop.
From today's official blog post:
Improvement to PC
We have updated the Store to version 11606.1001.39 with bug fixes.
We fixed an issue where Narrator keyboard shortcuts would not work after locking your PC and then logging back in and going to your desktop.
We fixed an issue where Narrator would not read the date and time under Settings > Time & language > Date & time.
We fixed a TPM driver crash that could result in the device bug-checking (bluescreen) and rebooting.
Improvements to Mobile:
We have updated the Store to version 11606.1001.39 with bug fixes.
We fixed the issue causing the keyboard to not show up consistently for InPrivate mode on Microsoft Edge.
We fixed an issue that could result in an app getting into a state after being suspended where it would be unable to launch until rebooting the device.
Known issues for PC:
A recent fix went into place for the Hyper-V firmware that will that affect the ability to boot Windows Server 2016 Tech Preview 5 VMs with Secure Boot enabled. A fix for TP5 builds has been developed however, due to release schedules, the Insider Preview build changes will be released before the TP5 fix is released. During that time, if you try to boot a new TP5 VM with Secure Boot enabled, it will fail. The workaround is to disable Secure Boot during this period.
After you install this build on a PC using a non-EN-US language, you may get error code 0x80004005 when enabling Developer Mode on the "For Developers" Settings Page. Even after seeing this error message, your machine is in developer mode and you should still be able to use Visual Studio to develop Universal Windows Applications. In most cases, this error indicates that extra components required by the operating system to enable additional debugging features in Visual Studio or the Windows Device Portal could not be installed automatically.
Known issues for Mobile:
Voice Recorder does not show up consistently as an option for Call Recording. We heard your feedback and plan to release a Voice Recorder app update via the Store soon that has the fix for this issue.
Wallet users are prompted for a PIN twice when using tap to pay from a locked phone. You can enter their PIN twice and tap as usual once the phone is unlocked.
REMINDER: We have changed the backup format for Windows 10 Mobile devices to reduce the size of the backup stored in OneDrive. As a result, if you do a backup on a device running the latest Windows 10 Mobile Insider Preview builds and move back to the released version of Windows 10 Mobile (Build 10586) and restore from your backup – your Start screen layout won't restore and remain the default Start layout. Your previous backup also gets overwritten. If you need to go back to Build 10586 temporarily, once you are on Build 10586 you should disable backup so it doesn't overwrite the good backup from Windows 10 Mobile Insider Preview builds.
The Windows 10 'Anniversary Update' is set to launch to the public on August 2nd, with Microsoft wanting a final build signed-off at some point this week. If all goes well, Insiders could have the final bits to test as soon as next week, pretty exciting stuff.
Zac Bowden is a Senior Editor at Windows Central. Bringing you exclusive coverage into the world of Windows 10 on PCs, tablets, phones, and more. Also an avid collector of rare Microsoft prototype devices! Keep in touch on Twitter: @zacbowden.
I'm soon gonna start complaining about the number of build releases on the fast ring!! :D The train at Redmond, TOOTOOT!

Anyone having trouble opening maps? Or, for that fact, getting maps to update?

Not with map but with other apps I'm having the same problems. One app is the windows 10 windows central app would not open or update. I uninstalled it but now won't reinstall. Currently using the windows 8 app

Are you being serious. Can't be

Another potato!
I wish firmware would rollout this fast!

You can screw up things badly if you release firmware without proper testing.

It's already rolling and I don't have a carrier locked or unlocked phone...

It has already been tested and deployed in almost every place except North America.

Unless you have the single SIM variant like my 950XL RM-1085. The rest of my family have the US 950/XL and none of them have received the firmware update yet. Maybe the dual SIM versions aren't getting the firmware update regardless of region.

I got the firmware update!Lumia 950XL DS Greece

French 950XL in UK (DS) on first day here

My PS4 is dying for RS1...

Replace it with an Xbox One S; problem solved. ;-)

Battery still diying ridiculously fast on my 1520.3 with the previous build where they claimed to have fixed/improved that (haven't intstalled this one yet). I already performed a hard reset but it looks like it didn't help. I know there are people with 1520s that are working just fine so who knows what the issue might be.

Poor on my 950xl recently. And the apps cause a lot more heat. Baconit is a hog when showing photos. Hope this one helps WiFi too.

It did take a day after hard resetting for it to be fine on my 950XL after it was able to reenter fast preview and download updates

Battery life did get better on my 735 though

The Battery life time on my Lumia 532 is good from recently builds. I just have to charge my phone 2 times a day.

I charge my L640 XL every other day with a bout 20% to spare. Not too bad.

Yup, battery still sucks on my 1520 as well. I charge my phone 2-3 in a day.

Serious, m not facing any issue you mentioned.for me..it comes around 20hrs of continuous rampage on phone except online streaming, mine l1520

It takes a day or two for the phone to normalize after an update

can you try turning the feedack option to basic and see hwo the battery goes!

Their are apps that eat into battery when in background like not tomorrow. TubeCast and Viber are FOR SURE eating battery and making the cpu hot as hell when they are opened but the screen is off. I saw a really strange behaviour with them. I was talking on viber and the phone started to get hot quite fast while eating battery. I pressed the homebutton by mistake while talking and the phone while on startscreen, started to cool down. After 10 min was cold and battery wasn't dying that fast. Entered again in viber (remember, all of this while talking) and started to get hot. Happened the same with Tubecast. While watching a video i just turn the screen off to here only the sound. I forgot about it after was over and after 20 min i returned back to my phone. Their you go, hot as hell and battery draind from 40 percent to 17. I closed tubecaste and started to cool off. So, if this two apps does this, i am pretty sure their are others that does it to. And quite sounds like the problems you guys have. Lumia 950xl, single sim. Germany.

i think its the device version that matters, i havent had any issue with my 1520.1 but my friends with 1520.3 has issues like battery. on 14385 my phone went through 30+ hours with DATA,location etc constantly on, browsing games and facebook etc, which is awesome

On the contrary, mine is 1520.1 HK and I've had the same issue since February until a fortnight or so ago. Right now I'm beaming with pleasure even though I am awaiting delivery of replacement battey that I shall not need after all. I had read extensively about the "fixes" with no luck till I thought maybe it could be the battery.

For me it has been really good from os point of view, few apps are draining the battery, which is almost near to that in 8.1, over night idle the previous build took 3-4% of my battery...8hrs of sleep time for mobile

Let the battery drain COMPELETELY THEN recharge. Worked for me on 950XL

You do know that's the worst thing you can do to today's batteries right?

But it is the only way to force the phone to recalibrate the battery meter.

It's not. Battery cycles accumulate all the charges. So if you charge 5 times by 20% it is equal to 100% I.e 1 cycle. So you are doing it everyday, thus battery issues are the worst these days. You are forced to charge more often and reduce battery life faster. By the way 1520 is relatively old phone so may be many of the people are close to the end of their lives and they keep less energy and battery depletes faster. It might be not the OS but the battery itself

Li-ion batteries should never be drained completely. You should top them up as often as possible to get max performance.

They can't be drained completely... There's always about 5% left when the phone dies.

Don't tell them - let them fight...

They've lost when they comment :)

Battery life has been great for at least three builds. Might want to try resetting and not using back up.

Same here with a 930 it lasts for about 6 hours :(

Same here, Lumia 930. It is not the same thing to improve something and to fix something. The battery drain is still horrible for snapdragon 800. Posted via the Windows Central App for Android

Hi, Though I don't see a battery drain issue. I do have a issue with screen brightness - does low,medium,high -auto work for you from the action center?

It did the same on my wife`s 930 but after 2-3 full drains and the phone was getting ward, I connected the phone to the PC to move some file for a hard reset and after that everything worked fine, without doing the hard reset, now after 24 hours of use the phone still holds 50% battery.

i thought i was alone. the batt life is ridiculously bad. was much better on .85 i was lasting 18 hours with my 640XL now its 5 hours into my day and its at 80%

Check and see what apps are running in the background that you are not using. Turn them off and the brightness reduction will help. I have a 950 and that is what I do especially with the apps running.

Is Visual Voicemail on? It was an absolute battery-killer when I tested it.

maybe its time to replace the battery xD!!

No. I've had redstone for a while and was immune to allot of the problems people cited. But not anymore. For the last 4 or 5 builds my battery goes FAST. I've done the full reset.. I've stopped allot of background stuff.. I don't have an elaborate Start Screen setup.. I've also lost the back arrow button on the nav bar. Well, it still works (but very delayed and intermittent)... but is now longer backlit. Maybe it broke? Or maybe it's software. Anyone else seen this issue?

I experienced the issue with the wallet app today. I tapped my phone to the terminal and hello scanned me is like normal. Then I had to do it again when the wallet app opened. Normally it only requires verification the first time. No big deal, but hopefully it's squared away in the next update.

Hey there, the wallet app was updated for me today so maybe when you update it that will be fixed.

Okay, so the missing volume controls (media + ringer) on the last fast-mobile build isn't a bug? Wtf. I can't silence my phone while music is playing or turn down app sounds BEFORE a video or song starts?!
This better not be an "improvement" Microsoft. EDIT: Son of a *****. for whatever reason the little arrow on the right wasn't showing up... Nevertheless, found a bug.

I am still on build 14385 and there's no such bug.

Happened to me when i upgraded once in the past and a reboot fixed the issue.

Loving the fast release of builds but all I really want is that firmware update for the UK. This no internet issue from WiFi is starting to get annoying especially be coz for some reason my device doesn't fall back to mobile data if there is no WiFi :-\

Hit me too today, first time for ages.

Hoping the FW gets here soon but if not, ill just wait for AU release, not in the mood to wipe device right now.

I'm pretty sure cellular fallback for no Internet access on Wi-Fi is off by default, It's under Wi-Fi in Data Usage.

It is by default but I changed it to being on. For some reason whenever I get the no internet warning for WiFi, I get no data related prompts because the device doesn't fall back to mobile data.

The phrasing of the cellular fallback on the phone is confusing!

No firmware update for the UK, I am sorry. It's only available for Europe right now.

Lols, did MS take Brexit to heart :-). Hopefully it will get larger release soon.

I am just joking. Of course it will be.

So was I :-). It's probably just being held back by operators in the UK.

Lets hope not, there might yet be a 2nd referendum before the end of the year anyway. Once all the prices in the shops go up, people can't afford holidays to the continent and the goverment starts to make massive cuts to government services, people might wake up to what they've done.

That is true but let's leave Brexit talk out(though I originally mentioned it) as this too much for WC to take :-)

You need to enable in your cellular data settings

I have done so already. Something isn't working as its supposed to.

FYI, you can monitor firmware availability by device & region (Lumias only) at http://www.lumiafirmware.com/.

Thanks, but the DTTW firmware that Dan posted is not there for L950 NAM CV?

For me on 1520.1 this is evident with Whatsapp. I appear not to have any issues with sending msgs with Data but msgs sent to me during when there was no WiFi will only appear when I restart the phone and it picks the WiFi connection.

Yes, I find that too and also with my emails which is #£%&*&% annoying as hell.

Probably not until "final" build before they switch to the cumulative updates.

Downloading now on (spoofed) 920.

The last three fast ring updates have (after doing the usual reboots during install) ended up hanging on the black screen with the spinning progress indicator. (I actually left it there for three hours, just to be sure). Waiting for it to hang and then forcibly powering it doen, rebooting and having it recover the installation has worked every time, but I'm hoping this issue will go away with the newest buiild.

Downloading now. For those with battery issues, try disabling background apps and location awareness.

Go to Microsoft and get your battery replaced. I had poor battery and realized it's because my battery was starting to expand. Since I went in and got a new battery my phone has had amazing battery life. (950XL by the way)

I have never seen an extra battery available anywhere for the 950XL, or did MS store just take one out of another phone?

I was trying to download 14387 an hour ago and it find the update. I knew they were up to something :) Now, my surface is downloading 14388 so I am happy that I didn't get 14387.

Lumia 950 wifi connection still erratic.

After the firmware update?

I have stupid AT&T and you know how they push out firmware updates.. But I'm having those same issues

A few features that were demoed on stage in the Build 2016 keynote still haven't shown up in the insider builds. Are they still coming with the Anniversary Update? These include: 1. Inking and drawing routes in Maps, 2. Pen editing support in Word (deleteing paragraphs, marking up, etc.), 3. Ruler & other inking tools in Office 4. Cortana picking up To Dos & appointments from emails and integrations (booking tables for lunch meetings, etc.)

I guess this will be the last Insider Build, and the next build might be the final one that everyone will get on 2nd Aug. Might be 14400. I hope Insiders get the final build by the end of this week.

I hope they don't release this build with this wifi issues. DHCP set gateway and dns, but ip is just a random one... Good that I cannot set them manual.
930

Wifi is still broken on my Icon as well. If it connects and doesn't lose connection it is fine. If it loses the wifi connection I keep getting the "no internet" message until I reboot.

Pesky updates...
..
I was given an iPhone 6s plus at work...actually I chose it over the android model. I must say, I love windows mobile, I love the hardware, but we need serious developers. Apps are the big difference. It's the quality of the apps. Omg, Lego star wars felt like an Xbox 360 game. Nonetheless, my 950 wins. Our keyboard is way better. Sd cards are awesome. I wanna marry Cortana. The 950 display crushes the iPhone. Force touch is under utilized. Our settings and abilities are superior (display settings, equalizer, etc).

I used an iPad for the first time in ages on Saturday, a friend was having problems with safari tombstoning whilst trying to access a shared OneDrive folder. Jeez, I'd forgotten just how claustrophobic iOS is... Less than 2 minutes with it and I could already feel my blood boiling... I actually gave up with it completely in around 5 minutes... Any longer and I'd have done it physical harm! In the end I just downloaded the file she was trying to get on my 950XL and emailed it to her!

Lol! I had a similarly frustrating issue trying to do something very simple on iPad. Blew my mind how pathetic the software and integration and syncing is. TIL Apple ID and iCloud are two different things and need two different emails.
Proper blood boiling stuff.

"We fixed an issue that could result in an app getting into a state after being suspended where it would be unable to launch until rebooting the device.​" ​i think my windowscentral app waas suffering from this

Can win central post a list of mobile specific changes from Threshold to Redstone?
• I can think of:
1) Changes to actions and notification center. Hero images. Visual changes. Priority notifications(is it for mobile too?) Adjusting places of quick action tabs. Universal notifications sync between devices(?)
2) Changes to lock screen. Music playback controls on lock screen.
3) Visual changes. Settings app(?) Store app.
4) Changes to app controls. App extensions and app resets (did these come to mobile sku or even pc sku?)
5) Live tile changes (more reliable, chaseable livetiles?)
6) Feedback hub.
7) Microsoft wallet 2.0
8) Slideshow, album formation and animations in photos app.
9) Your groove functionality.
10) Changes to system backup.
11) Cortana improvements and functionality. Photo reminders. Read later web links reminders(?) Missed call notifications.
12) Improvements to maps app.
13) Native network speed test under settings (is this for mobile too?)
14) Windows insider program integration natively under settings. (mobile sku?)
15) Kids corner functionality dropped.
16) Wifi sense sharing dropped.
17) Native FM app dropped.
18) UWP Skype app which may or may not include integrated SMS and Messaging Everywhere.
• Fingers crossed for future redstone 2 releases for mobile; features which are already available on PC SKUs for Redstone 1:
1) Edge extensions for mobile.
2) Windows inking platform for mobile.

An issue with every improvement.

950XL DS here. Is there still no way to send mms on sim 2 while using the data of sim 1? It's so annoying having to switch sims just to send pics each time. Anyone know?

Ok dona does know what that button does right?

After this update, wallet got update too

Wallet got update in build 14385

They need to fix the GPS so i can use my driving apps for work >=[

Voice Recorder has no problem oh the new build and the one before.....950 XL

Working fine on build 14388 1 issue still is the scaling issue on the 635 apart from that its a great build.

I'm afraid they won't solve this if they haven't done it yet. :(

People with this issue need to visit feedback hub search for Please fix bug 7 and upvote it the more upvotes it get the fast Microsoft will notice the feedback and fix it. Right now they are dealing with bugs that have tones of upvotes then the ones with the lesser will be looked at when they got the time.

You also told this in the article about previous build. I upvoted back then. It merely had just 2 upvotes at that time. That's why I said I'm afraid if MS will notice it or not. Also, we (Lumia 635/638 users) are very less in no. and even lesser people are on the redstone build.

Does anyone know if this update sets up the visual Voicemail for Verizon on Windows phones? Specifically the Icon?

Which models support the voice call recording?

US 950xl users, Is the double tap option available to you guys after this update? I still don't see it.

A firmware update is required, which has been slow getting to the countries that count. :-/

Ah, well we better wait. No worries.

I got the fw update a couple of days ago, didn't do anything special, it just came up and installed. And yes, double-tap to wake works just fine (unlocked 950 XL in US)

Dang, still nothing for me. Btw do you have the option of Printing photos directly from your phone? I do remember that update rolled out some months back. I still don't have that.

Yes, it works with all the latest updates, including firmware.

Going excellent on my Lumia 640, just finished installing, the update used only 3% of battery, took about 15mins to complete.

For me the 85 build was fine. Looks like RS is cooked and ready for dinner. I use a 640 on RS and a 830 on TH. Grabbing the new build on that branch too.. SO much to do today!

Camera stop taking photos after 6-7 shots , even after rebooting it says "saving" ..does that fixed in redstone aniversary update??? I hv l 640

they did not fix battery draining

Battery drains drastically and mobile heats up as soon as the build is installed. This will continue for at least 24 hrs from the time of installation. After that the phone cools down completely and battery will completely fine. This is what I observed. I guess many installations happen in bg after the new build is installed.

Camera stop taking photos after 6-7 shots , even after rebooting it says "saving" ..does that fixed in redstone aniversary update???

True..... May take a couple of days to settle down. My 950 battery has improved a lot since last build.

Unfortunately, neither of my big issues on mobile are mentioned, not even as known issues: Wi-Fi disconnect, and text scaling. For Wi-Fi disconnect, it seems like MS thought that firmware for the 950/XL would fix this, but there are so many other devices, like my 640, that are affected. Text scaling problems are just making everything look terrible and barely usable (Edge is the worst, but not the only, app this applies to).

Not to mention that turning off the bluetooth in the action center when connected... first time nothing happens and second press the screen is frozen for about a minute. Still not fixed and this started about 3 builds ago.

WC app for w10m crashes badly in this build...

on my 950xl it crashes all the time, on my icon and 1520 it works fine

Can someone that also owns a 640XL confirm for me if Cortana still is deaf (for voice recognition of course) when first activated (by either holding down search button, or loading with start screen button) but after timing out, works fine when you hit the mic button? I've reported this multiple times in feedback hub, but beginning to wonder if it's not something that can be fixed in software...

I just long pressed my search button and asked Cortana to tell me a joke - worked just fine on the first try! To be clear, I just finished updating to the latest build.

Hopefully this latest update allows any apps installed after the updates to open - seems nothing will work lately. Oh yea, and it doesn't fry my Band 2 battery life anymore, which has been reduced to under 12 hours with terrible Bluetooth syncing for notifications and SMS responding.

Edge has been pretty bad the last few builds. Things like OneDrive.com don't work well in it, Close all tabs doesn't work when attempting to exit Edge.

Any talks about panorama mode in lumia camera ??

Or at least an app for panorama would be nice..

Guys tell me about battery life?

Better than wp8.1 on my L830

I see nothing noted about wifi dropping on mobile. Am I the only one noting this issue? Once it shows "No internet" nothing but a restart brings it back.

Same for me already reported on Feedbackhub couple of times.


Same thing here on this and last build.