Windows 10 build 14393.222 now rolling out to the general public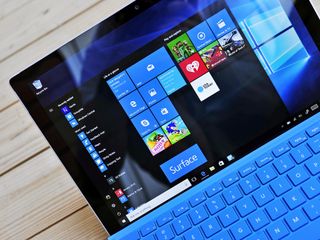 Microsoft has just released a fresh cumulative update for Windows 10 users on the Anniversary Update. Labeled as cumulative update KB3194496, this release brings the build number up to version 14393.222, and includes a number of improvements and fixes across the board.
Here's a look at everything that's improved and fixed, according to Microsoft's update tracker (opens in new tab):
Improved reliability of the Windows Update Agent, shared drives, virtual private network (VPN), clustering, HTTP downloads, Internet Explorer 11, Hyper-V platform, multimedia playback, and Microsoft Edge.
Improved performance of push and local notifications, Hyper-V platform, and some social media websites using Microsoft Edge.
Addressed issue where mapping a drive from an elevated command prompt doesn't work with administrator credentials.
Addressed issue causing movies that were ripped using the transport stream (.ts) format to play without sound in Windows Media Player and the Xbox One Media Player app.
Addressed issue causing the Movies & TV app on the Xbox to stop working when attempting to play content that was just purchased from the Store.
Addressed issue where ActiveX can't be installed when using the ActiveX Installer Service (AXIS) in Internet Explorer 11.
Addressed issue causing "Print all linked documents" to not work in Internet Explorer 11.
Improved reliability of downloading and updating games from the Store.
Addressed issue preventing some users from changing the default download location in Windows 10 Mobile.
Addressed issue causing unnecessary notifications about fixing Microsoft account in Windows 10 Mobile.
Addressed additional issues with multimedia, Windows kernel, Windows shell, enterprise security, storage file system, Remote Desktop, core platform, Hyper-V platform, Windows Update for Business, display kernel, near field communication (NFC), input and composition, Bluetooth, Microsoft Lync 2010 compatibility, Windows Storage API, app registration, Trusted Platform Module, Group Policy, Internet Explorer 11, virtual private network (VPN), BitLocker, wireless networking, datacenter networking, Cortana, PowerShell, Active Directory, connection manager and data usage, Access Point Name (APN) database, Microsoft Edge, Windows Recovery Environment, file clustering, Universal Windows Platform (UWP) apps, audio playback settings, DShow Bridge, app compatibility, licensing, cloud infrastructure, domain name system (DNS) server, network controller, USB barcode reader, and Adobe Flash Player.
This is the same build that rolled out to Windows Insiders on the Release Preview ring earlier this week. It's worth noting, however, that tonight's release looks to be only for PC so far. We'll update this post if and when it hits Mobile as well.
Thanks for the tips, Ratindra and Christopher!
Windows Central Newsletter
Get the best of Windows Central in your inbox, every day!
Dan Thorp-Lancaster is the former Editor-in-Chief of Windows Central. He began working with Windows Central, Android Central, and iMore as a news writer in 2014 and is obsessed with tech of all sorts. You can follow Dan on Twitter @DthorpL and Instagram @heyitsdtl.
Yes, just installed it. I guess Mobile will follow tomorrow?

That's interesting, because in the list of changes they list that they fixed and issues with changing the default download location on win mobile.

My downloads still only goes to the main device....even doe I have it set to sd card.

It also happens with me in latest noninsider Lumia build...

I thought that would be fixed with this update. I'm sure the problem would be frustrating even though you installed the update already.

i hope the vpn issue is fixed

Is that the application(VPN) issue or software issue?
Because I contacted Touch VPN they said a fix is in works.

I thought I had read in an earlier post that this 222 is specific to desktop and is identical to 221on mobile, with the only difference that it has some XBOX specific fixes, not needed for Mobile.

Odd that they'd release this to the public with the known installation issue. Kind of negates the point of the Release Preview if they are just going to ignore that.

I am unable to install mine too on my pc

Same here, first update I can remember that fails on my SP3

Yep 3 computers all various ages and makes did not install.

Exactly, given the fact that for 99% of insiders this update is clearly broken it's mind blowing that they would actually release it to the public!!!

To be fair, it's probably far less than 99%, but still my point stands.

FAIL ie UNABLE to ,,,,,,, after 99% on my Surface 3 six times in Release Preview. After see this announcement today I ran the Troubleshooter for Windows Upate and it "fixed" numerous things. Re-download the KBxxxxxx and it FAILED again and reverted back to xxxxxx.187.

same here, to be continued...

Surface 3 working well here. Updated by itself automatically last night.

I thought that was fixed. My Surface Book finally updated last night.

Won't install on my machine either. Do not have my PC in the insider program right now. Currently running build 14393.187. The update downloads fine, reboots, and then says it failed to install and reverts the changes. Thankfully everything is still working fine on my PC but the update won't work until MS pushes another one I guess. First time I've had this problem and I've been running W10 since release.

Yes I am shocked myself.. I reported it flat out wont install on their own Surface pro3!!

After downloading it stops preparing to install the update with error 0x80070002 here...
Do i unterstand it right that this is a known issue of this build?

Installed fine for me, luckily.

I hope this fixes the issue with my Lumia 950xl having a black screen when windows hello kicks in.

Yes I am aware of it being a PC build. Just was saying I hope whenever it does roll out that it fixes the issue on the 950xl.

That is sooo blasted annoying to always have to restart to get a few days without issue before it pops back up. I'm wondering if a firmware patch is what's needed to fix that, since it's technically a hardware issue. It involves DDTW and iris scanner. Hoping that the upcoming CU solve this issue as honestly that's the only issue I'm having. I've realised that apps that crash on opening are fixed when I move their location from card to device (Windows Central, Facebook) those two work without issue and the WC app is lightning fast when opening now. Loving this OS more and more with each new CU, right now it's making me hungry for new features and having to wait for RS2 seems like such a long time away but I'm in no hurry to join the fast ring.

im having this problem too and it makes me go crazy when it happens

I know the feeling. This is the only issue that I have with the phone on the whole. The OS is butter smooth. I hope this is the fix for it or that there working on a fix. Also windows hello should be out of the BETA stage if you ask me. I dislike to see other OS (Samsung & Apple) come and perfect what Microsoft started. Nokia with "Living Images" that apple took and prettied it up. Then with the iris scanner Samsung came along and there device opens up with pure speed. Smt.....were almost there Microsoft just a little further to go.

yep i have to use the camera button to turn the screen on or restart the phone. this problem appeared after the las firmware update. as for android and apple they all have problems even with these features. i have seen my friends restarting their iphones because they stop responding or when taking pictures the phone turns off. and as for the iphone benchmarks you have to keep in mind that they are running at a lower resolution, thus the faster benchmarks. just like games lower the resolution and you get higher frames per second. apple plays it smart.

All platforms definitely have problems. No OS is perfect at all.

I hope it brings back the better battery life that caused by .189. The .67 had better in battery life on my 735

735 is not pc, wait your turn!

Waiting for mobile.
Current build is smooth enough.
Next build should be smoother.

I hope they'll add GATT support for bluetooth soon. It's been 6 months since I bought my Fitbit Blaze.

this feature is much needed, but i think it'll be released in redstone 2

Just in time for Thursday Night Football... ;)

I am at a loss. I have the Release Preview and it would get to 99% and stop and undo the updates so I turned off Release Preview. Then this afternoon, I get the regular cu, and it does the same blasted thing. Why release it if they haven't fixe it?

And me, even post Win UpdateTroubleshooter finding four issues it fixed on Surface 3.

Yeah I'm also having this issue. It's the very first time I'm experiencing such though..

So they've ignored the reports from lnsiders about the installation problem with this update, and gone ahead and released it generally. "At a loss" about this company is an understatement...

Exactly how I feel, what is the point of a Release Preview ring if ALL the feedback is ignored anyway.

believe me, nobody's reading our Feedbacks, nobody...

I hope the mobile version of this release fixes my dropped Wi-Fi issue. My phone is near useless without Wi-Fi.

You on the 930? My father-in-law is going nuts with the issue with his 930 dropping wi-fi and then he has to restart his phone to get it back. I sure hope they get that one fixed soon. It is driving him crazy.

Tum off connect to hotspot anything on the mobile that connects to WiFi apart from WiFi itself, turn off Bluetooth NFC you will be amazed what connects to WiFi.

Can't install so why the hell they rolling out ?

And no workarounds or any response.

The only workaround is to hide the update using the troubleshooter here:
http://www.zdnet.com/article/microsoft-releases-tool-to-hide-or-block-un...

Thank you so much man. I was looking for this as I cant seem to install the update like all other insiders. This. 222 update installation comes back again every 2 hours after undoing the changes even though I've opted out of the insider program just because of this but it still can't seem to stop the update. EDIT: the link says page not found:/

Try this: https://t.co/r85CcS5LF0

The link should work now. It looks like it gets truncated when trying to paste it into the app.

I must be one of the few lucky people. I received this update today on my laptop with no problem at all.

Yep, definitely in the 1% who can install it :-(

Count me in. No problems eighter

Installed fine on my Surface 3.

It has failed twice on my Surface 3

What a joke that the rolled out this buggy update. It fails on three of my computers including the Surface Book to install

This update broke the audio on my Surface Pro 4.

The update installation still fail on my pc

A joke indeed! I opted out of the release preview ring, uninstalled the update, and lo and behold they've released it to production. Really fed up of this download, install, fail and rollback loop over the past couple days. Can Mr. Rubino or Mr. Thorp-Lancaster get some clarity on this? No replies thus far with tweeting @DonaSarkar or Jason@NorthFaceHiker

I did see on answers.microsoft.com an employee respond to this install failure for a subset of users stating something about awareness and teams researching and finding potentially the issue(s) and now a team working to correct this issue. That makes this release to the general public even more strange.

same here, update and Rollback Loop since first release of this update....

I just installed it on my Dell XPS 2720, personal SP4, work SP4, first edition Asus Zenbook and my son's Asus T100. I'm surprised to hear that there are so many people hitting problems while installing this update.

This update should never have been released to the public, the problems have been there since it was released to the insider preview ring.

So the question is do MS have a way of counting how many have successful installs compared to unsuccessful ones?

I think you will find it's a regional problem as to who can and can't download the update.

It isn't a regional problem, why would it download, install and then roll back. If it was a regional issue then users in specific regions wouldn't be able to download it at all

I just got it installed on my SP3 and my HP Stream 7 without any issues.

Just installed on my older Asus Transformer Book without a hitch.

Surface Pro 3 - failed twice for me. First time I can ever recall a patch failing on me like this. Desktop PC installation was fine.

Funny because in Release Ring this failed over and over on my Surface Book, Surface 3 and Surface Pro 3 so.... not sure what they're thinking.

Installed fine on my SP2, sounds like I got lucky.

My SP2 didn't work. Had to roll back. Is it maybe language/region

I have the installation issue here. Said it could not install. Why green light it if they cannot get it to install properly? Kinda strange

Apparently MS didn't get the TP reports.

What is wrong with this update? My download has been sitting, stalled at 63 % for an hr.and a half. Please tell me this isn't going to be as stubborn as the last cummulative update that took over 6 hrs. I think I will pull my hair out, lol! Anyone else having this issue?

I suggest you to download Standalone package of Cumulative Update: https://catalog.update.microsoft.com/v7/site/Thanks.aspx?id=150 ; MS CATALOG open with INTERNET EXPLORER

This update isn't on the Update Catalog, other Cumulative Updates are but not this one.

Any updates that stick at any % I reset PC and go back after reset and it normally continues the download again.

? how will MS ever convince Enterprise to adopt Windows 10 and the same devices to be used can't install the OS properly.

You do know that Enterprises can choose not to get the absolutely latest build released, right?

Works great on my laptop.

Could the failed updates be peculiar to only Insider Builds? I'm thinking so because my two non-insider PCs updated without any issues. Only my Surface Pro and laptop on Release Preview keep failing. Probably it has already been ascertained that it is an Insider issue and okay for regular production machines.

That's a good observation.

Same situation here. S3 RP Fails. SP4 non-insider fine.

I doubt it, as my desktop which is on the Release Preview ring installed it just fine. There are comments further up from people who have never had their devices in the Insider Previews and they have this same issue.

Update got stuck at 63% and not moving ahead

what about the freezing issue that occurred for users with ssd as boot drive and app installed on 2nd drive (windows apps included) ?? is it fixed?

That's fixed a few builds back

Failed! First failed update ever. Surface pro 3 Posted via the Windows Central App for Android

After going from all comments looks like its better not to update.

Installed successfully. Thank you

update got struck at 45% for 3hrs
And Ms catalog is saying that there no update package is available please help

Reboot the device and start update again.

All good here. Both PC and SP4.

Can ANYONE with a SP3 confirm success? This update is f**ked.

Everything ok with SP3 and SP4

did it resolved MS edge web recover issue ?

Mine stuck at 95%. When will microsoft solve this problem? I manually updated the previous updates. I don't want to do it that way hereafter Update: Mine finished after three hours

try resetting your computer

I don't get it. Mind explain?

his update stuck at some % but if u reset the PC it will format everything.... OS install stuck for somany users but if u wait for few hrs or 1-2 days it will install..... it happened with the last update too...

Oh, I meant for him to reset since he cannot update automatically for a few times now. Spending 3 hours to update is also not normal.
I am not telling him to reset because he cannot install current update, but from the trend of deteriorating experience.
Am I getting it wrong?

hope wushowhide.diagcab works, getting nuts with this update/Rollback Loop since days now...

Updated this morning. Too early to say but so far no issue.

You wouldn't notice the install issue because... err... it only occurs when you are installing the update!!!!!

Umm, a rollout at almost midnight.. Posted via the Windows Central App for Android

I only want windows 10 for Lumia 625 which is 512mb ram

You had the option to update to W10M TH2. If you didn't, tough luck. Get a new phone.

Don't know when Microsoft will release that

Update broke my audio on Surface Pro 4. It doesn't recognize my audio hardware now. Gonna roll back and try again.

and still broken... thanks MS... no audio on SP4 anymore

Audio is consumer feature. Not needed in enterprise focused hardware.

I think the music industry would disagree and anyway, an update shouldn't screw up audio on any device.

Getting a few trolls in before school ?

Does insiders preview builds are safe installing, anyone please comment on this. Thankyou

Yes but better pick slow ring. Less bugs and issues.
Release Preview is safer.

Okay..will follow slow updates. ND thx again

No u find some bugs for sure... You will find atleast one annoying bug. So becareful before you opt for release previews. But slow and fast has lot of bugs. Personal opinion, if you're phone comes with 8.1 OS don't opt.

@sellekta. Seems like you have to do a reset on that phone LOL. Just make sure you back up before doing it,good luck.

Windows mobile 10 is getting slow everyday my unlock screen takes 10 seconds to unlock , my phone home screen refreshes when i close an app

Hard Reset or even better use WDRT to reflash the OS and don't restore a backup.

Its not a mature OS, doesn't work well for the phones which came with 8.1 OS. So bare it or switch to android.

Interesting. My 640XL with AU is way more stable than my 950XL was. I've never been so happy with W10M as I am now.

I am too very happy with latest build. my battery has been messed up by signing up Fast/Slow rings and no. of hard resets due to previous worst non-stable builds.... Looking for new Lumia 2220 mah batteries but unable to find genuine ones.
.189 was very stable build in my L730 so far since win10 upgrade.

Hmmm build 221 is working fine on my icon and it came with wp 8. No android for me lol..

only heavy mobile users get to know the issues.... just answering calls, using 2-3 apps a day doesn't get many issues... I browse alot, play games(atleast 4 hrs/day) i know how many apps use to crash and won't restart until u do soft reset.... my battery messed up, it looses 8-15% battery charge if i soft reset... want to change battery but i can't find anywhere... In online I can only find fake ones...

Hmm im not exactly a light user myself. I manage a hosting site / support email on the go with my icon. Like you I do loose excessive battery on soft reset (do it every build update / app updates) and id like to see that go away

lot of people told me its battery issue and not OS one... whom to believe ?
.189 runs amazingly good but app crash issue is never resolved.

I don't think it's the battery itself on this end.. The icon was never a battery angel but if I don't soft reset i can get through the day with it.. The battery is gasping mind you by then but it makes it lol.. I have nothing disabled in background tasks, what good is having a smartphone if you do stuff like that and make it a dumb phone lmao!

Why would anyone down vote someone reporting personal issues with W10M? So stupid!!!

Because this is not a W10M thread, that's why the down votes.

This is a desktop build, the mobile version is 14393.221

Plz tell me is this update for Lumia 640XL

You need to ask that on the forums as it does not relate to this article about a desktop build

This build has 14393.222 183Mb size. ? please tell for L-550

I've already stated that this build is not, repeat NOT for mobile. This is a desktop only build!!!!

Still cant get it to install on my main pc or my surface pro 4.. 99% and then it rolls baxk

It took quite a while on my desktop (figured it was going to stuck) but the update was a success. I hope it's the same for my laptop this time. I usually have more problem on it than on my desktop.

Still cant install it (preview ring) :/

Apparently Microsoft know about this issue and are working on a fix/workaround. Looks like they didn't allow much time for testing and ignored Insider feedback. What they need to do is pull this update immediately and only release it when it's fixed and has been tested by Insiders.

I agee, this KB should be pulled until they can release a "fixed" version. (FWIW, the update would not install on my S3 but did on an older desktop?) It appears the "testing" done for most updates is primarily from users.

It SEEMS to be a somewhat significant problem installing on certain Realease Preview and NOT with non-Insider machines based on my own experience w/ 4 machines and comments on MS and other sites.. Anticipate a solution from MS.

That's not quite correct, take a look at feedback on Microsoft Community and you'll see there are users that have never put their devices into the Insider program and they still have the same problem!!!!

FWIW, My Surface 3 failed to install the update (Two attempts) and it is not running the Release Preview.

I have an hp laptop and it won't install either.

I posted the issue yesterday on the German insider forum at MS, and the post had 539 views since. To avoid reinstalls, I used wushowhide.diagcab to hide it.
If you want to upvote: https://answers.microsoft.com/de-de/insider/forum/insider_wintp-insider_...

It installed overnight on my PC without issues. (This device has never been on any insider rings)

I've been running build .221 on my 950 since it got released to preview ring and it's been horrible. I haven't seen reports of anything but it's completely screwed up the notifications on my phone, and the live tile for many apps have stopped working. Numerous soft resets and restarts haven't done anything. I switched to release preview to avoid buggy builds as much as possible, and this one has probably been one of the worst for me. Anyone else having issues on mobile?

And this has what to do with the PC release?

Considering its been stated that .222 for PC and .221 for mobile are basically the same, and the article itself says they'll update later if it becomes available for mobile, I figured, what the heck, maybe I'd throw this out there. But, you know, thanks for taking the time to write such a helpful comment.

This thread is about a PC update.

wont install on my laptop :(

Since this update, I still encounter problems with VPN, PPTP / IPSec it does not matter once made a VPN connection I can make more after the break no new VPN connection until I restart the system.

It also installed without issue on S3 (This device has never been on an insider ring)

Fails repeatedly on my S3, which had been on the Insider Program...

Smoothly downloaded and installed on SP4 and Asus desktop.

It is worth mentioning that this update has had considerable problems installing on PC. As of yet still lacking a documented fix...

i have installed in my office PC and home PC no issue at all... might be i am lucky... previous build took 2-3 days to install.... Slowly M$ borrowing bugs from its mobile version to main OS.

Worthless. Bad enough to throw insiders under the bus but consumers too.

For those whose installation gets stuck, Try disabling the dvd-drive drivers.

Failed to install on my HP Spectre. At least the rollback worked and I could get back into my machine. I had to use the registry hack from the insider forums to clean up and start the install again and this time it worked. There are going to be millions of consumers worldwide making noise about this failure. Its ok to fail wheh its in the background and it doesnt impact the user experience. But when a user cannot log on and sits watching the progress for it to fail and then rollback - took about 40 mins in my case - gonna be some annoyed users.