Windows 10 build 14997 for PC: Everything you need to know
We dive deep into the leaked version of Windows 10, and we show you all the new features, changes, and improvements that Microsoft is working on.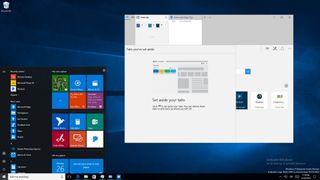 Although, Microsoft has halted the release of Insider preview flights until early 2017, during the Christmas weekend, Windows 10 build 14997 made its way outside the walls of Redmond giving us a sneak peek of improvements coming in future builds.
Windows 10 build 14997 is an internal release of the rs_onecoe_base development branch, and it includes improvements in the post-installation process. The Settings app gets reorganized and adds new options; there is a new version of Microsoft Edge with some significant additions, and a lot more.
Here's everything you need to know about the most recent leaked version of Windows 10 for PC.
Windows 10 build 14997
Post-installation process
In the leaked version of the Windows 10 Creators Update, Microsoft seems to be working to improve its out-of-box experience (OOBE). In the new experience, there are simpler steps and the ability to interact with Cortana using voice commands to make it easier to go through the post-installation process more quickly. Though, it's worth noting that steps may vary depending on the edition of Windows 10 you're installing.
Start menu & Cortana
Windows 10 build 14997 shows a few small improvements in the Start menu and Cortana.
The Start menu for some mysterious reason currently includes a coffee mug icon in the top-right corner. You can't click it or do anything with it, but it may be signaling a placeholder for a new option or feature Microsoft is planning to add in future builds.
Another interesting feature coming on the Creators Update is the ability to create folders on the Start menu. Folders on Start is a customization feature that allows you to group Live Tiles into groups (folders) to optimize the space on Start. This feature has been around in mobile since Windows Phone 8.1 Update 1, but it seems that it'll also be coming to the desktop version of Windows 10.
To group Live Tiles into folders, you only need to click, drag and drop a Live Tile on top of another tile, and then repeat the steps to add more tiles to the group.
Cortana now features an option so that you can launch the assistant in listening mode by using the Windows key + C keyboard shortcut.
Share
In this leaked version of Windows 10, we also see that Microsoft is enabling the new share interface that replaces the old Windows 8.x-style flyout that we used to get when clicking the Share charm.
Now when you're in File Explorer, Microsoft Edge, or another app, when you click the Share button, you'll get a rectangular experience that overlays on top of the app or window listing the apps you can use to share a file.
Settings
You will see the most changes in the Settings app as Microsoft seems to be doing some reorganization and adding new features.
The first improvement you'll notice is the addition of the new Apps section to the dashboard. Although this is a new section, you won't find new features. Instead, you'll see some settings that belonged to the System section.
Display
On Settings > System, the Display page has been redesigned to make it easier to change the screen resolution without having to jump to different screens, and now there is a drop-down menu to change scaling settings, instead of a slider control.
There is also a "Multiple displays" section that currently shows a link to your display adapter properties, but in the future, we might see some additional options.
Perhaps the most noticeable addition in Display is the new Blue light feature under "Brightness and color." We've been hearing about Microsoft working on a night-mode-like experience for Windows 10, and now it seems the feature will be coming with the Creators Update.
Once you enable Blue light, Windows 10 will automatically reduce the amount of blue color your screen emits. This option helps to lower the risk of eye strain and to help improve your sleep quality.
Also, there is a Blue light settings link, which will take you to a new page to turn the feature on or off, change the color temperature, and turn on off schedule to lower the blue light automatically.
Microsoft is also making easier for you to enable and disable this feature by adding a dedicated Blue light button in Action Center.
Storage
On Settings > System, the Storage page includes a new link to manage Storage Spaces on Windows 10.
Bluetooth & other devices
On Settings > Devices, the Bluetooth page now has been renamed to Bluetooth & other devices, and it combines the settings from the old Bluetooth and Connected devices pages.
The new page also groups new devices accordingly in the "Mouse, keyboard, & pen," "Audio," or "Other devices" list depending on the device category.
Colors
On Settings > Personalizations, the Colors page doesn't bring many significant changes, but now Windows 10 saves the last five colors you have recently used automatically.
In addition, Microsoft is rearranging the Colors settings. Now instead of having three toggle switches, you'll get a toggle switch to make Start, Taskbar, and Action Center transparent, and check boxes to enable or disable accent colors on title bars, and Start, Taskbar, and Action Center.
Themes
On Settings > Personalization, the Theme page has been updated, and now you can change your theme options within the Settings app.
The Theme page displays the current name of the theme you're using with the background, color, sound, and mouse cursor information.
Then there is an "Apply a theme" section where you'll see listed all the theme installed on your computer. And there is a link a the bottom of the page, which opens the Windows Store to get more themes to customize your experience further.
Apps
In Settings > Apps, features some options you were previously able to access from System, including Apps & features, Default apps, Offline Maps, and Apps for websites.
One small, but exciting addition also appears when you click the Advanced options link of an app, which now shows a Sort by and Filter by controls for apps add-ons.
Windows Update
On Settings > Update & security, the Windows Update page now shows a new Pause Updates feature in the "Advanced Options" section. According to the description with this feature you'll be able to pause updates from being installed on your computer for up to 35 days. Certain updates, such as for Windows Defender will continue to be installed.
However, this is a leaked for the Enterprise version of Windows 10, as such it's unclear if everyone, including those computers running Windows 10 Home will have this feature when the Creators Update releases in early 2017.
It's worth mentioning that the Settings app now also features a right column on each setting page with resources to help users contact support, submit feedback and related links.
Windows Defender
Windows 10 build 14997 also introduces an updated version of the new Windows Defender dashboard with UI improvements and new features.
On Virus & threat protection, you'll find new options to run a quick or advanced scan on your computer.
Inside Virus & threat protection settings, you can now actually change the antivirus settings, and there is a Update button at the bottom of the "Protection updates" section.
Device performance & health is a new section in Windows Defender that give you a health report of your system.
In this new section, you'll be able to see if your PC has any issues with Windows Update, storage capacity, device driver, and battery life.
Additionally, Microsoft is adding a new Refresh Windows tool in Windows Defender to let you start fresh with a clean installation of Windows 10 with the latest updates. Using the Refresh Windows tool will keep your personal files and most settings, and it'll remove most your applications.
This tool is the refresh functionality that Microsoft introduced with the Windows 10 Anniversary Update in the recovery options. However, the functionality is now baked into the operating system, and you no longer need to use your web browser to download the tool and do a clean install of Windows 10.
On Firewall & network protection, you can change firewall settings; related links are clickable, and there is a new option for the public and private firewall settings to block incoming network connections.
On Family options there are some visual changes and new information, but this section looks heavily under development.
Microsoft Edge
In this unauthorized release, Microsoft Edge version number jumps to 39.14997.1001 and it includes a few new features and improvements.
On build 14997, Microsoft Edge ships with a new feature to set tabs aside. The idea is simple, as open tabs begin to pile up, you can click the Set these tabs aside button next to the first open tab to save your tabs for later viewing.
Then when you want to restore your tabs, you can click the Tabs you've set aside button in the top-left corner to view, restore, or delete a group of tabs.
In this new version of Microsoft Edge, there is a new button next to "New tab" (+) button that allows you to view all your open tabs previews to jump to the web page you like more quickly.
Finally, this new version of Microsoft Edge removes the Favorite settings page. Now you can enable the Favorites bar or access to the import favorite settings from the main settings page.
Wrapping things up
Overall this is an interesting test preview of Windows 10 that gives us an early look to some of the changes we may see in later builds. Currently, Microsoft has stopped releasing Insider preview builds, but the program is expected to resume in early 2017.
Keep in mind that this is not an official release, as such it's not recommended to download and install it on any computer. Microsoft does not support unofficial versions of Windows 10, and they may harm your device, or you may even experience data loss.
Finally, regarding Windows 10 Mobile since both Windows 10 for PC and Mobile overlap so much there is a very good chance most - if not all - of the features listed here will also make it to your phone later in early 2017.
What do you think about the features and changes found in Windows 10 build 14997? Tell us in the comments below.
More Windows 10 resources
For more help articles, coverage, and answers on Windows 10, you can visit the following resources:
Windows 10 help, tips, and tricks
Windows Central Newsletter
Get the best of Windows Central in in your inbox, every day!
Mauro Huculak is technical writer for WindowsCentral.com. His primary focus is to write comprehensive how-tos to help users get the most out of Windows 10 and its many related technologies. He has an IT background with professional certifications from Microsoft, Cisco, and CompTIA, and he's a recognized member of the Microsoft MVP community.
I agree, looks fantastic so far.

It looks like the Creator's update will have more features than the Anniversary update. (Though, I think the anniversary update was mostly under the hood fixes/improvements).

Great new features, but still missing the fundamental basics. Wonder when they'll bring back selecting/moving of multiple app icons on the start screen (just like Windows 8.1.1 had it), add full-screen support to Edge, etc...there has been feedback for this since Windows 10 was released.

They should bring back the guest account.

There's an article here on Windows Central for enabling "visitor" account on windows 10 which is pretty much Guest replacement.

http://www.windowscentral.com/how-create-guest-account-windows-10

Yea but regular users don't want to bother with complicated commands...

I've tried that.. That visitor has permission to delete any files in other drives .

Yeah, and other great features that existed in earlier versions of Windows, including:
- Local restricted kids accounts
- Modifying Wi-Fi Network priorities
- Consistent directory layout in File Explorer Libraries (this one was broken after the Anniversary update)
- etc.

There was also feedback to add cat wallpapers wearing Windows-themed clothes, doesn't mean it gets added.

You're kidding me right? In case you're actually that ignoramus and can't realize the difference, one improves usability of the product, the other is merely aesthetics and can be easily added by the user.

Well... at least I'm nog ignoramus enough to not get irony. I'm also nog ignoramus enough to know that Microsoft isn't listining to each of us, because they can't. They have to listen to all of us AND follow their own vision. And here is where you go wrong: because there is feedback about it (and I'm going to take a wild guess and say that that's yours) doesn't mean it gets done or has any priority. There are other, more important, thing that have to get done first, thing more people asked for. It isn't because you asked for it that it suddenly is on top of their list. And even then: why would it matter that the cat wallpapers aren't an improvement on usability (and if you think about it, aren't they)? Either way, according to your own comment, if there is feedback on it, it has to be done, no? That feedback item was send in build 9879, before any of the feedback that you mention (as all of that didn't apply back then). See?

The creators of dates really starting to come together now can't wait to see what next

This is great! I hope they give us a lot of new stuff for mobile too..

Great. Now they need to fix tablet mode!!

I don't like that they are adding more things in Edge main settings instead of sorting them in more pages.
Though that doesn't make much difference for me today as I won't use Edge until it gets stable with more than 4 tabs open. I can get 200 tabs on Firefox without any problems.

I can understand your complaint and why you'd need more than four tabs but what you got 200 tabs for?

Well I can get to 10-20 tabs open with ease since I am that guy who opens hyperlinks in new tabs most of the times. Even tho edge doesn't have some of the basic features, the new features are still interesting to use.

I open multiple tabs when I watch porn.

I easily have 200 tabs open, but probably only 20-30 per window. Each window will usually have related tabs, and when I task switch I just minimise the old tabs and start a new window. I can pick up where I left off later on...

DISGUSTING. learn how to use a computer

"Disgusting" is taking it a bit far, and you should learn to be more constructive. Please enlighten me as to how you would handle tonnes of information better. Let's say I'm researching headphones, well I'll have 20 tabs open for that with various options to work through. Then I have to work, so I minimise the headphone tabs and open 30-50 for my web development projects. Oh now I have to research birthday presents so I'll have another 20-30 for that. Now I want to look for gaming deals, so I'll open another 20 tabs for that. etc etc. I can only read so much at a time, and my motivation to research something continuously is limited.
For longer research or extensive comparison I'll put options in OneNote or even Excel. I don't see any reason to make browser bookmarks as it's just information I will use for a short period of time. I have 32 GB of RAM and my browser usually uses 16-18 GB so there's literally no impact on my PC performance.

That's why I liked the old tab grouping in Firefox. I do with the groups exactly what you do with windows. Shame Mozilla removed the feature in newer versions.

I always open possibly interesting links in new tabs, and sometimes it takes a while to read everything. I'm still using an old version of Firefox where they had a feature of grouping tabs, so I always have many tabs separated by themes, so one for work, one for school, one for the lulz...

Firefox has been very slow for me lately, I now go between chrome and edge. I can definitely do multiple tabs with edge just fine.

Well, it seems you're lucky. When I open four or more tabs it starts to get slow and some of the tabs start to not respond, and it gets worse the more tabs I open.

This happens to me all the time, 4+ tabs and one or two become unresponsive. Only fix is to close edge and reopen that I know of. Hope its fixed soon or I will end up back with chrome.

Hope next mobile build have some interesting features

Quiet hours when busy in calendar...*bangs head against table*

And ask inner circle option for sms messages when quiet hours is active.

Wow wow. Great features.
Show accent color in start and taskbar & leave Title bar alone 😆 I've been waiting for this. Also they have to take care of 'inactive title bar' too. It always stays in White.

Check the settings app because I've been using colored title bar with black/ugly-grey Taskbar, action center and start menu for a long time.

Did it fix Windows Hello?

I don't have a windows hello capable device, so just asking, what's wrong with it?

You do, you have picture password.

Lol I guess technically it's biometric authentication if it's a picture of a person

Not kidding... every method you use to login to Windows 10 is Hello.
Hello is about consolidating to the OS all those previously unstandardised but clever OEM exclusives.
MS is so late in the game its embarassing.
My 2011 HP with Win7 learned all my passwords and used fingerprints to open websites.
This Hello thing is still far behind.

Hello is about consolidating methods of BIOMETRIC AUTHENTICATION, bringing those standards to the o.s.. Check support pages, my friend. Or ask Cortana. It specifically says "a more personalized way of signing in using iris or fingerprint...". Ms isn't late to the game if its oem partners were doing it. And would you truly consider setting a standard (for the ms ecosystem that all of its oem partners use, clearly) late?

Is voice command login biometric?
What about gestures login?
What about dongles?
What about using band, phone or some other device to login?
What about devices for people with disabilities? Are these biometric?
No, Hello is the interface for all of these. There will be a placeholder code for anything OEM's can come up with. Yes I do consider it late in the game.
Even the name Hello wasn't thought through.
I bet they'll rename the thing sooner or later

Windows hello works great for me

I know it was broken in 14986. At least the RealSense 3D cam part.

Thank God now I can see WC news in the W10M app. It was not refreshing since 14th Dec. Anyone else faced it?
Glad to see preview builds are now on track with new features. Creators' Update isn't far away. Hope more and more will be coming in 2017.

I haven't had this issue. 950xl ds on production

I saw this problem in my 640 DS and Dell laptop at the same time. So, I guess the problem is with the server.

The app has been running poor on all of my devices. But I have been able to get the articles.

Go to settings and clear article cache data. Usually fixes the problem

I already tried that... Even reinstallation didn't help

My WC android app also does not update news until i open the app.

so they moved the share thingy to the center, great for tablets /s

Does anybody know when is it releasing?

Build 15000 milestone was reached last week, so it's unlikely 14997 will see Insider release but we may get a newer build in the new year

Does it matter. It's only 3 bases points ahead.

3 things I'm still waiting for:
1. The complete removal of control panel
2. Being able to have different folders and wallpaper for each virtual desktop
3. Updated file explorer

The controlpanel is still needed, the settings app is missing to much and is to watered downm to be useful. I need the controlpanel, and most likely need it for years to come. Settings is so far 5% of what the controlpanel is

Right, I think when all the settings get migrated over then they will get rid of it

nah still then there should be an option! i believe tho that control panel is great and even if settings become 100% what it is (i cant see it happening its not easy :P ) it will still be there like internet explorer and windows media player xD

They will gat rid of them too

I don't know I kind of like how they have it. With most settings users will use in settings and then most settings IT professionals use in control panel it makes sense right now but I understand how its annoying to have two places for settings.

Agreed. This update continues the work of populating Settings with (nearly) everything the Control Panel can do, which is the important thing. There's no reason to get rid of Control Panel in the near future.

TABS IN FILE EXPLORER PLEASE!!!! Also, I would like a search box in task manager.. just me? :O

Hope they sort mobile Edge text rendering, it is a total mess now on many sites. At least Explorer could render pages properly. Fixing the mail app sync would also be good. Sort the basics first.

What's wrong with mobile edge text rendering? I haven't encountered anything major. Also, what's wrong with the mail app sync (on mobile or pc?)? I haven't had any noticeable issues. Actually the only thing I noticed is that sometimes it takes a second for the emails to properly sync up after I press the manual sync button even when it says it's complete, is that what you're referring to?

Fonts keeps changing in most of the websites. (on mobile). & mail app sync problem i face that only with yahoo (sometimes).

Any improvements to Windows Backup?

Had to stop relying on the new Windows 10 version (File History) because it kept making unnecessary backup copies and clogging my external hard drive in just days. Seemed like others were facing similar issues based on Microsoft Answers searches. Had to resort to the included and legacy Windows 7 version, which I think also only offers the image backup option. File History would also completely ignore my list of folders not to backup, though I remember Windows 8.1's File History working just fine.

I see. If it was fixed, Windows Central wouldn't have tested it.
Also, they don't publish program errors

Well, they discuss bugs and quirks with Windows...and seems like if enough people chime in about something, they'll look into or acknowledge it in some form of discussion because they know they have Microsoft's ear. I'm not implying they thoroughly vetted an Insider update, specifically File History, nor am asking for a full analysis of its working state, just wanted to see if anybody in this community has had any better luck recently.

If you have a lot of music, remove the folder since it's probably the least updated.
Many File History problems are music folder related.

What is the change with favourites?
Your explanation is not clear

That instead of (1) Click on ellipsis menu button "o o o" (2) Click "Settings" (3) Click "View favorites settings" it is now just (1) and (2) because there is no sub-settings menu for Favorites.

Folders!!!!!!!! I use this extensively on my phone. This will allow much more customization on the start menu.

I'm geeky enough to require that exact same layout for my phone and pc so folders will complete this task lol

What about placeholders for OneDrive? When is that functionality coming back?

I would really appreciate a landscape mode for start in windows 10 mobile

Nice improvements! Now I wonder if they're going to fix syncing of favorites and reading list between desktop and mobile versions of edge in the next update.

Would be nice to have a dark theme button.

Most of these are not new features for windows 10 but a sign that microsoft is finally catching up on a long awaited backlogged list of what we expected over a year ago. Exciting nonetheless that windows 10 finally seems to show a glimpse of being a more finished and poilished OS. Post-installiation process: good development. Only hope microsoft will also show signs of catching up cortana language support for many markets that Cortana doesn't support, making this feature overkill in the installation process. Start menu&Cortana: I thnk the coffeemug could possibly be a touch handle to more easily change the size of the start menu on the fly. Folder tiles have been long awaited for ages, even back in windows 8. I think the current folder sections and folder tiles is going to be confusing. I would much rather prefer a single start menu environment (like a desktop start menu grid) and let the folder tile feature be the surrogate of the current folder sections. Otherwise it's going to be a double folder thing and that's confusing and having to dig too deep through folders. The folder sections should be off by default but available as an option for those who do want the double experience.
Cortana listening mode: still....waiting for Dutch (3 years and counting). Share: I gues fine. Menu is now more in your face front and center. Although a slide out menu on the right is still a fine experience to me, especially on tablet devices, the options are still in reach of my thumb. With the new center window it means more two handed work. Food for thought. Settings: nice clean up. blue light: I wonder how many devices will truly support this feature. Only new devices. Which monitor/screen types support this feature? Sounds like a feature solution looking for a problem. Golden times for monitor companies in the near future to sell more new screen! I see those fllckering dollar signs shining in their eyes. Colors: still missing features to control live tile transparency and color for all live tiles, also third party tiles. Tile color and transparency should be at the control of the end user, not the developer, alos for third party and microsoft native apps such as office, onenote and news etc. The windows update is going to be a controversial thing in the future. While many updates such as security and system bugs and issues improvements are welcome, I think things like UI changes and full new system changes in time are gong to be a problem once consusmers and businesses are happy with the current set up. Will microsoft then support an option to opt out of those changes in due time? Microsoft Edge: welcome improvements. Missing full screen Edge and a smoother swipe/left right animation (Current animation has this ugly grey transition screen. Swipe on IE11 metro on windows 8 has a much smoother transition animation.

i don't think that the bluelight feature needs new hardware. i guess most displays can easily manage this since the OS on your PC simply says hey we have different colors to display. or do you need a new monitor for every new picture you create? at least that is my understanding...

Would like to see them start using the vibrant solid "real" colors again instead of the paler washed out ones. Also an option to have different colored file folders.

Looks amazing I'm loving the features in the screenshots in here, i look forward to Redstone 3 and 4 next year.

Big deal if it will just work as it should. Last insider builds are really not that good, pc as well as mobile.

Well now only waiting for edge to get themes :P (even tho i think its ready to replace my chrome!!) and hope file explorer will get sometime tabs!!
But the improtant thing is to see some of these things happening on mobile too! :D

I seriously hope the blue light feature comes to Windows 10 Mobile too!!

I'm excited to see the new Share UI. Reminds me a bit of Andorid...but in this case, that's a good thing.

Still need a better/easier way to manage favorites in Edge.

That new share ui reminds me of the share ui you would see while running continuum. I like it. I can't wait for live folders as well!

I don't see what is so great about new Share Window in the middle instead of coming out the side. Looks more confusing to me.

It looks like we need different ui design for about 3 different screen size ranges. E.g. left and right hand panels are great for tablet size, center panels are fine for larger screens and on small screens everything is full screen. I.e. the new Share ui should be for a larger screen only.

So how long before we get proper full width Apps launcher screen like in 8.1?

Dont we already have that when choosing fullscreen startscreen and going to the all apps section?

I wish there was only 1 context menu when right clicking on an item in the start menu. Instead of right clicking going to "more" and then choosing what i want.

What I missed in Win10 is the Desktop Search function that was great on Win7 with easy filters to find any document on your pc and Outlook mails directly from the task bar. In my opinion they have broken the good thing on Win10 very useful especially for business users.
Any possibility to get back this function on Win10?

this build not boot on usb where is the problem from؟

Anyone miss the old W7/8.1 way of choosing your theme color?

You can still get to it - type "control color" into Run and you'll get to the old theme colour selector.
Windows Central Newsletter
Thank you for signing up to Windows Central. You will receive a verification email shortly.
There was a problem. Please refresh the page and try again.