Windows 10 build 14997 for PC: Everything you need to know
We dive deep into the leaked version of Windows 10, and we show you all the new features, changes, and improvements that Microsoft is working on.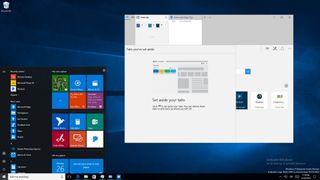 Although, Microsoft has halted the release of Insider preview flights until early 2017, during the Christmas weekend, Windows 10 build 14997 made its way outside the walls of Redmond giving us a sneak peek of improvements coming in future builds.
Windows 10 build 14997 is an internal release of the rs_onecoe_base development branch, and it includes improvements in the post-installation process. The Settings app gets reorganized and adds new options; there is a new version of Microsoft Edge with some significant additions, and a lot more.
Here's everything you need to know about the most recent leaked version of Windows 10 for PC.
Windows 10 build 14997
Post-installation process
In the leaked version of the Windows 10 Creators Update, Microsoft seems to be working to improve its out-of-box experience (OOBE). In the new experience, there are simpler steps and the ability to interact with Cortana using voice commands to make it easier to go through the post-installation process more quickly. Though, it's worth noting that steps may vary depending on the edition of Windows 10 you're installing.
Start menu & Cortana
Windows 10 build 14997 shows a few small improvements in the Start menu and Cortana.
The Start menu for some mysterious reason currently includes a coffee mug icon in the top-right corner. You can't click it or do anything with it, but it may be signaling a placeholder for a new option or feature Microsoft is planning to add in future builds.
Another interesting feature coming on the Creators Update is the ability to create folders on the Start menu. Folders on Start is a customization feature that allows you to group Live Tiles into groups (folders) to optimize the space on Start. This feature has been around in mobile since Windows Phone 8.1 Update 1, but it seems that it'll also be coming to the desktop version of Windows 10.
To group Live Tiles into folders, you only need to click, drag and drop a Live Tile on top of another tile, and then repeat the steps to add more tiles to the group.
Cortana now features an option so that you can launch the assistant in listening mode by using the Windows key + C keyboard shortcut.
Share
In this leaked version of Windows 10, we also see that Microsoft is enabling the new share interface that replaces the old Windows 8.x-style flyout that we used to get when clicking the Share charm.
Now when you're in File Explorer, Microsoft Edge, or another app, when you click the Share button, you'll get a rectangular experience that overlays on top of the app or window listing the apps you can use to share a file.
Settings
You will see the most changes in the Settings app as Microsoft seems to be doing some reorganization and adding new features.
The first improvement you'll notice is the addition of the new Apps section to the dashboard. Although this is a new section, you won't find new features. Instead, you'll see some settings that belonged to the System section.
Display
On Settings > System, the Display page has been redesigned to make it easier to change the screen resolution without having to jump to different screens, and now there is a drop-down menu to change scaling settings, instead of a slider control.
There is also a "Multiple displays" section that currently shows a link to your display adapter properties, but in the future, we might see some additional options.
Perhaps the most noticeable addition in Display is the new Blue light feature under "Brightness and color." We've been hearing about Microsoft working on a night-mode-like experience for Windows 10, and now it seems the feature will be coming with the Creators Update.
Once you enable Blue light, Windows 10 will automatically reduce the amount of blue color your screen emits. This option helps to lower the risk of eye strain and to help improve your sleep quality.
Also, there is a Blue light settings link, which will take you to a new page to turn the feature on or off, change the color temperature, and turn on off schedule to lower the blue light automatically.
Microsoft is also making easier for you to enable and disable this feature by adding a dedicated Blue light button in Action Center.
Storage
On Settings > System, the Storage page includes a new link to manage Storage Spaces on Windows 10.
Bluetooth & other devices
On Settings > Devices, the Bluetooth page now has been renamed to Bluetooth & other devices, and it combines the settings from the old Bluetooth and Connected devices pages.
The new page also groups new devices accordingly in the "Mouse, keyboard, & pen," "Audio," or "Other devices" list depending on the device category.
Colors
On Settings > Personalizations, the Colors page doesn't bring many significant changes, but now Windows 10 saves the last five colors you have recently used automatically.
In addition, Microsoft is rearranging the Colors settings. Now instead of having three toggle switches, you'll get a toggle switch to make Start, Taskbar, and Action Center transparent, and check boxes to enable or disable accent colors on title bars, and Start, Taskbar, and Action Center.
Themes
On Settings > Personalization, the Theme page has been updated, and now you can change your theme options within the Settings app.
The Theme page displays the current name of the theme you're using with the background, color, sound, and mouse cursor information.
Then there is an "Apply a theme" section where you'll see listed all the theme installed on your computer. And there is a link a the bottom of the page, which opens the Windows Store to get more themes to customize your experience further.
Apps
In Settings > Apps, features some options you were previously able to access from System, including Apps & features, Default apps, Offline Maps, and Apps for websites.
One small, but exciting addition also appears when you click the Advanced options link of an app, which now shows a Sort by and Filter by controls for apps add-ons.
Windows Update
On Settings > Update & security, the Windows Update page now shows a new Pause Updates feature in the "Advanced Options" section. According to the description with this feature you'll be able to pause updates from being installed on your computer for up to 35 days. Certain updates, such as for Windows Defender will continue to be installed.
However, this is a leaked for the Enterprise version of Windows 10, as such it's unclear if everyone, including those computers running Windows 10 Home will have this feature when the Creators Update releases in early 2017.
It's worth mentioning that the Settings app now also features a right column on each setting page with resources to help users contact support, submit feedback and related links.
Windows Defender
Windows 10 build 14997 also introduces an updated version of the new Windows Defender dashboard with UI improvements and new features.
On Virus & threat protection, you'll find new options to run a quick or advanced scan on your computer.
Inside Virus & threat protection settings, you can now actually change the antivirus settings, and there is a Update button at the bottom of the "Protection updates" section.
Device performance & health is a new section in Windows Defender that give you a health report of your system.
In this new section, you'll be able to see if your PC has any issues with Windows Update, storage capacity, device driver, and battery life.
Additionally, Microsoft is adding a new Refresh Windows tool in Windows Defender to let you start fresh with a clean installation of Windows 10 with the latest updates. Using the Refresh Windows tool will keep your personal files and most settings, and it'll remove most your applications.
This tool is the refresh functionality that Microsoft introduced with the Windows 10 Anniversary Update in the recovery options. However, the functionality is now baked into the operating system, and you no longer need to use your web browser to download the tool and do a clean install of Windows 10.
On Firewall & network protection, you can change firewall settings; related links are clickable, and there is a new option for the public and private firewall settings to block incoming network connections.
On Family options there are some visual changes and new information, but this section looks heavily under development.
Microsoft Edge
In this unauthorized release, Microsoft Edge version number jumps to 39.14997.1001 and it includes a few new features and improvements.
On build 14997, Microsoft Edge ships with a new feature to set tabs aside. The idea is simple, as open tabs begin to pile up, you can click the Set these tabs aside button next to the first open tab to save your tabs for later viewing.
Then when you want to restore your tabs, you can click the Tabs you've set aside button in the top-left corner to view, restore, or delete a group of tabs.
In this new version of Microsoft Edge, there is a new button next to "New tab" (+) button that allows you to view all your open tabs previews to jump to the web page you like more quickly.
Finally, this new version of Microsoft Edge removes the Favorite settings page. Now you can enable the Favorites bar or access to the import favorite settings from the main settings page.
Wrapping things up
Overall this is an interesting test preview of Windows 10 that gives us an early look to some of the changes we may see in later builds. Currently, Microsoft has stopped releasing Insider preview builds, but the program is expected to resume in early 2017.
Keep in mind that this is not an official release, as such it's not recommended to download and install it on any computer. Microsoft does not support unofficial versions of Windows 10, and they may harm your device, or you may even experience data loss.
Finally, regarding Windows 10 Mobile since both Windows 10 for PC and Mobile overlap so much there is a very good chance most - if not all - of the features listed here will also make it to your phone later in early 2017.
What do you think about the features and changes found in Windows 10 build 14997? Tell us in the comments below.
More Windows 10 resources
For more help articles, coverage, and answers on Windows 10, you can visit the following resources:
Windows 10 help, tips, and tricks
Get the Windows Central Newsletter
All the latest news, reviews, and guides for Windows and Xbox diehards.
Mauro Huculak is technical writer for WindowsCentral.com. His primary focus is to write comprehensive how-tos to help users get the most out of Windows 10 and its many related technologies. He has an IT background with professional certifications from Microsoft, Cisco, and CompTIA, and he's a recognized member of the Microsoft MVP community.