Windows 10 build 15007 for PC and Mobile rolling out to Insiders now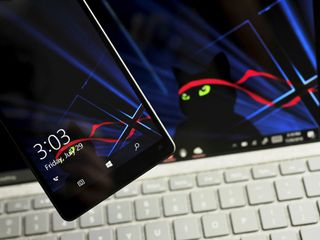 Microsoft is rolling out another Windows 10 build for Insiders on the Fast Ring, this time build 15007 for both PC and Mobile! Yes, Mobile is receiving an official build after missing out for over 40 days. Today's build includes more noteworthy features and enhancements for both PC and Mobile, let's dive in!
Today's new build arrives just days after the previous one, meaning there won't be any huge changes between build 15002 and 15007 for PC. Still, there's plenty to dig into with this release!
What's new for PC and Mobile?
Sharing your tabs (PC): We've added the ability to share a set of tabs you've set aside. Just click the "Tabs you've set aside" button, and under the "…" menu select the option to "Share tabs" with many apps installed on your PC.
Import data (PC): We're making it even easier to bring your data over from another browser when you switch to Microsoft Edge. The new "Import from another browser" button in Settings allows you to bring your favorites, browsing history, saved passwords, and other data from another browser you have installed, in one simple step.
Running faster (PC): You can now choose to "Run" a download link without first saving it, and we've added a "Save As" option to the existing "Save" link.
Web Notes improvements (PC): We've updated Web Notes to now leverage the familiar Windows Ink experience you've come to know in Photos and Maps, amongst other places. Tap the pen or highlighter in Web Notes, and you will now see the full set of Windows Ink colors, as well as the new slider released for Windows Ink with Build 14986.
Text scaling and zoom (Mobile): Based on your feedback, in Microsoft Edge you can now zoom into a webpage regardless of zoom settings defined by the website, matching other mobile browsers. Pages are now zoomable to at least 500%. Because of this, we no longer automatically scale text in Microsoft Edge when you've enabled the Ease of Access option to increase the text size, since you can zoom in on the text to reach a size that matches your own comfort level. This addresses feedback that Ease of Access zoom settings made web pages render incorrectly.
Apps for Websites: Clicking links to websites that support web-to-app linking will now open that page in the respective app.
[Coming Soon] Download themes for your PC from the Windows Store (PC): In Build 15002, we introduced the new themes settings page in the Settings app. Soon, you'll be able to go directly from the themes setting page directly to the Windows Store to download new themes for your PC! This isn't working yet in today's build and you'll see a Store icon that does nothing at the bottom of the themes setting page. However, you can go to the Store page for themes here to try out downloading themes from the Store.
Cortana can help you pick up where you left off (PC & Mobile): If you have multiple PCs, you probably know how cumbersome it can be to find everything you need to resume work after switching between PCs. Cortana can now help with that! When you switch computers, Cortana will display quick links in the Action Center to help you easily get back into the Microsoft Edge websites and SharePoint (or other cloud-based) documents you used most recently. For example, if you were working on a PowerPoint deck on your laptop, when you later return to your desktop, a link to that deck appears in Action Center. Or perhaps you're browsing recipes in Microsoft Edge on your PC downstairs, and grab your laptop to go bake up a storm in the kitchen—Cortana will be there for you and have a link to that recipe ready to go. In adding this feature, we've also updated Cortana to take advantage of notification grouping, described earlier, so you can more easily differentiate between the types of messages.
Inline progress bar for notifications (PC): Based on your feedback, app developers can now send toast notifications with a progress indicator to show progress to the user, such as download progress, exercise progress, etc. As a highly related but separate feature, we now also support developers to update an existing notification through "data-binding". Please go to Tiles and Toast MSDN Blog to find out more.
In a future build, you will see this capability with Windows Store downloads.
Scrollbar improvements for UWP (PC & Mobile): We have made improvements to the XAML scrollbar for mouse to ensure it is available when you need it, while taking up less space and causing less undesirable flashing when you don't. With these changes, the panning indicator now appears when you move a mouse over a scrolling region and the full scrollbar appears when you want to directly interact with it. This improvement will be visible in any app that uses the Windows 10 Creators Update SDK.
Windows Hello Enrollment Improvements (PC): With Build 15007 we are bringing in some exciting improvements around how you discover and enroll into Windows Hello's facial recognition. For devices and peripherals that support Windows Hello. you'll now see a visual guidance that tracks your face in real-time, shows you an improved progress indicator and gives you real-time feedback to quickly and smoothly set your face up for signing in. The best way to know what's changed? Try it out! You can setup or improve your Windows Hello facial recognition under Settings > Accounts > Sign-in options > Windows Hello > Face recognition.
Rainbow Flag: Microsoft's continued dedication to diversity brings the rainbow flag to the emoji font and keyboard!
New Bluetooth APIs (PC & Mobile): This is the first build you can try out the new APIs that enable GATT Server, Bluetooth LE Peripheral role and unpaired Bluetooth LE device connectivity. To try them out install the latest preview SDK that will be coming soon.
Keyboard navigation improvements for the Snipping Tool (PC): You can now take a screen capture using only your keyboard. Press Alt + N, select the desired snip type and press enter – this will start the capture. Now use the arrow keys to move the cursor to one of the intended corners of your snip, and press either space or enter to start selecting your snip area. Once you have the area you want, press enter or space again to finish the capture. This keyboard navigation also works with the new Win + Shift + S keyboard shortcut.
Sync your settings using Azure Active Directory (AAD) Identity (Mobile): You can now sync your settings on AA-Joined phones using Enterprise State Roaming. With Enterprise State Roaming enabled for your phone, you can sync settings such as passwords, Wi-Fi profiles, Edge Favorites, Edge Reading List, and app data across desktop and mobile devices. To get the most out of this feature, make sure sync is turned on for the same account on both your mobile and desktop device under Settings > Accounts > Sync Your Settings.
App reset (Mobile): One of the features added to PC with the Windows 10 Anniversary Update was the ability to reset an app back to its original state. We're happy to announce starting with Build 15007, the same will now be possible on Mobile – thanks everyone who logged feedback requesting this! If you have a UWP app in a bad state, open Settings > System > Storage, and navigate to the app. In the advanced settings for that app, you'll now see a "Reset" option. Tapping it will clear the app's cache, and reset the app as if it had just been installed (without actually having to reinstall it).
Cortana loves music (Mobile): You can now use Cortana to control music playback on more of your favorite music apps (EN-US only). Starting with this build, we've enabled natural language compatibility for iHeartRadio and TuneIn Radio. While you are listening to music in one of these apps, you can also use your voice to control playback and volume. With radio stations, we often want to know what that catchy tune is that has played a million times, so we added support for "What's Playing". Try saying "Hey Cortana, What's Playing" and it will work for all apps playing music. This appeared for Insiders on PCs with Build 14986.
Adding music recognition support to Chinese (Simplified) (Mobile): Cortana can now recognize music for customers in China. Simply tap the music notes icon in the top corner of Cortana's home page, and Cortana will listen to whatever music is playing and use Netease to tell you what song it is. This works exactly like the feature does in English (United States). This appeared for Insiders on PCs with Build 14986.
Cortana sign-in using Azure Active Directory (AAD) identity (Mobile): This capability will allow you to sign into Cortana with your work or school account instead your MSA, enabling you to use Cortana even if your organization does not support MSA. To sign in to Cortana using your work or school account, just go to Cortana's Notebook and "About Me" and sign in. You'll get the full Cortana experience with most of the same features. This appeared for Insiders on PCs with Build 14986.
More recurrence options for Cortana Reminders (Mobile): We've heard your feedback, and we've added a new option to set recurring time-based Cortana Reminders for "Every Month" or "Every Year" — great for bill payment or anniversary reminders! This appeared for Insiders on PCs with Build 15002.
Web payments: Microsoft Edge now has preview support for the new Payment Request API, which allows sites to make checkout easier using the payment and shipping preferences stored in your Microsoft Wallet. This is currently in a preview state for developers and will not process payment information until a future flight. You can learn more about Payment Request on the Microsoft Edge Dev Blog. This appeared for Insiders on PCs with Build 15002.
Improved legibility for UWP apps in high contrast (Mobile): In order to address some of the most common high contrast issues experienced in UWP apps, we've updated the XAML framework to now display an opaque layer behind the text and coerce semi-transparent UI to be fully opaque. This appeared for Insiders on PCs with Build 15002. These adjustments are applied by default in high contrast and apply to all XAML Store applications, however apps will have the opportunity to opt out using the Windows 10 Creators Update SDK. More details will be available once the latest SDK has been published. If you find any issues with this work, please log them here, and as always, you can reach out to @MSFTEnable on Twitter at any time about accessibility problems and requests you have for accessibility in Windows.
Helping you find the setting you need in Settings (Mobile): One of our ongoing goals has been to make Settings easier and faster to navigate – based on feedback we've made a few design tweaks that appeared for Insiders on PCs with Build 15002, and are now also available on Mobile:
Settings pages now contain additional information on the right or bottom (depending on the window size) providing links to support, feedback, and any other related settings if available.
Since our System Settings list was getting quite long, we've moved app related settings out of System into a new category called Apps.
Updated device settings (Mobile): The new device settings experience combines the Bluetooth and Connected devices pages to offer a single place to manage your devices/peripherals. We've also listened to your feedback and added the ability to disconnect and reconnect your Bluetooth audio devices directly from this Settings page, as well as updated the flow for adding a new device connection. Try out the new page and let us know what you think through the Feedback Hub! This appeared for Insiders on PCs with Build 15002.
New option to pause updates: We've added an option that will enable you to pause updates on your phone for up to 35 days. To pause your phone, go to the Settings > Update & security > Phone Update and tap Advanced. This capability will be available on enterprise managed devices on Windows 10 Mobile. This appeared for Insiders on PCs with Build 15002.
Check out the Windows Blog for the full changelog, including known issues and more!
Get the Windows Central Newsletter
All the latest news, reviews, and guides for Windows and Xbox diehards.
Zac Bowden is a Senior Editor at Windows Central. Bringing you exclusive coverage into the world of Windows on PCs, tablets, phones, and more. Also an avid collector of rare Microsoft prototype devices! Keep in touch on Twitter: @zacbowden.
'Run' on a download link is awesome and something I always wanted.

I'm happy to report that despite getting an unofficial build this morning, this 15007 build is being offered in the usual way and is currently downloading for me - L950

I think UUP makes this easy.

I got the accidental build this morning and still this update took 90 minutes. I don't get this UUP stuff but this update was brutal.

I got downvoted for suggesting it

Suggesting Run functionality on downloaded files on Edge? Why? This functionality is a standard among web browsers, people.

With this change, edge will probably set a new standard.

For putting "Run" button for downloads? This has been a thing for along time. It's Edge still has to implement some basic things that still missing.

Really? I've seen the option to run after download, but isn't this saying after clicking the link, you'll immediately have the Run option? I just started a download in Chrome and it doesn't have this option. There is an Open when Done option that is hidden. It's the same thing, but there is an extra step. This sounds like MS has just moved that same option up to the front.

Amazing how the greatest things are things we had before

Zac you must have hit post just as I tipped WC about downloading this update!

Downloading now (Mobile). I had installed the Localization for English update last night, so I hope this works.

Finished downloading and installing on my L950. I can now say, DO NOT install this build, the Store is missing and Grove Music is also gone, along with some other apps. The passcode for the lockscreen shows the regular keyboard, not the PIN pad. Also, pulling down the action center seems to glitch out once in awhile. Is anyone else experiencing simular issues?

Lumia 950. This build is like butter for me. Smooth.

Everything still ok, Catfish??? Debating on this build for my 950XL.

This is a smooth build. Fixed a lot of issues. Appraisin doesn't crash anymore and the photos app doesn't crash anymore either. The only 2 problems I found is the Quiet Hours quick action is broken and web videos rotation isn't working.

A little more. Long pressing gets you to settings but it doesn't let you to turn off unless you switch off automatic hours off.

For the first time, I'm suggesting caution.. My 950 has restarted twice during first 12 hours and once I had to force restart because lock screen froze.

The last fast build completely bricked my 950 - it wouldnt turn on, it couldnt be found by device recovery manager, plugged into multiple pcs, no dice - luckilly the MS store near me replaced it..........now im just on the stock updated release, and my phone still crashed 1 or 2 times a day (better than the 10-15 on the last fast build) - but i am feeling like im in old Android territory here with W10 Mobile, except at least when i was using my buggy ass Android phone, i had whatever apps i wanted at my disposal. Im seriously debating switching back - but i want to wait and see what Samsung releases, and also to see if there is a Surface Phone announcement at mobile world congress.

There's something else going on with your phone. I'm on the stock build as well and mine rarely crashes. I would suggest doing a factory reset and using it without any apps installed to see of one of your apps is the culprit.

Something must've happened during update. I reset my phone this morning and everything works great again =)
People say they're are some background tasks/setups running for a while after an update and I started the 007 update as soon as 002 was done so it didn't get the chance to "settle"?

This is good. You were rather let down the other day.

I just finished installing 15007 again after a hard reset. And now I'm not experiencing any problems so far. It must've been the Localization for English update, that messed everything up

Mine's bricked. Took out the battery and will wait for a quick fix from MS.

Some apps like Groove/OneDrive/Weather missing is fine. They are just decoupling a few core apps. You can download them as always

But why are they doing that?!! Does that mean people will be able to uninstall them in future W10M devices (if any) or W10 on ARM devices?
.
Edit 1 - Resetting corrupt built in apps is easy. Good point.
.
(2) Now with app reset that'll be even more easy. Hopefully this solves my corrupt UBER app problem which has a blank accent color icon and cannot be uninstalled. It just stays there. Downloading the app again simply adds ANOTHER Uber but with the icon correctly shown.

It's a big plus to decouple them. That way the app can be uninstalled and reinstalled to fix an unfixable problem rather than needing to do a hard (factory) reset of the device.

Though now with the app reset setting, you don't even need to do that anymore...

I installed this morning and I'm not missing anything

Groove won't install for me on this build. Same with Films & Tv and the MS Authenticator app...

Yes. and many automatic resets.

Very strange. I am having none of these issues on my Lumia 1320

I've never had "Grove Music" :)

I ran the update last night and restarted on my L950. My alarms didn't go off this morning and it frooze up three different times.Since then and two different scans on the SD card everything seems to be fine. I'm able to launch both the store and Groove with no issue. And as I'm typing this I just closed a couple apps and it locked up again on the start screen. I can't seem to reproduce this on my L640XL, but I don't have an SD card in that one at the moment. Something's not quite right with this build, but we are on the fast ring because we want to be.

Barclays Mobile Banking now says the device is jailbroken and won't launch. Reinstalling won't fix the issue ☹

Jailbroken ?!! Is that an iOS port by any chance?

After installing the update I checked Store to see which app udates were available. One of these updates was the actual Store app. While updating the apps, Store closed multiple times (while downloading). When Store app finally started the install process the app closed (as expected) then the phone crashed. After soft reset, the phone loaded and the Store app was not present in the app list. I went to Settings > System > Storage > Apps > Store (where it was listed) and tried to reset it. Unable to reset it with the error "We couldn't reset this app. Try again in a bit." I'm unable to take screenshots and the phone faces random reboots. It has also begun overheating. Everybody's going to tell me to hard reset

If you have Facebook beta installed, uninstall it. I know, sounds dumb but that's what fixed my L950. Saw the recommendation on the Insider forum and was desperate for some fix after numerous restarts and haven't had any issues since.

They tweeted this newer build should update over that Localization build no problem :)

It seemed fine at first. But now, it's just getting worse. I'm gonna have to go back to previous build

I installed the Localization build yesterday on my 950XL.
When I checked for the new update I got an error message saying there was a problem and I should try again later (I did try later a few time, no change). I was planning to hard reset my phone (not done for a long time on insider now), so I reset the phone this morning and 15007 is downloading without issue just now.

Hang on, this says nothing about which ring. I am on Fast, but I see nothing...I would presume this update is for fast ring. Right now, I have .14393.693.

Found an issue, never mind.

I think that 14393 is the release ring build just go into your update and security in settings and check your insider build setting

Yep, that's the problem. My phone had been switched out to a new one and I forgot to go live again.

Wondering why the interesting features are PC only!!!???
It's one core, one OS??

Agreed nothing major for mobile smh

Mobile is kinda limited. Most of these features can't be applied to mobile. We'll get something I hope.

I've been waiting for split screen multitask since threshold2

How often would you actually use it? I find myself rarely using even one app, two AT THE SAME TIME seem just outlandish to me. I'm not against it, I just feel there are other more important features and fixes that we need.

i would use it alot facebook and twitter/instagram i do that alot with snap on pc. More important features like what?

I think it's more useful on some apps that requires you or makes easier to work at the same time such as Edge + Word when doing light cross-referencing or pasting some photos from Photos app or File Explorer to another app. It has to do being almost as flexible as working on a desktop, not something you spent on hours but it makes things more efficient. Split screen multitask just makes more sense since W10M are also on tablets. Not having it especially these days that even iOS supports it on iPad, which used to be a criticism against Windows tablets and few Samsung Galaxy tablets that have one. Phablet users (6 inch or 5.7 inch and above) would also benefit with extra flexibility on mulitasking. Of course for phones like 5 inch having this is cramped and less useful. So split screen multitask (I just want to call it Windows Snap for consistency from the PC) is a necessary feature for W10M especially if MS even markets themselves as the company who provides better productivity for the users. Especially when W10M at the moment is pretty much an enterprise than for consumers. This Windows Snap and floating mini-window like on Skype for Android (Apple calls it Picture-in-picture) are two necessary multitasking functionalities that W10M really needs. Especially that these functionalities are always useful for smartphone and tablet use-case than Continuum which is more of a PC-like use case. Not because Continuum is useless but not everybody will really use it 90% of the time using mobile devices. My take having these two features will make W10M really good as a mobile OS other than Continuum.

Me too! This really needs on W10M that even iOS supports it on their iPad. W10M is now also supports tablets thus a Windows Snap just make sense to have one, even phablets such as Lumia 1520 and Elite X3 with those large displays for a smartphone. For everybody, we even need feature like "Picture-on-picture" (Apple term for it) basically a small always-on-top floating window generally used for Video call such as Skype on Android and PC and videos. If the functionality is even more flexible, it can be used for other floating UI such as Chat Heads on Android or any other stuff.
https://cdn0.vox-cdn.com/thumbor/RJ4zqZA-L_YxVQV46Au_pzmdTE4=/2x0:638x42...

How is being able to reset an app on mobile not major?!

Its not a major feature...just something that's been on other platforms for years that we're finally getting.... A major feature would be split screen multitasking or running android apps.....

There were reasons running android apps on win10m was dropped. Including overall performance issues and privacy issues. So unless they can somehow find a new way to efficiently emulate android apps without slowing win10 to a snail's pace, May as well we all forget that hope :p Although on another note, split screen multitasking would be great. I'd assume if that ever happens, it'll be when they get the PC win10 on mobile with the new Qualcomm chips hardware (as they announced a few months ago)

Trust me when we get that there will be a few people like you complain that It's not major and android has had that for years. In my opinion screen splitting for a device whose screen is less than 7 inch is uneeded.

It is a major feature. It's one of my most wanted, in fact.

The app reset is big to me.
​GATT server is big to me, because that means the Fitbit Blaze will soon be my Microsoft Band replacement


Yep, I did a little happy dance when I saw this too! :-D

Hello? Read that one about bluetooth again... GATT server is not a small update at all...

He's going to say, "it's been on android". Which is a really dumb comment because compared to Android, Windows Mobile is an infant.

It's small to me I have no use for it. I don't care for Fitbit

So because you don't care for it they shouldn't even put it in. You should create your own os maybe that only you use?

Never said that I just said I don't care for it its not major to ME

No, you specifically said that it's not major. If you meant that it's not important to you then that's what you should have said in the firat place. I doubt that what you specifically want is uppermost in anyone's mind at Microsoft when they decide what to put into the OS. The majorness of a feature should be judged on how much it does for how many people. What any feature does for any specific individual is completely irrelevant.

Pick up where you left off, Bluetooth apis, app reset (pc and mobile) among others.

One Core, multiple OS layers. All the OS's can use the same UWP apps and features. Technically all Mobile/ioT/Holographic devices can use the PC stuff since they share the same code and core, but it's not really ideal because of form-factor and hardware specs. That being said, not sure how you are say there's no interesting features for mobile when there was lots of significant changes here and lots of important fixes. So I would say that's more important... and as you can read in the changelog, a lot of the Mobile features were in the last PC build already, so that means a lot of the PC features (that are suitable for mobile too) are coming to Mobile.

Yep. They promised windowed Continuum, yet only few weeks of coding remains before MS feature lock this Creators Update and nothing is in the horizon. Wonder if WoARM has changed their plans for that. Pity this won't come on existing mobiles then...

Well, nothing is in the horizon that you know of. Who knows what's going on behind closed doors.

Aww still none of the continuum stuff they showed off so long ago.

Yeah, we though its going to be ready this RS2 but it seems its far from ready at all. Not sure if they really promised it but quite disappointing. At this stage we could've already testing it before they feature-lock this end of the month. Only few weeks to go before we can conclude how big the W10M feature update will be this Creators Update.

Yeah they keep talking about how important continuum is

Yeah, so that's why they are taking their time to get it right!

My thoughts are it won't come anymore. Not now they are pushing full Win on ARM with full desktop? Why wasting thousands of lines of code for a thing only suitable for no more built devices? Our only hope is HP shouting help for their X3 business, honestly. But they sell their virtualized space. Couldn't bother, I guess.. :|

App for websites now works/fixed for this build!

What are some examples of websites that utilize this??? I wanna try it out :)

I'm on production, and I think Twitter was the only one with this capability back then. But nothing worked and implementation had been suspended, I think. EDIT: I was wrong about Twitter. The only compatible apps amongst the ones I have installed are the Feedback Hub and Windows Central.

99% sure Windows Central app supports this!!

I think also the official AAWP app

But it doesn't work if the app was downloaded from Store. You need to use the .appx file. Daniel had a link to OneDrive for that.

Mine is downloading 14977 (RS_PRERELEASE) .. hmm .. on fast ring

Maybe your device wants to be on the slow ring.

Do you have a 650? I do, and we are stuck on 14965 for weeks now. 14977 failed (and fails) to install, as it was a known bug. But now, even after switching rings, changed date, etc., I'm still offered 14977 and not 14965 :/

14977 is known to fail to install on the 650, that's what ALL fast ringers on 650 are at best on 14965. I don't understand why we are not offered 15007 directly. You are right, I had a typo, I meant "I'm still offered 14977 and not 15007".

Is it possible to go from 14393.693 to 15007?

That would require to use WDRT. I prefer to wait for advise from Microsoft. I know the lang packs are a mess currently, and I prefer to defer hard reset or WDRT -- unless there's no other way.

I'm asking because I'm on production. Knowing about all these bugs made me think to leave the current fast and try the next one.

Of course it is, why it wouldn't?

I have that problem on my 1520. 950XL got 15007 without a problem

It downloaded 14977, finished install, downloaded 15007, installed as well. Seems to be running smooth. I played with a few websites and texted for a few hours. This morning when I woke up I also went to the store and updated -- new versions of Mail, Groove, etc. Everything seems to be OK thus far, which is fine by me. Just wish that MS Band app (or MS Health whatever it's called now) didn't suck battery all night for no reason... that app has been doing that for months though.

Finally GATT/Bluetooth LE.Yay!!

I'll be sending Fitbit a message...and a Tweet.

Want to see how this is running on a idol 4s before I install it

So far, so good for me on my idol. I was getting at last one random restart everyday on last fast ring build. It's only been a few hours. I'm hoping it can't be any worse.

My first bug so far, my settings reverted to wifi-calling preferred which is really unreliable. It's not letting me change it to cellular preferred. I'll try a soft reset.

Soft reset fixed that issue.

There were some problems installing updates, but we'll try again later. If you keep seeing this and want to search the web or contact support for information, this may help: (0x8024800a)

It's worth checking the blog link as there are lots of minor fixes in mobile not listed Here, Plus known issues

Waiting for those continuum improvements still. Glad to see mobile not left out. Still waiting for the big ones those. Windowed apps please.

It's not downloading on my L1520, by the way im in the fast ring it shows that there are updates available but i cant download and the error code is 0x80070057.

You should make sure that you have enough storage space on the phone's storage. That may be the issue.

I have the problem on L1520, it is not storage related.

Lot of minor and under-hood changes with few big ones on PC. The scrollbar changes is really nice I instantly noticed with this build. Sadly on W10M many new changes such as new Set Aside Tabs on Edge is not present which is already lagging behind and requires polish. I can't stressed out even more the fact we can't still sync tabs and have a list of recently closed tabs to reopen them. These two missing things are just few that keeps me from using Edge as a primary web browser. The "Continuity"-like feature is now officially part of Cortana which is a shame since it means the feature won't be available to everybody except for savvy enough to change regional settings of Cortana. This feature should've been just a part of a Windows shell in Task View which makes more sense with additional notification to Action Center that apps are ready to be used.

I know right? I feel like I'm missing so many features, because Cortana isn't available where I live. Wish there was a option to just use the US version of Cortana, in country's not officially supported, without changing the region settings.

You can choose Cortana language in her settings and activate.

You can already, Cortana has its own regional setting just like I do even though I'm in Australia, which is already supported but limited. The problem is still that some of these features doesn't have to be under Cortana especially when its meant to be Windows-to-Windows experience. They are oddly over-reliant to Cortana especially when Cortana 's official global availability is still limited.

But how? In the settings it just shows View history, Device History and Safe search.

Cortana is no longer region-locked and is available to everyone. She works separate from the OS region now and has her own language settings. So you simply choose the language you prefer to use until your language is available. Most people will simply select English (US) in Cortana > settings.

I think we 3 already said the same thing, no need to stress out more and I'm not the who are not aware of this particular setting. Heck I was just one of the people specifically suggest this on the Feedback Hub to separate Cortana's own regional setting from the global OS setting. The problem is still exist, some feature are too Cortana-dependent when they could've just make it as an OS-only feature where it works in any Windows 10 with MSA. For other platform only will have an exemption that they have to install Cortana app if available (the problem is its not unless you go to unofficial route). Cortana US itself is really great, the only problem lies not its technologies and features but the MS effort of their global reach of Cortana, which is slow to expand. Even the currently supported countries still limited which is why changing it to US is more of a necessity than an just a mere option. This is why having some shell features dependent on Cortana is something odd. Sorry if there is a misunderstanding here but reread the thread.

Not true, at least for me. I've tried this several times this last year, but no dice. I'm wondering if this was a mistake by MS that was quickly fixed, and so only the ones who activated it early still have access to the feature...?

Cortana, in MS plans, is the Trojan horse for competing mobile platform to offer their services. That's why they cram everything in there. Because Android/iOS can install Cortana anytime and get this feature.

Which I understand their point regarding to that, but for Windows-to-Windows this should not be needed. These things should be treated like a good incentive by having Windows devices around. Especially features that involves around OS shell and app workflows.

Bummer. They still didn't fix that YouTube no longer works via website or any apps. Sad thing is Microsoft acknowledged the issue.

Damn, that's a huge bug for me...

Works (and has worked all along) just fine for me. Edge, mytube and tubecast.

Either your not on fast ring or consider yourself lucky. All my family that is on fast ring has it.

FR user here as well. myTube! and playing videos on Edge works flawlessly. Region: Malaysia

This happened me after using adblock extention on Edge... try using ipconfig, and the new app reset function to reset Edge. took a long while for me to fix it

Wish I could but it's happening on Mobile, not desktop.

I've been on fast ring and awesome tube and YT on edge has been working.

Weird I've never had that problem... youtube works fine in Edge and myTube! for me. (Fast Ring)

Agreed. The YouTube problem is still not fixed on Mobile. 15002 and 15007 did fix it on the PC for me, but it has not fixed it on mobile. The error has changed, though. Now it says "This pages uses invalid TLS security settings".

I am having the same issue in Edge! I thought it was my phone because the Lumia 1320 wasn't meant for W10... Knowing it isn't my phone is relieving, but knowing I cant fix the issue is not.

The one way you could fix it is to use the recovery tool to roll back to production release and then restore from backup. Whatever you do please upvote the reports in feedback so it gets more attention and they get more data on the issue.

I'm on a Lumia 1320... there is no going back for me lol

MS does not love Google, but we knew this.

Are you kidding. Ballmer hated Google. Satya loves Google now but the feelings are mutual.

Good evolution for scrollbars!

GATT/Bluetooth!!! Get on your skates now FitBit we want our notifications please 😉

Will test my Garmin after this 😃

Think Garmin (and FitBit) need to do work at their end too?

Yes, an app update will be required

I have downloaded the mobile version with no problems but both my pc and laptop are sitting on downloading 100% but not installing

My PC is not downloading.

My laptop and tablet are both sitting on 100% and not advancing.

My pc and tablet were the same for ages but my pc just completed

Finally got. The build onto all my devices. I had to restart my pc three times it still didn't work I gave up and shut it down when I turned it back on it installed it and now is fine. The tablet took two restarts.

Restarted couple of times. Dat helped

Previous build on my pc taskbar is a no go will see if I can find a way to update via powershell so I don't have to fresh install.

Try unplugging or plugin an external monitor. Also try killing and launching explorer.exe. I did that and in like 3 minutes it's started working.

I had to remove my external monitors (1 HDMI, 1 USB) on every boot, then reconnect once logged in to get the taskbar to work. I'm on the latest build now and it works like it should.

I sure hope the scroll bar changes finally fix the annoying disappearing scroll bar issue in UWP apps. So annoying when trying to scroll Twitter, for example.

I can see lots of tweaks for mobile, but the "Store" is missing, and the 640 is super laggy. Not sure if it's isolated or not.

Give it time and several reboots. That will put it right.

Was hoping for one bullet that said, 'Fixed all the stuff we broke in 15002."

No, it is worst. THe worst fast ring update they've released

15007 SP4 rdp broke, 15002/15007 on my desktop Green Screen. Phone 15007 a ton better. I appreciate what they do we are on Fast Ring :)

Broke my SP4 also. Went through complete install but now locks after logon and will not get to desktop. Will have to flatten and reinstall. 15002 was very slow and Edge had many issues but 15007 broke everything. Been a while since I had to flatten the testing device.

Its working pretty flawlessly for me on my surfacebook and 950XL so far (been about 12hrs now)

Did they fix the google services issue?

Using a 950xl, and all Google sites work in Edge and any app tied to Edge. Watched a YouTube video for the first time in over a month.

Still not working on my 950.

Odd. I'm on YouTube all the time on my 950XL.

I notice significant rendering improvement with Edge on 15007. It had been unusuable for me with many websites.

sound like you need a hard rest

I'm on release preview with my 950XL and I'm dying to try this branch. Anyone think it's stable enough for my main phone yet tho? The known issues for mobile doesn't look too bad this time...

I don't think so. I mean the list is not huge but the overall mobile experience is buggy in the lastest builds.

K, thanks fro the heads up. I haven't run any RS1 builds on mobile yet.

Try slow ring. Its stable on my 950.

I can't download it on my pc. It struck at 0%

It's stuck on my test tablet and my 2nd test PC.

This might be only my bias, but the rainbow flag emoji is the biggest feature update. Next, gender specific emojis please!

Hope this fix My current crashes since build 15002. thanks for the Udate.

Mobile MS 950 (work/school joined with encryption), just upgraded to 15007 (from last FAST build).. Phone is very warm/battery drain even after an hour after upgrade.. 4 crashes (phone resetting itself) different times, going through cortana settings, also system settings.. Store keeps looping into "Something when wrong" (could be something to do with being AAD joined).. Might have to do a phone reset.. see if that fixes my issues (usually does after a major upgrade)

Have you tried hard reset on your phone after upgrading to a new build?

same here almost everything hung on my 950. phone was completely useless. used update recovery tool and in process of reinnstalling EVERYTHING now. start screen was unable to be restored too (of course!). 15007 for mobile is a complete **** show!!!!!!!!!! DO NOT INSTALL 15007 for WINDOWS MOBILE - you have been warned

For a release (rs2) that's supposedly mobile focused, the mobile features sure are uninspiring. I guess with w10 now runnable on ARM w10m won't be getting that much emphasis going forward, sad to say.

That's what its beginning to feel like. All the requested features in the feedback hub and they still aren't adding much interesting to it

I'm really worried about what they are going to do with the mobile SKU now that the desktop SKU can run on ARM chipsets. The can either continue working on mobile or make the windows 10 desktop version adapt well in smaller screens. Time will tell...

Hopefully they don't do the wp7 to wp8 thing...

That won't happen with W10. No matter what they do with the current core that won't be a possible issue. So you're safe ;)

That is incorrect. Full Windows on ARM will require hardware that nobody has right now. This means, all the people with a Windows phone right now will have to buy a new device in order to have full Windows on Arm. Existing users will only be able to have Continuum.

Yeah, but what happened between wp7 & wp8 was a complete kernel rebuild, that will not happen with w10. Its just that you'll require new hardware for the new features. You'll not be required to use full w10 on arm, w10mobile won't go away, that's one thing you can be sure of.

GATT is for smart watches etc that weren't compatible. Sweet!!!!!!

I check for updates but theres nothing going on, :( .... In on Fast ring 💍. Why ? :(

Stuck on 0% on my PC. Also says, "Some settings are managed by your orginization".

You have your phone that's connected to AAD or something like that. Or maybe, you have connected your organization's account to your phone.

It's not my phone, it's my PC and I'm not a part of any organization.

I'll be you'll see that you are using the Windows 10 PRO version, which supports full GPO settings (which is why you see that message). I have one test machine that's using the Windows 10 Home and one that's on Windows 10 Pro. Only my Pro test machine has that message.

have the same problem, and looking at the feedback hub so do many others. And like them I don't have an "organisation". I'm a standalone user with a Microsoft account and full admin rights.

Same issue here on my phone. No organization or anything but it says its managed by my organization in settings. Weird.

You likely have the Pro version of Windows 10 installed. That's where that message comes from (because it supports full GPO setting).

But its a slightly spurious message as updates are 'managed' through Insider settings instead of normal. You don't need to have anything GPO related, it's mentioned in the Changelog.

Many issues with this build on a 950XL. Many random freezes, and reboots. Guess its a hard reset time....

Yip, exactly the same on a 640.

Same here on Lumia 950 DS. Around 10 reboots within hour. This is actually first insider build in years where I've really seen the OS to crash so badly


same... i got a bit complacent... any fixes? is there an ability to roll back?

Hello, I've done factory reset of phone and after that I havn't seen any reboots. I suspect that reboots were caused by some incompatability from that unexpectedly published build 14998 from yesterday. Probably build 15007 itself is not so bad as it seemed. At least I don't have to use device recovery tool to return to official production build. Microsoft could mention that in known problems list.

I updated from the unofficial/accidental 14998 and I'm having no issue so far with freezing or reboots. I'd bet its more to do with where your apps are installed, or whatever else you might have on an SD card. There were some oddities, like I had to retrain Windows Hello (or, make it better) as the first time on both PC and phone, I had to enter my PIN.

Ya. Accidentally got the 14998 build as well but everything seems fine. Switched to slow ring so I don't get this 15007 and totally screw up my 950xl

Ok, installed on my 950xl. Edge is faster and correctly renders text in the comment section. So what exactly needs to happen to allow Edge to load the desktop version of this site? It started loading mobile the past three builds

Edge > Settings > View desktop mode

It has always been set to Desktop. Windowscentral loads the mobile site for whatever reason. Only site I visit that does this.

Try on other sites other than Windows Central. If the other sites show the desktop view, then it's the site's or the user agent's issue.

OK, the Edge question is answered. For me, with the new build, it is working well with the 15007 on my 950XL (dual SIM). It had been unusable with many web sites. I had to do a hard reset to stabilize the build with other applications. I think I might have been overdue for a reset. My only remaining problem is the phone did not recognize the new 64GB SD card I put in to replace the 32GB that was starting fill up. I'm reasonably confident a slow format to exFAT will resolve that. It's been so long since I did a hard reset that I forgot how much better the configuration backup now is. I only had to restore minor settings

How's the stability of this update for anyone running on the 950 XL?

Similar to a post above, 950xl is unusable. It's been 30 mins since I updated and it's frozen and/or reset about 5 times already. If you do one too many things, it hangs and restarts. (edit: i lied, 6 times now as I was typing this) Also when unlocking your phone with a pin, which you had to set up with numbers as opposed to letters, it brings up the keyboard and then you'll have to click the key to get to numbers, enter your pin, and then hit enter. I don't know what the heck happened with this, but it should've been immediately apparent that this is not right. I'm nervous to do a hard-reset because it takes forever to get to current, but I may have no choice.

This is me too. Reboots over and over. Usually without me doing anything, If it does let me in, it says "Loading" over the Start screen until final rebooting a minute later. Even tried camera button from lock screen and it let me take one photo, then ended up rebooting again. It's completely unuseable now. Not looking good...

Same here. Not good at all. Phone basically unusable.

Now had 'This device has been locked for security reasons' messages. Had to reset PIN from internet, which wasn't easy as it was still restarting every few minutes. Managed in the end set new PIN. Once phone unlocked with new PIN, I uninstalled facebook as quickly as I could. Phone now seems to be OK.

Works fine for me so far on my 950 XL.

Mine (950XL) downloaded 14977 first, then 15007. No reboots at all yet, texted for a few hours last night afterwards. Who knows why these fast ring releases are so random in ability to not suck.... because on my Surface Pro 3, this build murdered Edge (freezes either because you have more than a few tabs open or because Jupiter is not aligned wtih Tatooine???) so I had to rollback. Just like the last fast build, when it murdered the Action Center. You just don't know...

Good for me so far. Maybe a little warmer, but no reboots required as yet and certainly faster.

950XL here. Updated from 14998 last night No issues to report so far. Seems a better build. Haven't had to hard reset (or soft reset even). Just had to improve recognition on Windows Hello to get the iris scanner to work.

Crashing constantly on my L950.

I've (L950DS) been stable so far. No glitches yet. But I did not install the 997 build this morning.. Did you? Both Surface Pro's are stuck at 0% downloading.

I installed this mornings build by accident. I have the 950 xl. Is your 950 still running smoothly since the second fast ring update?

Mine is with the exception of Groove not working

Didn't install 997. I'll be trying a hard reset if this continues. Every couple of minutes of use it locks up for a minute or so and then crashes and restarts the phone.Sitting idle, it seems to be stable.

Did a hard reset, now it looks like the keyboard/speech pack problem is back again - neither are downloading for me.

The problem may be in conjunction with phones that have a SDcard installed. ​Had this problem with WP8.x or so, and with early version of W10 for PC (ThinkPad 8). WTF? ​MS needs to get out an additional update to rectify the problem, or maybe even a new build.

New Feature: Lumia 950xl reboot two times in five minutes when checking settings and new features.

Confirmed! (since yesterday)

Hmm. All the devices we have trying to install the update are hanging at either 0% download or 100% download, but not going any further. For the past hour.

Restarted couple of times.Dat helped to go past 100%

I deleted delivery optimization files, rebooted and it fired up.

Quiet Hour issues. Please upvote: https://aka.ms/K9s9kh

Finally...a rainbow emoji

Guys, Do this build for mobile includes "Blue Light" settings ??

This build is way better and fixed many issues14977 had. 640 does not lag anymore as my daily driver....updating all necessary apps.

I could install Win10M 15007 to my MCJ MADOSMA Q501. But, SIM APN settings are gone during installation.
And, I've noticed that the restoring sequence does not contain the SIM settings.
If you reset the phone, you may see the language selector, timezone, EULA, WiFi AP, etc. But, 15007's one does not have SIM settings.

Okay, this is exciting stuff because we are just beginning to see how powerful OneCore and roaming cloud experiences are. Cortana is now able to pass relevant content between devices. Example, if you ask her for directions to somewhere, the directions will pop up on your screen and in the action center on your phone. It is almost instantaneous. That is the power of this environment and it is just a hint of what could be possible.

Why couldnot I update for surface pro 4?

Is windows 10 mobile update coming to Lumia 525 ?

Unusable is an understatement#15007#Lumia730

Your avatar ate the netscreen tubes

Lumia 930. Working great, no problems for now. Edit: After reseting app, it is not working, is not opening. After reseting the app, the size of the app is 0. it is a same as deleting. After restarting phone, app size showing nrmal but app is not opening. that is why i reinstalled the app.

Still won't install on Lumia 650

It won't complete install on Lumia 650 .just like the last update

Got 15007 installed on my 640XL... but now it is repeatedly freezing and rebooting. *sigh*

After install on 640 I had rebooting, sluggish and NO STORE.
Reset, restored a backup from three days ago and when it restarted it had 15007 and the STORE was back. Still installing the apps but seems to work. I'll check it in the morning.
On old Thinkpad I got the stuck at 100%. Forced restart, stuck at 0%. Turned off Optimization. Restart. Update worked. I'll check it out in AM.

Same here... for me, it was Groove that noticeably went missing... perhaps others? Hard to check with the constant spontaneous reboots. Resetting the device now... hopefully it can restore my last backup overnight.

Wow!!!I was about to give up on Windows,but I see some basic features are now coming

It seems the new update system is mistaken mobile for system, the latest update is around 7.26GB on my 830 ???

But the real download is only hundreds of megabytes.

What? That's gotta be a mistake. Not that MS doesn't make plenty of mistakes, but that sounds egregious

Hard reset after many freezing/restart problems (950XL). Left Windows Hello turned off. Had to manually try to install all the MS apps (Outlook, Calculator, Groove, etc) So far so good. (2 hours +)

So after updating, I noticed that it takes little to no effort to crash my phone no matter what I do. I managed to get to the settings but I don't see anything involving recovery to rollback to another build. Is that still an option in this build?

It's never been an option on phone from what I can recall. Windows Device Recovery Tool will assist you.

well I started download on mobile 14988 a SP4 on 15002 build
now mobile L950 is installing it and SP4 is still on 0%

Now we can turn off the glance screen when charging again.

Anyone is happy with this on 950? Since this is my daily driver I dont want to install it if it constantly reboots and lags. But I really need notifications on Fitbit!!

Go ahead. Better build after soft bread.

THey said they're implementing the API's for GATT. That doesn't mean its going to start working tomorrow. I assume there is something more than will need to be done by fitbit and/or MS.

So far so good, zero reboots... Had reboots on previous insider build.

Seems ok for me so far, no crashing or random reboots - L950

Looks like its not a smooth ride

WhatsApp Beta frequent crashing, anyone? Or just me?

Normal for me (using the beta version if that matters)

Public version working fine.

I can't use the beta or public version. I just have the Loading screen... any clue?

I do have many apps having same issue, usually a reboot it can be started again, but after sometime it can't be started again.. Many of these apps doesn't stay in background also, it got killed off easily. I'm very reluctant to reset device as I have quite a few paid apps that were already deleted from the store, I won't be able to reinstall back if I reset my device.

Nothing downloading on my Lumia 650 on fast ring. What the hell is this. Downloading just 14977 again and again

Now its time to leave Windows

Use device recovery tool, then back in fast ring and you'll get 15007

Installed on 1520 in about 15 mins, seems to be running very smoothly.

As and when Dona has assumed the MS Insider Program charge MS Windows Mobile is declining due to her lack of interest in the program. Windows Mobile share in the world market has decreased below 1%.

you are bafflingly unaware of reality. Come on man, she's been much more involved than Gabe was. Its just MS in general that is moving in a different direction now.

Hey It is less them 0.01.... 1% is too high for us

Popularity of Windows Phone or Windows 10 Mobile has nothing to do with Dona Sarkar. She manages the Insider Program. What's hurting the popularity of Windows phones? In my opinion, the reasons include: 1. Microsoft STARTED with truly unique and gorgeous features and UI, but built it on a core that couldn't go very far (WindowsCE) 2. Microsoft was HORRIBLE (and still is) at marketing the system and, given how far they were behind the competition, did virtually NOTHING to get the most popular apps & developers onboard 3. Switching to WP8 created two problems: LOSS of some of the best features from WP7 that they never fully recovered from and angering a LOT of their users because they were forced to buy new devices to get WP8 4. AGAIN not doing really anything get hold onto existing developers or gaining new support---third parties, users and companies all began to get gunshy 5. They bought Nokia's hardware division and then killed it. Devices after the 1020 and 1520 were garbage by comparison in beauty and build quality and uninspired in terms of look and specs 6. Retrenching. This was a signal to just about everyone that they no longer really cared about smartphones, other than just to keep a toe wet. 7. Windows 10 Mobile. AGAIN, losing even MORE features that drew those of us who were here from the beginning TO the platform. This turned many of us who were biggest cheerleaders into no longer promoting it. Once again, because of the UWP approach (which ISN'T truly universal), even MORE third parties, OEMs and companies are saying goodbye because there's no consistency, no real support or excitement and the CEO doesn't even TRY to make the case for it. 8. Microsoft's hope now is in Windows on Arm, leaving the mobile-only SKU with a dead-end future. I HATE saying all this, too. I was SUCH a fan in the beginning, and I got SO many of my friends to switch to WP7 and even WP8. All but a couple are now either on iPhone or Android. My family remains 100% Microsoft, but that's because, despite all the things we HATE about what they've done to Windows on all devices and the WASTE that Xbox One was for us, they have the most integrated experience. And, quite frankly, we'll go back to feature phones before we use an Apple or Android product.

I've got a Galaxy S6 Edge just sitting here because I really do prefer the interface that MS has come up with... but I can't argue with any of this. If I could get the MS interface with android apps I'd be very happy.

Hello All On my 950 it installed perfectly after ( the mistake update yesterday) Runs OK On one pc it installed also perfectly and runs smooth. BUT On my Laptop the download keeps jhanging on 99% and on my other PC A brilliant 0% MS is doin' her job :(

This was a serious disappointment that turned into a hot mess for me. The last build in December broke almost every one of my non UWP apps. They would just show 'Loading...' or the splash screen for a bit and then either crash to the Start screen or reboot the phone. Since the backup situation on WP is terrible there were apps that only manually backup to OneDrive (or 'SkyDrive'!) with data that I didn't want to lose. No problem I thought, I can wait for the next build... Fast forward five weeks, I was excited to finally see 15007 available. So updated, and... all the apps still don't work. Even better, just about every app on the phone will force it to reboot. Even just letting it reboot and having it sit on the desk idle would trigger a reboot. So I finally bite the bullet and decide to just lose the data and do a hard reset. At least I'll have a usable phone again right? Wrong of course, I should have learned by now. While it at least isn't rebooting every five minutes I still can't open any of these apps: NextGen Reader (non UWP), QuickMinder, Ally Bank, Kik, Clarus Milage+, ConnectMe, ecobee remote, RSA SecurID, The Daily Beast, etc... Yes I know this is the fast ring, etc... Hard reset should at least give me a semi-usable phone. I think opening an app is a pretty low bar for a smartphone in 2017. Anyway, had to rant somewhere. This might be the end of the line for the once sturdy 1520.

At this point I'd suggest you use device recovery to go back to prod and wait for it to become more stable. That's currently what I am doing. I would also like to say thanks to all you brave insiders.

But in my mobile this build couldn't install why?give me an idea.

App reset feature is just osm.thanks MSFT

Unable to download on my 650! Still seeing 14977 downloading, stuck on 65 due to famous installation bug!!!

Same here mate, on a 650 as well. I've set date to November, changed rings, etc., only 14977 will show, and will fail to install like it did for almost 2 months now.

Anyone having Groove app issues on this build

Having some problems at first, but works fine later.. I dunno why...

Yes. the app works, but don't have a shortcut. Have to go to the store then press launch.

Why I only can download 14977 version in Fast mode and only get an error? Please help me. Reset does not help. Tnx.

Wow many improvements! Keep it up Microsoft!

i am getting on my SP3 the following error message Windows 10 Insider Preview 15007 (rs_prerelease) - Error 0x8024003 any one else? how to solve? on mobile L950 it seems to work extremely well!

Oh, I can't wait for some of those come to Release preview! Nice zooming in Edge, deleting cash to fix apps, or shrink the ones I don't use etc.
I can't risk with Fast Ring! I have one phone, and I need it very, very much... as functional! 😀

My Lumia 950(fast ring) don't see the new build. Anyone with this problem?

guys.. please help me.. I change fast ring to release preview ring in Windows insiders program setting.

what about onedrive on-demand sync?

No Bluelight filter... sad times, that was the only feature i wanted. This update seems to have broken my windows store just doesn't log in, get a 'something went wrong' On a side issue in noticed this a few months ago but now every time i restart my phone when it turns on i get a little toast notification saying 'Welcome to joyn' i've no idea when this is and the notification doesn't turn up in the action centre. Anyone else have this or know what this is? I've a lumia 930.

Yes I had it. I cant remember how I got rid of the notification but it is a communication protocol between the carrier and windows /ios aimed at changing the sms format. If you type joyn into your search it tells you about it

guys.. please help me.. I change fast ring to release preview ring in Windows insiders program setting.

I have Lumia 1520 and I still don't have this new build (the last one is 14977 on Fast Ring) ... :/ M

My 1520 got it, but I wish it hadn't at this point.

Loving this build on my Lumia 635 even stopped the Windows Central app crashing each time i scrolled down these comments.

Installed on my SP3. Impressive ... until Edge stopped working / started freezing. Sigh. Rolled back. Oh well, it's an insider fast ring

Copy and pasting "Need a hand?... Contact Support" in every single section of the settings is not the best idea. It just makes the whole setting overwhelming and confusing.

I kind of agree. Sub sections only and not in each individual setting page.

Woohoo! For whatever reason, the update to Fast Ring (from RP) 15007 has allowed the unread count on my Windows Central live tile to start working! (L950) The first time since I started using the W10 version of the app!!! Finally!

Hey Microsoft insider developer, do you know how much frustrating it is??? When WhatsApp and dictionary type app not opening ...you are developing garbage... Doesn't have any app suitability... Plz works on that.. Relief us...

Those who are doing thumbs down ... They didn't face problems like this.. Until I faced problems.. I didn't write here... All are interfering another person hazardness...

And it never once accurd to you it maybe on WhatsApp,s end not the Os?

I can't speak for Simul but about 2/3 of the apps on my phone are Win8 era and they don't even open now. Hard reset did not correct it.

Doesn't change the fact that the app may be the culprit.

This build has a problem on direct reply on the notification center. When i try to reply it doesnt send u need to go to main messaging app to reply to msgs. Hope they fix it asap.

All of this and still no way to pause/play your music from the action centre. Tired of opening the app every time I want to do this

Pressing the Volume rocker brings up some media controls. It's not action center but you can avoid opening the app.

Music controls can be displayed in ur lock screen...that means u don't have even to unlock the screen to control misic

Was just about to say that.

It still doesn't show for me on my Lumia 650. It just shows the previous build 14977, which falls to install.

So. With me having a 650, I could not of course get 14977. I went from 14963 to 15007. To put this in perspective. Carrie Fisher was still alive the last time my 650 received an update.

Did you ever have 14965? If so, did you use WDRT to get back to 14963? I'm on 14965, have never used change of date trickery to install new builds, and am still only seeing 14977. It tries to install and fails. Rinse, repeat.

Won't update on my 650. Download bar stuck on 10%

Working well on my lumia icon so far, at least after the upgrade completed. Only issue I ran into was an abnormally long black screen after the Windows logo during the reboot (ala the issue we had like that once many builds back). I did a vol down + power reboot the first time thinking it crashed when I wasn't looking, but left it a while the next time and it completed the update. Haven't had a chance to putz around much with apps yet.

The worse update never installed on my 950. A lot of freeze, reboot.
The groove music app has disappeared, from the front and even list, but from the store i can called it.

Terrible. Many freezes and reboots! Lumia 950 XL. I don't like this update😪

Same here. I've tried Groove and Pandora and both cause reboots after one song is played. Hopefully someone at MS is reading about all these issues here cause trying to open the feedback App also reboots my 950. Need a fix ASAP.

Same experience on my 950xl, freezing & rebooting every 5-10 minutes...

I keep getting 14977 offered to me on my Lumia 650 and it fails every time.

Mine (950xl) is downloading 15007 rs prerelease and got stack at 100% and it's been now almost 3hrs.

So far, so good. It's running really well on my Lumia 1320 thus far

My 950XL updated no problem as did my wife's 950 all working fine.
My Desktop updated ok but my Laptop doesn't want to know, gets to the end of updating then reverts to 14986?

For those who have freezes or reboot bug.
Someone wrote that it was caused by Wi-Fi and did the following on a 830:
Disable Wi-Fi and restart, wait for 10 minutes and re enabled Wi-Fi.
He got his phone working normally after that.
Please let's know if this trick is really working.

I reduced the frequency of the reboot bug but did not eliminate it for me

My phone was rebooting every couple minutes and I tried it with both wifi off, and in airplane mode. A hard reset fixed that issue, but I still can't open most of my Win8 era apps.

Anyone else still unable to run older WP8.1 apps on Mobile? I first started having the problem on 14977... still happening on 15007 and that's even after resetting and reinstalling all of my apps overnight.

Nope, and I suspect there are many of us. I had the same experiance starting with 14977. Hard reset 15007 on my 1520 and they still don't work. I'm planning on spending the day on resetting to 8.1 and getting back on the release preview ring.

Finally, a new mobile build :D

i installed 15007 on my 950 and it keeps freezing then crashing then rebooting. Nothing works

Downloaded on my 950XL yesterday. So far build has been crash-o-rama/reboot city on mobile. Also phone gets very warm during use and while charging. Not impressed compared to previous fast ring build.

Faster windows hello on mobile now.

Bluetooth is still a mess, not cleared from past 6 builds or so

Anyone know what's up with the Groove app not showing up? Using a 1520.

A few of the 'standard' apps have to be downloaded manually - I had to for Groove, Outlook

Problem is the store says it's installed and I can launch it, but it doesn't show up in my app list on the phone. So, I can't uninstall it. Wierd.

Well, still can't get it to install on a tablet or a PC. Installed fine on the 950.

My Lumia 930 doesn't find the on fast ring (14977 current).

Bricks my Lumia 950 that uses a Samsung Evo+ 128 GB SDcard.
​Reports SDcard errors all the time (and fixes them quickly). ​However the phone stalls, crashes and sucks the battery in no time. Looks as if this 15007 ​update was rushed for mobile. Need to go back to the old build.

Worst update ever my phone keeps on restarting every 5 minutes

Are we still not allowed to record a voice call on lumia 640,even on build 15007....??? If yes, HOW ?????

The built in option is only available for devices that have W10M preinstalled.

Sigh...maybe dump it in a VM to make sure it's stable.... I have been the non-update path for a while (even though I am a insider) on my primary desktop, tried the last update on it and it killed my system completely. After a roll back, it was completely uninstable. I tried to "reset my pc" and it completely failed. I needed to FORMAT the drive and reinstall WIndows 10 from a clean drive to get it to work. This one has some interesting updates, Maybe Edge is ready for prime time.... Even on the last builds, it used more memory and a lot of sites didn't work right.

Like its predecessor, 15002,
this build does not install on my ThinkPad 8. ​

HP Elite x3. So far very stable. The only thing not functioning is the Quiet Hours Action Center toggle. You can still turn quiet hours on/off in Cortana. I'll be keeping my eyes on messaging app. The last two times I ran a fast ring release on this phone the messaging app would eventually crash. It would show a list of messages, but when you select one to open it would be a blank message field with none of the previous message thread and no input. Had to roll back to stock twice.

Are you getting random reboots?

My PC freezes at 22/23% on the update each time I try

So did they not fix the message notifications on your phone showing up on pc? I miss this more than anything else.

Can I download aditonal keyboards now? Still updating...

Yes you can. I did install Indonesian keyboard again, after months without it. I added keyboard from setting, and the display said it's downloading, and like usual, it said to be failed. But then my phone prompted to be ready to install 15007 update again, and after it's installed I got my Indonesian keyboard worked.

Buy a Yamaha professional keyboard or a steinway piano I've heard the keyboard is excellent

I've just updated my Acer LJP and it's goosed! The screen is now upside down and back to front, I can't log in as the buttons to put your pin in don't match up. It looks like the overlay is upside down and back to front, but buttons are the right way!

My Lumia 950 is having issues with the build. It installed last night ish. I keep getting a message saying "We couldn't finish installing updates Select this message to Learn more" I select the message and it say's "Some settings are manages by your organization" I don't know what those settings are. My phone is runnig slow and freezes at times,m also Texting is not working :(

Tried Hard resetting multiple times and it's the same thing. I get the same ertror messages and same worse performance..Hmm...

On #windowsinsider it was suggested that the FaceBook app was causing problems. I just used the new app reset functionality and have not yet experienced a reboot. Crossing my fingers

To follow up for me so far this has been the solution, I have not reloaded the FB app, but the reset has me over 1 hour of up time w/o a reboot.

Facebook or the facebook beta?

So maybe uninstall the app before updating to this build?

Installed on 640xl , no problems, smooth install, no crashez, no reboots.. Can not believe to other peoples crying...

Beware, it trashed my 640. Install went fine, but now the phone spontaneously reboots every few minutes, so it is basically unusable. I went to the MS insider forums, and immediately saw another post with the problem on a 950.

A full reset on my 640 sorted out the reboots. Only really irritating things now are store apps not downloading reliably and an app not opening every time

Yep so Ms not testing internally anymore then???

Same with my 640. I went through some horriable builds early on, months ago but it's been pretty good recently until now. This is absolutely the worst build ever. I can't even get it to stop locking up and rebooting long enough to troubleshoot. I did a device recovery early this morning and spending the day getting everything sit back up....so frustrating. I thought they were well past this..

This build put my Microsoft Lumia 735 into constant reboot mode. Saw the SD card needs repaired prompts. Totally rendered my phone useless. I did the power button reset and it automatically rolled back my phone to January 10th. Lost everything on my phone. Kinda frustrating.

This is a good build, no problems with my lumia640xl, stable, but the problem is nothing new to the 14393.... Only the edge is better with this rendering, except wpcentral.com, because this site is terrible. but the os is sloooow on the Pictures app!

Deleting the facebook-app does the trick for me. No freezes and reboots anymore, so far ☺ Lumia 950 XL

How has your phone been doing? Has this solved your problem? And if so which facebook app did you delete? The normal one or facebook beta? Many thanks

Deleting Facebook app did the trick for me. I still have Facebook Beta installed.

How do you access the rainbow flag? I don't have a page for flags on my keyboard...

Gives me a error 0x80240013.

Give it a good talking to

Go update hack my lumia 925

Random reboots galore on my elite x3. Other than that, a good build

Try 70s platform boots Garry glitter style

How big is this update? I've spent 2,7GB and it still showing 73%? Usually the download size is around 2,7-3,4GB

I seem to have lost data on my Hp Elite X3 everything worked fine on the last build, I'm going to try on my l640xl and see if I have to do a reset of the hp to fix this problem

Nokia Icon...... Phone is WARM, Battery drain, seems pretty bad.... Recharging.

On my 950xl I'm getting random crashes and restarts, battery running hot and draining. Apps crash, run slow, or won't start at all. Worst update ever!!!

Both my 950xl & 930 are doing the same, though its not happening frequently on the 930... The 930 froze once and lags quite frequently, while the 950xl freezes then reboots every 5-10 minutes... Definitely the worst build, first time this has happened to my devices on the fast ring...

My L650 also crash, freeze, restart every couple minutes. Store apps also missing. After hard reset seem OK but edge crash if I click windows central link in Bing search result.

Have u managed to install the latest update on your 650?

Yes. Before this I'm using 14988 leak build. I manage to install 14988 by changing date 7 days advance.

My 930 also rebooted a lot. After a backup and a restore to factory state it is goid again. Many apps was missing and I had to reinstall

7.26gig for Mobile ... No thanks

Have lock ups and frequent restart after the upgrade (L950).
Will try with a reset.

Use the special key to unlock

Won't install on my hp stream 7, says kernal error. Or no memory for ram disk.

Use the cookie cream vanilla

Love when my desktop and phone are on the same build and have the same problems.

L640xl downloaded and running good so far. I feel this build smoothed over some of the glitches i was having on the previous build.

It seemed like waaaay more than 40 days.

I can't install this build on my pc as well as 15002. It downloads fine, prepares to install ok. Then it asks to restart. When I do, the PC freezes on the windows logo and I get the Green Screen of Death! Tried 3 times this build. Anyone else facing the same issue?

Use the single crankel on the obvious dange on l7

Is it just me or does this build take really long to start moving?

Don't install on 512 mb ram on mobile

This build has not yet appear at my 640 for download. I am still at 14977

Change the date to 24jan ,it will instantly, then put it back after updating! Cheers 🍻

How to update this build in 512 mb ram mobile from insider program please tell me friends..

Use the single crankel on the obvious dange l7

I have a 640....do not....I repeat DO NOT update to 15007, it will destroy your phone. I had to go back to Windows 8.1 and I'm surprised on how much smoother and quicker WM8.1 is compared to WM10. I think I'll stay at WM8.1 for now. It's simpler but much more efficient. I'm done, I've been on Windows Insider for 6 years straght. I've been the super loyal fan. This update (15007) is like the beginning stages of WM10 in it's infancy, 2 years ago. There is no justification for this monumental disaster in 15007. I'm considering Android now. I'm just about fed up.

My L930 won't do any updates or download anything from the store since installing the previous build. Guessing it's a restore then.

Use the single crankel on the obvious dange l789

My Lumia 650 is still trying to install 14977 the update that wouldn't complete the install 7 weeks ago on fast ring. It's not offering me the 15007 latest update on fast ring .has anybody successfully installed 15007 on the Lumia 650 ? And if so ,any suggestions,how I can install it? Thanks

I'm afraid the inly way is to go back to RS1 using WDRT, then upgrade. That's what I'm about to do.

That doesn't work ivetried it

try changing rings, then restart, then check for updates, then restart, then change back to fast ring, then restart, then check for updates that *might* clear out the pending 14977 install

Yes it works, I did on Saturday. Went back to TH2 with WDRT, then, without even logging in, I've updated to RS1 (14393.XXX) then I enrolled in the WIP, switched to Fast Ring, and updated. 15007 was targeted directly. Then I did a hard reset and restored my backup.

I also face same problem. After I change date a week in advance my phone download xx988. After this build release I can install without problem but my phone freeze and reboot after use around 10-20minutes. After hard reset those problem solved.

Mine is also still trying to install 14977 and 15007 is not showing up. Wondering if I should use the recovery tool to see if that helps

Mine is also still trying to install 14977 and 15007 is not showing up. Wondering if I should use the recovery tool to see if that helps

I dont know if the freezing and hanging of screen is biuld issue or just because i have my device repaired (screen replacement)

It could be the crankle on the ******, that needs villious fadging.by opening the billious ****** tackle

After 15007 I don't experience any app or phone crashes (yet). But boy, my battery is in free fall....burns a percent every 3-5min on idle! And phone is always hot. But when I turned the battery saver on phone cooled down and rapid battery drainage stopped.

How to update this build in 512 mb ram mobile from insider program please tell me friends.....

Do Not, I repeat Do Not update Win 10 on 512mb, you need at least 1gb. Even if it did half way function you will be frustrated and revert which is more trouble than it's worth. If you want 10 get a phone that can handle it and for what it's worth I would advise skipping 15007 all together, worst build yet.

Where can I get that wallpaper from? Both for phone and laptop?

Worst build ever - constant crashing and rebooting. Cannot even send or read messages. I'm getting notifications but they are nowhere to be found in messaging app or skype preview. If you did not update yet I advise not to this time!

To live or to be Windows insider?

Still doesn't show on my Lumia 650 :(

Installed Great on PC except that start menu et al. is all white blocks rendering my PC useless.

It seems this build works great on my Lumia devices I had to reset my hp x3 to get my data working again on T-mobile my 8 inch nuvision tablet has nothing but problems compared to the last build

Works great for some people.

OK, dumbest fix yet. If your phone is locking up, like my L950, and have Facebook beta installed, uninstall it. My phone hasn't frozen or restarted since. Found this fix posted on the insider forum. Have to say I installed the new, official Facebook app and hate it. Would really like to know why one app would cause so many issues.

exactly same experience and questions

The phone seems stable now one day after update. No more apps crashing (at least the frequently used one) or whatsoever.

15007. Lumia Icon/929 works great. Beware ...PC version breaks Quicken 2017 due to .net framework incompatibility

Has anyone figured out a fix for 15007? My lumia 950xl restarts every 5 minutes! This is so far the worst update!

reinstall facebook(s) and/or whatsapp

Yep. Uninstalling old MS Facebook app worked. No hangs, crashes or restarts. It's been several hours since updating. Only a little warmth with heavy use.

I have L920.. Running on insider 1451.10458. How can i get insider update 15007..

Is this a true news that.. Nokia again coming in the market and relaunch their new products... Coz i want to buy new phone... L920 is now very old... And not getting any insider update... Can i get 15007 insider update.. Now it is running on 1451.10458... Insider.. How can i get 15007 insider...

Anyone having issues with WhatsApp and the Lumia 640?

Still no tap to pay in the UK.

If it's any consolation, tap-to-pay is broken in this build for US folks, too :D

Lumia 1520 running build 15007: Immediately after installing I began to have problems with the crashing and random reboots. Even when plugged in to charge the phone would reboot every 2-3 minutes and overheat. It crashed everytime I used Whataspp. Soft resets wouldn't work. Store was missing from the App list but still present under APPS in settings. I reset Store there and it has since then recovered after abotu 2 more reboots. From reading the comments here I noticed that Facebook App seemed to be a common culprit. So I reset Facebook App and Also my WhatsApp. The reboots have since stopped BUT... Whataspp nor Facebook will launch even after a few hard resets.


I had to reinstall WhatsApp and Facebook. Everything seems back to normal now. *fingers crossed*

i can confirm that facebook caused my issues. very odd that facebook can reboot the device and make it almost unusable. doesn't feel very sandboxed. reinstalled facebook after uninstall and works since then. ran without facebook for about a day before that. have had no crashes aince, compared to one every 5min

What I found: Music tile don't work.. There is a trouble with SD card on Lumia 1520. The phone says: There is a problem and SD card can't work. It seems the battery drain it's bigger!

I think its a problem with Bluetooth, draining battery. Microsoft band using Bluetooth to work with band has been a huge battery drain on my Icon . Once I made the band app not work in background, my phone battery drain went to normal. Also if I use a Bluetooth head set, my battery drains almost immediately. All worked fine on previous insider build.

Why you delete my comment LOL

Definitely a Friday 13th build.?

Absolute rubbish build! I assume the testers were all on christmas break or at least tested it on one single sim device.Doesnt work on dual sim 950 which happened with a build last year

No internet with Mobile on cellular connection :(

I am experiencing the same issues , been on my wifi network since the upgrade , arrived into the office no wifi and to establish unable to use my internet and mobile cellular data - anooyed as these are basic issues which MSFT should report on had i known i would have not used my WP10 950XL today and used my Android instead

App reset not working, whats app crushes & films and tv worse nothing is playing. It keeps on give error Xbox

Seems encrypting SD card don't work.

Did MS pull out the update 15007? I can't see it on my L1520

The phone now has a full keyboard to unlock the phone, rather then the usual phone key pad. Now to enter the PIN, touch numeric key, type the PIN and then the enter key (bottom right). to unlock the phone. The Edge still isn't fixed, far as dealing with links, it doesn't give indication that the link your touching is the one desired.

Warning: Don't switch on SD encryption. You will lose access to it.

On my Lumia 950XL after update 50007, the windows store instal on apps more (error)

Did that at first. Try a soft reset. Fixed it for me.

What are the new features added to mobile !?

Hi! I am stuck in Windows 10 version 10.0.14946.1000 in my Nokia 1520. No matter what I try (soft and hard reboot, reverting to the factory OS, trying to install a newer OS version, etc.), I will always get back to this OS version. Some applications, such as the Whats app, my banking app, the NewEgg app, among others, do not work at all, They install OK, but when I try to run them, the screen is in the 'Opening...' state forever! I also tried all the recommendations I found in the Internet to resolve this problem, but, so far, all failed. Is there a way to install another OS version in my phone? I tried everything I could, but alas, to no avail. I like very much my phone, but it is on the way to become useless! Thanks for any help. I really need it. Eduardo Quintana

Aprox 24 hours since update to 15007 and this is the most frustrating build yet. 640 phone and it is restarting randomly without ryhme or reason. I''m trying to work through other issues but not getting anywhere due to it restarting most everytime I look at it.

Also not able to access pictures on SD card from desktop, music is fine but nothing showing in picture folder. Accessing from the phone is no issue.

This is a bad update, only installed because Microsoft are taking so long to make a decent final build of this OS. Now I'm suffering from a very laggy OS, no text input in Edge, stuttering audio in Groove, unreliable Maps sometimes losing GPS and not working properly, amongst a ton of other things.
To be honest I'm losing faith in this platform after 3 years of sticking with it, desperately hoping that the best looking and most user friendly and functional mobile OS would become finished, it just doesn't seem to be happening. My Lumia 950xl is running like a dog right now, and I can't count how many times I've hard reset this thing since joining the Insider programme. Almost to the point of being done with it, the next 6 months will be the decider for me.

That's your fault you installed a optional preview build.....just saying

Ok, please don't stone me, but anyone confirm that is VPN (for example hotspot shield) work in this build or not?

The new Bluetooth API is messing with Bluetooth headphones. Often the bit rate reduces (interference, while walking, moving away from phone) decreasing sound quality significantly. Especially in downtown Toronto. I have 640xl

The update is great but since the update I can't download with my Microsoft edge

Still it slow and battery drying quick important thing slow response too bad

I cant get this update in my ll 1520 yet.anyone help?tried everything.i changed country changed insider and still nothing.