Windows 10 build 15019 for PC: Everything you need to know
We dive deep into Windows 10 build 15019 to show you all the new features and enhancements, even those that Microsoft didn't mention!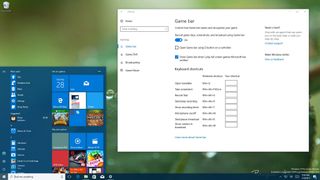 Microsoft has released yet another preview version of the Creators Update. On January 27th, they delivered Windows 10 build 15019 for PC through the Fast ring, and the new release adds a number of new features and improvements.
Windows 10 build 15019 is a significant update, especially for gamers, as in this flight the operating system finally lets you test Game Mode, Beam, and the new improvements in the Game bar.
Microsoft Edge introduces a new feature that allows the browser to read books aloud, the Settings app gets various enhancements, including a new Gaming and Mixed Reality sections, and new Troubleshoot page to help you fix common problems on Windows 10 without the need of technical support.
Here's everything you need to know about the most recent preview of Windows 10 for PC.
Windows 10 build 15019
Installation process
Microsoft continues its effort to improve the setup process of Windows 10 after the installation, and in this release, they have is adding a few new improvements to its Out-Of-Box-Experience (OOBE).
In the new update, the privacy page allows you to control more settings, such as location, speech recognition, diagnostics, tailored experiences with diagnostic data, and relevant ads.
The Wi-Fi connectivity experience now supports "captive portal" Wi-Fi networks, which means that connecting to a wireless hotspot, you'll now be able to access a lightweight browser to complete the connection to the internet. Microsoft is even including some basic properties that you can configure for the Wi-Fi network during OOBE.
There is a new design flow that speeds up the experience while signing in or signing up with a Microsoft account.
In addition, you can now enroll into Windows Hello using a new design experience with Cortana voiceover and support for speech input. In this updated version there is a new audio track recorded by voice actors, and subtitles to improve accessibility for deaf/hard of hearing users.
Finally, Microsoft is adding visual improvements and bug fixes to the Out-Of-Box-Experience.
Action Center
Windows 10 build 15019 doesn't deliver significant changes to the Start menu and Cortana, but Action Center now displays apps and games download progress, which is very convenient to check the status of a large download while doing something else.
Settings
The Settings app in this release adds a slew of new features and improvements, including a new Gaming section identified with the Xbox logo with settings to configure Game bar, Game DVR, Broadcasting, and Game Mode. The Holographic section has now been renamed to "Mixed Reality" with options to configure Audio and speech, Environment, Spaces, and you can go to Uninstall to remove or troubleshoot the experience.
Windows 10 build 15019 also renames "Blue Light" to "Night Light," there is a new Troubleshoot page to fix common problems on Windows 10, and much more.
Display
On Settings > System, the Display page, Microsoft is migrating the settings to adjust scaling from Control Panel. Starting on this flight, you can click the Custom scaling link to manually change the scaling settings for your Windows 10 experience.
In previous builds, Microsoft introduced a new feature called "Blue Light," which allows you to control the blue light that your screen emits to help you reduce eye strain and improve sleep quality. In this new version of Windows 10, they've renamed the feature "Night Light".
In addition, the feature now lets you preview the settings before applying it, and there are a few improvements in the range of color temperatures and bug fixes.
Notifications & actions
On Settings > System, the Notifications & actions page remains unchanged, but when changing settings for a particular app, you'll now see a section for "group notifications".
Game bar
On Settings > Gaming, the new Game bar page lets you configure settings to control various aspects of the feature.
The Game bar page includes options to enable game recording, screenshots, and broadcast using the bar.
You can allow the Game bar to open using a button on your controller, and decide whether to show the Game bar when playing games in full-screen mode.
Additionally, the page allows you to change the keyboard shortcuts to use Game bar on Windows 10.
Microsoft is also adding Game bar full-screen support for 17 additional games, including:
Battlefield 3
Call of Duty: Black Ops 2
Call of Duty: Black Ops 2 – Zombies
FIFA 14
FIFA 17
FIFA Manager 14
Grim Dawn
Guild Wars 2
Left 4 Dead 2
MapleStory
Paragon
Payday 2
Rocket League
The Elder Scrolls Online
The Sims 4
Tom Clancy's Rainbow Six Siege
Warface
Game DVR
On Settings > Gaming, the new Game DVR page adds new options to control game clips and screenshots settings.
The page offers settings to change where your game clips and screenshots save by default. The "Background recording" section allows you to configure game and audio recording, such as audio quality and video frame rate, and there is an option to set the maximum length for the "record this" feature.
Broadcasting
On Settings > Gaming, the new Broadcasting page features a number of settings to configure how your game appears when you broadcast using Beam.
The page offers settings to configure audio quality, whether to use your webcam while broadcasting, and there is an option to prevent the mouse cursor from appearing in broadcasts.
If you want to try broadcasting using Beam on Windows 10 build 15019, you can use the Windows key + G keyboard shortcut to open Game bar and click the Beam button to start broadcasting.
Game Mode
On Settings > Gaming, the new Game Mode page includes a couple of settings to allow Windows 10 to use Game Mode.
Game Mode is a feature debuting on build 15019 that aims to optimize your computer performance by prioritizing CPU and GPU resources for an improved gaming experience.
To use Game Mode on Windows 10, you must turn on the Use Game Mode toggle switch on this page. Then when you're playing a game, use the Windows key + G keyboard shortcut, click the Settings button, and make sure to check the Use Game Mode for this game option.
Additionally, the settings page includes an option to get Game Mode notifications.
Feedback & diagnostics
On Settings > Privacy, the Feedback & diagnostics page removes the drop-down menu, and you can now only belong to the Basic or Full group for feedback and diagnostics.
The page also adds a new option to let Microsoft provide more tailored experiences with relevant tips and recommendations using diagnostic data.
Windows Update
On Settings > Update & security, the Windows Update page remains intact, but in the Restart options, you now have an option to show notifications to get reminded when your computer will restart to apply a new update.
Troubleshoot
On Settings > Update & security, the Troubleshoot page is a new place you can go to troubleshoot and fix common Windows 10 problems.
These troubleshooters are nothing new as they were part of the Control Panel, but now Microsoft is migrating them to the Settings app.
The new page offers the following troubleshooters:
Internet connections
Playing Audio
Printer
Windows Update
Blue Screen
Bluetooth
Hardware and Devices
HomeGroup
Incoming Connections
Keyboard
Network Adapter
Power
Program Compatibility Troubleshooter
Recording Audio
Search and Indexing
Shared Folders
Speech
Video Playback
Windows Store Apps
When you have a problem on Windows 10, you can come to this page and run one of the troubleshooters to quickly fix the issue.
This page still under development, and even though, you'll no longer find them in Control Panel, running a troubleshooter will launch the same Control Panel experience.
Audio and speech
On Settings > Mixed Reality, the Audio and speech page now adds options to configure the speakers and microphone to use while in mixed reality mode.
Under Speech, there is an option to enable speech recognition while in mixed reality.
Environment
On Settings > Mixed Reality, the new Environment page adds an option to clear the environment data that Windows 10 collects to give you the best mixed reality experience.
According to the description, removing the data, some apps content may disappear from your environment, and you won't be able to see the boundary you set up. However, you can always open the Mixed Reality Portal on the Start menu to set up the boundary again.
Headset display
On Settings > Mixed Reality, the new Headset display page is where you'll go to adjust your headset's visual settings.
The page offers a drop-down menu to change the visual quality to High or Standard. And under Calibration, you can set a custom value to improve the quality of your visuals.
Note that Microsoft also included a Default button to go back to the predefined settings.
Spaces
On Settings > Mixed Reality, the new Spaces page is specific to control HoloLens settings.
If you're not seeing holograms or you're seeing the incorrect ones, you can click the Remove nearby holograms button to fix the problem.
If you're constantly having problems with holograms you've placed, you can click the Remove all holograms button to start over recreating your holograms.
Uninstall
On Settings > Mixed Reality, the new Uninstall page allows you to uninstall Mixed Reality if you're having issues, or you simply don't use it, and you want to free up some space on your computer.
Removing the feature is as easy as clicking the Uninstall button, but the Mixed Reality apps will remain on your computer. However, you can always uninstall the apps by using right-click and selecting Uninstall from the Start menu.
The page also features some instructions to reinstall Mixed Reality on your computer.
Microsoft Edge
Windows 10 build 15019 also delivers a new update for Microsoft Edge that bumps the version number to 40.15019 and brings a few new features.
Microsoft Edge recently introduced a new feature to read books you purchase from the Windows Store, and in this new version, when you're reading a book, you'll find a new button in the top-right corner that allows the browser to read the ebook aloud.
When clicking the "Read aloud" button, you can also access the controls to change reading speeds, pause, and jump to previous and next paragraphs.
This new feature works with Windows Store ebooks as well as with unprotected epub files you open with Microsoft Edge.
The ebook viewer has also been updated to let you use the Ctrl + Mouse wheel to zoom an image.
Finally, this new version of the browser renders emojis on websites in full color by default.
Additional changes
On build 15019, Windows Defender Security Center now shows a new App & browser control entry, but the page isn't working.
Hyper-V gets updated, and now you can quickly resize VMConnect by dragging the corners of the window, and the guest operating system will automatically adjust to the new resolution.
Based on feedback Microsoft changed the look of the Virtual Touchpad to make the left/right buttons more visible.
In addition, this flight renames "Windows Holographic" to "Mixed Reality Portal".
Wrapping things up
Windows 10 build 15019 is a big update that delivers a bunch of new features, improvements, and fixes, especially for gamers and even for users with mixed reality headsets. However, this particular update ships with a number of bugs and things not working correctly.
As with any pre-release version of Windows 10, it's not recommended to install this build on your main computer to avoid potential problems.
Alongside the new features and changes, Microsoft has published details on the new fixes and known issues in the latest preview.
What do you think about the new changes found on Windows 10 build 15019? Tell us in the comments below.
More Windows 10 resources
For more help articles, coverage, and answers on Windows 10, you can visit the following resources:
Windows 10 help, tips, and tricks
Windows Central Newsletter
Get the best of Windows Central in your inbox, every day!
Mauro Huculak is technical writer for WindowsCentral.com. His primary focus is to write comprehensive how-tos to help users get the most out of Windows 10 and its many related technologies. He has an IT background with professional certifications from Microsoft, Cisco, and CompTIA, and he's a recognized member of the Microsoft MVP community.
Microsoft is so bad with naming. Again do they do a odd rename and instead of sticking with MS Holographic they do a generic Mixed Reality out of it. *narf*

I can understand what you mean. Microsoft usually does a pretty good job with naming but I liked Microsoft Holographic.

Usually does a good job with naming? Haha, since when?

Since Xbox ONE (360->1)... or since Windows 10 (Windows 9) or since Windows Mobile -> WindowsPhone -> Windows 10 for Mobile

Windows 9 was Windows 8.1

Windows 8.1 was basically Windows 9. They used a different product key method and everything if I remember right...

I heard it was going to be called Zune Vision..

Also, I believe Holographic is a TM name of their Mixed Reality device. Calling all the features by "Mixed Reality" allows their partners to also create devices without confusion. Would be like if they had a settings section actually called "Band settings" when "Band" is their device, it would actually "Wearable settings" when it controls all the 3rd party devices too. Get what I'm saying? Leaves things open for changes later now.

Had to rollback, all my edge extensions broke. And action center is a total mess, a clear overlay

That's fast ring for you.

If you read the blog post like you were supposed to, its says Edge extentions don't work on this build.

Both those issues were described in the initial blog post, if you had bothered reading it. All Edge extensions will fail to work, and if you're having issues with the Action Center try moving the Task Bar to a different location on the screen.

To be fair they did say that if you value your extensions in edge this is not the preview for you and provided instructions on how to skip.

Same problem here
Action centre not seen

Try moving the Taskbar to a different location on your screen and try again.

Restart Windows Explorer to get Action Centre back.

Still can't install on SP4. GSOD at 95% then reverts back to previous version.

Did you remove your sd card before upgrading?

Anyone know where we get a hand on that wallpaper? :0

Would like to know that as well

The car one? That's Forza running in the background for game mode. It's the game running and not a wallpaper. edit: Oh, maybe you meant the one from the video that I hadn't watched. I wasn't able to find it.

I'm not a Windows Insider but I hope by the time Creators update is released these are fixed: -OneDrive placeholders!!!
-Damn Edge bugs, particularly on the SP4 it has been happening for months, sometimes Edge needs to be killed in task manager because the X won't close quit it, and very often opening a new window in private mode hogs the CPU (and there goes the much boasted battery saving...)
-Allow to search task view by window title or something, I don't want to take a look at dozens of previews just to find the right window.
-Add a app wishlist to the Windows Store like Google Play.
-Seamless sync of system settings, installed apps, app settings and start screen tiles between devices.
-Add a quick action to the notification center to inhibit lockscreen.
-Oh, and if Microsoft is intending to make us wait decades to roll out Cortana globally, at least let us be able to use it in English without messing around with regional settings! Not necessarily about Windows but also it would be nice if: -The whole mess with contacts between Skype, People app and Outlook was fixed, it's stupidly annoying, like when I want to send a email to a contact I have in People app but it won't appear on Outlook desktop. Sadly it seems People Hub has been delayed and as of right now, Skype contacts are all butchered.
-OneNote crawling sync speeds were improved.

So far: No OneDrive placeholders, still a LOT of bugs in Edge (it's still slow as heck, often just freezing at the E splash page), no appreciable changes in Skype/People/Outlook and, in fact, Skype is still just as lame in features as it's every been, particularly if you're trying to use it as your default SMS client (can't delete conversations, attaching documents is painful or non-existent), sync of settings is NOT nearly thorough enough and is not consistent between my devices. I don't know what you're asking for regarding the task view. I don't have a need for an app wishlist--especially if it's something Google uses. I don't use the notification center and would completely remove it if I was able to.

The Edge part happens in RS1 as well

Awesome, I can uninstall Mixed Reality altogether! Nice!

I'd like Edge to behave as it should and be more stable and less glitchy. v13 and 14 improved this, but we are over 1 after v12 launch and this is still happening

How safe is it to install this build, since itæs close to general release? I was an Insider for TH1, 2 and RS1, but not many features appealed to me now to go all-in... Oh, and under safe, I mean stable.

To be honest this one breaks as many things as it introduces so I would suggest because you are asking this is not the preview for you.

Solitaire seems to have had a major downgrade after updating to 15019. Events have disappeared completely and the end-game UI has reverted to the initial release version.

I am rolling back to the previous build. This one appears to have broken my USB audio capability. I have a Behringer Xenyx X1222USB mixer attached (it's been working for two years, no issues, until now) and use XSplit Broadcaster. With this build XSplit either can receive audio from the board or send audio, but no longer at the same time. When audio input works, anything that uses an audio channel in XSplit locks up. A complete reboot usually gets audio input from the board working, but no media apps (Groove, Windows Media Player) will play. Not good.

From Windbeta to WindowsCentral, always enjoy your detailed write-ups :)

Yet Windows explorer still does not fully support file paths longer than 255 characters in length.. still have to use Totalcommander for any type of deeply nested files/folders. Can't see hard drive S.M.A.R.T. data without third party software, nor laptop battery wear or voltage.

Please i know this off topic but can someone tell me how to download 250mb and above apps from the windows 10 mobile store without wifi. I do not have access to Wifi so i use my cellular data. Please am running the latest version of windows 10 mobile (anniversaly update). My data usage setting is set at unlimited and i allowed download using cellular data.