Windows 10 build 15046 now rolling out to Fast ring Insiders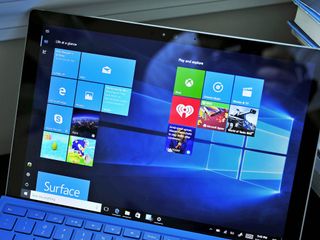 Just a few days after pushing a previous build, Microsoft is now rolling out Windows 10 build 15046 to Fast ring Insiders. As development is winding down on the Creators Update ahead of launch, this build once again focuses mostly on the spit and polish and lots of under the hood fixes.
Keep in mind that there is no Mobile build today; 15046 is only making its way to Insiders on PC.
What's new for PC
Color of Cortana's home on the taskbar: You had a LOT of opinions on this topic and we have been loving the enthusiastic feedback coming in! We finished our experiment with the color of Cortana's home on the taskbar and for now, it's back to the color it was before. Thanks for your feedback on this change.
Windows Defender Improvements: Windows Defender Security Center has added a notification icon to the notification area so you can see your protection status at a glance. You can also easily launch the app from the notification icon. Windows Defender Antivirus notifications also now lead to Windows Defender Security Center when clicked. Also: Windows Defender Security Center can now be launched directly from the Settings app and the "App and Browser" page is now functional.
Pick up where you left off in Cortana: We are experimenting with how we display what you can pick up where you left off across your devices in Cortana. Cortana now proactively shows you apps, files and websites from Microsoft Edge. Previously, this feature only displayed websites from Microsoft Edge in Action Center. Let us know what you think! (Available EN-US only.)
Improved translations: For Insiders who speak non-English languages, we wanted to let you know that we have heard your feedback on our translations and have been actively making improvements. With this build you should see improvements – particularly in OOBE and for some of our newer settings, but across the system as well. We encourage you to take a look around the system, and if you spot anything translation that doesn't quite seem on point, please log feedback using the steps here.
Updated Gaming Settings icon: A lot of you sent in feedback on this. We listened and adjusted the Gaming icon in Settings to feel more inline with the other icons on the Settings home page.
Application Installation Control: You now have the option to control what type of apps are allowed to install on your PC. This setting is available by going to Settings > Apps > Apps & features. You can choose to only allow installation of Store apps, choose to be warned when installing a non-Store app but allow their installation, or choose to allow installation of apps from anywhere.
When you choose either of the Store options, you'll see a warning when attempting to install a non-Store app. The warning will direct you to the Store where you can download an alternate app if available. In some cases, when there's already an equivalent app in the Store, the warning will provide link to that app. This is an opt-in feature, and the default setting is to allow installation of apps from anywhere. (Note: This went live with last week's build.)
Improvements and Fixes for PC
We fixed the issue causing a small percentage of PCs to fail to update to recent builds due to a corrupt registry key. We fixed the issue causing Microsoft Edge and / or the taskbar to stop responding requiring you to open Task Manager to restart explorer.exe.
Windows Hello face authentication should work again on Surface Pro 4 and Surface Book devices.
After updating to a new build, we've updated the text on the welcome screen to say "Might take several minutes" instead of "Might take several minutes or so". Thanks to everyone who sent feedback on how the original phrasing was overly casual.
Cortana's background is now black instead of the previous grey.
We fixed an issue in tablet mode where, with certain DPI levels, Start tiles would render on first launch of Start after entering tablet mode but on subsequent launches would appear blank.
We fixed an issue resulting in Shift+F10 not working to open context menus for websites displayed in Microsoft Edge.
We fixed an issue in Microsoft Edge where using the left/right arrow keys might sometimes unexpectedly result in forward/back page navigation.
We fixed an issue resulting in copy failing the first time you tried to copy a password from the LastPass extension in Microsoft Edge to a website.
We fixed an issue resulting in the Microsoft Edge app window being unexpectedly slow to follow your mouse when dragging it around the screen.
We fixed an issue in Microsoft Edge where, after opening a link in a new tab, tooltips might start drawing behind the Microsoft Edge window instead of on top.
We fixed an issue that could result in input no longer working in a particular Microsoft Edge tab after tearing it away to make a new window.
We fixed an issue resulting in Microsoft Edge launching on pen click when that was the configured pen click action in Pen and Windows Ink Settings.
We fixed an issue resulting in Microsoft Edge sometimes unexpectedly crashing when deleting characters typed using an IME (for example, the Japanese IME, or the MS Pinyin IME).
We fixed an issue resulting in drag and drop (for example, into an Outlook 2016 email) sometimes not working on PCs with multiple monitors where the two monitors have different DPIs.
We fixed an issue where the icon for Windows Insider Program under Settings > Update & security was shown as a square.
We fixed an issue where all windows on a PC using multiple monitors would move to the primary monitor after remoting into the machine from a single monitor remote desktop session.
We fixed an issue resulting in Storage Sense in Storage Settings failing to purge the recycle bin with certain machine configurations.
We fixed an issue resulting in an unexpected and unnamed 0 byte item listed under Manage Optional Features in Settings.
We fixed an issue where PC Reset wasn't working in the last flight, the PC would boot to a blue screen saying that there was a problem resetting your PC.
We fixed an issue resulting in being unable to mount an ISO with the sparse file attribute set.
We fixed an issue where handwriting text candidates might stop working properly after using strikethrough to erase words written in the handwriting panel.
We fixed an issue resulting in the Korean IME's composition indicator unexpectedly not appearing when typing jamo into certain text fields.
We fixed an issue where app updates in the Store may fail with error code 0x8020002B.
We fixed an alignment issue with entries on the Sign-in options Settings page.
We fixed the issue causing the Microsoft Edge F12 Developer Tools to intermittently crash, hang, and fail to accept inputs. If you continue to have issues with the F12 Developer Tools, send us feedback!
We fixed the issue where pressing F12 in Microsoft Edge multiple times invokes multiple F12 windows (all but one are non-functional).
We fixed the issue where toggling F12 between the docked and undocked state repeatedly can crash Microsoft Edge.
Known Issues
Some PCs will fail to update to this build at 71% and roll-back to the previous build. See this forum post for details.
[GAMING] Some popular games might minimize to the taskbar when launched. You can click on the game on the taskbar to get the game back.
[GAMING] Certain hardware configurations may cause the broadcast live review window in the Game bar to flash Green while you are Broadcasting. This does not affect the quality of your broadcast and is only visible to the Broadcaster.
Some UWP apps may unexpectedly appear with their app package in the title bar as opposed to the app name.
Pressing F12 to open the Developer Tools in Microsoft Edge while F12 is open and focused may not return focus to the tab F12 is opened against, and vice-versa.
Sometimes launching F12 will launch the F12 window behind the active Microsoft Edge window.
Windows Central Newsletter
Get the best of Windows Central in in your inbox, every day!
Dan Thorp-Lancaster is the former Editor-in-Chief of Windows Central. He began working with Windows Central, Android Central, and iMore as a news writer in 2014 and is obsessed with tech of all sorts. You can follow Dan on Twitter @DthorpL and Instagram @heyitsdtl.
Yeah Could still see one this week

Downloading now. Looks like it's not on mobile though.

Taking a while, at 96% now, must be a few fixes 🤓

It says PC so a few rattle on about mobile?

Probably headline-only readers....

I thought exactly the same. ;]

Um maybe because at no point does it say PC only? Yeah maybe reading through the item it only mentions what's new for pc but it's definitely not clear

Ermm how is it not clear? "Keep in mind that there is no Mobile build today; 15046 is only making its way to Insiders on PC."

I hope they have a new mobile build soon. The last fast build broke Edge - when launched, it takes me to the store app as if it were not installed.

Have you tried flashing back to release and then upgrading to the current FR build from a clean install? I know it's a PITA but it tends to fix these types of issues.

No... I could, but as you said... It is a PITA. Plus, the forward upgrades do a good job of preserving all application settings and states. Going backwards with a backup/recovery blows that up. If on the next upgrade, it remains the same, I would certainly do that. I just hope one comes soon because I tend to like Edge quite a bit.

Yeah, I hear ya. I haven't blown my 950 away for just that reason but I haven't had any major nagging bugs like edge not working either. I did just check to see if you can reset edge from settings but nope. I did that with the WC app when I was having problems with it.

The app reset is the first thing I looked for. This is another reason to decouple the browser from the OS and make it an app store deliverable. So that people can uninstall and reinstall it. Of course I know components are in the OS... but at least the UWP wrapper UI around the rendering engine could be an app.

Unfortunately, only a device reset of the phone will fix it. That happened to me on build 15031: https://mobile.twitter.com/_NewExpressions/status/830133878799089665 :(

Not true. I had same problem, but Windows Central app cured it. No joke. Wasn't able to open Edge, or links even from Cortana and Skype, but click on link in WC app opened Edge. No more problems here anymore.

What phone do you have? Edge on my Lumia 950 runs fine.

950xl. I assume it was a failure in the upgrade. This has happened on the PC builds but always there were powershell cmdlets to execute to reinstate them. No such thing for mobile.

The xl has always had problems compared to the 950.

Anecdotal, no problems with my 950XL.

I've never had issues before either. It is an insider build so not complaining at all. I just hope another refresh corrects that problem so I won't have to do a total reset.

I don't think you know what anecdotal means, or you are a presumptuous fool. Either way, the reality is, I own both phones. Moreover, the forums and comment sections have been flooded with the xl issues since their release which contrary to the 950 experiences in relation to windows 10 mobile. I know you have been around these forums and WC in general for a long time, after all who could forget such an ugly avatar, nonetheless, it is you who needs to do the research or at least remember what you have read - like I said you have been around here for a long time and must know better than what you had written above, or you just don't have a firm grasp on big words, either way, I would take a back seat if I were you for you are embarrassing yourself.

Sounds like we have entered "Escrow" phase with the last two builds. :) How long till they sign off the Creators Update? My bet is 10-15 days.

Interestingly, I actually liked the new Cortana color on the taskbar, but it's now been returned to the original :-(
Apparently, it's time to optimize and fix lingering bugs, no more new features I think...

My 950 XL needs another build, I know, this is insider fast ring, but these last builds are just about polish and no new features and it managed to break all the notifications on the phone, no phone call notifications, no sms notifications, nothing....

I went from stable to a clean install of the latest insider and I have had many issues. Apps crashing, phone freezing randomly for a few seconds, battery not doing too well and some slow downs.

My 950XL DS has been working wonderfully with the latest build in the fast ring.

yes, very good update, battery optimized!

So had my Lumia 950. Some people just have bad luck I guess.

Is Mac os, chrome, ios, and android have the insiders? Is MS doing right thing including with insiders to create a better OS?

I think so. It keeps everyone happy. Consumers get latest features, developers get bug reports before they release final builds. Even more and more apps in the store have Beta versions on all 3 mobile platforms for the same reasons. People just need to remember that they are on Insider Previews or Beta Apps and that's they're gonna have bugs, sometimes a lot and not complain as if it's a final polished build

Out on business at the moment so will wait till I get back to upgrade the home PC. As for the mobile the last build fixed more than it broke. Only big issue and only because I am travelling and using continuum a lot is the crashes when I disconnect and some other random issues around continuum.

Has finished now. Noticed that when it rebooted the Surface Keyboard was not listed in my bluetooth anymore, reconnected and it went through a slightly different process and said, additional setup'. it's now working properly and seems much more stable and reliable to start when you go to different apps and programs...otherwise no problems so far.

Hoping for a new mobile build too.. The last build has a huge bug where everytime I disconnect the charging cable it reboots the phone almost 100% of the time....super annoying

Yeah that issue happens with me too.
Even when I plug sometimes

I tried taking the microsd card out but the problem is still there... Wonder what the issue could be.

Downloading...hope nothing to my surface 3

Still having issues with Edge closing after opening. Unable to use it. Have tried a repair to no avail. Since I am using SEP 14.0, firewall is off. There is someone who said that Edge won't work if Firewall is disabled.

Any chance the Slow and Release Preview rings will get an update to the 1400 series? There are plenty of bugs to fix. I'm tired of my phone randomly crashing. I have to restart my phone at least once a week to get it working properly again.

Yes patch Tuesday 14. Likely to see 14393.851, my phone is starting to collect bits of information on the next build storage sense/this device -Temporary Files- pending update and Preview builds

Can't download. Error 0x80070228. Does anyone know how to fix this? I'm new to insider builds.

I'm hitting the same thing. Looks like MS are seeing this too.
https://answers.microsoft.com/en-us/insider/forum/insider_wintp-insider_...

We finished our experiment with the color of Cortana's home on the taskbar and for now, it's back to the color it was before.

​I'm sorry, but this is NOT new. This is what's FIXED from the last build.

Not even what's fixed... it's merely a footnote in my view, Cortana's home was never broken

For some reason I keep getting this error code, 0x80070228, when trying to download the build. Any help?

Same. Are you on Surface Pro 3?

No I'm on a Surface Pro 4. I'm not sure why but it supposedly downloads, then fails and gives me the error code.

Me too. Not on a Surface of any kind. MS is also aware of this issue.
https://answers.microsoft.com/en-us/insider/forum/insider_wintp-insider_...

I rolled back to the anniversary update and was apparently able to download 15046. So I guess that's a solution.

Dang, I just downloaded and installed 15042 four hours ago.

I have tried everything to get this build but no updates available on both of my pcs. Any help?

Turns out both machines I had issues installing 15042 on, are having the same issues trying to install 15046. Will try the reg hack to see if it works again.

No go for either machine. Stuck on 15042 for now.

Has anyone have a problem with hibernation on insider builds? I can't use it for about two months (PC - intel Skylake CPU, Asus Maximus, DDR4) - before it works perfectly.

Bosnia Independence Day Edition. Thanks! 🙂

No showstopper issues, if an ISO of this build was available I'd upgrade my PC today with it

Still not showing as Version 1703, I thought it would be this time

This looks really good! I am glad all these small but important fixes are being looked into. However, I still wish Cortana would expand to other countries. I'm missing it here in Poland

Yeah, the cortana thing...would be great to have all features here in europe

My 1020 has been working wonderfully with the latest build in the fast ring.

What is the world did they do to the Edge browser in this latest build? This this is so dang slow loading pages, I had to quit and close it. I want to use Edge as I am an Edge fan but speed isn't its best attribute in this build. It takes 12 seconds to load up a page. Youtube? forget about it. Its not good. Unacceptable MS. Edge was not that way before this latest build.

No such issues here, are you running any extensions?

Yes. No issues for you? Sort of good news its not something everybody is going through. I'll drop these extentions and add them back to see if any of these is slowing Edge down.


Must have been one of these extensions. I removed them all and rebooted. Seems to be normal again. I restored adguard, translator and its speedy. After these updates, all the extensions used to be disabled. But this time they were not. I'll keep watch on the next update. Thanks for the assist BronzeUK.

Me: YEEEEEEEEEEEEEEES "Color of Cortana's home on the taskbar: You had a LOT of opinions on this topic and we have been loving the enthusiastic feedback coming in! We finished our experiment with the color of Cortana's home on the taskbar and for now, it's back to the color it was before. Thanks for your feedback on this change."

I can't install this upgrade on my tablet. The C drive doesn't have enough space, and for some reason the update process isn't seeing my D drive. It has in the past seen and used my D drive, but not this time around. Does anybody know where I can get help with this? I've looked at a lot of boards and haven't found anybody with the same problem for a current build. The only posts I found were for much older builds that had fixes specific to those builds. To be clearer, in the Windows needs more space screen, I click Choose another drive or attach an external drive with 10.0GB available and nothing happens, I click the dropdown for drives and it says None. In the past the dropdown let me choose between the C and D drives.

Is this build good enough for a daily driver

No. Maybe next one will be.
There are still bugs
Windows Central Newsletter
Thank you for signing up to Windows Central. You will receive a verification email shortly.
There was a problem. Please refresh the page and try again.