Windows 10 build 15046 now rolling out to Fast ring Insiders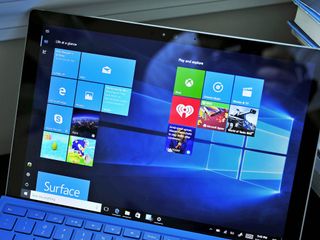 Just a few days after pushing a previous build, Microsoft is now rolling out Windows 10 build 15046 to Fast ring Insiders. As development is winding down on the Creators Update ahead of launch, this build once again focuses mostly on the spit and polish and lots of under the hood fixes.
Keep in mind that there is no Mobile build today; 15046 is only making its way to Insiders on PC.
What's new for PC
Color of Cortana's home on the taskbar: You had a LOT of opinions on this topic and we have been loving the enthusiastic feedback coming in! We finished our experiment with the color of Cortana's home on the taskbar and for now, it's back to the color it was before. Thanks for your feedback on this change.
Windows Defender Improvements: Windows Defender Security Center has added a notification icon to the notification area so you can see your protection status at a glance. You can also easily launch the app from the notification icon. Windows Defender Antivirus notifications also now lead to Windows Defender Security Center when clicked. Also: Windows Defender Security Center can now be launched directly from the Settings app and the "App and Browser" page is now functional.
Pick up where you left off in Cortana: We are experimenting with how we display what you can pick up where you left off across your devices in Cortana. Cortana now proactively shows you apps, files and websites from Microsoft Edge. Previously, this feature only displayed websites from Microsoft Edge in Action Center. Let us know what you think! (Available EN-US only.)
Improved translations: For Insiders who speak non-English languages, we wanted to let you know that we have heard your feedback on our translations and have been actively making improvements. With this build you should see improvements – particularly in OOBE and for some of our newer settings, but across the system as well. We encourage you to take a look around the system, and if you spot anything translation that doesn't quite seem on point, please log feedback using the steps here.
Updated Gaming Settings icon: A lot of you sent in feedback on this. We listened and adjusted the Gaming icon in Settings to feel more inline with the other icons on the Settings home page.
Application Installation Control: You now have the option to control what type of apps are allowed to install on your PC. This setting is available by going to Settings > Apps > Apps & features. You can choose to only allow installation of Store apps, choose to be warned when installing a non-Store app but allow their installation, or choose to allow installation of apps from anywhere.
When you choose either of the Store options, you'll see a warning when attempting to install a non-Store app. The warning will direct you to the Store where you can download an alternate app if available. In some cases, when there's already an equivalent app in the Store, the warning will provide link to that app. This is an opt-in feature, and the default setting is to allow installation of apps from anywhere. (Note: This went live with last week's build.)
Improvements and Fixes for PC
We fixed the issue causing a small percentage of PCs to fail to update to recent builds due to a corrupt registry key. We fixed the issue causing Microsoft Edge and / or the taskbar to stop responding requiring you to open Task Manager to restart explorer.exe.
Windows Hello face authentication should work again on Surface Pro 4 and Surface Book devices.
After updating to a new build, we've updated the text on the welcome screen to say "Might take several minutes" instead of "Might take several minutes or so". Thanks to everyone who sent feedback on how the original phrasing was overly casual.
Cortana's background is now black instead of the previous grey.
We fixed an issue in tablet mode where, with certain DPI levels, Start tiles would render on first launch of Start after entering tablet mode but on subsequent launches would appear blank.
We fixed an issue resulting in Shift+F10 not working to open context menus for websites displayed in Microsoft Edge.
We fixed an issue in Microsoft Edge where using the left/right arrow keys might sometimes unexpectedly result in forward/back page navigation.
We fixed an issue resulting in copy failing the first time you tried to copy a password from the LastPass extension in Microsoft Edge to a website.
We fixed an issue resulting in the Microsoft Edge app window being unexpectedly slow to follow your mouse when dragging it around the screen.
We fixed an issue in Microsoft Edge where, after opening a link in a new tab, tooltips might start drawing behind the Microsoft Edge window instead of on top.
We fixed an issue that could result in input no longer working in a particular Microsoft Edge tab after tearing it away to make a new window.
We fixed an issue resulting in Microsoft Edge launching on pen click when that was the configured pen click action in Pen and Windows Ink Settings.
We fixed an issue resulting in Microsoft Edge sometimes unexpectedly crashing when deleting characters typed using an IME (for example, the Japanese IME, or the MS Pinyin IME).
We fixed an issue resulting in drag and drop (for example, into an Outlook 2016 email) sometimes not working on PCs with multiple monitors where the two monitors have different DPIs.
We fixed an issue where the icon for Windows Insider Program under Settings > Update & security was shown as a square.
We fixed an issue where all windows on a PC using multiple monitors would move to the primary monitor after remoting into the machine from a single monitor remote desktop session.
We fixed an issue resulting in Storage Sense in Storage Settings failing to purge the recycle bin with certain machine configurations.
We fixed an issue resulting in an unexpected and unnamed 0 byte item listed under Manage Optional Features in Settings.
We fixed an issue where PC Reset wasn't working in the last flight, the PC would boot to a blue screen saying that there was a problem resetting your PC.
We fixed an issue resulting in being unable to mount an ISO with the sparse file attribute set.
We fixed an issue where handwriting text candidates might stop working properly after using strikethrough to erase words written in the handwriting panel.
We fixed an issue resulting in the Korean IME's composition indicator unexpectedly not appearing when typing jamo into certain text fields.
We fixed an issue where app updates in the Store may fail with error code 0x8020002B.
We fixed an alignment issue with entries on the Sign-in options Settings page.
We fixed the issue causing the Microsoft Edge F12 Developer Tools to intermittently crash, hang, and fail to accept inputs. If you continue to have issues with the F12 Developer Tools, send us feedback!
We fixed the issue where pressing F12 in Microsoft Edge multiple times invokes multiple F12 windows (all but one are non-functional).
We fixed the issue where toggling F12 between the docked and undocked state repeatedly can crash Microsoft Edge.
Known Issues
Some PCs will fail to update to this build at 71% and roll-back to the previous build. See this forum post for details.
[GAMING] Some popular games might minimize to the taskbar when launched. You can click on the game on the taskbar to get the game back.
[GAMING] Certain hardware configurations may cause the broadcast live review window in the Game bar to flash Green while you are Broadcasting. This does not affect the quality of your broadcast and is only visible to the Broadcaster.
Some UWP apps may unexpectedly appear with their app package in the title bar as opposed to the app name.
Pressing F12 to open the Developer Tools in Microsoft Edge while F12 is open and focused may not return focus to the tab F12 is opened against, and vice-versa.
Sometimes launching F12 will launch the F12 window behind the active Microsoft Edge window.
Get the Windows Central Newsletter
All the latest news, reviews, and guides for Windows and Xbox diehards.
Dan Thorp-Lancaster is the former Editor-in-Chief of Windows Central. He began working with Windows Central, Android Central, and iMore as a news writer in 2014 and is obsessed with tech of all sorts. You can follow Dan on Twitter @DthorpL and Instagram @heyitsdtl.