Windows 10 build 16184 (and earlier) for PC: Everything you need to know
A total of four Windows 10 Redstone 3 previews rolled out in April, and here we'll give you a closer look at those builds, and those things Microsoft didn't mention.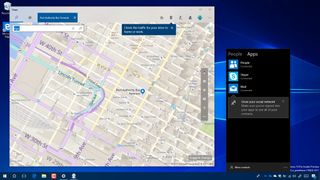 Windows 10 build 16184 is now rolling out to PCs enrolled in the Fast ring. This new release, part of the Redstone 3 update expected to arrive in September, is a minor update, but it delivers a few improvements, fixes, and introduces "My People," a new feature that makes connecting with people close to you a lot easier.
Alongside build 16184, during the month of April, Microsoft also released Windows 10 build 16179, 16176, and 16170. While these test previews are not significant, they all add small improvements to the OS, including system changes and several tweaks.
In this Windows 10 guide, we'll have a closer look at the changes and improvements Microsoft has been working in the past four test versions of the upcoming Redstone 3 update.
Windows 10 Redstone 3 new features & changes
My People
Starting with build 16184, Windows 10 is adding an early preview of My People, a new feature that allows you pin contacts to the taskbar to connect with your contacts quickly, and even send files.
However, the feature is not another communication service, instead is an experience that connects to other apps, such as Skype and Mail, and makes connecting with other people a lot easier in a single easy-to-use interface.
My People comes enabled by default, and it currently includes the ability to:
Pin up to three contacts to the taskbar.
View multiple communication apps on a unified interface.
Communication app selection will be preserved the next time you use the experience.
You can right-click the taskbar, select Toolbars, click the People option to remove the feature from the taskbar, but the option is not working at this time.
Microsoft was supposed to ship this feature with the Creators Update, but it got axed at the last minute and pushed back to the next feature update, which we're expecting to release in September.
You can try the new feature in the latest build, but it's still under development, which means that it may or may not work as expected.
Start menu
On this flight, the Start menu remains pretty much the same as before, but there two minor tweaks.
Microsoft is now testing the same scrollbar design and animation found in the Settings app.
In addition, when right-clicking a Live Tile, on Start, you'll see a new icon next to the option to turn on or off live updates on a tile.
Settings
The Settings app has also been improving throughout the release of build 16184, 16179, 16176, and 16170, including a number of tweaks in some of the settings pages, such as new lighter font color to describe configurations, new options, and more.
Wi-Fi
On Settings > Network & Internet, the Wi-Fi page has been slightly updated, and now it includes a new Show a notification banner when action is needed from me option under "Connect to suggested open hotspots."
Inside the "Manage known networks," you now have a search box to quickly find networks that you have previously connected to access their properties or remove from the list.
Also, you'll notice a new option sort networks by preference, name, or source, and another option to filter wireless networks by open, secured, suggested, network provider, and company policy, which makes a little easier to manage your network list.
Start
On Settings > Personalization, the Start page doesn't include new options, but Windows 10 is now dropping the theme preview from this page, as it never really offered any benefits.
Taskbar
On Settings > Personalization, the Taskbar page now adds a new option to turn on or off My People in the Taskbar.
If My People isn't something you want to use, you can simply turn off the Show people on the taskbar toggle switch.
Narrator
On Settings > Easy of Access, the Narrator page now includes two additional options, including Choose a language for output and Choose a table type for output if Braille support is installed.
Magnifier
On Settings > Easy of Access, the Magnifier page has received a major update with a lot of new options.
If you need to make use of this feature on Windows 10, now you can easily change the magnification zoom level.
Under "Magnifier options," you can use the drop-down menu to change zoom level, and decide whether to start Magnifier automatically at the login and invert colors.
Tracking has been renamed to "Magnifier mode," and includes a new drop-down menu to change the mode to fullscreen, docked, and lens.
New tracking options include:
Follow the mouse cursor.
Follow the keyboard focus.
Have Magnifier follow the text insertion point.
Follow the Narrator cursor.
You will even find a handy list of keyboard shortcuts you can use to get the most out of the Magnifier integration on Windows 10.
Windows Update
On Settings > Update & security, the Windows Update page doesn't include new significant changes, but now it renames the link to view update history to View installed update history in the main page.
Additional improvements
Along with the new changes on the taskbar with My People, tweaks in the Start menu, and changes in the Settings app, Windows 10 build 16184 (and from previous builds) also introduces a few other changes.
While File Explorer remain practically unchanged, you'll now find that Microsoft is updating the Share icon in the ribbon menu to match the design with the new share icon available in Microsoft Edge and apps.
If you're using the new "Nigh light," turning the schedule off now turns off the experience immediately.
During the development of the new feature update, holding the power button down for seven seconds will trigger a Blue Screen of Death (bug check) on newer computers that don't use legacy ACPI power buttons.
In addition, you can now use the Windows Subsystem for Linux (Bash) to access Windows COM ports.
On the recent preview builds for the Redstone 3 update, Windows 10 is reintroducing Power Throttling to use power more efficiently by reducing the amount of CPU cycles and improving prioritization on apps running in the background.
According to Microsoft, Power Throttling should save up to eleven percent of battery life. Also, the power flyout now shows a slider to change the power mode on Windows 10.
Microsoft's Hyper-V now includes a feature called Revert VM, which allows you to undo changes on a virtual machine more quickly. The feature is aimed at developers and IT pros to offer a way to always be able to revert to the last time they started a virtual machine if a mistake is made.
Finally, Windows 10 build 16184, includes an early preview of the new Gmail experience soon to be available to everyone in the Mail & Calendar apps. In this new version of Mail & Calendar, you can use new features, such as Focused Inbox and the ability to track flights and packages.
The Maps app also gets updated with a new preview of the new Project NEON interface experience, which we are expecting to start rolling out with the Redstone 3 update. In this new update, you'll notice that Maps includes a new blur effect in the toolbar as well as in the search suggestion when looking for directions.
Groove Music and Movies & TV apps also include a preview of the new interface, but the apps are also available in the Windows 10 Creators Update.
Wrapping things up
Although, we're still in the early days of the Redstone 3 update, and there still a lot more to come, the first four preview builds of Windows 10 already show us a number of welcome additions.
However, it should be noted that as with any pre-release version of Windows 10, you should not be running these builds on your primary machine. At this time, the OS is buggy, it has a lot of known issues, which may cause a lot of problems.
If you're planning to install the latest preview build of Windows 10, it should be best to use a virtual machine or spare computer.
What do you think about the new changes thus far? Tell us in the comments below.
More Windows 10 resources
For more help articles, coverage, and answers to common questions about Windows 10, visit the following resources:
Windows 10 help, tips, and tricks
Windows Central Newsletter
Get the best of Windows Central in your inbox, every day!
Mauro Huculak is technical writer for WindowsCentral.com. His primary focus is to write comprehensive how-tos to help users get the most out of Windows 10 and its many related technologies. He has an IT background with professional certifications from Microsoft, Cisco, and CompTIA, and he's a recognized member of the Microsoft MVP community.
We, Windows Phone users enjoy connecting with People since Windows Phone 7. But that's broken for Windows 10 Mobile since the Facebook app and no Me tile. And this Redstone 3 feature may not come to Mobile. So they broke what's there special for us, and made it only for PC calling it a new big feature.
Satya Nadella simply murdered Windows Phones....

Yes, and the subject of Mobile keeps popping up... Mobile is inevitable, and MS can't hide from it..
....
With that said, W10 is great, and the Creators Update for mobile runs terrifically, although new feature deprived.... This article solidifies just how great WOA/Cshell would be on a pocketable Surface device... It's a no brainer. The fact that we have the hardware technology small enough to run Windows on a pocketable device gives me great hope that MS believes the same... If we wait, I'm almost positive that it will come. Whether early, or late, in development, it will come. Like I said before,,, MS can't run, can't hide, can't ignore, mobile, and they have the greatest experience in place to take advantage.... They just won't be directly competing with iDroid, and that's fine. If MS starts now they will have a huge market 10 years from now. It's all about the long-term investment; forget the current market.

Yep hopefully the return of the true Pocket PC!....that makes phone calls :) I'd take that over any incarnation of Windows phone to date, and I love Windows phone its all I've ever used since Windows mobile 6.5.... but what Microsoft is hopefully working on is what I dreamed about and wanted years ago

I say amen to that... Microsoft needs to bring out a working phone os, not this handicapped bullshit that cannot even get some of the most basic feature phone functionalities like changing your PIN done.

We could have a lot of features running full blown W10

I think your phone might be broken. I can change and deactivate my PINs including SIM PINs

Yes, exactly... WP might not be dying rather evolving to reach the echelon we, and MS always dreamed of... And that would only be possible if the hardware could support "Windows Proper" (as Daniel calls it)... Well, now is that time. We've reached that point, and MS can make it happen.

At this point I am all for ditching mobile and putting full Windows (ARM) on a phone

Could have been MS's plan all along... They could've been developing WM10 for later use with WOA... From my understanding, all of WM's visual elements can be used, or copied, right into W10.. If that's true, then developing WM isn't a waste of time, and it's not going anywhere, just merging with 10.

The problem I have with this, if it is at all true that MS focuses on WOA, is the silent blow of death to their current Mobile efforts available to the public. I agree, that WOA is their best take on getting into the mobile market space again, but they are burning their loyal customers and partners once more not supporting the software they have out to the masses and also not explaining their plans or give a estimated timeline for changes. Very disappointing that all the changes MS went through still did not made them learn of past mistakes.
A friend of mine, who was a iPhone user before, I could convince to switch to Windows Mobile and he came to love the OS. But now? He got burned by several apps he tends to use daily leaving the platform and he will switch to Android the next chance he gets. He is sad about it but functional services for which he cannot have easy alternatives is key for him. Great Job MS. I am thinking of doing the same saddening move, switching to Android. And I am a long time fan of Microsofts mobile efforts from the early Win Mobile 6.x days

Article for pc I know, but my 1520 why not eligible for creator update? (Older Phone what's a matter)1 GB Ram mobile eligible for update :(
They don't want keep us
#app gape...):

Get it by joining release preview ring. That is still supported and will be for creators update and cumulative updates for it.

But that's our own risk,
Microsoft not listed it for eligible creator update. Maybe fully buggy..or damage system.

I installed on my 540, it sure did fixed battery drain for me..

I need to know who istalled this on 1520, and how is the performance?

Performance is great I am spoofing my registry and running the 15208 build. Heavy usage since morning 7am and I am still at 85% at 1pm

Add down votes more..f****

Until the next update they bring out

Skype 11.14 for Production, RS1 and RS2 has a sort of Neon/gradient blur when screen sharing and the shared screen doesn't fit the whole screen.

Totally wrong map of India.

Crap! I just saw that. Wow. And people are downvoting for this? SERIOSULY! If the US had it's map showed wrong, MSFT engineers would be running around trying to fix it.
.
The Creators Update shows the map correctly but 16184 doesn't.

Yeah bro.. Windows maps sucks for us :(

It doesn't "suck" but this mistake needs to be fixed. That's all.
.
I've used maps a lot while driving and it is pretty reliable.

Really enjoying this update and thanks for the informative article!

I can disable MyPeople on my SP4...

Why down vote, it's a fact.

I guess, because they expect for you to know the solution to your dilemma by now.

One thing.. Maps are great, and the new features are tight, but the CUpdate kinda killed the performance... We need a update to optimize Maps for the new OS.

For public transport Maps still is an abysmal experience. I still can't understand what happened when they moved from 8.x to 10. Back then public transport at least gave you proper routing and not like now suggest 24h routes for what should be 30-60min. And also since the creators update (started somewhere during insider builds) voice navigation stopped working in the background for me as well; forcing me to have the screen on all time. And why the hack do I not have voice navigation for Public transport and walking either? Very frustrating.

the best most stupidest public transport suggestion i've had is to go to the stop nearest my house, get a bus in the wrong direction, get off at the next stop, wait there get a bus back to near mine, get off, walk through the back alleys of the estate to another stop, get back on the same bus, go two stops get back off the bus, walk past 3 more stops and you're there, OR walk there and arrive 5 minutes earier than by taking the bus to begin with LOL

There are many complaints regarding browsing becoming really slow irrespective of the browser being used. How's it for you, Rod?

I guess many of the updates will have their merits. I like most of the changes. Does anyone know if the app blur is an option? I would like to keep dark mode active in the maps app for readability reasons. I'm disappointed with the mew MyPeople feature. On the surface it has many advantages, but it has an equal, if not more disadvantages. I don't understand why this feature is not an app update for the People app. And this feature is locked down to the taskbar which gets full quickly. And with the taskbar in tablet mode I don't need the taskbar often. It would be a better and more flexible function with more options as part of the app, start menu and live tiles experience. With MyPeople windows 10 is becoming fragmented and more messy. And it doesn't tie in well with windows mobile. I'm not surprised that MyPeople didn't make it to creators update. And I don't think this feature is ready for RS3 either. If microsoft wants to add this feature they need to fix and upgrade and update the people app and live tiles first. Microsoft needs to go back to the drawing board on this. I hope microsoft will still make a better share icon. The current one is bad and doesn't look like a share button, even though this is perhaps a mainstream icon on other platforms. The current icon to me means someting like exit, extract, replace, move to, BUT NOT share. The previous icon has a better symbolic meaning for share (3 dots connected with lines).

This is the first appearance of People and is clearly a work in progress. It doesn't support a lot of apps it potentially could, is limited in the number of people pinned, etc. This is exactly what Feedback is for. I agree, the taskbar is not neccesarily the best place for it, for some of your reasons. Go say something about it on the Feedback Hub. If you/we don't compalain, they'll think everything is fine. If they don't listen to us, we can ***** about it, with a clear conscience later ;) Making a wild assumption that this will wind up in W10M or WOA, the taskbar is really not the right place. Something will need to be considered to invoke it on a phone; live tile, gesture? Whatever that is could be made an option on the laptop/desktop. Not sure I agree with you on the share icon. Doesn't really matter to me as long as it is consistant within the OS. You get used to it. The bad part is when they keep changing it. I am not looking forward to the day everyone decides the 3.5" disk is no longer right for save, and a generation will be confused on how to save anything.

I can't get My People to work at all, I click the icon in the system tray but nothing happens

If we want third parties such as facebook/twitter/gmail to integrate into MyPeople, then their developers need a build like this with the basic shell of it to start working with and test. Hopefully more stuff will come soon™

We need more navigation Voice for Windows map same like here map

Voice nav in maps works pretty well for me. Is it regional?

For me voice navigation is broken. For driving the screen needs to be on. For walking and public transport there is no voice navigation at all. (latest insider build on mobile)

Stil nothing new about the Photos App ? It absolutely needs some love from Microsot : - edit date and time for each photo (or batch) - edit geolocation of each photo (or batch) - face recognition - find photos based on date/time, geolocation, face - do NOT create albums automatically, please, but only if I ask it (and for the folders I choose) - add a "Favourite" icon, to let me select only my favourite photos - remove the "Save" button in the Modify section, but only hold the "Save a copy" button, in order to always keep the original photo unaffected. - ... Please, Microsoft, I hope you read this !

Wrong place to voice this feedback and hope MS will read it. Use the feedback hub, twitter, Facebook. Though I am not sure if the designers actually touch the feedback hub as there are so many good, if not outstandingly great, suggestions that linger around for years already and neither a response, nor the typical silent implementation by MS.

Removing the "save" button is not an improvement by any means. Some people would actually like to overwrite the old photo for good. It's nice to have an option. :)

The real news here is for Magnifier: "Zoom with mouse" keyboard shortcut combo! This will be great for presenting!

Oh wow, I missed this one.. That's actually a killer feature. I still jealously glance at OSX sometimes because apple does it flawlessly since a long time. Great for presentations.

Still waiting on the Send to Phone option for Maps for non WP10 users. Still waiting for Groove on Android to catch up to WP10 and W10 and stop sucking.
Still waiting for Skype to stop charging for SMS texts.
Still waiting for a Maps app for Android so I can actually use the W10 Maps app.
A lot of basic still waiting here.

Now you know how us WP fans feel....

1st and 4th kind of go together don't they. Where would they send Map data to, given they don't have MS Maps for Android or iOS. Not going to send to Google Maps or Apple Maps. Don't disagree that there probably should be Android and iOS MS Maps apps, but that would be a hard app to sell, given the penetration (and capability) of Google Maps on both platforms. On iOS, Apple Maps is what works with car-play, so there is a tough sell as well. I think it would be harder to sell than Groove, given the entrenchment of native music apps on iOS and Android. Groove can drive some revenue if adopted at least. Gotta pick your battles. Don't understand the Skype SMS comment. If you have Skype set up as your SMS client, and you send a message, and the subsystem uses SMS to send it (to an SMS recipient) it doesn't charge. You can use Skype to send a message to an SMS recipient without using your phone's SMS function and for that there is a charge. It goes out Skype (IP) and is converted to SMS somewhere and introduced into the SMS network. It is kind of like using Skype to make a call to a regular phone. There is a network bridge going on. Am I missing something?

So, for the Send to Phone, Bing Maps can do it sometimes. I don't know why it pops up sometimes and sometimes it doesn't. All it needs to do is send a location through Text or Cortana, and the default maps app will open. Not too hard. If they are not going to create a Maps app on either, what is the reason for using Windows Maps? All it does is create an extra step that no one wants to do.
For Skype, it is free only if I send a Skype message to a person using Skype, Skype to Skype. If I want to send an SMS text to a person who doesn't use Skype, then its like 11 cents. There are so many apps out there that do this for free, there is no reason why Skype doesn't. Unless there is something I'm missing.
What I am getting to, is the majority of people use Android or iPhones. With the majority of Microsoft ecosystems apps (Maps, People, SMS, Movies & TV, and Groove because it's horrible) There is no reason for people to use Microsoft's apps on the desktop. Why buy a movie from Microsoft when I can't watch it on my phone? Why use Maps App when I cant use it when I'm driving and need it most? Why use the People app when it sucks balls using Outlook/hotmail contacts on Android/iPhone? And why use Groove on PC (awesome app) but have the absolute worst experience on my phone where the majority of people listen to their music?
If they get people interested in their ecosystems on other devices, then they might come over to the WP10 side, or at least use their apps on their devices and gain revenue, Groove and Movies & TV.
It just seems they are REALLY leaving a huge gap in revenue for no reason.

How come you have buildings on your map in the screenshot? I haven't had them on mine for a few builds.

Search in my windows maps app don't give me suggestions like that 😢 😢

Theme preview never offered any benefits?
Yes, it did. It gave me a preview! Stop taking away features and/or functionality

I'm already very excited for RS3. The Creator Update was great but it didn't do a whole lot for me. RS3 is already looking pretty great. I just hope Mobile joins the fray soon.

Mobile will vanish this year, and be replaced by "full" Win10 on ARM.

Looking at just four builds and that there are many new features already. I believe Redstone Three looks really promising.

It always does at the beginning...... Sorry my mood. But I'm just disappointed by the creators update.

On Creators update they were slow to release the features. Till last minute they added things on settings and gaming mode. And it was supposed to be a small update so i don't mind. I got some new improvements on edge so I'm happy

"New folder" really needs a new icon. As shown in the second last image, it looks exactly the same as the folder identifier icon in Explorer.

I've had Turn on / Turn off live tile since before CU. Am I missing something?

It's just the icon that got added. It looks very silly if you ask me. But hey, they have to try something, right? 😉

I wonder why file explorer's ribbon still has those outdated colorful icons. My guess is that MS keeps this as one of their last touches since this is a fundamental change and some users would find the app unfamiliar. I'm looking forward to see file explorer becoming a real UWP app with flat simplified design and cool outlined icons :)

... And the option to turn off the text beneath them!

Windows 10 Mobile is a stop-gap measure until Microsoft felt Windows 10 on ARM was ready enough. This branching strategy is not unheard of in the software development industry. Microsoft cannot run from mobile, but they can't hide.

The live tile icon looks like a joke! And it makes you wonder why they didn't add the fancy new share icon 😟

Here is what I know. I can't get it to install on a Dell Inspiron 15. Stays at 96% then errors out. Tried clean boot, reg hacks. Even tried renaming Software Distribution. Nothing works. Still on 16179.

If you use Gas Buddy, you're screwed. No longer works.

The last 3 new builds pushed to fast ring doesn't work on my computer, they crash (won't except the Dell keyboard, United States, then request power off). I had to move to Slow ring in order to have a working computer.