Windows 10 build 17692 for PC (and earlier): Everything you need to know
Check out all the new features and changes found on Windows 10 build 17692 and build 17686.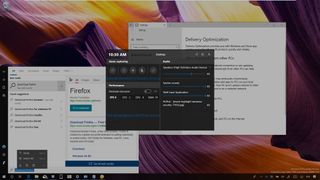 Windows 10 build 17692 is now available for download for devices enrolled in the Fast ring and the Skip Ahead lane. This is the sixteenth preview that Microsoft is rolling out to Insiders as part of the Redstone 5 development, and it includes a number of new features and improvements that the company plans to deliver with the second major update arriving in 2018.
In this new flight, Windows 10 ships with Microsoft's SwiftKey technology to improve the touch-keyboard experience. The Search experience now allows you to quickly get to official app download pages. The Settings gets a number of changes, including for Ease of Access, Apps & features, and Update & Security. There's a new Game bar experience that shows framerate and system performance, Game Mode receives some exciting improvements, and much more.
Alongside build 17686, recently Microsoft also pushed out Windows 10 build 17686 with some minor changes.
In this Windows 10 guide we'll highlight the latest improvements and new features that are expected to arrive with the Redstone 5 update.
Windows 10 Redstone 5 latest improvements
Here are the most worthy improvements that Microsoft has been working on the last two Windows 10 Insider Preview builds:
Start and Search
Starting with build 17692, the Search experience in the taskbar is making it easier to find the official download page for third-party applications. This means that when you're typing a query, in the right pane, you'll notice a button that will take you to the official download page of the application.
In addition, while typing in the search box, you'll notice that selecting the text will bring up a new modern design context menu that includes the Fluent Design Acrylic effect.
File Explorer
Since Windows 10 build 17686, you'll notice that the dark theme for File Explorer looks more polished with improved dark colors through the experience and in the ribbon. You'll even notice that the File menu now also takes the dark theme as well.
Game bar
Windows 10 is also getting a brand-new Game bar, which according to Microsoft is more functional than before. The new experience is larger than the previous interface with four sections. At the top, you'll find the current time, the option to enable game mode for the game you're playing, and shortcuts to access settings and your Xbox Live profile.
Then there's the "Game capturing" section with tools to take screenshots, broadcast your game using Mixer, and controls to record gameplay and use your microphone.
On the right side, you'll find the "Audio" section that lets you control sound for the entire system, games, and apps individually.
Perhaps the most exciting changes with Game bar can be found in the new "Performance" section that now allows you to see the game's framerate (FPS), processor usage, system memory, and graphics VRAM usage without having to leave the game and having to open Task Manager.
Settings
Microsoft also continues its work to make the Settings app the one-stop-shop for all the Windows 10 configurations.
Apps & features
On Settings > Apps > Apps & features, the Manage optional features page now includes the Microsoft WebDriver making it easier to automate testing in Microsoft Edge.
Also, it appears that Microsoft wants to lure users even more to the Microsoft Store as the new default option to install apps is set to "Warn me before installing apps from outside the Store" instead of "Allow apps from anywhere."
Region
On Settings > Time & Language, the Region settings have its own page since build 17686, and it now includes settings to change regional formats dates and times based on your language and regional preferences.
In addition, you can even override default regional format settings, such as calendar, the first day of the week, short date, long date, short time, and currency without having to use Control Panel. (Though, these settings are still available from Control Panel.)
Language
On Settings > Time & Language, the Language settings have its own page since build 17686, but even though, there are no new settings, you'll find a new link to access the Microsoft Store to download additional Local Experience Packs to change the language for navigation, menus, messages, settings, and help topics.
Captures
On Settings > Gaming, the Game DVR page has been renamed to Captures with build 17686, but there are no new additions in the page.
Game Mode
On Settings > Gaming, the Game Mode page now includes the option to enable or disable the feature, and starting with build 17692, there are new improvements expected to make the games a better experience on Windows 10.
If you play games while running a lot of background processes, you may also see a boost in performance when enabling the Dedicate resources option from the Game bar.
Ease of Access
Beginning with latest Redstone 5 preview, the Settings app is also introducing a number of improvements for Ease of Access.
Display
On Settings > Ease of Access, the Display page has been updated with new controls to enlarge or reduce the text size across the entire system, including for Microsoft Store apps as well as for classic (win32) applications. (Simply move the slider to the desired size, and click the Apply button. No restart required.)
Narrator
On Settings > Ease of Access, the Narrator page is getting new options and Narrator as a feature is introducing a bunch improvements.
After updating to build 17692, you'll find two additional options in the Narrator page, including one to lock the Narrator key, so you don't have to press the key for each command, and an option to activate keys on the touch keyboard.
Based on feedback, Microsoft is also adding some improvements to the Narrator experience, including a new Narrator standard keyboard layout that has been designed for screen reader users.
Narrator now reads the content of a dialog box when brought up from the foreground automatically. For example, closing an Excel spreadsheet that hasn't been saved, Narrator will read aloud the title of the dialog box and default option selection.
When using scan mode, in addition, to select content, you can now select a block of content moving to the end of block pressing the F9 key and moving to the end of the block pressing the F10 key.
In addition, while in scan mode, it's now possible to press the Down arrow to stop scan mode in the interactive elements. For instance, if you're reading a paragraph that includes multiple links, Narrator will stop on these links when pressing the Down arrow key.
It's now possible to search using the Find feature, and Narrator now can show a list of links, headings, or landmarks available on an app or content.
Delivery Optimization
On Settings > Update & Security, the Settings app is now listing Delivery Optimization just below Windows Update to make these settings more discoverable.
Input
Also, beginning with build 17692, Microsoft is bringing its SwiftKey intelligence technology to Windows 10.
If you're not familiar, SwiftKey if the popular keyboard app from Microsoft available on Android and iOS, and making its technology on Windows 10 means more accurate autocorrection and improved predictions as the keyboard learns the way you type.
SwiftKey on Windows 10 is currently available for the touch keyboard in English (United States), English (United Kingdom), French (France), German (Germany), Italian (Italy), Spanish (Spain), Portuguese (Brazil), or Russian.
Windows Security
In the Windows Security app, inside the Virus & threat protection settings, starting with build 17692, you'll notice that the "Attack Surface Reduction (ASR)" feature has now been renamed to "Block suspicious behaviors." If you're not familiar, this is a new security feature aimed to prevents apps actions that might infect your device.
In addition, inside the Ransomware protection settings, the Windows Security app now shows a list of accounts that you may be able to recover data in the case your device gets infected with a Ransomware.
Finally, the Windows Security app has been updated enabling the Reveal effect part of the Fluent Design system when hovering items in the left pane and throughout the experience.
Other improvements
Alongside the features and improvements included with build 17692 and build 17686, you'll also find a few other changes.
For example, on Windows Mixed Reality, you can stream audio to both, the device speakers and your headset at the same time.
If you run into errors, the messages should now be more clear and easier to understand.
Since Windows 10 build 17686, Mixed Reality no longer requires a display to run, which makes it easier to use the experience, for example, when using a backpack computer.
Apps running in Windows Mixed Reality now can access the Camera Capture API to capture images while in the virtual world, and you'll find improvements while capturing video in Mixed Reality.
Finally, since Windows 10 build 17686, Windows 10 is adding some changes so that when an app is blocked from accessing your microphone, you'll get a toast notification allowing you to review your privacy settings to select the right action.
Wrapping things up
While we're still expecting many more previews in the future, we're slowly starting to see how the Windows 10 Redstone 5 update is taking shape.
However, we can't ignore that the next feature update still under heavy development, and you'll come across a lot of hiccups, as such it's not recommended to install pre-releases like this one on your primary machine.
If you want to give the latest preview a try, you should be installing it on a spare computer or virtual machine. Or at least, you should consider making a full backup of your device before installing a Windows Insider Preview, in case you need to go back to the previous version if things don't work as expected.
What do you think about the changes included in these two builds for the Windows 10 Redstone 5 update? Tell us in the comments.
More Windows 10 resources
For more helpful articles, coverage, and answers to common questions about Windows 10, visit the following resources:
Windows 10 help, tips, and tricks
Windows Central Newsletter
Get the best of Windows Central in in your inbox, every day!
Mauro Huculak is technical writer for WindowsCentral.com. His primary focus is to write comprehensive how-tos to help users get the most out of Windows 10 and its many related technologies. He has an IT background with professional certifications from Microsoft, Cisco, and CompTIA, and he's a recognized member of the Microsoft MVP community.
Didnt read all, but does this mean we can get the american Cortana but still have language, date and such as Swedish/European languages?

Well I have it that way since I first installed Windows 10
Cortana is set to US English
Language set to UK English
Regional settings (Date, Time, Currency) set to Sri Lanka

Pressed ctrl+f and typed "consisten" couldn't find a thing.

Looks rather like they are tidying things up. Making swiftkey work, fixing up the settings menu, darkmode, adding in all the fluent design features. Like more of a polish and fine, than a feature update.

Did anyone experience Bluetooth not working on this build?

Six years after its introduction they are still not done with the Settings app. And while they add more functionality to it, they make it even more cluttered than the previous solution was. Hey, maybe in another six years we might actually be able to search for virtual memory in the Settings app. And some years later actually change those settings there.

The settings app is so much better than it was, so I personally don't agree with this. I will agree with part of what you said though, you can't find everything you need in settings. They are still transferring things from control panel. However, this is debatable if this should be finished by now. If they completely get rid of control panel right away several people may not be happy, so slowly transitioning is probably for the best. But again, that's debatable.
Windows Central Newsletter
Thank you for signing up to Windows Central. You will receive a verification email shortly.
There was a problem. Please refresh the page and try again.