Windows 10 cumulative update build 15063.332 rolling out to Creators Update PCs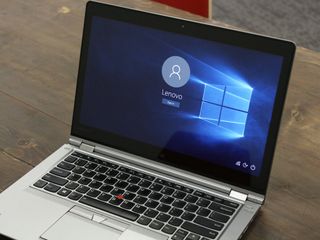 A new cumulative update is now rolling out to Windows 10 PCs on the Creators Update. Available now via Windows Update, the update kicks the build number up to 15063.332 (KB4020102) and packs a wide array of fixes.
Here's a look at what's new (opens in new tab) in this latest cumulative update:
Addressed issue where NTLM fails to generate a challenge response when CredGuard is enabled, NTLMv2 is used, and no target information is provided by the server.
Addressed issue where Internet Explorer does not respect the "Send all sites not included in the Enterprise Mode Site List to Microsoft Edge" policy when opening favorites. Addressed issue in Internet Explorer 11 where a non-administrator user is not able to install an ActiveX control.
Addressed issue where, after starting Split View, some apps (Microsoft Edge, Hub, Cortana, etc.) no longer receive input when multiple displays are in use.
Addressed issue with an unnecessary scrollbar in the logon credential provider dialog, which may block use of other fields when the dialog has multiple fields.
Addressed issue where, during a VM reset, the VM goes into Second Level Paging (SLP) even if there is enough balancer available memory on the host.
Addressed issue where some non-Unicode fonts (Courier, MS Sans Serif, etc.) do not render characters correctly on non-Latin, single-byte system locales (Greek, Hebrew, Arabic, etc.). Black bars or other artifacts appear instead.
Addressed issue with an SMS/messaging app that stops working when attempting to delete messages.
Addressed issue where, after installing the Creators Update, audio output through external decoders no longer works.
Addressed issue where the IoT shell fails to keep monitored background applications running.
Addressed issue with high latency when using the Universal Windows Platform (UWP) MIDI API.
Addressed issue where network printers may fail to install when using the printer vendor's setup software on machines with less than 4GB of RAM. These printers will install if you install from the Settings app or from Devices and Printer in Control Panel.
Addressed issue where PrintBRM fails to restore the Print Queue Configurations when printer names are identical and a port is set to FILE:.
Addressed issue with per user proxy settings not migrating to machine proxy settings.
If you're already on the Creators Update, you should be able to grab this release from Windows Update now.
Windows Central Newsletter
Get the best of Windows Central in in your inbox, every day!
Dan Thorp-Lancaster is the former Editor-in-Chief of Windows Central. He began working with Windows Central, Android Central, and iMore as a news writer in 2014 and is obsessed with tech of all sorts. You can follow Dan on Twitter @DthorpL and Instagram @heyitsdtl.
When for my lumia 950xl???

All Windows phones running Windows 10 Mobile are still on feature2 builds.

This is a cumulative update of the creators update so not rs3. Ists not a fastrig.

NEVER! Windows 10 mobile has been taken off the same update path as PC...featureless 2 is now the thing...Just like RT's last update with the start menu....Featureless 2, is the mobile equivalent

I guess that's why the insider mobile rings are using Creators Update...

yep they are giving their beta testers (insiders) the last little tidbits that they had left. not coming to featureless 2 or not going in production.

Some well meant advice.
1: If you have one, stop using your Windows 10 Mobile device
2: Uninstall your Windows Central app
3: Block yourself from visiting the Windows Central site
4: The rest of us will rejoice in being rid of your negativity

Why? It's the truth. WIndows 10 is MANY MORE THINGS than mobile. So I am not going anywhere any time soon....sorry for the butthurt fanboys here that can't see the writing on the wall for mobile.

It might be the truth but:
1. We don't need to be reminded of it every second
2. You constantly flip-flop between Apple and Microsoft products, pick a platform and stick with it instead of being nothing but negative about a platform that you don't like this week.

Why should I pick one platform. Whats the point? I use all of them minus windows 10 mobile. NEO158 another butthurt fanboy. Sorry, I use iphone/ipad/dell inspirons/HP elitebooks/ samsung NOTE phones/blackberry passport/le pan mini android tablet. whats the point of sticking to ONE PLATFORM....One platform does not do everything perfectly....quit whineing and try something new. How about that. Instead you will be BLINDLY loyal to one device, miss out on alot of features because of that blind loyalty. It gets you NOWHERE.

So...you use every platform except Windows 10 Mobile? To me, that sounds like you're an anti-fanboy, arguably just as bad as the fanboyism you accuse us of displaying.

Right, so you're calling me out as a butthurt fanboy, simply because I use Windows on a WINDOWS FANSITE. If this was iMore, Android Central or Crackberry AND I was trolling, then and only then could you call me a fanboy. As it stands I'm not trolling and I'm on the correct website for the platform I use. All the other comments just show how much you're hated on this site.

So am I. I use WINDOWS 10. I am on the correct site.

It has nothing to do with being butthurt. It has everything to do with you being a lying troll.

HA HA HA>...butt hurt. I am not troll...and I am NOT lying...the fanboys cannot handle the truth about windows 10 mobile....simple.

Can't handle the truth? No one disputes that the future of windows 10 mobile doesn't look good. What we, or rather I, do not appreciate about you is mocking people and the unnecessary comments stating the obvious again and again, trying to provoke people here. I get that you are feeling let down by the platform, so are many others, but we're all accepting it and moving on, unlike you who holds on to the grudge and complains. Move on, and please let your comments contribute something worthwhile. This article isn't even about mobile - when there is one about a mobile OS update, why don't you join your herd of trolls there

Don't you get tired of being wrong? Don't get me wrong... You are highly amusing and your posts is hilarious... But aren't you worried about how you make yourself look?

HOLY **** GIDDORA FINALLY GETS IT!!!!!!!!!!!!! "You are highly amusing and posts (well are, NOT is), Hilarious...thats the point. why ***** and moan over when in mobile...have fun. move on, get another deivce...I don't give two ***** what anyone thinks of me...thats another mistake people make in life. I don't care. Glad you finally get it giddora and laugh at my posts instead of getting riled up and crabby! Oh, I have not been wrong yet....Since i bailed on WP I have been right every time. been right about WP losing what little market share it had, been right about app devleopers NOT developing for windows phone, been right about WB and their unicornphone, been right about Microsoft not moving ahead with windows moible/phone since EVERYONE of them on the stage a build were using iphones...not the 950/xl they SHOULD be using...Please...tell me Giddora where have I been wrong?

You missed the demos carried out on the 950XL then, but hey. If you think you are right... Good on you. The rest of us know how wrong you are. :)

LOL, both of my Windows phones got this update just now 😁

How about right now on the Release Preview ring?

It's there, how about you just check?

It's for phones too. So keep your power dry next time.

Yes, this update IS rolling out to mobile as well ("arm-based Phone Devices") and is installing on my 950XL now.

I got this update 2 weeks ago on my Surface Pro 4. I'm on Release Preview ring.

This is a differnt update.

Got it on my arm - based device too... 🙂

Good i would proceed to update immediately. Like the fixes being addressed

I'm still waiting for my work's Surface Pro 3 to get the creators update. It's running the Enterprise version, but for now they don't manage Windows 10 device updates, so that shouldn't be holding it back.

You might as well download the updater and do it yourself. Even if your Enterprise doesn't manage your updates, expecting it to come will be a while.

The updater doesn't work on the Enterprise version.

Oh? I haven't tested it on Enterprise. I just use the ISO for my updates anyway.

Chances are that they are managing updates but only by blocking feature updates like the creators update as my work laptop hasn't got it yet either.

You upgraded your SP3 to Enterprise?

For mobile too, just got it for my 950

Seriously? Which ring are you in?

Installing On my Microsoft 950 now.

I'm downloading now on my Lumia 735 release preview for arms devices

Downloading now on Lumia 930 release preview too

Ever since I updated to the creators update, when I stream video on edge or play podcasts with Grover after about 10 - 15 minutes the sound begins to sound hollow and mechanical and then my laptop just blue screens. So annoyed.

Sounds like a driver issue. try updating your sound driver and see what happens?

I checked. I have the latest drivers apparently.

Ok, try uninstalling them and re installing them. that may work too!

how'd it work out for you?

Hey. Not sure if it was reinstalling drivers or this update but whatever it was it kind of worked. I say kind of because although I didn't have a blue screen all day today, I did get a minor glitch in sound earlier (that mechanical sound) but audio continued ok after that. Hopefully it stays that way. I spend a lot of time listening to stuff.

This is a very important update.it fixes the Greek font problems.Thanks Microsoft😀

What Greek font problem were you having?

I never had a problem with Greek fonts. The biggest problem for Greek users is the lack of proper search and voice navigation on Microsoft maps.

you are lucky then not all fonts had problem...Now its fix

Greek salad,Greek souvlaki😀

Downloading on my Lumia 1520 now. Release Preview Ring.

Just checked and my Lumia 640XL is downloading it now. Please tell me they fixed the Edge constant reloading issue and the inability to watch videos on the web issue. Edge became nigh unusable with the creator's update.

My thoughts exactly! If I can only unload enough off of my system drive to install this update.

I had this issue also. Check the error log as it will be down to one corrupt dll file. Find this file and delete it and edge will work for you again 😀

Just got this for my Lumia 950 XL too...

Just purchased lumia 950xl hope i wont regret it.

You should have gotten Alcatel Idol 4S or HP Elite x3

I had a lot of problems with the Alcatel Idol 4S that I returned it to T-Mobile and went back to the 950 xl. The 950 xl has been a much better phone and more reliable.

No way, the Alcatel 4S is a US only phone so it'll be pretty limited. Better to get one you can use everywhere.

You already have...haha ha

Nah, he's got the most competent SD810 phone that was ever released.

for making calls and sending texts, thats about it!

Still cannot move store apps from one hard drive to another. Not working since CU.

I have this issue too, I can set the default drive for new apps, uninstall them and reinstall on the new location but trying to move them gives an error message

Finally somebody who also has this issue. Almost thought it was just me.

I was thinking it was just me! It was definitely working with 14393 build

I have that issue too. Also games that use Xbox live do not work when installed on SD card (either cannot connect to Xbox live or even crash)

creators fall update for windows 10 desktop/tablet.

Is this update addresses the problem with the clear button on the notication center? I'm trying to clean my notifications but the button it's not always working. I hope they will release a new update for Mobile too, because my screen sometimes stays grey and I can't do anything.

I found that expanded notifications from some apps prevent the Clear All button from working, I haven't managed to pinpoint what apps at the moment though.

It's available for phones in Release Preview.

received it tonight. Insider preview ring MS 950

With pleasure i would like to say that i am moving away from windows phone by next month. Gonna buy moto g 5 plus

Good for you, no need for you to comment on here then.

Well considering this article is not about mobile, you don't need to comment about it either neo....

Hmmm, cool, it's downloading as I type this on my main PC.

I just received an update on my Alcatel Idol 4S

Gia se olous tous elines.In some x86 programs Greek letters appears as ||||||||| ||||| ||| .It was really frustrating...

No,no,no real big difference after update tbf,tbh...😶🙄

Is insider missing from this article? Nothing on my no-insider PC or mobile.

Apps designed for Windows 8.1 not working with the latest update. Eg:- WhatsApp, Camera 360

what about the problem where start does not respond at all? tiles do not get pinned and the pinned tiles gets removed automatically, start getting frozen, use start as full screen option not working. tiles not showing any sort of info.

What ring is the device in?

I'm in the Preview Release

Sounds like it needs a factory reset

Downloading now on my 950XL and hoping it fixes Cortana....(it just closes as soon as try and search etc from it) All installed on laptop

My 640 XL seems more fluid since the update.

Cortana still crashes when I try to talk to it..

Same here. Very frustrating. I've noticed that the canadian speeh language pack had an error downloading, which might be aprt of the issue.

Wow. From these comments, I just realised how buggy Windows 10 really is.

Got it on mobile just now. Release preview insider ring. No clue what it does differently 😕
Windows Central Newsletter
Thank you for signing up to Windows Central. You will receive a verification email shortly.
There was a problem. Please refresh the page and try again.