Windows 10 IoT Core adds support for Qualcomm's DragonBoard 410c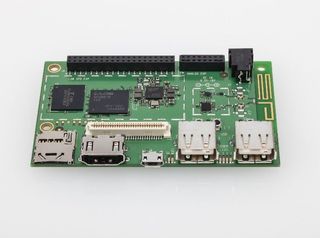 In August, Microsoft officially released Windows 10 IoT Core, with support for the Raspberry Pi 2 and Intel's MinnowBoard Max boards. Now the company has added support for a third board, Qualcomm's DragonBoard 410c, to the "Internet of Things" version of Windows 10.
The DragonBoard 410c has Qualcomm's 64-bit quad-core Snapdragon 410 processor, along with 1GB of RAM and 8GB of storage. It also has an HDMI port, a microUSB port, two USB 2.0 ports and a micro SD card slot. The Windows 10 IoT Core support for the board has been added to the versions available for members of the Windows Insider program.
In addition Microsoft also revealed that Windows 10 IoT Core now supports more features found in the Arduino open-source electronic prototyping platform. They include:
Windows 10 IoT Core Universal Windows Platform (UWP) support for Arduino Wiring
Windows 10 IoT Core Universal Windows Platform support for direct memory mapped UWP Providers
Windows Store availability of the Windows Virtual Shields Application
Windows Store availability of the Windows Remote Arduino Experience Application
More information on the new Arduino features can be found at the source link below.
Source: Microsoft
Windows Central Newsletter
Get the best of Windows Central in your inbox, every day!
If they can make PCs this small where the hell is our Intel powered phone, so we can have a PC in our poket for real now.

There are already Intel powered phones. All Android.

I wouldn't mind an actual full desktop version of Windows 10 running on phone form factor as long as it could still make calls and texts. Hell it could be a real brick of a phone and I would love it. A 7" tablet can't be that hard to shrink down to a 6" phone, sure the UX would suck a bit for the average user but it would be perfect for me.

Intel still has a ways to go on making their chips power efficient enough to enable mass adoption. The advantages of an x86 platform don't outweigh the poor battery life (for most people).

keep in mind that this IS a phone... without the antena, screen, case, etc. etc. etc. This is not an x86 PC on such a small board... though that is coming in time.

What? It's made for IoT. Why are we attempting to classify this as anything other than what it is. This isn't a phone... Posted via Note 4/Nexus 7 (2013)/Lumia 1020/ Lumia 2520

Have you see anything convincing about Intel mobile SoC's ever? Posted via Note 4/Nexus 7 (2013)/Lumia 1020/ Lumia 2520

Is this going to be the Band 3 OS? Or maybe a 360x360 pixels smartwatch? Should we start making apps and watch faces? If it supports UWP this is just another screen size, right?

The large part of IoT devices are headless (no display), they only need to collect/send/receive data to control/monitor other devices.
These kind of board are useful for prototypes or self made home automations.
But it s true, they are like a phone baseboard with a bunch of i/o exposed :)
Developers can reuse all their knowledge on .NET and easily write "apps" for hw boards too, wo having to fight with low level firmware code.

This iot stuff is quite interesting. Will these devices have access to the Windows 10 store? These are not x86 devices, so will MS automatically provide ARM executables for these? Or will they all have to have custom software written for them outside of the store?

Id like to think of it as a low power windows embedded(think of hp/cyberlink's quickplay partition for xp laptops) its basically a custom solution so basically no store provided by ms. Doesn't mean you cant browse xda for applications for it

No, they will to my knowledge not have access to the store. In most cases they will just run one single app. I have tried to run one my apps on a raspberry pi 2 and was really impressed how easy it was to setup. On work I work with Linux in embedded systems and I hope that Windows will be a serious alternative. So far it looks really promising.

Did​ anybody else read 'Dragonboard' like Tommy the green ranger shouted 'DragonZord!' in the old MMPR show?

Just ordered one of these. They look pretty cool and perfect for one of my projects :) Was going to use a Pi2 but factoring the cost of GPS, Wifi and Bluetooth, this turns out cheaper

Waiting for the day they support Realtek 8818x wifi chipset...why support only a Raspberry pi official wifi when its hard to source in so many countries? Without wifi its difficult to work with raspberry pi...

Anybody trying to get Windows 10 Mobile binaries to run on these yet?