Windows 10 Mobile build 15031 for Fast Ring released to Insiders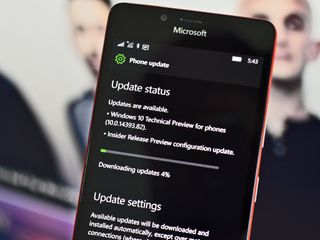 Just a few days behind the PC version of build 15031 for the Fast Ring comes the Windows 10 Mobile version. However, while the OS release for PC brought many new and exciting features the Mobile one is a bit less interesting.
The full changelog, reposted below, focuses mostly on the new Share icon. That's not to say a lot of bugs have not been fixed and likely even more under the hood improvements, but this is an update you can likely wait for until you get home for work. Here is what's new and improved.
Windows 10 Mobile build 15031
What's new
New Share icon: We're introducing a new share icon. For apps that used the "share" font glyph in Segoe MDL2 assets should get the change automatically. You can read more about the change here.
Other changes, improvements, and fixes for Mobile
We fixed an issue in recent Insider builds where certain calendar appointments could result in a Mail crash with every sync. This issue could also result in issues sending and receiving SMS.
We fixed an issue where pausing a streaming track, for example in Groove Music, would result in no more re-buffering when playback is resumed, leading to choppy playback audio.
We fixed an issue where text copied from a PDF in Microsoft Edge couldn't be pasted.
We fixed an issue where the ninja cats on the People and Animals page of the keyboard were displaying in two characters on the keyboard instead of the expected one.
We also added the rainbow flag emoji to the keyboard. You can find it in the transportation and weather section.
We've updated Keyboard Settings so that "Switch back to letters after I type an emoticon" is now off by default.
We fixed an issue where Microsoft Edge might sometimes unexpectedly not rotate into landscape mode.
We fixed an issue where, if the phone was connected to the PC, deleting an entire folder (without opening the folder) on the phone from the PC's file explorer might not result in the folder actually being deleted on the phone. We also fixed an issue where (still connected to the PC) the phone might freeze for a short while after cancelling copying content to the SD card.
We fixed an issue resulting in some games with an explicit option to "exit game" unexpectedly taking a long time to close.
We fixed an issue resulting in some games were drawing up and to the left offscreen in recent flights.
We fixed an issue where receiving a notification while the phone was in your pocket could unexpectedly result in the screen turning on.
We've improved reliability when handling malformed Gifs in XAML-based apps.
Known issues for Mobile
Speech packs will be unable to download on this build.
Adding a new card / paying with an existing card will not work in Microsoft Wallet.
Going to Settings > Devices will crash the Settings app. You will be unable to pair a Bluetooth device. Bluetooth quick actions from Action Center also does not work. Continuum will also not work.
Grab the update now and let us know what you think.
Windows Central Newsletter
Get the best of Windows Central in in your inbox, every day!
Daniel Rubino is the Editor-in-chief of Windows Central, head reviewer, podcast co-host, and analyst. He has been covering Microsoft since 2007 when this site was called WMExperts (and later Windows Phone Central). His interests include Windows, laptops, next-gen computing, and for some reason, watches. Before all this tech stuff, he worked on a Ph.D. in linguistics, watched people sleep (for medical purposes!), and ran the projectors at movie theaters because it was fun.
So no picture in picture mode wtf

Isn't it awesome!? Much needed! This is the height of mobile development!

Lol. I have the share icon even without downloading the build.

It on more app like Windows central on this build

Share icon looks like ****. Not sure what they were thinking

And a RAINBOW FLAG. I'm not an emoji person, is there a Stars 'n Bars?

Looks like no national flags are here, but along with the rainbow flag 🏳‍🌈 they do have other American symbols 🗽

Stars and bars, c'mon, seriously?

Y for the rainbow flag. No fish supported around here.

Desecrating the covenant between God and mankind. No worries about potentially offending billions, apparently.

I think I'll wait for the next build before I switch to fast ring

Last build did get much better for me, so it is improving. It's a much faster experience than Production.

The Bluetooth bug is a big problem for me. I use a 60gb lte plan as my main internet connection. And Bluetooth allows me turn on hotspot from my laptop.

What happens to the devices that are already paired?

I have no idea so I'm not taking the risk

Nothing changes. You just can't pair anything new.

That's not entirely true. It means that the regurlar toggle off and on when any device you want to connect to fails, which is any of them, will mean now it will require a restart.

Yes this seems to be the case . Initially I found I could pair through NFC to my speakers but since realized my phone has paired to my Fitbit Surge and another windows phone and Pc

The Bluetooth is the only way we share data easily on windows, not as if we have a working xander app or something

Try ShareIt. It is really cross platform and lot easier than Xender.

Bluetooth works if you can pair by means of NFC. I have paired bluetooth speaker and my other windows phone by doing this

Bluetooth works everything that had already been paired has automatically paired again.

Thanks for letting us know. By chance is it the same on the desktop build? I can't imagine that surface devices with pen's would just be left stranded.

Why don't you WiFi share?

it is wifi hotspot that i'm using, but you can enable an option to turn on wifi hotspot via bluetooth

Ok, switching to fast now, Daniel, consider yourself responsible

You are making me switch to fast from release ring

If mine would just download, and not just keep re downloading and giving annoying error codes

Mine did that twice. I rebooted and it was fine

No Bluetooth and no continuum is a small price to pay for a new share icon! Downloading now!!!

Seems their engineering department consists of 8 years old kids. Unbelievable what bugs they regularly produce. And it never ends. W10M is rightfully dead.

What?! That's so disrespectful! I know plenty of kids 8 & younger who can make share icons much more visually appealing!!!!

I downloaded it without looking at changelog but man I hardly use Continuum but use my bluetooth quick actions religiously. I hope they fix the wallet soon that is the real reason I blindly updated.

Unable to pair a Bluetooth device? I think ill wait this one out if I cant use my Pebble Steel its great for reading notifications on the go without having to go to my L650 every time while at work

You can't pair anything new. Already paired devices work like they always do.

My band won't sync after update

So wanted to update to this as the 'not rotating into landscape mode in Edge' is really annoying me now and it's fixed in the latest update but I simply cannot afford to lose Bluetooth functionality if I do. Already had to roll back on my Surface Pro 2 because of the Bluetooth Bug

Bluetooth is accessible on PC, from the old control panel; devices and printers. Unfortunately mobile has no control panel.

Yea, but, the PC Bluetooth settings page crashes and I can't setup a new pair. Now mobile will break? No thanks.

thanks for the tip as the new device wizard didn't find my phone :)

Already paired devices are ok new pairs is where it takes a dive
But i agree with you there is nothing special in this one

That makes this update a deal breaker for me. I'll wait for the next time. I'm already bummed that tap-to-pay no longer works, and I'd love for Edge to reliably rotate, but no continuum means no install for me.

I have Lumia 950 and continuum works for me.

They updated the notes. Continuum will work with a dock, but not wirelessly.

Looks like no night light for mobile for the creators update.

exactly, a shame. Not like this would have made sense on a mobile device. I was really happy with W10M and my L950 and especially looking forward to this (on my work iphone night shift is great) but now it starts to feel a bit like WinRT

"Wait for the right time" says Microsoft ;)

Well hello there, error 0x8008008, come here often? *grinch*

Soft reset fixed this for me

Check for updates soon after a reboot 😁

A lot of new features ☺ . Thanks Microsoft

Slow ring hasn't gotten an update since nov. What the hell?

Trust me, you aren't missing much.

You know what, stay where you are, on the fast lane its not as good as pc.

Spent more days for mobile but just a new icon???

Those days are to remove the features added to the PC ;) Because Microsoft is waiting for a right time :)

So any of the major upvoted feedback problems been fixed, like email accounts vanishing frim mail. Edge fixed though.

I wanted to tweet you a new Share icon few days ago I noticed in Photos app, I'm on release ring.

Glad the File Explorer and the emoji issues were fixed. Here's hoping the keyboard is more responsive as well. It's been lagging on many of my apps since last week when I upgraded from 14393. Already had the new Share icon as well, but bugfixes are always welcome! :-)

Wow, not one Windows Phone is dead comment. Must be a slow night.

I wanted to make one, but I decided not to. Didn't want to take the downvotes. I'm really upset about the missing night light feature on mobile. I feel like the OS is always behind when comapred to PC. Then, when we finally get a build, it sucks and isn't worth it.

A lot of the new features for PC, folders on start menu for example, are already existing on mobile. So it seems like we're not getting much.

Would it kill them to allow Mobile to see network files and PC's

I have given this feedback until i gave up. It would be the coolest thing ever if that happened, atleast for me

Remember, for mobile they focus on new business-features only, like new share icon ...

Also disabling wireless continuum ;)

Continuum its cancelled for this build.
What does it tell you...zzzzz boom... Dead.

There is a difference between "broken" and "cancelled". Nice try though.

Thank God, that last build wasn't just broken, it was shattered.

Nice playing down what's broken folks. One bullet says - Settings app crashes. Cant Pair Bluetooth. Bluetooth quick action broke. Continuum Broke. Holy Cow! They shouldnt have released this and I'm glad I switched my device to the Slow ring before it came down.

Had to remove apps (that won't install on sd card) as install to big, thought they had fixed this with only updating what it needs. Edge address bar still not fixed. Already had a random reboot. Keyboard seems sluggish still. Can't pair Bluetooth. They really need to clear off old files from system drive. I'll update a bit more later.

*We fixed an issue where Microsoft Edge might sometimes unexpectedly not rotate into landscape mode.
*We fixed an issue resulting in some games with an explicit option to "exit game" unexpectedly taking a long time to close. I experienced these two issues. Glad to read these and other issues are resolved.

"""Going to Settings > Devices will crash the Settings app. You will be unable to pair a Bluetooth device. Bluetooth quick actions from Action Center also does not work. Continuum will also not work""" Hahaha, just pull the update.
Should never have been released.

Skipping ... the last Fast Ring is stable and I like Bluetooth. Good on the new share icon though

Can you connect Netflix to a big screen now that continuum doesn't work?

You can do that when Continuum works. Just choose to mirror screen instead. I think it's under system/display in settings (when you are connected to a display). Do a bing search otherwise and you will find it.

bluetooth issues and no continuum, I will pass. I use Continuum daily at work to show it off using my Elite X3.

They updated the notes. Continuum works with a dock, just not wirelessly in this build.

Chrome is still flaky with this build :-(. It's been broken for two builds in a row. It's weird that FF is unaffected though. Oh well.

You can't even install those apps on mobile... What are you talking about?

Can someone clarify or confirm about the last known issues on the bluetooth and settings? What exactly isn't working??

As it says you can't access the bluetooth settings to pair. Anything previously paired will still work.

Kinda wish i skipped this one, after the download started haha bt issues and no continuum.

I know that this is Fast Ring but this build have major problems, it shouldn't have been released.

Hence why it's called Fast ring :-) as we get close to public release we get more raw builds so we can help squashing the last-minute bugs

These are not last minute bugs, but rather a deeply flawed software. And they don't need our help, because the bugs are mentioned in the change log.

Once again, this is the Fast ring. Bugs ARE supposed to happen. It's in the terms of the WIP. If you want a bug-free experience stay away from Preview builds, specially Fast ring builds.

First time since WP8; I'm skipping a build. 😪

I was about to do the same but it already downloaded... Never skipped a build

Skipped the last 3 and I use my phone for work and I can't be having more problems. So after my battery fix in staying on release preview build.

So no fix for random freezes on 950xl?

Mine was doing that and it was the battery. The battery was replaced and the old battery now has a bulge in the center like its going to pop.

I don't face random resets on Lumia 950 XL but... I used to ! It didn't happened after I change the battery. It may be a faulty battery, think about it 😉

Had the same problem, thought it wad the build but turns out it wad the battery. Had the 950 since it first came out and since there was no replacement battery to get through att, they just sent me a whole new unit. So if it's over a year on the battery and experiencing frequent reboots, it could possibly be the battery.

So yet again we go one step forward and two steps or more backward!
Why release something that doesn't work when it did?

Wow thats a really long list of new stuff.

Bluetooth voice hasn't worked with the last few builds for me. Connected devices show connected to voice and music but the phone rings during a call instead of the connected device, which has always caused the caller's voice to not be heard on either device.

I am confusing. I have the new share icon for a while now, before this build.

They had to write something

They a/b tested it prior to this build. Now everyone gets it.

If a/b test why none of top upvoted items been addressed.

Edge still has not been fixed. Outlook randomly links accounts, fails to sync or loses account completely.

Gonna avoid this build because of the Bluetooth issues.... I cannot risk it since I depend on Bluetooth on so many devices

This is the 2nd straight fast ring build that is not showing up for me. Any suggestions on how to force the upgrade? I have seen suggestions to hard reset. Is that the only route? I need a fix so I can get my upgrade "fix".

this happened to me a few builds back, i got it to work by switching to slow ring, hit the check for updates button, then after it finishes that switch back to fast ring and check again.

Thanks - I tried that multiple times with 15025 without success but will try again on this build. Don't want to do a hard reset or I will lose my already paired BT devices.

For those wondering; Bluetooth is working well. You won't be able to pair NEW devices but previously paired ones should work fine as i'm currently using my BT headphones without a hitch.

What device are yo using? Sound quality has been terrible on my L950 since the 007 build. Did you experience any problems in the past that this build fixed? I'm still waiting to install.

Just updated my Lumia 735 to build 15031 and now its worse then before. Getting frustrated with Microsoft with pushing updates that suck then the previous build. Edge for me works in landscape and sometimes doesn't. Alot more UI glitches then I had before

Hmm its called fast ring for a reason you know 😶

Anyone using the Idol 4s on Fast Ring?

We all now know they are not gonna do anything special for Mobile because it is FEATURE COMPLETE. So at least the best they can do is make the OS just WORK for us. I want it to be stable without any automatic brightness reduction, phone freezing (L650, L950XL on 14393.693), screen going black after or before taking a call, photos app not taking 40-50 seconds before my shots show up. Thank you MSFT. You are awesome.

That's why even doe I may like Microsoft I just bought me a Samsung S7 Edge. Can't deal with an unreliable Lumia 950XL that gets hot, lags, black screen, random restarts, photos not saving to spite being on main memory, limited apps & the biggest problem I have is Microsoft not acknowledging my emails and making sure IOS and Android apps are better than there own.

Screen going black after the phone call. I have the same issue. Lumia 950.

I got rid of my 950 for similar reasons, and I don't regret it. It seams for as much progress they make forward ( MS ) it still feels like their still behind other OS's. I still use my 650 and my 1520 is really dead weight after this update.

Failed to install due to some error downloading again :|

Man I can't wait to move my 950XL from production over to this build channel! Hopeully just a couple more releases and there won't be any more deal breaker bugs!!!! YEAH!

You can't add a new card or pay with an existing card in Wallet? So, in other words, Wallet does not work at all. Just say, Wallet does not work at all.

Yep. Not you can't add or use

May be you can remove the cards added to the wallet :P

Is there any cool new features in any of the creators update for Mobile? This is more like redstone 2.5

Okay few more issues I've found. One handed option still dont allow to see bottom of screen as it would be in full screen, option needs to have a turn me off option. Share to Facebook crashes app. Camera is very unhappy in dark conditions, should have kept Lumia camera. Random reboots still happening. Keyboard seems to be fixed. Outlook mail losing accounts and randomly meeting. Battery drain seems to have dropped slightly. Although recommend not unplugging if you intend to use for long periods, yeah that's how well the drain gas been fixed. Seems most issues from last build are still in this build, plus bt fault and continuum fault. But they have fixed an icon emoji thing and seem proud about it (sigh).

Some quick actions wont work like flashlight when u turn it on it wont stay on and when u try to access the Bluetooth setup the settings menu crash

This creators update is amazing! I can until Redstone 3 when we can get more iconography and emoji! Wonderful features

Well, at least it's a build. I don't know, I'm really excited for the Creator's Update on my PC but overall the Anniversary Update was much more exciting. Even for Mobile. I'm hopeful Redstone 3 is better (especially for Mobile) but I don't know.

Redstone 3 can't be any more disappointing than this build so far for mobile ☹

Thank god for a share icon.... but can I run my non-UWP/WP8 apps finally which I haven't been able to run since 14977? Considering most apps in the platform arguably aren't UWP, this would seem to be a showstopper to me. It's been painful not being able to use my password manager (LastPass, among other apps) since December!!!

I've had no issue using lastpass on my Lumia icon... In fact their auth app's two stage push auth has been working better for me since the last build.

I've been running all of the RS2 WIF builds on my 950XL and haven't encountered any issues with LastPass yet.

It isn't just LastPass. I only used it as an example, becuase it's the most painful to not be able to run. I have to resort to either the web, or looking passwords up on another device and typing them in by hand. I haven't been able to run ANY non-UWP apps for about 5 builds now. Older WP apps either hang on the splash screen, if they have one, or hang on the good old "Loading..." screen until you just give up. It's been reported at least a half a dozen times in the Feedback Hub... I know, because I think I've upvoted every one. LOL

i was hoping that update would fix the problem where tapping the check for updates button in the store doesn't return any apps w/updates, but if you manually navigate to the app, there is an update.

My Photos app already had the new icon on my 950XL Release Preview. Was that the A/B testing?

I really hope that Microsoft will cut the crap in the latest string of builds when the bug bash is happening because this is ridiculous.
1) rebooting to get a text is silly
2) messages are not syncing properly
3) saving contacts has become a very tough issue because of the people app hanging
4) random reboots for no good reason
5) email constantly syncing and not notifying whrn emails arrive Honestly, i think Microsoft need to get it together. I know i know they said this may be buggy but i cannot understand why problems have cropped up and existing ones have not been fixed.

The last time messages and notification sync with PC was the day the feature was announced.
Never happened again and I've never seen an article about it on this site either.

Continuum working 100% on this build 950xl no Bluetooth though

I've been waiting for this new share icon for many years. Microsoft with this move proves that Creators update is concentrate on phones. So excited and amazing! ...

I've been waiting for this new share icon for many years. Microsoft with this move proves that Creators update is concentrate on phones. So excited and amazing! ...

Yep that single button makes a big difference 😍

Where is the slow ring update?

I may be wrong (according to my wife I usually am) but my guess is that the Bluetooth issue is connected (or most likely not as it's 'broken) to the Dynamic Lock feature on PC.

I've been waiting forever for the new share icon. Give me tons of new bugs so I can get that one feature. Thanks!

Mannn..... This is some garbage. Ive been with the insider program since it used to be developer preview and never skipped a build regardless of how it was. I've always been a Microsoft guy and super big advocate of all thier products through thick and thin. Never once complained about Microsoft being Microsoft and putting up with pretty much all of their assorted shenanigans. Never once, no matter how bad, has a build "gotten to me"… untill now. For some reason this build really put me over the edge with the friggin Bluetooth issues and the %#$&*#$ Wallet still not fixed. The icing in the cake though is that with this new share button, YOU STILL CANT SHARE TO SKYPE 👏🏻😤 Get it together already...

This mobile insider program has been a joke since AU update. They could might as well close it down. (yes I know i can get out.) I mean fixing emojis and icons at this stage. Come on. You do that maybe 1-2 weeks prior to the production. It's like they deliberately break things so they can fix it later to have something to write in the changelog.

You're aware that there's more than one team involved in the Windows development right?

Maybe they are not in a rush since they are not using a lumia the team who makes these build

Microsoft we read you loud and clear..... Switch they said, it would be fun they said

Well as long as there is a setting issue im not downloading this build. Setting is a phone feature so how the f**** did they manage to get the setting broken???

You are an insider and if they wouldn't push a build this week, you would tell them off. Also, why don't you go and write the code to fix this? These kind of comments are really ridiculous...

Tine to get iOS or android

You maybe on to something

One thing that really bugs me is the frequent Bluetooth disconnection with audio car devices (production). I have to turn off, turn on Bluetooth again and re-pair the device every time I start the car. And frequently that's not enough.
Is Bluetooth working in recent builds (apart from this one)?

I use it with my car reliably.

My Bluetooth normally doesn't even turn on then I have to reset the phone to get it working, as it just freezes on goodbye if I just try and turn it off 😅

I can honestly say my Bluetooth has been absolutely fine on my 950xl. It hooks up to my car AND van automatically every single time and stays connected for music and calls. Plus it's connected to my Pebble all day too and I get all me notifications etc flawlessly too.

Was it fine for you already in production builds? Have you noticed any difference since installing the fast ring builds? I was an insider previously with my Lumia 1020, but all the install / reinstall of builds screwed the phone (no boot information error) which forced to get a Lumia 950.. Thanks in advance

How is this 15031 on 950XL?
I went back to Anniversary W10M because 14986 (or there abouts) was so terrible on Mobile.

So far so good. Feels better than the last few builds which had problems with restarts and such.

My Lumia 920 not getting any updates after build 10586.682..

920 will not get new updates :(

I just noticed all these hotpink sub headings on all the blog posts now. I like them as they are catchy, but wondering who designed the one on Daniel's post here. Creative!

Settings seems fine? Not had a reboot in the 45 minutes I've had this update....which is nice, all seems well folks 🏳‍🌈

You mean bt works on your phone?Which phone do you have?

950XL, it might just be the older pairings that are working though

So still no blue light / night light?

I guess that is not needed in enterprise devices so its not that of a big issue... We need to do feedback

They are really focusing on enterprise for mobile last i check by brandonleblanc on twitter and not on consumers so majority of consumer feedback are going for enterprise use in the future lol what a guy he is from microsoft.. I hope their head is not the one who made this memo

They need better employees and talented ones

Im getting an error 0x80080008. Im unable to install the updates. Pls tell me the solution what should I do !???

U can do nothing other than hard reset. I faced this error in last 2 fast ring builds. If u palyed a trick few months back by changing date/time settings to get the update , then you will face this error. Some insiders said this.

Nice build... I can survive a week or two without pairing new devices. So far so good !

But if paired device looses the connection, can you pair it again? And if you go to airplane mode and return, bt is on again?

I did exactly the same thing. But guys, I know of 21 tech companies and have personally dealt with 5 of them in my line of work, it would be wrong for me to name them as it would infringe on their regulations etc, these companies pay for the public to test their products, either a small cash payment, can keep the device they Test or a specific high discount on the product post mass production. They have stringent guideline's That you follow, and also a strict timetable in which to get the testing done. Microsoft have been incredibly sneaky and used 'fanboys', (stupid term) and from what I read here those using their only handset to do so.
Yes It's a choice but it comes down to an easy way out for one of the biggest multinational companies in the world who can easily afford to pay for testers in a controlled environment. It simply works, and has been proven time after time.
I have watched and read for over a year now in windows central how everyone on here has been duped into this and the negatives far far outweigh the positives and in so doing Microsoft have completely failed in delivering a decent platform. When testers are used, broken code is fixed, stays fixed and move to the next bug/problem. Here, It's fixed, broken, fixed again, broken and so on, month on month, build upon build, It's just beyond ridiculous.
Anyone who can spare a bit of time and go through all the threads here can only laugh at the total incompetent of it all.
I gave up here some time ago and moved to android, and an s7 edge which I am delighted with in every respect. Android is far from perfect, it has the worst notifications system amongst other imperfections where as windows is absolutely brilliant (when it works and you actually find the subject showing on the live tile) .
There is so much that is really good here, but with the current leadership it ain't looking good, and with less than 1% of the market it's nothing short of disgraceful.
If everyone here stopped 'Testing for free' here, the game would be very different for them.

no offense mate but with the current leadership Microsoft is doing excellent on all services they offer. Ok, mobile is about the only one I know they aren't doing the best job (perhaps even an understatement) but believe it or not but the Insider program have really shaped Windows 10 (on all form factors) to be what it is now and I actually like it a lot. Still with the bugs we get in Insider Fast, I still like using my 950XL; in the end we signed up to get the bugs and help them out of the system. Besides that, I'm not seeing an update on my Phone yet :s

Well said. I was considering jumping ship to android after my ridiculous small- storage-space-device called Lumia 640. But my son has an android device and seemed frustrated at times. And after doing more reading I decided to go with a gorgeous 950. Keeping the dream alive. Maybe, someday, it'll be fully realized.

no mobile OS is perfect... You just need to find the one that suits you best and for me, that's W10 :)

Wow, they worked whole week just to design share icon! Pls don't ask them in twitter for atleast a month. Else upcoming build may have new 'send' icon. What is fixed? Most of the bugs in this list are never faced. Negligible. Waiting for something serious in the next build

You don't even work there to know what they did under the hood!

I understand where your coming from, my point is this, had this process been done in a controlled environment and within a strict timetable, Microsoft would not have lost the ground It's lost to date, it could possibly have been the opposite, they're other failure most importantly is a distinct lack of positive advertising and public awareness, whilst this has had the potential to be a top notch platform the public perception had been destroyed almost entirely by the seemingly incapability to deliver stability. All it would take is a small team dedicated to delivering a solid platform, as near bug free as possible and go from there.
Anyone with an savvy thinking of moving to windows mobile would read diligently to see if the move was a good one, one of the first ports of call would be windows central, on reading what you read here, would anyone even consider trying it?? I doubt it.
Yes android is good in many ways but has its let downs, I'm still waiting for the latest 'nougat' build, again with Windows, It's major distracting factor now is lack of handsets, this is It's number one killer today. Nobody wants old technology nowadays. My reason for choosing the galaxy s7 edge was It's build quality, camera, speed and just as important, It's consistantly good reviews.
Yes, there is the hp elite which I had a brief encounter with, but it fails in screen brightness outdoors, low volume, and important for me, a good camera, so because of That and the fact Yes nothing else out there on windows worth considering it was an obvious choice to move. I still have a Lumia 1520, and a 950xl, but neither of these devices come close to my current handset.
All this only in my humble opinion.
As revsev says, maybe some day I'll be proved wrong, but I sincerely doubt it.

My favorite phone is still the Nokia N900 running Maemo. Maemo is what I liked to call "the thinking man's Android." Some of you probably remember how ahead of it's time that phone was 11 years ago. Unlike anything else at the time, it had fully functional video/voice clients for skype and googletalk. It had presence notification across any and all xmpp compliant services. It had an infrared transmitter that I used with apps like garage door openers and SAT/CATV tuner remote control that I would get from the Maemo development community that is still somewhat active even today. 11 years later, the phone supports a third party whatsapp tool. Most fun of all, it was open source. I wonder if we will ever see something like it again. I can't abide its feeble processor, bulky form factor, and tiny blurred disply in production. Every once in a while I still charge it up to play with it. Ah, nostalgia.

Lumia 830 here. No updates after 14965. Shows that device is up to date. Anyone else w/ this issue?

The same **** on my 640XL

I have Lumia 550; likewise, do not get any updates since 14965. What's going on? I thought Lumia 550 was the one supported by W10M?

I also have a Lumia 830, I'm on build 15014 right now, the latest build 15031 it's not showing up in the updates for me

I had the same issue on 950. If you are on non-English language setting, try to change it to English. At least it helped me when I was strucked on 14977...

That actually worked, now downloading. Thanks! :)

Underwhelming to say the very least. I've used Windows on mobiles since 2002 (with an interlude for Palm) and I have to say the way Microsoft has treated mobile in the last 12 months is nothing short of outrageous. Update after update has little in terms of new features or functionality, existing minor bugs are fixed at the expense of major bugs that are left unresolved, testing - it would appear - is left to the consumer, the overall quality and W10M brand is the poorest its even been. An emoji is the net gain for this release? Phoar!! If I were an enterprise leader using W10M phones (as a consumer) and reviewing the experiences over the last year I would be very sceptical in purchasing Microsoft enterprise software for my business. I wouldn't be happy with their approach to their customers or strategy for updates and support let alone trusting them to help my business develop and move forwards. Perhaps it's time to move to another mobile, such as Android? At least they get features and functions and meaningful updates from Microsoft!

Last build is better than this new one

Agreed. This one is much less stable--more locking up, more crashes, more things broken--than the previous build.

Everybody here complaining, and I mean EVERYBODY, just don't understand the concept "insider"
My advice, just leave the insider program, and go to the public build......

Yes, CLEARLY you don't understand the poin of being in the Insider program. They are putting things out there and soliciting FEEDBACK. And, it seems clear that for many of us the FEEDBACK is that the new share icon is ridiculous.

I did that on my L730 dual sim and W10 works fine.

The new share is not better for me..... The old one looked better..... Can Microsoft let us choose our icons? That would be awesome.......

Holy cow, so many sweet new fixes for mobile, isn't this Windows 10 Mobile all about, fixing MAJOR ninja cat issues, love it.

Before I take my possibly-irrational dislike for the new share icon to the feedback hub, can anyone make the case for the change, or link if MS has already said something?

Personally, I think it's a complete waste of effort to have changed the icon. They are insisting on wasting time and resources on superfluous, shallow things instead of the actual functionality. Seriously. Sending out a build for which Bluetooth is broken, but, oh, gee, we gave you a shiney new share icon! Who is running this show, a circus clown?

And these are tested in house, believe that you'll believe anything

Wow, this build is really bad compared to the previous one. Not very stable at all. My wife and both are seeing a lot more lock-ups and crashing. Settings is a mess (and we're seeing this on the PC build, too). I realize the change log says Bluetooth settings are broken, but within a few minutes of beginning to play music from the 950 through my car stereo I started hearing distortion. I soft reset and the problem went away temporarily, but came back after a few minutes. My 1020, still on 8.1, doesn't show this problem. So, it appears BT is pretty broken in this build, not just settings.

I had no problem with Bluetooth on my 950 tonight. It had been off as I was watching Netflix on my Nexus 5. Gave that to the kids to play for the evening. Toggled on the Bluetooth and it grabbed the earbuds right away. I had been worried about that, but seems ok. As for the builds, this one seems fast and smooth. But I am still having random restarts on the 950. No sure that that is all about.

Oh, one more thing I noticed on this build. Cortana isn't working over Bluetooth, either. I tried several times to execute a "Hey, Cortana" command only to be greeted with nothing. Then, when my wife tried to text me, I saw it come up on the screen, but absolutely NOTHING from Cortana, even though I have it set to "Always on".

What a waste of time to have changed the share icon when even their photos app still has the old share icon. MS should spend time to improve the mobile experience instead of wasting time on superfluous changes that do not even filter through their entire ecosystem.

Now now Dona Sarkar is very proud they bug fixed an emoji bug.

Having left Windows Phone and still checking in (I still have a Lumia 650), it's sad to see that with every build there are so many bugs left after all this time. My last main device was a Lumia Icon and it ran Windows 10 great, but the bugs were insane. It seems like Microsoft keeps taking 1 step forward and 2 back with each build. I wanted to give Windows Phone a try again with the 650 (got it for free from Cricket), but the lag is so terrible that it's unbearable coming from an iPhone SE. Used to, the Icon was just as speedy and fluid. Perhaps it's just the 650, seeing as the specs are dated, but that's what I loved about Windows Phone is the fluidity with low specs. I hurt for the platform and wish it would pick back up because iOS gets boring at times. It is nice to have 2 phones to pop in every once in a while to see what's new.

So finally we have rainbow flag. Now we can beat competitors... More seriously, I am happy that Msft is working on WM10. Every improvement is appreciated.

L950 keep rebooting while Im using.

I was able to turn on Bluetooth via quick action. Took several attempts but it turned on for me.

Cant even sign in to new wifi connections

After 15025 failed to finish downloading on L650 (and others) - thought this build might fix it. Surprise - the L650 now says there are no preview builds for this phone. HaHaHa.....

Everytime want to update to latest fast doing WDRT because cannot find update . Any suggestion??

Continuum will not work? Yikes

Only wirelessly. Dock still works

The article from Microsoft says Continuum will not work WIRELESSLY, and that using a dock should work.

I had to do wdr on my Lumia icon as corporate account was not working with 15014 build. Went to slow build 14965 and now changed to fast and it is not finding this build. Did hard reset and restored and still not finding this build.

There is also an updated screen brightness goggle. I prefer the previous version.

After a full business day on 15031 I can report it is stable and presents no new problems. On a less positive note, it has not resolved the problem of the new colorful Outlook client no longer sending notifications to the action center. We are used to this sort of thing by now.

gestures beta included in touch or working with speakerphone option yet?

VPN settings crashed today, no idea what I did.

This build has bad UX score in Antutu v6 benchmark.
My Lumia 950 xl usually gets 32-33000 ux score. Now it is 21-22000.
This build seems slightly more stable than the previous build.
The issues of heating, battery drain, black screen while unlocking, app crashes are still there. This is for anyone wondering what's wrong with this build. There may be more issues that I may have missed or not noticed.

Even though it says you can't pair a Bluetooth device, and whilst trying to do this does break the OS, any device already paired from the last build still works just fine. So don't hard reset this build if you have your Bluetooth device working right now.

"We fixed an issue resulting in some games were drawing up and to the left offscreen in recent flights." Someone please help me. What does that even mean?

I am still having issues with windows store not able to download updates or apps - this is the 2nd consecutive month now!

My Lumia Icon...... Just hangs on Download.... Reboot, recovery tool, factory reset, hard reset... 15025, 15031, gets % of the way..... Just stops. Even store apps then wont update. 15025bricked 2 icons. Hangs on splash screen. Recovery tool brought them back. Testing features is one thing..... This isn't even a reasonable testing environment.

Is there any update for L920.. I didnt get any update after 1451.10458 insider preview

That is the last build for L920. If you revert back to Windows 8 and try to install Windows 10 using insider preview, you won't get even that.

Update dont show on my lumia 950xl currently on 15025. What can i do please?

Disable insider, reboot and then enable insider again.

hi i tried to disabel insider but the option to stop is just for a while and nothing happens. What can i do? i already made a reset

Is anyone else having the issue with the main back arrow (the one next to the Windows icon), when pushed and held, does nothing anymore? It used to pull up all apps so you could close them out one at a time. I'm on Elite x3. The last several builds I've had to immediately revert back to production because I use that feature all the time.

How is the Elite x3 in sunlight is it still readable

This update missed up my phone I had to go back to production......

Yeah, Insider Fast Ring, that's Russian Roulette

Remember guys, MS is not investing money on W10M, so it's expecting from insiders to do the eternal-beta testing job, bricking our devices, messing up with our productivity and making us waste a lot of time sending feedbacks.. all that stuff.. for FREE!!!

As crazy as that sounds I believe your right.

Hello, I update to the last build, I could download languages packages, the action center have problems with the lintern, and others buttons, the camera blink when is open, on whatsapp watch a video on horizontal view, blink twice before see the image. The battery life is better, the charging is more faster

Also having trouble with flashlight can't turn the thing off and when it goes off it says that it's on

Seriously, when are they gonna fix the speech downloading bug?

I was able to install all the speech packages, English us and Spanish mx.. Fails at first with the same error on Preview build install, but with a soft reset, you can end it.

I prefer the current icon for share. The new one is confusing. Always confusing it with send, import, export. Also looks a lot like open box in a new window. Can be interpreted in too many ways. I think the current icon is more unique nd clear to interpretation. Other choice for me would be a derivative of the windows 7 icon of a folder with a hand under it as the symbol for share

Desde que instale esta build 15031, el teléfono esta mas lento, cortana no funciona bien, se consume mas rápido la batería, las funciones del centro de notificación no se activan al momento, mala mala esta compilación

Es cierto que se consume más rapido la batería, las notificaciones del Outlook aún no aparecen en el centro de notificaciones. Para mi el equipo (950XL dual SIM) no está más lento pero sí se presentan problemas con unas cuantas aplicaciones. Estoy listo para la próxima actualización.

Desde que instale esta build 15031, el teléfono esta mas lento, cortana no funciona bien, se consume mas rápido la batería, las funciones del centro de notificación no se activan al momento, mala mala esta compilación

Worst build to date, battery is draining at a faster rate then before, ( battery saver on makes no difference ) hell it was bad already but now this is bonkers. Phone shut off intermittently. Lags really bad. Very unhappy right now.I'm using Nokia 1520

It is an exaggeration to say this is the worst build. There are problems but there have been much worse problems. My #1 problem is not new: Outlook notifications no longer appera in the action center. This problem was also present in the previous build and it began with the recent Outlook update that brought the colorized theme with contact photos.

It's not an exaggeration, just to clarify, its the worst update I had to deal with, there have been other, but for me this is the worst. To note I didn't have any issues in the previous 3 builds.

I fixed the outlook notification by deleting the pinned linked inbox. Start from scratch and pin a new inbox to tiles.

I have a very different experience with this build on my 950XL DS. Battery life is great. No random restarts so far.
My best guess is that this build might ignore some device specific optimisations that would explain why some have such problems.

I guess these bugs will effect older phones. I have a 950xl and few minnor bugs

Well, Bluetooth isn't working indeed. Will wait for the new build then.

Hi All Im not getting this build on my 950XL. already made a reset, tried disabling insider but when i press the option to stop for a while (there is no option to stop completely) nothing happens. What tha f*** should i do?

Hard reset might help u. If not then you can always go back using WDRT

The only thing that bothers me on this build, is the fact that I can't connect to my Bluetooth headphones. Every thing else seems to work. The only thing that I'm missing for a lot of builds now is the data limit option in the settings. It doesn't show up in the settings at all.

Killing me. I'm on a plane tomorrow, too. Was hoping for a fix before then.

Update problem persist on my Lumia640xl. Update shows but when I want to download it no response will get from updates

Have the same.issue.it fixes temporary with restart.

Has anyone discovered that if they select an app to show detailed status in their lock screen (for example, the Outlook Calendar), it doesn't display?

Yeah, I noticed that for my app too. Was wondering if I was the onlyone.

This build is full of bugs no good

TBH - I had enough of the fast ring after 15014 and went back to production 14393 (Lumia 550). I was ok with everything up to that point, but enough was enough when my bluetooth and whatsapp became unreliable (bluetooth not connecting to car, whatsapp crashing or not disconnecting). Everything is fine and in working order on 14393. The apps I use and need (banking, social media etc) work as they should and Bluetooth connects flawlessly to my devices. I also recently purchased a FitBit Charge 2 on the premise that it worked with Win10 (says so on the box), only to find out later that notifications etc do not work. Apparently Microsoft and Fitbit are working/testing this (GATT Server) and if they do get it working with the next release then I will be happy - if not I'm off to Android. It's a pity really, I also have two win10 notebooks (one on the fast ring - the other production) and it annoys me that I feel forced to leave the Win10 mobile platform to get (what seems to me) the basic functions. Guess I just got tired of the trial and error bs Microsoft is dishing out atm (new logo etc ffs). On theat note, have a nice day all.

How? How did you go back to 14393?

The onboard flashlight app will not stay on. Goes off as soon as screen goes off.

With the Bluetooth issues, why was this even released? And with Dynamic Lock going live? How does one test it with Bluetooth broken? smh.

PLEASE fix this Major security bug
http://www.express.co.uk/life-style/science-technology/767198/windows-10...

Blue tooth not working any repair available

Its a known bug for this build.

My biggest issue with MSFT is there PR mindset. I get it, on 3 % of the world is using a windows mobile device so the implication is, lack of transparency won't impact too many people, it's not that big of a deal. Well, on the contrary, just because the statistics indicate 3% doesn't mean that's 100% accurate, and it doesn't account for those who still own a Windows Mobile device but do not use it as a primary driver. Whether the market share is at 3 or 300% it shouldn't matter. It seems to be one of the things that Satya has still yet to improve. Now in retrospect, some of the culpability falls on the user because there has always been a risk with being apart of the insider build program, and an even bigger risk with the "fast ring." I learned the hard way a few years ago with my 1520 the impact of simply wanting the latest build. It's a double edged sword that you have to be willing to understand. I have three windows mobile devices. The unlocked 950 and 950XL dual SIM and the Alcatel Idol 4S. The 4S was my daily phone. The best of both worlds as far as I was concerned. Amazing design, and the latest software. Once I downloaded the new build, it turned into an expensive paper weight because the bluetooth featrue no longer worked. Luckily I had my 950XL that was still on an older build. With most of my things saved on the cloud, it was easy to transition everything to my 950XL. This is my daily phone now, and it's not like I downgraded, but I do miss my Idol 4S. It allows me to interact more with my MSFT Band 2, as I am only able to get SMS on it now. Can't select the mail, or Facebook Messenger tiles. Not sure why. All in all, MSFT has to undersetand that transparency is everything. If you're working on a fix for the build, let your consumers know. It's not that hard or that engaging, but it shows you are concerned and care. As for those who are upset about the bugs....I feel your pain....my advice is to never but a new build on your primary device. Get a 640XL or something relatively cheap, yet new enough to get the latest builds so you can test them out first. I was looking at selling my other devices, and am so glad I didn't.

Worst build i have ever seen....crashes settings,vlc,frequent restarts after phone wakes up on a lock screen, restarts frequently when tring to launch windows central app,restarts frequently when switching to mobile data, touch never works perfectly on quick notification panel(slide from top of the screen), have to do manual restart everytime while switching off and on to the rotational lock of the screen, and all these problem or issues occured even after a hard reset of the phone along with the sd card.....Is this a redstone 2 build....What the ****.....???? Microsoft is just kudding with windows 10 mobile...

It makes phone fast but settings are crashing all the time to me.also . Very alpha build it seems not even beta.
Windows Central Newsletter
Thank you for signing up to Windows Central. You will receive a verification email shortly.
There was a problem. Please refresh the page and try again.