Windows 10 Mobile configuration update headed to Fast ring Insiders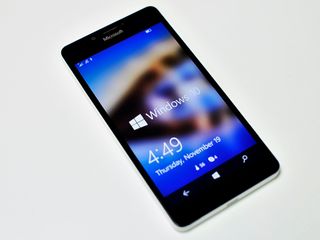 Microsoft is rolling out a small configuration update to the Windows 10 Mobile Insider preview for those on the Fast ring. According to Windows Insider chief Gabriel Aul, Insiders shouldn't expect to see any new features or changes in this update, as it's solely meant to prepare devices to receive future cumulative updates. From Aul:
In any case, if you're on the Fast ring, you should either be alerted to the update or be able to manually pull it down to your device relatively soon.
Source: Gabriel Aul (Twitter)
Windows Central Newsletter
Get the best of Windows Central in your inbox, every day!
Dan Thorp-Lancaster is the former Editor-in-Chief of Windows Central. He began working with Windows Central, Android Central, and iMore as a news writer in 2014 and is obsessed with tech of all sorts. You can follow Dan on Twitter @DthorpL and Instagram @heyitsdtl.
Fast download and install. Seems faster and yes I know he said no noticable changes.

Fastest wp update I can remember lol

A little Off topic but, Am i the only one who cannot connect his phone to any kind of pc?? Shows a "slow charging" and the phone fails to connects.

Try to use the original phone cable

I have the original cable

My original cable wont work with PC, because cats chewed it. :D still charges my phone tho!

Got to be the cables. Cables do mater. Cheap ones can't carry enough juice;

I had same issue... Do hard reset it works fine ☺

A simple restart can cure the slow charging problem.

I had the same problem, use windows device recovery tool. Then from 8.1 update to 10, the bug came with build .11 if I still remember

Don't worry abt windows device recovery not identifying Usb connection, it will somehow force the drivers after prompting you to reset

I've same problem. Hard reset can't solve this. Also recovery tool doesn't detect device. I think, we've to wait for next update.

Don't use Lumia recovery tool, use windows device, that's how I fixed this problem on two different phones

What 'windows device' to use ? im confused here sry :/

Lumia 730, after a build update, probable, 2 months ago, this error have started to occur, and still persists

Same here, and it's not the cables... I've rolled back to 8.1 for a week and this problem disappeared ( and others ones )

Windows device recovery tool. Try hard reset first. Settings -> about phone -> reset your phone. Or button combination for your phone. http://www.hardreset.info/devices/nokia/

Changing your data cable will help you.

Already did it, ain't working!

depends what phone you have. i have a lumia 930 and i dont have those issues.

If it is a Desktop PC , make sure you are not connecting to the front USB ports , but instead make sure you connect to USB ports directly on the motherboard. Extra front USB ports sometimes carry less power, same can go for USB hubs

Mine exactly the same thing, I was told to use the Lumia trouble shooter it sorts the the settings out then does a quick restart it worked 100%.

Fastest update alive. Running WP10 on L520 feels like Running Lolipop on Gallaxy Mini 2...

still stuck on 10586.29, at&t lumia 950. NO SOLUTION YET. :(

apa nak buat...update paling kecik...ko takpe la ade denim...hahahahahah

Ak tunggu update official untk Lumia ak nie..nak tunggu hujung februari rasa cam lama sgt..

Kinban schmilblik uga uga. Attenzione kilikila.

Kita tggu tgk redstone1 nnt mcm mana.. Kalau x cun jugak aq balik ke android la.. Ios mcm poyo sgt.. Emm hahah

Already available on AT&T Lumia 950 took less than 5 seconds to download, install, and be ready to reboot.

Are you in the fast ring? I have an ATT Lumia 950 but cannot join Windows insider and not getting updates. It seems to join but when I go back it starts all over.

Go to insider app and start update and reset phone, then go to the settings app and go to phone update and it should download

I got it on my 950 AT&T phone

Can confirm, at$t 950 with update, working like a champ. Not to sound silly, but it actual is faster! No lag when displaying apps from memory card or apps in folders (yes, this was an issue I reported on).

Same impression of being faster. Apps open instantaneously.

HOW? I'm still stuck on .29

Should hint at some looming upcoming builds. Maybe the first Redstone build for Mobile?

i am gonna go out on a limb and say this is to seperate windows 10 devices from windows 8.1 devices in the upcoming restone builds. Windows 10 devices will start getting builds from rs1 where the older devices will be stuck on th2 for now.

I guess until the rollout for the 8.1 devices that's probably the way it should be. We need to make sure it's right. Then we can go play with Redstone. So give me a TH2 build that kills some of my favorite bugs. Like Edge.

@Lain_S
My thoughts exactly.

Redstone. And so it begins.

No RS for now. We'll be receiving cumulative update and then wait official.. will get RS to w10 devices and 8.1 devices only after installing w10 officially

I had to again register for Fast Ring to get the update. I seem to have to reregister each time a new update comes out.

If you hard reset you have to reregister your phone as it doesn't keep that configuration setup.

It's right now updating. I've a Lumia 535. It took like 10 seconds to download and install.

How is ur experience with lumia535? Im planning to buy..

If you're lucky enough, you wont get touch problem. So far it does very well aside from the touch problem. (mine only experiences the problem when charging)

Works great on lumia 535 :) practically no slow times with Win10 (obvs unless its a OS-based bug but not bcus of hardware). fast on games and apps. Recently gone to 640 as slightly faster thou but I still think 535 is still very good for Win10 :D

535 with W10 works like a charm. But the touchscreen problem is sometimes there. I've heard they fixed that in new 535's, but not sure. Posted via the Windows Central App for Android

Go in the store you bought it and they will fix the screen issue ;)

Good Phone but the touch is not that great as I have heard from my friends.

Just make sure you download all windows phone 8.1 updates before you download 10 on 535, I'm sure there is a fix in those updates

I have a 535, for me it's a great phone! I miss the clearblack display, because in the situations of strong sunlight, you can't see anything and I miss a notification led too, because i had this on my alcatel onetouch idol 2 and it's nice, but everything else is ok. I'm running windows 10 (10586.63), there is just one bug that makes me really mad, some games are not working correctly, is like a black space in the bottom of the display, and the place of bottoms on display is not the place of the touch, so it make some games, like Sonic Dash, unplayable.... But no problems with any candy crush :) I was worried about the "touch problem", but never noticed something like that on mine, some say that's because i'm using a glass protection

Its great device and the Lumia 535 devices that are manufactured after may 2015 doesn't have touchscreen problems. Touch is very smooth

after installing this..everything suddenly feels faster.

I think that suddently is in fact the result of restart;)

its not a lagdroid he talking about :P

Yes it's a Windows phone. It's advisable to restart your phone. Posted from my Note 5

Naive comment. That doesn't apply anymore. Expand your horizon than stating silly names Posted via the Windows Central App for Android on my Lumia 950 XL

It is called the placebo effect.

No its not placebo. Since it was a small / minor update, I wasn't expecting anything. However it was noticeable how much more responsive the phone suddenly got, and then I read people commenting here about the same thing. Good update.

The update was there to prevent any early insider build updates except Lumia 550/950 and XL. :P

While a good guess, that stuff can be controlled on the MS Update Servers if I'm not mistaken.

"This update prepares devices to receive the next cumulative updates, as well as improvements to the client-side update experience." "No, cumulative updates are servicing updates to current build. e.g. 10586.63" --@GabeAul

Gabe specifically replied to a tweet saying that this was not the case.

What if this is a faux update with nothing at all new but he needed to put something out because we were hinted at something coming to the Insiders this week and it's Friday and there's nothing? My 950XL is updating irregardless, haha.

Oh, we are a cynical group. And, that was funny.

@Dinky89484, well I don't know about you lot but doesn't the week end on a Sunday? :P.

No moron, the week starts on Sunday.

That depends on where you live but sure, insulting is the way to go.

Possibly.... REMEMBER "PARTITION STITCHING"..
.....
LOL!!
http://youtu.be/z3nXHAQa-gQ

haha that video is awesome. Hadn't seen it before now

Downloaded and done. I'm curous about the improvement to "client-side update experience"? I haven't really had any noticable app issues, TP-to-TP. Lets hope this prefatory to a more substantive update early next week.

The client-side update experience could definitely use an update. So many people getting stuck at 0% downloading for hours. Sometimes its because battery saver its on, but many times its not. Folks say they have to restart and hard reset their phone to finally get the update download.

Updated my 950XL before this 'news' broke and will now await with eager anticipation what follows.

I hope this isn't specifically for Redstone... I'd rather pass on Redstone at this point, TYVM.

like i said i think its to prepare the new windows 10 devices to get rs1 builds and older devices to stay of the th2 builds.

We are rolling out updates so we can roll out updates.... So we can fix something so that we can fix W10M

Great there goes my battery life trying to get the download over the next several days!!!

Its probs like 1MB big and takes 2 second to install. If it takes you days to download this update, I think you should change your internet provider XD

Hey thought the Internet agreed Microsoft Mobile efforts are dead and we all decided to spend 1000€ by moving on to ios and android. ;)

Yes because we have no apps and no one uses Windows Phone. Ridiculous hyperbole.

Yea-where is Mindi B to tell us for millionth time that WP is dead?

We have only one month to receiving updates for non insiders.

Yup. Once W10M is released as a "production" build, hopefully next month, no more Insider builds like rumored "final" build 10586.71 or .75 or whatever the final insider build ends up called. So, I suppose we are moving on to Redstone on the Insider Program. Why not now? Let's go for it!

It probably feels faster because it migrated all your info and refreshed everything.

I don't give a **** what it does. I'm addicted to updates. Updates make me feel good.

So, I'm not the only one! Phew.

Lol! My name is mad cabbie, and I erm...ermm, I am a flashaholic....

yup, it feels like we are more addicted to the update and change in build numbers than the actual changes, LOL

updating my 1520 at this very moment!! unlocked at&t in canada!

updating my 1520 at this very moment!! unlocked Pay as you GO in Pakistan!

Nice joke Microsoft they were probably doing some maintenance to their servers and they were testing them but the real news is they will release .71 build now

Ooo. I would like that very much. Late on a Friday?

its saturday here already :(

I have AT&T Lumia 950 on Windows Insider Fast Ring. I cannot see either .63 or this configuration update. I sense a hard reset in my future.

Leave the insider program then rejoin.

yup, i did the same, on L1520 though

Seems faster also when's the next mobile build release in MM:dd:yyyy:ss:mm format thanks.

Wow, you are patient!! I want it in ss.nn format.....

Well I try not to get carried away.

I will be happy with mm:dd:yy ;-)

Seems faster in my 730, really

Seems that you restarted:))

625, in Greece, fast ring , updated. No noticeable changes

1020 και 630, το παίρνουν τώρα. Το 950XL παραμένει στο official.

Βρίσκω επιτέλους Έλληνες, και σε εμένα αναβαθμίστηκε! Lumia 640

Άντε να γράψουμε και ελληνικά, στο windows central. Πάντως το μοναδικό πρόβλημα πριν την αναβάθμιση ήταν κάποιες φορές κολλήματα που χρειάστηκε restart. Ελπίζω να λυθούν με το πολυαναμενόμενο επίσημο update.

Την έκανα εγω την αναβάθμιση στο 930. Εγω πιστεύω οτι την πουσαρουν για να το βουλώσουμε και για την μπαταρία και για τιποτα άλλο.

Thank you all so much for writing in Canadian. I love it. You fcks..

Ok , so...we're sorry...i guess, and that's coming from a Greek-Canadian. It's just that we're so happy to find each other, we Greeks here in Windows central. Μλακα

we greeks... pff there are so many people here from many countries... and we greeks are the only ones that used our language...ΑΠΑΡΑΔΕΚΤΟ!

Don't get you steem to high. Tupper this forum thier are some alians talking. They sounded something like: Update killimikili ubunga ban mil malalak karamana....ticki pilikili tolomos.

Good idea. Maybe I should try to find some Swiss German friends. Gits au dütschchwyzer wo i dem forum poschted? Je me sprache umso interessanter wird die diskussion.

At least , I said I was sorry. For my defense my original post was done in English.

Nice idea also to find some spanish friends. Hola mi amigos! Hay alguno que habla espanol? Porque es muy interesante hablar en espanol! ;)

640 xl dual sim card πήρε το καινούργιο update.Επιτέλους και άλλοι Έλληνες στο windows central μέχρι στιγμής μόνο έναν ήξερα..

Don't speak Greek in here, cause we're gonna get beaten, or something, sort or speak .

Will the older Lumias get a firmware update at all?

Yeah, somewhere in the future

Installed on my AT&T 950. Took about 15 minutes, many apps shown as pending if I swipe right... Seems slower...but still "updating" those pending apps. Anyone else get that? Contimplating a hard reset soon.

Tis normal for apps on sd card. Could take 30mins

Completley normal. Give it a few minutes to install apps.

It will clear up. Same happened on my AT&T 950 and the apps are fine, though I download all the apps directly to the device.

On the 950 its suggested to have apps go to the internal memory. It's not as buggy.

640 here update installed fast. 5 mins later I get a notification asking " how satisfied am I with the battery on this build of windows 10". And somewhere in my brain wants to say not good make it better right? LOL, we humans just want more.

Microsoft rolls out a delay to the fast ring users :D

Lol right Posted via the Windows Central App for Android

After system update I have an app update available for "Voicemail".

They pushed some fake stuff just to shut people up. Lol I'm just playing but 4real. Posted via the Windows Central App for Android

I speculate that others will also speculate about current speculations which have been previously speculated. But I could be wrong.

You're just making a wild ass guess.

Sounds like pure specualtion.

As far as i can tell, you speculate the speculations to much!

Speculaception Posted via the Windows Central App

but if you speculate the correct speculation then is that speculation no longer a speculation and is it truelt a fact. Or did you simply speculate that the fact might be just another speculation of othe truth?

This speculation is legit! Now let's all speculate how 650 is made out of better matterials then the flaships. Now that's something to speculate about while speculating.

Ah, I wondered what that was. Alright.

Was going that the turn by turn Bluetooth problem might be addressed.

FOR PEOPEL WHO CANT UPDATE GO INTO SETTINGS UNTICK AUTOMATIC UPDATE TIME/DATE THEN SET THE DATE TO 1st JANRUARY 2016 then go back to insider program and it should be there wallaaa! happy updateing :) please make sure to like my post cheers guys :3

Felt like I just read a YouTube video. ;)

I would like posts in general on WC...if you could do that from the app

Everybody seems to think that this was a super fast update, but my 930 took about 18 minutes on super fast internet, al of my stupid are being re-downloaded/installed too, my phone is the special gold edition from china, maybe in getting something else here???

@JoRdaNeK, it's probably downloading the a random keyboard and region pack just to wind you up :P. So when it restarts it will start up in klingon or something :P.

My 930 2 mins tops. My old 1320 took a bit longer though, but not 5 mins

My 925 took 5-10 minutes after the zippy download.

I came here to get excited with others ( ͡° ͜ʖ ͡°)

this is to remove your red stone updates set to new lumias only. lol

Clearly, MS thinks we're stupid.
Duh...

Clearly they are right fuktard.

I was being sarcastic, dipshit.

Waw u might be right mate!

Mines took about 20 minutes to update, and it had like 25 things to install. I have no clue what it was. AT&T 950.

Lumia 830 here. I changed over from Production to Insider Fast on updates. Then, the update was found; and installed with no issues. Next, re-set the status of updates back to Production.

830 updated in canada, 5-10 minutes over cellular. and yes it does seem faster

What Windows Insider app version is this? I picked up App version - 1.3.233.2 on my WP 8.1. Was wondering if W10M users got a different one.

My lumia 532 is running 10586.63 but after this "configuration" it got a lot better :)

Could it have to do with some kind of phone ID? They did say 950,950XL, and 550 would get new builds first didn' they? Maybe this update attaches some kind of identifier.

The identifier is the hardware it self;)

Fast download lumia532.. Latest build, but i didnt notice any change.

They want you to believe is faster •_•

It's only 0.02 MB, so yeah..

I got the prompt to schedule restart. The update came and went within a few minutes. After restart it is now stuck on NOKIA logo for about 15 minutes. I can't power off or soft reset. Feels like it bricked my device. Lumia 1020
(Update) Device recovery tool recognized the device which allowed me to soft reset (not sure if one has to do with the other). 1020 restarted with "updates were installed". Apps are pending now. All appears to be in working order so far.

0.02 Mb, fastest update ever took less than 5 seconds to download and install no need to reset phone

When does it arrive for slow ring ?
Jus no updates after.36

Store is not available after update. Notification says update Store in Store... WTF?!?

Store is also an app in windows 10 that gets updates as any other normal app would. Try searching for it in the app list

Store app is tagged as pending in the app list...

What weather app is that, that's showing at the bottom of the lock screen?

I believe it's Locktemp. Limited to show only 0-99, and buggy at times.

Just downloaded it, it didn't take up to 1 minutes

Downloaded fine. My phone rebooted as a new 950XL....... :-/ For free............ Lol

Congratulations and jubilations windows10 coming :/

Pre update update..... Smh

Fixed bug in Edge that was displaying search pages on the screen when web page is loaded, clicking on links works better now.

Live tiles seem to be rotating through content faster.

Yes the live tiles is seems fast now . Good

Any one wanna block "it wasn't me"?

Sometimes My lumia 1320 hangs when i scroll the start screen to down
Sometimes the phone freeze when entering the store
Do someone have the same issue

Maybe. But please use the forums for off topic questions.

I updated my Lumia with 0.02MB of the configuration update.

Fastest update ever and it's only 0.02MB...!!!!

Best update ever. My phone seems faster, looks better, and calls are now cheaper too.

This update is surely to get MSFT a 0.000001% increase in market share!

My L930 behaves strange now. The phone tile always says no service, wifi randomly disconnects

Nothin' change lumia 640 xl :)))

In keybord its not showing the dictionory words while iam typing..anyvone facing this issue..

Get it back from keyboard settings

There is no option in keyboard setting,word flow also not working..

After update I'm unable to pin phone app to start screen. Anyone got that issue?

Lumia 920 not working phone,messaging... So I have phone and I can't call. Nice

Updated and I've lost predictive text and Word Flow! What the hell!!!

What the hell bro... Go to the keyboard settings and get it back.. And go to hell... ;)

I haven't list word slow! It is working perfectly as you can see.

It's re-introduced issue where camera wont launch from idle state on my 1520. Have to turn phone screen on first

I think it's time for a reset with the recovery tool. I'm in the fast rung but haven't seen an update in over 5 weeks

I updated and it restarted 3 times it really does seem alot faster though.

930 seems hotter but faster after this update. Not sure that's a worthwhile tradeoff as it's getting seriously hot doing the simplest task. Oh well phone upgrade in less than a month!

This update seems to have fixed an issue with patchy auto space when using predictive text input, both in Danish and English. Superb! B-)

Hope to see new builds next week! XD

no any changes detected, minor update

Is HTC One M8 supposed to be getting this?

Kmt. Offer the real upgradable version and get it over with Microsoft

My 1520 is running alright kak since the update

How is the latest .63 build on lumia 532 & lumia 535?

Build .63 on lumia532 is fine.. The build is stable. And fast.

Thanks for that! Do u have any idea about lumia 535?

How is .63 on 540? Is anyone using

It hangs as that of many handsets. Especially minion rush game hangs terribly. It lost double-tab to wakeup feature. camera quality became Poor. Only office was featured fully without limitation.

Is this size of 10Kb? How quick download of this update! Installing takes time very very longer than update. How this small data can add considerable change in our mobile?

I think it's not the size of data, it's what data do on the system. In my L925 this update make exactly the same steps as the .63 update did.

In my Lymia 925, after this minor update, everything is faster. Running .63


Anyone have hotspot issues after this update? On a L928 and nothing wants to connect (that previously did) and it seems to have locked up or got crazy sluggish (beyond my patience.)

Mine is working as usual.

Does anyone know why my phone won't show picture background in the start screen? It used to but went to flat color even with this option configured "ON" in the start personalization settings. This release didnt help. HTC One M8 with Windows 10 Insider Preview.

If you are using insider pro app, go to main screen in the app click preview on the panel. That should fix it

Gets some more airflow keyboard action! I just love it! It is so much better than when I had windows phone 8. I think that Microsoft I'd doing as great job! We should be so happy with them. In fact, I think that Cortana is so much ******* better than the other vital assistants!

Got it and I am pleased that it's stable! This is the best wp10 has been! Feeling hopeful!!

People Hub Issue Fixed! One particular stubborn contact kept showing up as a 'mobile' and not a 'home' number. Did everything with outlook.com contacts, see if was a syncing issue, until the update the problem was never fixable!.

The same. L920 issue with accounts too

WOW, installed today and wow, why couldn't microsoft have released it years ago, my phone amazing now. Cortana almost work 50% time, allowed me to get Tencet's Apps, among others , battery seems to last 3 days without some crazy discharge in 30 minutes, all live tittles refresh and work and the best no stuck updates in the store. Well, at least we had an update this week, even if was just to have an update that does fk all. I'm so happy now.

Can u tell me wich update this is and is it only for the insiders?

My lumia 1320 is getting very very hot while charging after this update

For Samsung Ativ S, news? While Windows 10 mobile?

Lumia 1520 here. After this new configuration, my phone can't save wifi credentials... It lost wifi connection after a while (more or less 1 hour), and then I need to input again my wifi network passwords.... Soft reset doesn't seem to work...

Working smooth on lumia 520

Hi,I want to update my Nokia Lumia 920 to window 10,Please help me

If u are an insider just click fast ring that'll

Is background downloading is possible on Windows 10

Seem to be getting two or three updates per month with my Windows 10 phones. Most of my Android phones got ZERO updates, or maybe one or two per year max.

Do u know when windows 10 update is coming out for Lumia plus I've heard that windows insider will mess up ur phone

That update bricked my phone, thanks Microsoft

I have .71 installed on my 920. No I can't seem to do a soft reset. Vol Down + Power take me to Feedback App!