Windows 10 Mobile Creators Update build 15063.251 now rolling out to the Release Preview ring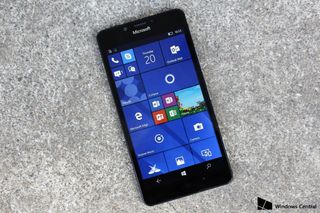 The Windows 10 Mobile Creators Update is now rolling out to Insiders in the Release Preview ring, despite the fact that the Creators Update for Mobile was supposed to roll out to the public today.
Microsoft says unsupported devices on the Release Preview ring will continue to receive cumulative updates for the Creators Update, which is nice. The new build number is 15063.251.
Previously, it was believed that unsupported devices would be left behind, but if you enrol in the Insider program, you'll still get cumulative updates for this unsupported release.
Make sure you check for updates in the Release Preview ring to get the latest updates and the Creators Update for Mobile!
Zac Bowden is a Senior Editor at Windows Central. Bringing you exclusive coverage into the world of Windows 10 on PCs, tablets, phones, and more. Also an avid collector of rare Microsoft prototype devices! Keep in touch on Twitter: @zacbowden.
Any word on the public release and to which devices its hitting first?

You already have it, but you haven't noticed it because nothing's changed. Even changing the version number was too much hassle.

Must have hit the spot, the downvotes are rolling in!

A million up vote to you. That one made my day dwl. And frankly I don't mind down vote anyways because I don't use the UWP app for windows central so I won't see them.

Nobody uses that awful app

...and who should fix the rubbish UWP app?

Not sure why you're getting flagged, since it's pretty much the truth haha!

You are just suffering from being an insider... For production ring users there are a lot of changes small and bigger... See here (its german but u can see what is new): http://windowsarea.de?p=162653

HP Elite x3 Microsoft Lumia 550 Microsoft Lumia 640/640XL Microsoft Lumia 650 Microsoft Lumia 950/950 XL Alcatel IDOL 4S Alcatel OneTouch Fierce XL SoftBank 503LV VAIO Phone Biz MouseComputer MADOSMA Q601 Trinity NuAns NEO

Thanks for posting it for easy reference. Also, what a small list. This should be a firm reminder to all exactly how committed Microsoft is to this

Seriously, @PeterFnet? They don't have to support old phones for 3-4 years. Nobody else does (except Apple with bad results).

Apparently they don't have to release new ones either. An active and developing platform should have much more handsets than this.

Yeah... Like apple for instan... Oh... One moment.

not necessarily. depending on their goals and strategies, it could be a huge loss of money to push more phones out. however, you can still fault MS for not making their vision more clear about mobile.

Not really. Those are smartphones which are just newer. Have a look at official product cycles and u understand that list quite well. Anyway: As u read in this article too: Get release preview if you do not own a smartphone in that list and you will keep on getting updates with older devices too.

Hopefully not until they fix the Bluetooth issue.

Is it only fixed in the official release? Because I have the latest fast ring build and the issue is still there.

Which build is rolling out?

Build 15063, but no mention of minor number.

I wish they would say more info about the branching of fast insider branch for Mobile. That is worrying. A simple one letter answer to this question would do: Are we facing A) a branching because we will not get the full RS3 on our current devices (ala 7.8), or B) a branching because the amount of work being put into the RS3 build means that we we can't really run them on our phone at the moment because they are gutting and changing everything, but we will get it eventually?

Exactly, hoping it is B - there will be a lot of ground work to do before we can get on a level.

I'm sure about A! This is next stage of One Windows and I hope it's final step so from now W10 Mobile looks and acts like full Windows 10 but next devices will have full W10 too ...but I'm not sure is that really necesarry. W10 Mobile will be left with UWP apps so it's nothing bad :) Hooe that with new wave of devices they will finally push W10 to mobile market like Nokia did with great results (Europe).

They said April 25th Public release and they give it to Insiders.. I am not even surprised anymore

That's the problem with release dates. You slip for a few days and people lose their ****.

Anniversary update was like a week late and burned a lot of people. I don't really care when this one hits as a result.

So this Microcircus lied to us again?

yes and no still no fast ring builds

Fast Ring is RS3, what are you talking about?

yes no 15207 /Redstone 2+

Fast Ring is RS3 but nothing new there, at least until today (build 15207)

"Lying" because they delay something for a bug they do want to fix / the release preview with more supported devices in there than they promised before? That is not lying but being nice and professional behaviour. You just dont get that a release is often a few days late on any software out there. Or they just say internally something like "we will bring it out 4 weeks after we could and communicate the update to be planned for that 4 week later day" because u are wining about a few days. They have set a time when it will come and if everything is going fine it will. If not it will be delayed a little. That is a little annoying but just normal... What is your job that you can provide everything exactly at the time you promise it without adding a little bit of additional time before? If you cant handle that, never drive by train in any country because the train will "lie" to you ALL the time...

I dont have release only. fast and slow :(

Guys, i was on fast ring, now opt-out of insider using the last method which says"will get builds till general release". Now im out. Will I get general release today ? Pls help

Reset. If your build number is higher than the one u own, u wont get an update (which is logical). If you hard reset your device and your build number will first go done and than update to this again. Or you just wait till the build number goes beyond yours in that ring.

I don't know. But if you enroll in the RP ring, you surely will. And being in the RP ring is always good 😉

you'll be fine, sometimes takes time when you switch rings for the the update to realize it. I'm waiting on my Lumia 930 after switching from fast to release preview.

Relax people it's still the 25th.

Within 45mins ill be on 26th ! Asia

Don't you know that the date and timestamp for MS is Washington state. =P I'm sure we will still have to wait till next week though.

MS didn't mention the year. Maybe the release will happen on 25th April 2018. Lol!

My current build is 15063.138

Downloading now on my Lumia 950. 10.0.15063.251

Is this a actual general build or release preview ?

Technical Preview. I am still in Production Ring. Gawd they have the whole process confusing.

hung at 35% for the last 20mins

A bug to slow connection ?

I turned off/on Wifi and it jumped to 38%. I have never had issues with the updates in the past year or so. EDIT: 96%

This is a general build https://www.catalog.update.microsoft.com/Search.aspx?q=windows%20mobile%...

Do I opt out of Insider to get Creators? One would think they would highlight that

This is the Creators Update. They're pushing it through release preview instead of a public release today.

Yep finally determined that. Loaded and so far, so good.

Which one is best for Lumia 650? Thanks

If i can ask . Where r u ? I mean ur country ?

Thanks .so its about region for downloading the builds . USA @st as usuall ..🌹

So unsupported in the previous articles just meant that if something went wrong they weren't necessarily going to do anything about it, not that you couldn't actually get the updates. I find this acceptable and am happy to take the risk.

Yeah, think it's a pretty fair approach.

Not quite good enough as they only said cumulative for creators... but I want to put my lumia 930 on RS3 and I think they have yet to say they will allow but unsupported.

what is good enough for you? being supported for eternity? that phone is just shy of three years old and they just told you that you'll get updates a few months into its third year...

I don't want support for my lumia 930, I just want to be able to keep installing insider builds on it... like how my Lenovo X200t can still install windows 10, yet I'm not asking support for it from anyone.

I'm on Lumia 640XL is that unsupported device?

It's still supported. The 640/XL are the only phones that came out with 8.1, but are still supported 😉

I m not getting anything,i m on build 138 release preview ring ,lumia 640

Can any one tell size of update from.138 to.251

I always wondered how to check for update size. How do you check it?

Just switch-off your connection (wifi or data cellular), and open your Settings > Phone update

I m not receiving anything

How to roll back ? When I opt out, it said that it'll be receiving update to general release.

Hey suraj u checked update? In phone settings??

M using Lumia 640 on release preview ring with 138 build, still not receiving the update even after a reboot on my Lumia 640

You must use a tool that named WDRT (Windows Device Recovery Tool) for rollback your phone.

I think is depends on country suraj we are in India,we are almost 9.30 hours ahead from united states! I will check in morning again!

Yup ! India..you are an Indian too ! K..i hospital the same. I'm just want to get out of this fast ring unto general release.

Which build u installed ,suraj give me ur WhatsApp number,to help in details

I pulled off my details, since you we not responding. Reply when u r online..yet

Suraj this is my WhatsApp number =9156725390

To Unsupported Non insiders : If you want creaters update first opt for fast ring you will get 15063.2 instead of RS3. then opt for release preview ring to get cumulative updates for Creaters update...

Why not choose the Release Preview Ring immediately?

Just choose release ring immediately

This worked perfect on my 930 from AU. My 830 was in fast so had .138. Not working. But thanks for this it at least helped one device. Maybe need to put 830 on AU first, then fast to get .2 then RP to get .251. Good post, thanks.

Yup. Tested in another 830 that was on AU. Put it in slow and getting .2. So looks like unsupported devices need to first be on AU, go to fast for .2 then go to RP to get .251.

I'll have to try this when I get home. I'm in the RP and have been for quite some time, but I'm stuck in 14393.1066 for some reason.

I had moved from Release Preview to Fast Ring around the start of the month with my Lumia Icon (bascially a 930, no better models available on Verizon) to get the Creators Update, because I knew that official upgrade support for that handset was ending and wanted to be sure to get the latest version before it would no longer accepted updates. After that downloaded and installed, I switched back to Release Preview, to avoid any chance of being pullide into an RS3 build. However, my phone is still on 15063.2 and has not changed since the original jump to CU. Still in Release Preview Ring. No updates available. It sounds like this is not what others with older handsets are experiencing. Any suggestions?

I also have Lumina Icon but am stuck on 15063.138 I have switched for last 2 days form Fast to slow to Release preview. Still no update to newest build. Any ideas?

Still on air ! Waiting.....

I am on 540 , i am not getting anything

Release preview ring? Laltu?

Feel glad! i am not alone with this issue.

What happened with the public release today?

Downloading it right now.. From 14393.1066 to 15063.251 for L950XL in Release preview.

Which build, which ring ?

My 950XL is in Release Preview and running .138 and this .251 build is NOT showing up. Can anyone confirm if they are getting it on their 950XL in Release Preview? EDIT: I removed my phone from Insider so it would be Production ring, still nothing. I then re-emrolled into Release Preview, still nothing. WTF. This is a first. my phone has always seen builds immediately.

so is 10.0.15063.251 the "creators update" or this is still not final?

there is no such thing as a final build

Downloading now on my 640 XL

Yes there is, we are in rings, fast/slow. The final build is there for both slow and fast things and got release preview. Which matches whole this to a common build

You just knew that they would screw the pooch on this, Nobody knows what happening, on which ring, for which phone, in what country. I can hear the chickens screaming in Redmond now...WHO PULLED THE TRIGGER!!!, and WHO SHOT JR...jeeez, what a cluster.

Dear release preview Ring users ,there are many people with supported lumia s are not receiving the update,so don't worry 😊,it will take time to reach you,n its also depends on ur country n its time,thank you!

Ya suraj m downloading the build ,after install i will leave insider program!

Unsupported device (L730) Release preview anniversary update cannot get this???

Yes, they are blocking the uses who has anniversary update. Because creators update is not support/compatible with mobile hardware itseems

Hey, I was with AU 1066 on Lumia 735 release preview and nothing received for CU, then switched to slow ring checked update got received CU 15063.2, then after update received another immediately 15063.138, then no 251, but switched again to release preview as advised. Works fine for now on 735 this .138 CU, expecting .251 ;)

It looks like this is only being rolled out for the 950/XL at the moment. My 950 is getting it, but my 650 and 830 are not seeing the update yet.

My 950 isn't getting it. I am on 138 now, but on Release Preview or Slow, I don't get it. Have been checking every 10 minutes or so for the last hour and a half. I am in the US as well.

Yep, same here. I'm wondering, since .138 was never released to release preview ring does an upgrade path still exist to .251 -- or must you be on .2 to get to 251? Confused. I guess I'll sit tight.

According to https://changewindows.org/ it is released to the slow ring as well, but I don't think that has been confirmed.

Is it available to L730? RP

HTC One M8?? That'd be nice.

Good to hear they are still going to allow unsupported creative update device to receive the update via insider. Frankly they should have done the same with the older Lumia devices as well. Leave it up to the consumer to decide whether or not they want to update to 10. Just post a big bold disclaimer ....

I'm thinking anout switching to Insider at my Lumia 830, please clarify: will this meen that at some point updates for Insider will be locked because it would be simoly to old phone? 6 months or a year or just when something new will show up?

No idea, MS themselves probably couldn't give you a straight answer to that question...

Right... joining Release preview ring again. I just want my Lumia 950 to work again. this phone got so rekt 3 updates ago. Battery drain galore and hectic slow downs.

How do I edit my Nokia Lumia 730's registries to fake it as a supported device in order to get the insider builds staying on the fast ring.

I got the interlop app, any one know how to do it?. Any link for a tutorial? Trouble finding it

Try asking over on XDA https://forum.xda-developers.com/windows-10/development This site has never been big on the dev/hacking side of WM.

Hmmmm, i think everyone with unsupported devices have already jumped off tall buildings.

My lumia535 on fast ring would disagree;)

creator update 15063.251 is for release preview . what happen to 10.0.15207.0 feature 2 in fast ring?

Downloaded on my Lumia 950, but got stuck at the Windows logo after reboot, soft reset about 6 times before it continued on. Hopefully the rest goes smoothly. :-/

If this happens again on your next update just leave the phone on the windows logo for about 20minutes and then soft reset.It appears that the phone is doing nothing but the update continues in the background

hey bro, could you show me how to install windows 10 moblie creator? I am using Lumia 950 XL and i check update everyday but did not find any update. I do not want to use Insider cause its risks. I would appreciate of you could show me how to download it. Thank you

Every device I have currently on 15063.138 and in the Release Preview ring, says it is up to date. 950XL, 640XL, 1020, 920.

I guess when Release Preview outing falls on the same day as Production outing, the release preview becomes a roll out like production!

Finally showed up about 7pm ET

Who installed this build on 1520 without support and how it works?

How is Creators Update running on 930 (Insider build of course)?
Any issue found by anybody so far? I would like to get it through the Insider preview. Just hope i dont have to roll back to 8.1 -> 10 -> AU if something will not work fine. Thanks

I installed it on my Icon last week, no hard reset, and it was OK. Battery was worse than AU so I hard reset on Friday and it's been better. Actually had to hard reset twice b/c a lot of apps weren't installing after the first one. They'd hang at "installing" or "restoring data". But that problem went away on the 2nd reset. Overall, it's running fine, no isssues so far.

What exactly am I risking by updating an unsupported device?

I read on another forum that a user experienced issues with this last build. Videos were broken and bluetooth was making his 735 (unsupported) to crash. I hope not to experience such bad issues on my 930 which recently became unsupported too.

I haven't had trouble on my 735 although so far I am not seeing this update. My wife's Icon wouldn't download the last update. I had to do a reset on my phone to try to get the Enhanced calling to work (didn't work still) and I worried about pairing my car with the phone but it did just fine.

Not much since it's probably out of warranty anyway. It's really just the time to do a hard reset so it runs optimally.

Are you saying that if we download the update on an unsupported device, then we should do a hard reset AFTER it updates to make it run optimally?

Yes that's what I did and so far no issues on my Lumia 535.

Did anyone get this update on 930 on Release Preview?

Updating my son's Lumia 635 (512MB) right now. I put Windows Insider on it running 8.1 and it is installing. I will update with another comment when it is finished!

I'm pretty positive it has become a game at Microsoft. They are basically saying how far can we push these guys, taunt them, and string them along. They are trying to push the limits and one up each insane move they do. Next they will pull an apple an apple and release a super aluminiumism phone and revolutionize everything.

Installed and works fine so far on my Lumia 950 XL, but there aren't windowed apps in Continuum? Thought that was supposed to be in this update...

Only new feature is the share icon, not much else.

And the share icon was pushed much earlier for separate apps, such as the gallery. Over a month ago if I'm not mistaken.

please tell me how to install it man. I could not find any update in setting, i am using 950XL too

I set my phone for the Release Preview ring...

Just go to All settings, Update & security, Windows Insider Program, and pick Release Preview from the list. Then go back one to Phone update, and tap the Check for updates button. It may take a day or so before your phone picks up the update...

Am I missing something? I thought the Creator's Update was to be released to all eligible Windows 10 Mobile devices today 25/04/2017. Was there something in the fine print saying different that I and millions of others missed?

When I checked for update show me no update available in 640xl

I can not find anything new in this new release on my Lumia 550

Only official supported phone for creators update can get RP 15063.251 BUT only from AU 14393 for now.I hope that Microsoft will soon correct this bug.From 15063.138 you can't get RP 15063.251 for now.

Will it fix my blank nonfunctional icons? Will it ends up with blank nonfunctional icons? Will I end up doing a reset?

Just checked my phone for updates (not on Insider) - it's been released to production, downloading now...

Which phone are you using? My HP Elite x3 is not seeing the update on Production yet.

Lumia 950. Coming from 15063.138 installed when it was made available on the Fast Ring, after which I immediately jumped off to stay on the Creator's update branch. Are you still on the Anniversary Update by chance?

I just bought my x3 few days ago and it is still on the Anniversary Update. Hoping to update to Creators before setting up my work access account.

That update path may not be set yet (just a guess); or maybe slightly delayed. When I updated to 15063.138 last week, 15063.2 was installed first, followed by .138. Will be interesting to see what happens on the AU to CU process now...

What about other devices(lumia540)? Microsoft making again and again mistakes....

Hello All, Anyone update Lumia 535 OS 15063.138 to 15063.251. Please let me know the clues to get the Latest version. Note: I am from India.

Hi am i Uganda. Currently on Release Preview in Windows Insider. Lumia 535 Dual Sim. Update Status 57%

Hi! My Lumia 535 is on Creators Update, and it's doing fine. The only bug is keyboards not being able to download. I tried with a lot of them, unsuccessfully!
Except for that, everything runs smoothly! I like beying able to clean applications cash. No lags, but I did everything hard way; Windows recovery tool, going back to 8.1 (took me to cyan, not denim), then upgrading to slow ring (didn't work out when moving to release preview), back to release preview, got two builds before .251, when getting to .251, did a hard reset, and now everything runs smoothly.
It took me "only" one day! And a lot of nerves! ☹

Hello DrummerBDE Let me know how to move to production ring.

Go to Settings, Update and Security, Windows Insider Program, Select "Stop Getting Insider Builds" button. After that you'll be on production. From there update availability for your particular set-up will depend on what ring you were on and what version of the OS you happen to have installed. Hopefully you aren't on fast ring with with RS2 Feature 2 branch OS installed (15207). If so, you'll need to start over using the device recovery tool to get the Creator's update (eventually). Good luck!

Still nothing on Release Preview on 735. Also discovered that my Spanish Keyboard (Spain) isn't working. I have Mexico (not much difference) but I prefer Peninsular Spanish. I have never figured out why these language packs are so troublesome on Windows Mobile. And Italian is gone also.

Other than Glance screen not staying on, I don't have any issues with the update.

Hey, I have the same issue on L950XL after hard-reset -- Glance Screen is not showing and turning it on in the settings does nothing -- it just turns off when you leave the screen. Are you experiencing the same behaviour?

Have anybody noticed? I got a notification that "check out gesture beta", but there is no app or settings. Anybody else who saw this?????

Me too. I got two notifications about it, right after the update. but couldn't find an app or settings.

yes there is no gestures beta.. but I could not find audio routing also, this caused my automatic handsfree to work.. no more now.:((

Looks like they lied to us again. The day, April 25th, has ended 😒 Microsoft get your stuff together and tell us the real date for updates and don't cancel last minute.

Just installed this build on my Lumia 640,so should i stop insider program now?? Help me friends!

So i leave the insider program now???

Yes, If you want you can leave insider program. Will get regular production updates means "Public Release". without insider program.

How ? Pls help? There are 3 options ,so i choose keep giving me builds until next release??

This update is available for both Supported & Non Supported phones from AU build .1066 to CU .251 only if on the Release Preview Ring......If anyone had previously updated to CU .138 they will not get the CU .251 as it was only meant for those who were on the Release Preview & had the AU .1066 on their phones.......my non supported 730 is on CU .138 on the slow ring, now opted for Release preview for future updates & my 950 XL was on the AU .1066 on Release Preview now downloading the new update CU .251.....I'm in India.

...now it rolls out to production too
for supported devices

Yes! Finland, Retail L950XL and 15063.251 is here! works!

Installing on my 650. I fear this may be the last major update :(

Its available now in production ring also... :-) In Indian Lumia 650 downloading...

Good ,enjoy the creators update 😍

Creators update is just awesome,thank dona Sarkar,Microsoft! Windows 10 mobile rocks!

Any body help ,i installed this build on my Lumia 640 ,i m on release preview ring ,so now i want to leave the insider program,pls help how to do

"waves" as in "wave goodbye"?
No update yet on L650 in Germany

Nothing for my lumia 930 yet. On release preview and still stuck on 138. Is there a upgrade path? Device recovery tool keeps rebooting phone going into flash mode. Can not rollback to AU.

I think next slap with update will be on 640 and 640xl

Big deal. :o( I have given up on Windows Mobile as of 2 weeks ago. Unless there is a major reassuring announcement on May 2nd I'm no longer a Windows Phone fan.

Installing now on my Lumias 1020, 920 and 520 (yes I hacked the registry, and yes, the details are in the forums)

can u give deep details of how u did this , please ? Thanks

I did this too, changed my 920 to a 550 using interop tools.

Still not updating on my Lumina ICON. Stuck on .138 Tried Fast, Slow, PR and to stop. Waiting for hours or overnight. Still no update to .251 Will I not get anymore updates?

Still not updating on my Lumina ICON. Stuck on .138 Tried Fast, Slow, PR and to stop. Waiting for hours or overnight. Still no update to .251 Will I not get anymore updates?

My wife's icon wouldn't install 138. Neither her phone nor my 735 has gotten the 251 build. Wish this was clear. We are both on Release Preview. I tried slow but nothing. Slow offers her Icon 138 but it fails to install.

I got the 251 update today on my 735. My wife's icon still gives an error and it won't let me get out of Insider. I guess we have to do a reset.
She is stuck on 10563.2

I'm experience the same issue on my icon. Stuck on .2

Should be here now, was in the same situation.

Installing on my Lumia 1520 now.

Windows 10 Technical Preview for phones (10.0.15063.251) is installing now... My Lumia 630 Dual Sim 😄
(with interop tools)

Showed up today on my 735. Fixed the language pack problem.

I have the same phone - Lumia 630 Dual Sim. Can you point me to a guide to upgrade my phone to windows 10?

Got it on my L830. Interesting... Looks like MS confirms - Windows Mobile is dead, long live Windows for ARM. Or other words - Mobile Phone is dead, long live ARM Phone Device...

windows 10 mobile creator update build 15063.251 rolling out preview ring please

Finally here for lumia 930 on .138 in release preview👍

Arriving on my uk l930 right now

Hi,my handset is Lumia 1520,and as they said I can't get creator updates unless being on insider's release preview ring,I'm now on 15063.2. By switching to fast/slow ring,but then I've switched back to release preview ring to get 15063.251,ok? When I try to get this build,my device finds this build but when its going to start downloading it,this happens : " error code (0x80070273) " , what should I do?

Hey, I had the same issue with my Lumia 1520. Got stuck on 15063.2 and couldn't download the newer build due to error 0x80070273. Hard reset did not fix that, but a complete reset to WP8.1 using WDRT (Windows Device Recovery Tool) and the subsequent upgrade from Threshold to Anniversary to Insider's RP did. It took me several hours, but now I'm finally on 15063.251. Hope this helps. Good luck!

Hello All, Anyone have issues with Whatsapp after installed windows creator Update " 15063.251 ". WhatApp is not opening for me. Kindly update if anyone having same issues and resolved it. Note: I am from India using Lumia 535.

lumia 640: North West England, g/Britain. nothing here yet. 28/4/17

Same here, same phone, not on insider preview, in south west UK. Can't find any sensible info considering it was supposed to be released to public on 25th April.

when installing build 15063.251 on my Lumia 1520 and after downloading the files it requires restart and I choose to restart now , but then it failed to continue the process and keeps on restarting . It's stuck now in this condition with no operating system . I tried the hard reset using key combination but no use . (I don't know if I used the right sequence ) any help will be highly appreciated , thank you guys .

Same thing happened to me on my Lumia 920 when Win 10 mobile came out. Infinite boot loop. Only way to fix it is to download the Windows Device Recovery Tool: (Check here for more info: https://support.microsoft.com/en-us/help/12379/windows-10-mobile-device-...).
You'll unfortunately lose all your data though.

installed on my hp elite x3, so far so good.

Still no update on my Lumia 730 DS on Release Preview ring in India.

Got the update last night. This morning I recognized that all my pinned excel worksheets do not display their names any more: https://answers.microsoft.com/en-us/mobiledevices/forum/mdlumia-mdupdate... To me it seems that no one is testing at Microsoft ...

I just got an update on my 640, but it's not .251, but rather 15063.297. I'm hoping it fixes my Bluetooth issues as my phone no longer maintains a stable connection to my car's Bluetooth system and given I had a few updates in the past month leading up to this one, I'm guessing it's more likely to be my phone than the car (that hasn't had any updates) that's causing the problem, but given other complaints on Subaru web sites, I can't be certain. All I know is when you have a Bluetooth car system and your phone won't work with it, you might as well not even have a cell phone in the car (I have no desire to try and use that handset in the car without a hands free system even if it is legal in my area).

Hi I am also receiving build 10.0.15063.297 now but how comes we never received the .251 first? I am going straight from 10.0.14393.1066 to 10.0.15063.297. Is this normal? Does this mean I have the creators update now or are these just cumulative updates??? My phone is a Lumia 950XL and located in Belgium

Well, my Bluetooth still constantly disconnects from my car with the final Windows 10 Creators Update. It worked fine two months ago. All these updates have done nothing but screw up my phone. It's not like you can easily refuse updates either. That's the BEAUTY of Windows 10. Force bugs on you. Fantastic. Now I know why people pay $800 for an iPhone.... The site owners should know their REPLY button code is broken as well. Whenever I click on reply here, it gives me raw HTML code instead of replying. The only way I can reply is the COMMENT button at the bottom.

Succes met de iPhone zou ik zeggen. Ik heb jaren lang probleemloos WP gehad en heb nu een iPhone 7. Alle ellende met iPhone van vast lopen, gesprekken niet kunnen ophangen,bluetooth wat hapert en vaak verbreekt, mislukte gesprekken, bij een beetje zon erop gaat hij is een beschermodus waarhij dus uit gaat totdat ie afkoelt, niet klakkeloos muziek erop kunnen zetten, etc... Probleem met vooral iPhone mensen is dat ze denken dat ze heel wat status in hun handen hebben, en als er dan wat mis mee is klagen ze niet want dat is een afgang. Maar de problemen zijn eerlijk gezegd enorm ermee. Niet zo erg als Android maar echt alles gehad en intensief gebruik maar WP staat nr.1
Windows Central Newsletter
Get the best of Windows Central in in your inbox, every day!
Thank you for signing up to Windows Central. You will receive a verification email shortly.
There was a problem. Please refresh the page and try again.