Windows 10 Mobile Fall Creators Update: The ultimate changelog
Want to know all the changes coming in the next big update to Windows 10 Mobile? We've got you covered with a complete changelog!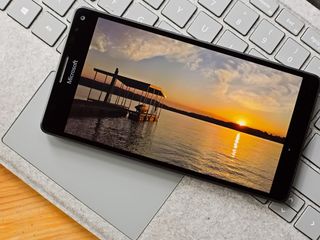 (Image credit: Windows Central)
Similar to our "all the changes so far" article for the Fall Creators Update on PC, we thought it'd be a good idea to round up all the changes coming in the Fall Creators Update for Windows 10 Mobile, also known as the "feature2" release.
So far, this update is mostly bug fixes and general improvements. There are currently five new features in testing for Insiders at this time. That doesn't necessarily mean more new features won't show up in the future, however, as Microsoft has said they are working on "Enterprise related features" for Windows 10 Mobile.
New Features and Changes
You can now manually change the orientation of Continuum when projected to an external monitor. This is useful for those who may have monitors in the portrait orientation. Previously, Continuum would display when in landscape mode even when on a monitor in portrait mode.
Added support for the latest Unicode updates – including new snacks, actions, dinosaurs, and even fantasy characters like genies, fairies and zombies
Two factor Authentication: We are excited to announce that we've introduced a two factor authentication unlock mechanism for Windows 10 Mobile. With two factor unlock, an enterprise can enforce an additional security layer to their sensitive data via an MDM policy. Once two factor unlock is enabled, a phone user will have to enter a numeric pin followed by an enterprise-defined factor to unlock the phone.
AppLocker Improvements: A number of customers have provided feedback on the warning prompts for apps that are blocked by enterprise policies. We've improved the UX and updated the MDM SyncML scripts associated with the policies.
VPN Improvements: In the modern corporate workplace, mobility is mainstream and secure access to corporate data via VPN has become the norm. We are bringing a range of improvements and features that enhance the reliability of VPN on Windows 10 Mobile. The key updates to our VPN capability are:

Lots of reliability improvements for VPN connectivity in Windows 10 Mobile.
IKEv2 Sleep and Power Enhancements.
VPN completes all pending actions before sleep and disconnects.
Automatic reconnection on resume.
Force tunneled improvements for UWP platform.
Proxy improvements for UWP VPN profile.
Enabling MMS usage when VPN is connected.
New Fixes and Improvements
There is a new privacy page to the Windows 10 Mobile OOBE experience that allows you to quickly and effectively make common privacy changes while setting up the device. (This change was backported to the Creators Update.)
Fixed the issue where the keyboard would sometimes not appear when a text input field is selected in Microsoft Edge.
Fixed an issue where Continuum would stop working when HP Elite X3 case is closed.
Fiixed an issue where Continuum would hang or render incorrectly after disconnecting on devices like the Lumia 950.
Fixed an issue with Microsoft Edge where you might get into a bad state after opening a new Microsoft Edge windows and screen off with the JIT process suspended.
Fixed an issue with where the device screen might stay black when disconnecting from a Continuum dock after screen has timed out normally.
Fixed an issue with backup and restore which impacts users with slower network connection.
Fixed an issue around Microsoft Edge reliability.
Fixed an issue where some Insiders were unable to open both the Connect UX page and/or the "Add Bluetooth or other devices" setting on the Bluetooth Settings page.
Fixed an issue resulting in an unexpected extra ~20 sec being added to the phone shutdown process due to a deadlock if you tried to shut down soon after switching from one network to another.
Fixed an issue with the Glance screen where the time was not updating.
Fixed the token issue so when your device syncs to the service, text messages should show back up.
Fixed an issue where the Battery Settings page caused the device to become unresponsive and appear to have hung.
Fixed a general issue where certain background tasks were being incorrectly starved under resource contention. This issue would impact music and video playback.
Under low memory conditions, additional app launches will cause the OS to run out-of-memory and the device will restart unexpectedly to recover. This fix detects the condition and blocks app launches until memory is freed up.
Fixed an issue with Microsoft Edge which prevented the phone from entering Connected Standby which caused battery drain.
Fixed an issue where the word auto-correction service would crash.
Fixed 2 issues causing the device screen to stay off when unplugging from the Continuum dock after screen has timed out normally requiring the device to be rebooted to recover.
Fixed an issue with the Notifications Settings page which made the UI appear unresponsive.
Fixed an Enterprise MDM issue where the policy could hide all pages except the Work Access page.
Fixed an issue where the Call audio did not move to speaker after removing the headset on some phones.
Improvements to power and performance for apps, such as Fitbit, for pair, connect, sync and notifications.
Fixed an issue where notifications would not be mirrored to the user's PC and Cortana's cross-device settings would not persist.
The copyright date is correctly showing 2017 now under Settings > System > About.
Fixed an issue where WhatsApp would not launch after updating to the latest Mobile builds.
Fixed an issue with using the Japanese 12 Key soft keyboard where the "right arrow" key did not input a space
Fixed an issue with the Bulgarian keyboard localization for the HP Lap Dock in Continuum.
Improvements to the reliability of notifications for apps with a paired Bluetooth device, such as Fitbit.
Improved the Time & Language settings page UX for Speech and Keyboard language downloads. Previously, the status would show "Downloading" for speech and "Installing" for keyboard. Unless, the user tapped on the language or navigated to the Update & Security settings page, there was no indication that a restart is required to complete the installation. Now when the update reaches the reboot pending state, a "Restart Required" is displayed under the language.
Fixed several enterprise device management issues.
Fixed an issue where notifications and Cortana's cross-devices settings on your device were not being mirrored to your PC.
Fixed an issue where only the first VPN profile was being displayed in the VPN settings page via Settings > Network & wireless > VPN.
Fixed an issue where a meeting Time Zone was garbled in Chinese or Japanese.
Based on Insider feedback, this release has changed "Phone Update" to "Windows Update" under Settings > Update & security.
Fixed an issue where some apps could not subscribe to SMS receive notifications.
Fixed an issue for Windows Insiders where some binaries stopped working when transitioning from Insider Preview builds to officially released builds.
Fixed an audio issue with Bluetooth headphones after Cortana reads an incoming SMS message to the user.
Fixed notifications (SMS, Calendar) with all Fitbit trackers.
Fixed crashes reported while using Photos app.
Fixed a deployment issue in where if an admin uses ActiveSyncCSP to provisioning email account on device running the Windows 10 Creators Update without providing a valid password, and the email server enforces a limited number of denied access retries, then the server will lock out the email account.
Improved battery performance by fixing a bug in a scenario where 30% more power was used during Camera app preview and capture mode.
Some Insiders provided feedback that playing video on phone resulted in a black flash and/or stuttering when in landscape mode. Microsoft has fixed this issue.
Improvements to Bluetooth connectivity with Garmin Wearable devices.
General improvement in reliability of phones by fixing top crash issues.
Fixed an issue where VPN profile appeared to be always ON.
Fixed a notification issue between the Bluetooth Support Service and device background services for fitness bands.
Fixed issues with Caller ID matching in Japan & Denmark.
Fixed an issue where downloading large apps could report out of disk space when there is sufficient space available.
Fixed an issue where installing apps (particularly games) from the Windows Store would sometimes fail with "Error, see details".
Fixed an issue where a device could not be unlocked after removing/turning off Windows Hello.
Fixed an issue where Cortana would not provide the region when saying "Your region is set to" and then "Is that right?".
Fixed a Turkish localization issue where the string "We need to fix your Microsoft account before you can use shared experiences …" was shown in English.
Improvements to the Field Medic Store app, where we fixed an issue with collecting Watson crash data, enabled spell checking when editing a report, and updated the PowerOn/PowerOff profiles to include additional battery info.
Fixed an issue where the screen would occasionally flash black after launching or rotating the Camera app.
Fixed an issue with the HP Elite X3 reporting that the SD card had been removed from the device when it had not.
Fixed an issue with Continuum where, after the attached monitor is unplugged, occasionally the mobile LCD does not power off and the mobile battery could be drained.
Fixed an issue with the Windows inbox NFC driver where occasionally the wrong card type data was reported.
Improved the Cortana resume-from-suspend behavior to enable a Cortana skill to be authenticated before the user interacts with the skill.
Fixed an issue with the behavior of the hardware search button in countries where Cortana is not available. In this case, the OEM provides the search app or URI.
Fixed the issue where trying to update Windows Store apps saved to your SD card resulted in an 8007000B error. Apps installed on SD cards should update without any issue.
Fixed an issue where there was no icon shown for Windows Update for either new notifications or on the settings page under Settings > System > Notifications & actions.
Fixed an issue where the MTP service would sometimes crash when you disconnected your phone while a file transfer is in progress.
Fixed a spin loop that was occasionally triggered by deleting a VPN profile.
Fixed an issue where apps which call into the firewall (such as Microsoft Edge) have the potential of becoming deadlocked and the app hangs until you reboot your phone.
Fixed an issue in the routing engine used by apps like Maps where the initial direction was always set to North which could result in unnecessary route segments.
Fixed an issue where Silverlight apps that use GPS would either not start or crash.
Fixed an issue where a non-default Messaging app (e.g. Skype) would crash with an Access Denied error when changing Download messages settings.
Fixed an issue where the new Privacy Consent popup would block loading of apps which used the activity detection and pedometer sensors.
Fixed an issue where turning on/off Reset Protection could cause the phone to reboot.
Fixed some issues where the Maps app navigation would start navigating a route and after performing a reroute, would present a list of possible routes instead of adjusting to the current route.
Improved map-matching particularly for routes using ferries.
Fixed an issue where an app using the routing engine (e.g. Maps) would timeout on providing the route if suspended for more than 30 seconds.
Fixed an issue where tiles on the Start screen would occasionally be blank.
Fixed an issue where a VPN profile that was created via the VPN Management API would always be a dial-up profile.
Fixed an issue with the MDM policy used to control Build Flighting by Mobile Enterprise.
Fixed a couple of navigation issues when changing from highway to highway (occasionally, signposts were copied from the original highway to the destination highway) and highway to non-highway (erroneous instruction to "enter highway").
Fixed a rare issue where the user's call history was shown as corrupt after an upgrade.
The product version number has been updated to 1709 just like PC.
Fixed an issue where, on powering the screen off/on, high demand for CPU could cause several apps to crash. Background processing of photos is an example of high CPU demand. In a photo shoot session, you may have seen the Camera app crash.
Fixed an issue with the Messaging app where conversation text was displayed incorrectly. Thanks to our Insiders that quickly highlighted this issue.
There are a total of 80 fixes and five improvements/features currently in testing with the feature2 builds.
Updated with changes introduced in build 15252.
Zac Bowden is a Senior Editor at Windows Central. Bringing you exclusive coverage into the world of Windows 10 on PCs, tablets, phones, and more. Also an avid collector of rare Microsoft prototype devices! Keep in touch on Twitter: @zacbowden.
Is it safe for a daily phone?

Yes, it is. I use it on my daily driver 650, and it's basically a more stable RS2, that only needs some translation improvements here and there.

I have to switch on fast ring to get it?

It's so weird. Just a week ago on 15230, my L650 was running perfect. But since the last 3-4 days, it's behaving strangely. Texting has become slow, reboot when tapping the "expand", "collapse" button in the action centre, reboot after switching off Wi-Fi from action centre AND random reboots in general (majority times when a headphone 🎧 is plugged in, listening to music 🎶), scrolling in all app lists is a pain.
.
What the hell is happening??! ☹

The headphone jack has always been problematic for Lumias for me. Most issues happen to me when I have headphones plugged in.

That is why I now use Bluetooth headset and it works as a charm. Using Lumia 950 XL

Sometimes it happens due to bad page file. From interop tools. You have to enable "ClearPageFileAtShutdown" and reboot. It may solve the problem.

Nice feedback! Maybe I'll enroll my 650 to see how it fares. Ever since I got this phone (5 months ago) I never switched over from the Public build. I was afraid things would get pretty crappy then.

Windows on Mobile still very much alive.. In use, in development for the present, and in development for the future
.....
You'd have to be a dumb a$$ to disagree.

I agree with you but the issue with wino is there are no devices. I moved away from wimo last year when paypal dropped wp and I do miss the os I have not found the move to android that painful. I got the LGG5 and it was a good phone for me felt alittle to small and the camera was no where near as good as the 950XL just got the xperia xz premium and this is one hell of a phone very underrated imo in this years flag ships and for me feels the closest to a windows phone in looks feel and also a real camera button. With that said I really hope Microsoft come up with something for the mobile market. Ide even take an Android powered phone with all the Microsoft apps as defaults and when it is plugged into a dock conntum boots up.

I agree, and I know what you mean when you say there are no devices. There's no devices new enough to warrant a $600-$800 price tag. I'm pretty lucky this 950 still has a lot of life left in it, because I'm gonna need it... But, the app situation is just horrible. Like I said the other day, at this point IDK what I would do if it weren't for the terrific set of MS apps on WP. Those just happen to be the most used apps in my phone... Facebook, Windows Central, Messenger... They all are relatively horrible, in need of serious updates. Long story short.. The OS is pretty good now, but there are no apps, and no devices. Only specific people (like myself) can take live with WM at this point, but the fact that we're living with it "perfectly fine" means that it is in no way dead, and Windows on Mobile won't be forbthe foreseeable future.

Agree, except the point that it WILL be done in the foreseeable future, aka. 1½ years from now.

Done how? There will always be some generation of Windows on Mobile. Always has been, always will be, as far as we can see from substantial evidence.... It's never died. WinMo 5.0, 6.0, 6.5, 7.0, 7.5, 7.8, 8.0, 8.1, 10.... Y'all expect for me to think it's gonna die now?.. Lol. No. I don't see it as dying. I see it more similar to how car models come and go.. Corvette C1, C2, C3, C4, 5,6,7, and so fourth. What's the point of dwelling on the discontinuation of the C7, when we know there will be a C8, C9, C10... Nobody does that with cars, and Windows on Mobile devices should be treated the same way... Except I honestly believe this time there might not be the necessity for a reboot for a long time. Who knows.

I hope they will put something on the table that works, and has the commitment to "mobile" rather than be a full on PC experience.

I believe that whatever MS does from here on out will be a device of hybrid capabilities... There will be no popular apps like Snapchat, or the latest mobile games (which don't seem to be that popular anymore) so, this device will focus more on getting things done... For Christ sake, it would be nice to at least have the basic apps, and have them work nicely, for a change.

Well with Insider Builds you can really never say. Sometimes they are really stable and other times they are not. But judging by there being no new features, I don't really much that could go wrong

If you just phone, text, use WhatsApp, Skype, watch YT and listen to music, need FB and Messenger, WP is brilliant.

Fb and messenger?? Big no!!

Seriously!! Very bad experience with fb,messenger and instagram ☹☹

What's the matter with Instagram?

No live for most devices, the app breaks a lot, it isn't fluid, but still it's the best you have on Windows from facebook apart from WhatsApp

Instagram it's a pied over version of the ios app. It doesn't take advantage of WM visuals or specific esthetic features as well as its a bit slow. If they just put swip in at least it would be better. Also its a little slow. I believe FB used their own porting service not MS from what i heard once. Don't know for sure but it sucks. I use 3rd party. Also the design is awful for PC.

those apps work as good as they would on Apple iOS since they are just direct ports.

No they don't, dude don't defend the apps, they work way better on iOS than Windows, and yes I know the problem isn't from Microsoft itself, it's from Facebook, the apps aren't updated anymore and where never fully optimized for Windows devices.
Developers have no interest in Windows mobile and I don't blame them, Microsoft and Microsoft alone is the only guilty for the catastrophic results of windows on mobile devices, Windows mobile as we know it, is as good as dead, you may have CShell but I don't think that will ever be enough!

Actually, all of these apps are buggy even on iOS. I know this because I switched from Win10m to an iPhone 7+ and expected the often cheered amazingness of iPhone's apps, but sadly, it suffers from the same stability problems. FB often crashes, using Instagram with multiple accounts is awful (just try using the share feature in your photos app to post to Instagram using an account of your choice. Hint: you can't. You MUST open instagram first and choose the account you want). Worse, about half of the iOS app store is abandonware, featuring apps that, upon install, warn you that they may cause your phone to slow down or crash. Don't get me wrong: the app situation is WAY better on iOS overall, simply through sheer volume of apps, but it's far from perfect.

you clearly are not using an iphone :))) I've never had facebook crashing on ios non beta releases. Yes, on beta ones it may crash, but on public releases nope. Half of the apps abandonware :)))? so you actually downloaded half of the apps in the store...you sound like a pathetic MS fanboy trying to defend a more mediocre and dead windows10mo OS.

Too sad that they down voted you... My mom has an iPhone 5, that's right, an iPhone 5 that came out in 2012 and it works WAY better than my Lumia 640 XL. You may say that okay, the one is a flagship and the other is a cheap device. But the apps on her iPhone haven't crashed once. On my Lumia however... I imagine that the experience is like 10 times better with a current iPhone, but as for stability, the apps are rock solid over there.

I actually have an iPhone 5 I use as a remote control (via the Logitech Harmoy app), and your statement is a 50/50. If you're talking about a 640 with Windows 10 Mobile, then yeah, it probably does run a little better. But let's not kid ourselves: iPhone 5 on the iOS 10 is alright, but it's not a great experience either. It's fine for the basics but not much else. The Lumia 640 on Windows Phone 8.1, though, runs much better than either the same device with 10 Mobile or the iPhone 5 with iOS 10. However, it still suffers from the lack of apps--worse now, in fact, since so many have left the store or swapped their 8x compatible apps for 10x instead. Shame, really. But come on, let's be realistic: we all know you're lying or simply lack the data to back up your statement that no apps have crashed even once on that old phone. ALL phones and ALL apps will crash on occasion. That's the nature of the beast.

Why do I see my picture in your avatar?

Actually, I AM using an iPhone. As I said: I currently am using an iPhone SE because I gave my 7+ to my wife. I don't like the size because iOS is not well optimized for a large screen. But to go on, the only person who sounds like a fanboy is you. I've been really clear for a long time: I despise Windows 10 Mobile, because it's a lousy OS that pales in comparison to its predecessor, Windows Phone 8x, which was a truly superb OS. And facts are facts whether you like it or not: at least 50% of the apps on the iOS app store are abandonware. I literally cannot go looking for an app to perform a specific task without finding tons of related apps that haven't been updated in literally YEARS. It's easy to tell simply by reading their details. I'm guessing you don't know that, though, being a fanboy who prefers to lie and claim that iOS apps never, ever crash. We all know you're lying when you make that claim, because apps on EVERY platform periodically crash. There is no such thing as a crash-proof app or OS, period.

"And facts are facts whether you like it or not: at least 50% of the apps on the iOS app store are abandonware." Speaking of facts, iOS has more "abandoned apps" than Windows phone has had total apps, over the life Windows Phone. So, not sure what your point is. BTW, you have looked at/installed EVERY iOS APP to arrive at this number?

Huge battery vampires, FB and IG.

Work great on mine. Yes, used to be slow and buggy, but haven't had that since I did a fresh install back in ~Feb time.

I have to agree unless you are on an Idol 4s or Elite x3. FB and Messenger on my 950xl was a nightmare, but not the case with the x3, I guess the bump in processing power overcame bad porting and lack of WP optimization.

If you basically need a feature phone.

Yes, Feature phone...see Nokia 252 back in the day for example.

I wouldn't say brilliant, more like sufficient :p

Yes . Plus play games , surf the net , and find directions on Windows map . Gorgeous looking OS and very stable

Are you speaking in terms of literal physical safety?

Be aware Wallet doesn't work for tap-to-pay in the insider builds, but that's the only caution I can think of with latest

Yeah on preview ring, it's solid. Apps wise it covers most peoples needs, but not everyones. It's got games, productivity, social networking, photo apps. It doesn't have as many smart device, travel, niche chat apps, banking apps. So if you rely heavily on niche uses of apps, its not so good. But yeah, for the average person, its a great phone and has OS features other OSes lack - inline replies, voice replies on the car, phone numbers as links, continuum, live tiles, and a bunch of other things.

I found it less stable bon Alcatel idol 4s and Lumia 650.

It's been great as a daily driver for some considerable time now. Stable and much faster. (Personally, disappointed about the lack of new features, but they have done a GREAT job with the bug fixes)

On my 930 sometimes it makes the phone hotter than AU and CU, probably there are some processes that for a short time use 100% of the CPU and are not yet optimized/fixed. Edge sometimes still switching (randomly) to desktop mode as it happens on CU. But overall last builds run much better than CU, and also battery has very good performances.

Lol I just realized that these comments are 2 months old.

It is. However most of these fixes are for problems that were introduced with the new builds.

This whole branch this time has been safe as a daily driver, due to only bug fixing

Thanks both of you. I give it a try

Thanks both of you. I give it a try

So fed up currently with my 950 xl and creators update. Edge reliability is absolutely killing my user experience . I thought they could update edge through the store?

no. give monument browser a go

I really liked monument. It had built in adblock and bottom web bar. An update some months ago caused it not to work though and I went back to edge. I'm guessing its stable in this creators build.

no problem now it been get regular update. there a night mode

Amazing how a 3rd party app on a "failing" platform can get updated regularly with fixes and new features.

bit everywhere now can get on mobile, desktop,Xbox it's even Rocking the acrylic.

I've been messing around with Monument and loving it except one major issue. When i type an address like ign.com or nfl.com in the bottom bar, nothing comes up. However, if i only type ign or nfl then the browser uses google or Bing to pull up results and i can go to the webpage that way. There must be a setting i can change to take me directly to a weppage, right?

no problem when I check both ign or ign.com. my want to check your navigation mode is set to mobile/your on the latest version 2.2.300.0

My settings were ok. I just did an app reset and it appears to work now. Hopefully it stays. Love the dual screen and other settings. What edge should be. If it stays working, I will have to get the pro version to show support. Thanks.

uwp browsers developers have access to the edge API so there free to get creative after :) have you tried min video playing

min video playing? Do you mean minimized video playing?

Man, that is sick. I see myself abandoning mytube innthe future.

haha no. but it can all so do it to

I have sort of figured it out (disappointed if true). If a webpage has a seperate mobile site like m.nfl.com than typing NFL.com will go nowhere but typing in m.nfl.com will take me to the webpage.

I remember reading that they plan to convert Edge into store app and update it more frequently through the store rather than bundle it with major OS releases starting with Fall Creator's Update. They cited it as RS3 change, but let's hope Windows 10 Mobile will be getting this also.

I'm 99% certain that was confirmed as a false rumor, and that Microsoft has no current plans to convert Edge to a store app.

Edge is hardcoded into alot of the o/s background Ms advised it would never be a store option, probably linked to Cortana etc

I have similar experiences. I get constant crashes and lags it's ridiculous and frustrating. I've ordered another battery and I'm hoping that fixes my constant random reboot issue. But as someone earlier said, these apps aren't optimized for Windows. For example, Facebook takes FOREVER to load. If Nokia pulls off a premium device with excellent camera optics, that may be my next device.

The rumored Nokia 8 might be that, but the camera setup might not be amazing (since it's not Nokia's old imaging department) and it's rumored to be really expensive.

I'm waiting on the rumored 9. Zeiss optics and 20MP sensor (I believe)

The 8 is supposed to have Zeiss optics as well, but 13MP cameras. And I don't know how well a model above the 8 would do, seeing as the 8 is rumored to be running an 835 with 6GB of RAM at $675.

It was rumoured to be priced at $500. It would be an affordable flagship, and the 9 will be the premium flagship.

That's not what I've been hearing recently, but rumors are rumors.

Take it from someone who works there: the 9 isn't coming until next year and even then it all depends on how well 8 will be doing this late q3/q4

That makes more sense. Especially considering the supposed costs of the 8.

Coc Coc Browser is also good.

I performed a clean I install using the recovery tool without resorting from a backup. I didn't join the inside program and just let my phone pickup standard updates. I'm currently on build 15063.483 and it runs smoothly; the WC app doesn't delay and freeze when using it like it did when I was in the fast rig.

I know many want new features. but that is still a lot of man hours into fixes and stuff.

Exactly. Although I am not satisfied, I am very happy about the fixes. The list includes cure for many of the issues I have been having. So I am happy.

What i think is approximately 1.5 years ago current devices should come with this reliability.

You are obviously very easy to please if you think it's a great thing that an OS that was released almost two years ago still needs this many bug fixes. All these bugs should have been fixed before they released the OS or at the latest few months after release.

That's insinuating that other, more mature mobile operating systems like Android and iOS had all there bugs and issues sorted out before the first major iteration was released. In fact, that's insinuating that, even after having existed for years, they have all there bugs and issues sorted out.

as much as fanboys here want to believe, no other OS has been release with so many bugs, lying to the public that is ready to be used! When the 950 was released, the OS was is such a pathetic state that it could not even be called a beta...but then again, it's MS we are talking here, and Nutella.

Yeah, not like that recent iOS update that had at least 3 patches to fix serious bugs. Yeah, that was fun times at work until Apple finally got it all back in a pile.

I will take fixes over features any day.

Are those builds stable on older devices? Or should I stay back on Anniversary update.

Absolutely get on the Creators Update. This article is about the Fall Creators Update (it's a newer, different branch)

My Lumia 1520 isn't officially supported and it's going just fine. It's actually faster than the anniversary update. Not sure if anyone here has the same experience.

yep noticed that as well on Lumia 830 and 735

Cool thing is I found a batch of Lumia 830s for $49 each. Used but in good condition.

Hey, where? Really looking for a new phone?

That's on ebay
http://m.ebay.com/itm/Nokia-Lumia-830-RM-983-GSM-Unlocked-16GB-Smartphon...