Windows 10 Mobile Insider 'Redstone' builds to go to Lumia 550, Lumia 950 series first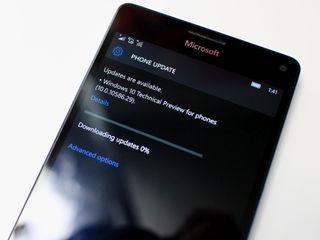 Besides pushing out a PC Insider update as well as a cumulative bug fix for PC non-Insiders, Microsoft has shared a big of news regarding Windows 10 Mobile, Insider releases and future updates.
The new information is likely to cause a bit of a stir but is to be expected. Here is what you need to know:
New Insider builds (presumably the RS1 Redstone release branch) will go to the Lumia 550, Lumia950 and Lumia 950 XL first and "expand from there as we release Windows 10 to other devices."
Windows 10 Mobile general updates for Windows Phone 8.1 hardware is still planned for "early this year" but there are no dates to share just yet
Expanding upon the general Windows 10 Mobile update, Gabriel Aul said the following:
Regarding OneCore (Microsoft's term for a shared OS base), the company is prioritizing certain devices first, but moving all along the same path:
Unfortunately, those still waiting for the Windows 10 Mobile official update are in limbo. It is coming, perhaps even later in February, but it sounds like there is still some testing and finalizing that is occurring. Considering the original plan was to have the update out by the end of 2015 and Microsoft is indeed pushing the update back further and further.
The upcoming Redstone (RS1) release for mobile and those update plans make more sense. Going forward, Microsoft is likely to focus on just its core Lumias released in late 2015 for future OS versions. Doing OS updates and testing on the dozen Lumia models out there is time-consuming and resource intensive.
Still, it's not all doom and gloom as Insiders of all devices will eventually get RS1 as well, just not as quickly.
Source: Microsoft
Daniel Rubino is the Executive Editor of Windows Central, head reviewer, podcast co-host, and analyst. He has been covering Microsoft here since 2007, back when this site was called WMExperts (and later Windows Phone Central). His interests include Windows, Microsoft Surface, laptops, next-gen computing, and arguing with people on the internet.
I just want a non-insider build later than .29 for the 950...where's that?

Why does it need to be a non insider build? Just get on board

Maby becose insiders build is a beta version and not everyone wands it

well, the 950 has the same build as one of the insider builds

So you think that by waiting you wont get any bugs? There will always be bugs no matter the OS version.

But, while there are never any guarantees in life, issues with insider builds have regularly compelled me to reflash my phone. This is totally fine, and comes with the territory, and is why I bought a L635 to play with insider builds on. I've also converted my L920 to insider, too, and am now mostly using that for testing. On the other hand, my L950 is my daily driver and getting it back the way I want it takes many hours and, in many cases, is not fully achievable (game saves get lost, etc.), so I would rather stay 'official' on that device. That said, while .63 is still terribly buggy on my L635 and L920 (indeed, I am not sure in what way it is better than 0.29 -- both fail to meet my criteria for "usable") I have heard that one of the most crippling problems with the L950, horrific battery life, is markedly improved. That alone would make my experience more bearable. But if it's coming down the pike soon, I would rather wait and get it officially.

Well now that the insider app has been updated so you can leave the program, you can update and then leave the program to begin getting official updates again. I hear you though, I too want to keep my 950xl official for the exact same reason. But it is important to note than you can finally leave the insider program and turn your phone back to normal so you only get official updates. Just thought I'd share that with you ☺

Which brings up a question about the AdDuplex numbers. I wonder how many of us have a 635 now just to play with the Insider Builds? Now I wonder if we all, say, bought a 550 or 650 to roll on with the Redstone builds?

What problems are so bad on your 950 as to make it not usable, besides battery life?

Don't try to put some reason in the discussion. And do not try to tell them there is a Slow Ring. Please don't, let's keep it a secret! :D

Every inider build ive installed on m 950 has forced me to do a hard reset. I just want basic stuff to work, likie BT, Camera speed and sharing.

Every build on every phone in the world is beta. Were all beta testers whether you admit it to yourself or not.

What, pray tell, are you talking about? You know what a beta is, right?!?

As long as the actual build doesn't change and all your getting is revisions, you shouldn't worry about it. Just update and leave insider so you don't get the Redstone builds. The new revisions have only brought fixes and no new bugs.

I did update last time with the 950 XL to insider and mu phone got warmer than with the 29 update non insider

Latest builds have been very solid. I have W10M as daily driver for couple months on my lumia 520. :)

I put .63 on a 520 for the first time last night. Pretty astounded at just how well it ran! :)

Don't put an insider build on the 950, if it's your daily driver. You will get nothing, only bugs and instability. I have .29 on my 950 XL and it runs fine, none of the bugs that I see reported by those who have .63. Wait for the official build.

I'm running .63 on my 950XL, 640 & 520, can't say I've had any report-worthy problems with any of them. 950XL in particular has been smooth as butter.

Myne is getting warmer with 63

I have problems with 950xl insider. Sometimes, not always, restarts when i check youtube in the browser, and sometime oveheats while doing normal tasks that should not even worm it up.... But well. Waiting for the next "big" thing.

I'm also running .63 on my 950 xl but I've noticed a weird volume related bug...sometimes when people call, they can't hear me till I change mode (eg. go to speakerphone or activate a headset). Also I've had issues where I go from Bluetooth headphones to wired headphones and the volume won't map properly until I hit volume up/down. Anyone else experiencing this?

Looking forward to when the update rolls out. My 930 and 435 are on Insider Builds but not my 950 - Windows Hello is very fast in the latest insider build though from what I've seen in videos posted to reddit.

Netflix doesn't connect with .63 on my 520.

Go in to edge or ie and go to Netflix.com sign in than go back to the app you be fixed

Did you try the device recovery software? MY at tlumia 950 has 63 i think without the insider update.

Is there even a solution to get un-stuck from 10586.29 yet?

Yes, update your insider app. And then leave the program via the app. It will put your phone back on the official update tract, allowing you to get .63. That's what I did with my 950xl. There was a post on windoes central about it a little less than a month ago...

This doesn't work for me.

Is .63 even on the official update tract? My 950 has .29 and that device hasn't even had the Insider Preview app downloaded, nevermind been enrolled - Are you saying the latest mainstream build should be .63?

hurray waiting for my 435!!

hope they fix the vibration, shaking and blurring while taking video from Lumia 950

I got that too whenever I took video. My doctor prescribed me penicillin. Everything is fine now.

Camera crashes and battery drain. 6 hours max if I don't touch phone.

In 640xl battery comes up to 14-15hours

Again since when? We've been knowing for over a week now that it wouldn't arrive before February so this is just a confirmation of what we already knew.

Before February is now "May be" end of February... I guess it isn't March either ;P

It is definitely March! Who wants to bet?

Yeah but complaining is always fun !

How can something be delayed when it never got announced publically? ;P

People complaing that Windows 10 Mobile isn't ready, and at the same time they complaint that MS doesn't released to them.

Top of the world with Lumia 950 XL

Same here... Got two... They're beasts

They're either pheasts or bones.

Yup. Great device, no complaints.

Hate my XL, buggy crap for me. Friend returned his 950 and a second friend thinking about returning it. The 950 XL takes the prize for worst phone I ever had.

Yay! Another reason to leave this mobile OS! ​Thanks Microsoft! ​EDIT: Neither 950, 950 XL and 550 was released here in Brazil. So, no brazilian insiders to test redstone builds...

Because you can't get insiders instantly? You will still get them. Just later.

Leave the os because you don't get a prerelease first? Ok.

He's probably just looking for an excuse to leave the OS and this happened to come in handy. Note that I'm not criticizing him for leaving WP, just use whatever works best for you and be happy. ^^ I just wish people were honest to themselves when they cling onto every small thing as a reason to leave a platform when all along they've just been looking for reasons to justify that to themselves. The thing is, when you are at that point, you don't need anything to justifiy it to yourself because obviously you want to leave anyway. Just do it and stop fooling yourself (and others).

i could not explain this as good as you did :( i Fully 100% agree with you :D

There's plenty of excuses of anyone to leave the OS.

I love how people refer to it as "leaving" the OS, as if they feel like they should be loyal to an operating system. The sane thing to do is just use something else if it will work better for you needs.

Sure but still, they are technically leaving the OS, aren't they?

No, because the country got no W10M hardware. That's a very valid reason.

Leave the OS mainly because it's going nowhere fast. Oct 2015 release date for win10. Now almost Feb and no release

if u got ur hands on the insider build you would've left sooner

LMAO BRAZIL
BR?? BR?? AHUEAHUEABUEAHUEAHUEA
GIB INSIDER BUILD OR LEAVE OS HUE

I'm also living in brazil. I go to Microsoft office in faria lima Sao paulo. They also don't know when 950 will release in brazil

"early" word won't be valid anymore after Feb...

Actually 'early' covers March also (first quarter)

yeah.. or first half of the year (june)... early it's a very subjective term

January-April is usually considered "Early", May-August is "Mid/Summer" and then Sep-December is "Late/Holiday" for a lot of companies. But I agree that this needs to be sooner rather than later.

from what i think and listen i see all lumias of 2014 working great.. i think MS works more on th OS to handle better the old phones that are not designed for it and firmwares to do the same to work good with windows 10 so i can see why it takes so long i mean there are so many lumias out there that they want to upgrade to wipe windows 8,1 :P but when it comes EMBRACE iT xD

Yeah I mean they could just pull an apple and cripple older devices forcing people to get new phones.

Makes sense I suppose, focus the major part of the development on a select few devices (and the only ones that are really being sold from now on) until the major stuff has been worked out, then focus on the older hardware. No doubt people with older devices will be irritated, but it's a logical move. Besides, being on the program, those users will get it sooner than normal anyways. (Non-insider, for what it's worth)

It is also smart. They are effectively handicapping the program and to a greater extent controlling the insider program a bit more so every person withe every phone isn't complaining. They can target specific devices and then work from there.

I can see this logic applying to the official W10M update for phones with 8.1, but why for Insiders? We already have a build and are aware of the bugs and problems that occur with unreleased versions. Why is MS so cruel to loayal Insiders who have helped testing the OS the last months? :(

I don't think it's so much the bugs, I think it's just to simplify and speed up development by only looking at three models as opposed to twenty. It allows for a closer look that can then be broadened afterwards. Well, so I'd guess. I don't like guessing how it all works because I accept that I know absolutely nothing of how it works with these things, I'm just an average consumer.

"I don't think it's so much the bugs, I think it's just to simplify and speed up development by only looking at three models as opposed to twenty. It allows for a closer look that can then be broadened afterwards.​" That sounds fairly reasonable actually.

It does make sense but how much longer is the wait for it to be broadened afterwards

well since all the new devices will be windows 10 ready from now on you are right its the logical move :3 so that all the new phones are at their best with the OS and then you can bring up the rest :3

Just imagine if Apple did that. Sorry, makes zero sense. They already fked people over 7-to-8, if they start leaving all 8 devices without updates, how many will leave? And when they say they will get updates later, that means they will get it someday, maybe!!! Hell, still waiting for windows 10 update was ready to be sent out by Fall, years end, and now soon, early........... whatever.

So, not just the non-Insiders, but even the loyal Insider from the last year will have to wait for beta builds cause it will come first to 950, XL and 550?
Great :)

Well, Insiders without any of the new devices will still have to wait much less than non-Insiders.

Or u could be an insider who gets new software and device from ms

Don't worry, I think that L950/XL will receive only OneCore updates without any features. So you wouldn't miss to much until W10M release + insider program expand

This is why I plan to leave Windows phone.

Because MS decide to focus on their new products, refine their beta processes, and get to work on improving the OS in a more functional way?

I'm sure you'll get many more preview builds on Android.

with better security :'(
it's his opinion so let's just give him a warm good bye ^_^

Wow. Seems like an odd stance. Lots of understandable reasons to leave Windows Phone... this doesn't seem to be one of them. Take care of yourself!

Join the Insider program. Problem solved. Unless you want to make it a problem.

Because updates go to current new devices first, then everyone else? This is how most companies do this.

Even the insider updates will only go to new devices first.

Sounds like official updates might be here by summer. I wouldn't bet on it though. Posted via the Windows Central App for Android

I wouldn't doubt that the purpose of this is to continue to get telemetry on the windows 10 10586 mobile builds so they can finalize a release, and then once they get the w10m update, they'll soon get Redstone builds.

hmm this makes sence in a way :P so they know a lot more about the problems of the old hardware :P

Early = September 2020 Microsoon Mobile XD

Since I was planning to hold out on Redstone builds for now anyway, I'm actually okay with this.

I'm in fear.. I'm the only person who is left with a wp in my friend zone,in my room,in my family,in my team.

Bummer. If you gotta switch because you have to have Android for work then switch. Not something to fear about.

Lol yeah...they're gonna come at you with pitchforks real soon...beware.... :P

Me Too Bro!!! I'm Afraid that I might lose my Fav Nokia 730 DS because of this Dumb **** Windows OS!!!

Coming Soon™ for the fans™

M$ no way you going to force me upgrade my icon. I will move platform

Don't upgrade then. But while we are in the subject...why not upgrade? Have something against W10M?

I'll ditto that chef316. Win10 mobile runs great on my icon, even without a hard reset.. Why not upgrade?

I had W10M on my 928 for awhile, then my 928 died. I went to Verizon and picked up a new 735. I've been running on 8.1 and am not in a hurry to upgrade to W10M. I miss a few things, but a few of the reasons I'm staying on 8.1 now are: Cortana is sooo much better; Word Flow keyboard works considerably better; 8.1 runs much smoother with no stuttering or lag, like I was getting with W10M on my 928; my GPS works better, on W10M it always showed me about a block further back when driving directions; the camera works faster, it was delayed often in reacting on W10M. I want to like W10M and I'll get there eventually, but 8.1 is just easier right now. Sure hope they bring back the functionality of 8.1 Cortana.

I'm thinking he meant being forced to upgrade his Lumia to a newer one to get the build but that doesn't really make sense since the new Lumia's aren't on Verizon.

I use a unlocked in TMOBILE

What about pushing the latest build to slow ring?

Yes I want leave ms ..4years I m using windows but shame on me nw...they hurt much

Has anyone else experience this issue with the photos? I got it on my 1020 & 950XL. The gallery is black as if pictures aren't there???

Go ask on the forums. That's what they are for. The article comments aren't for off-topic help requests.

If it's not going to bring interactive live tiles them I'll pass as build 10586.63 is running smoothly on my 1520 and is very usable. It's time for some new features! Nokia was right when they said Microsoft was slow and Satya hasn't improved turn around time or mobile device designs at all. This leftover Nokia sh*t isn't groundbreaking (Lumia 650, 950, or the 950xl). They're okay, but by no means are they design marvels!

All about design is it? For most it's about functionality and specs here I think. I don't think interactive tiles will be all that amazing and useful for most...i think most will just open the app. Plus I think interactive tiles may require certain hardware so not everyone will get it.

Logic MS, OLD devices are going to need new firmware and the OS to be optimized properly, that's going to take sometime, new devices are ready to go.

well it is logical is it not? the new devices come with the proper firmware for the OS xD thats why they have this OS and not the 8.1 think about it :3 all the 8,1 devices were released with not even the thought that windows 10 would be what it is now :P

When is Redstone gonna come out? I'm starting to think the w10m rollout isn't gonna happen until then....

That's cool. It means release on first batch of WP8.1 devices is imminent. Microsoft can't rely on 950/XL/550 users ONLY for RS1. I can understand they require a "clean" W10M basis, so that when you reflash your device, it's back on W10M, and not WP8.1 in order to manage only one kind of upgrade path (W10M -->W10M, not from 8.1 to 10). So whiners, save your comments "MS are forcing us to buy new devices", "Windows Outsiders", etc. :/

I think this makes sense. You can't really do both catering to old devices while going forward with the new OS. Not without unlimited resources

Finally some information from Microsoft. Hope that the official W10M update comes sometime in February, not any later.

It does because now im stuck on my L920 with this insider build for several weeks to come. I was hoping for a new build today.

At least it should still get cumulative updates for the current build, which is better than nothing. I'd be interested to hear how well it runs on a 920, it's a 3 year old phone after all - Is it pretty smooth or just stressful to use? I used my old 1020 on older builds and it was very poor compared to the 930, which runs W10M very well

Maybe a week or so not big trade off

The fact that Microsoft can't execute when it comes to mobile is making me seriously reconsider my choice of having Windows on my phone, I will start to evaluate the Android and IOS platforms this quarter.

They want it to be right, polished and amazing when it does. It will come this quarter. But by all means take a look at others. It's all about what works for you.
New hardware has most always gotten the new software before old devices.

Not if your device has Apple in it!

or Nexus. Posted via the Windows Central App for Android

So much for the fast updates that Microsoft promised. How is this any different than Android. Like I said before, just have 1 high range, 1 mid range, and 1 low range per year. That will reduce the amount of work to get these updates out. We don't need 3 different 500, 600, 700, 900, lumias per year. And get rid of the damn numbers. So confusing.

This is not how a common windows core works.

I have lumia 640 xl with windows 10 preview and lot of bugs and slowly sorry for my english :)

So now we are screwed out of the latest insider builds as soon as they are available if we don't buy their new phones wtf?

Funny how when you are given something extra it becomes a necessity. They didn't have to open up the insider program at all, you know.

Between this and complaints about apps not being free, the sense of entitlement in the WP community is disgusting. Bunch of ingrates.

I'm really happy with my 950 with the current insider build. Think I'll opt out for the first Redstone release and see how it goes. Still shuttering over the reported 5 hour standby time of the version being tested internally by MS. I'm sure that will be improved before release but still think I'll hold off for a bit.

Have you got a link to the article discussing the 5 hour standby time? I'm on the public/mainstream builds for my 950 currently - I might be tempted back to the Insider Preview when they start adding more features. Especially if they make improvements to the messaging app so we can send images, videos, voice messages etc via. Skype.

I'm just glad they didn't tell us again that they are planning to rev up the release cycles. I'd rather they not promise things if they aren;t positive they will deliver and I can;t tell you how many times they have promised a more rapid release schedule and then failed to deliver. I'll be happy if they can finally fix the bug that causes a "Resuming..." screen eveytime I try and enter and respoind to a text from the notifications area.

I'm ok with it may buy 550 now xD

What will come first Windows 10 Mobile general updates for Windows Phone 8.1 hardware or the new Windows Central App?

Windows Central App may be out within the next 9 months