Windows 10 now available as a subscription service for enterprise customers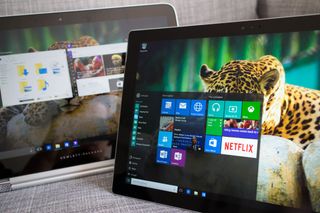 Microsoft has officially started offering Windows 10 Enterprise E3 for business customers as a monthly subscription service, starting at $7 a month.
While Microsoft has previously made some of its software products available via subscription, such as its Office apps via Office 365, this is the first time Microsoft is offering a version of its Windows OS as part of a subscription-based service for some of its customers. In a post on the official Windows blog, Microsoft stated:
Microsoft will begin to offer Windows 10 Enterprise E5, which adds more advanced threat detection and IT administration management, to enterprise customers starting on October 1.
Windows Central Newsletter
Get the best of Windows Central in your inbox, every day!
Just in time, my company has finally started to roll out Windows 10 for all new devices and some older ones on request. I'm hoping we will switch to Office 365 and now this subscription as well to get the whole company upgraded.

I hope such a service remains in the enterprise and corporate sector. I have no intention of adding another subscription service to my dying bank account... lol.. we have alot of windows laptops.... I cannot fathom how much it would cost per annum if we had to subscribe. I will literally switch everyone to Linux.

I hope such a service remains in the enterprise and corporate sector. I have no intention of adding another subscription service to my dying bank account... lol.. we have alot of windows laptops.... I cannot fathom how much it would cost per annum if we had to subscribe (if it was £7 a month for example, thats (7 x 13) x 12)) . I will literally switch everyone to Linux.

I work for a small company, and we are are using W10 Pro now, with some of our server using Server 2012 R2

And so it starts.
This is the way they are gonna make money eh. Was expected.
Normal customers to follow soon™ .

Office is available in a boxed version as well as by subscription. Why would Windows be any different? Also, this is for enterprise where companies can **opt in** (not subscription only, but a choice) to getting Windows as a subscription. Enterprises already have an option to do something similar, where they pay $X per year and get the ability to upgrade software whenever the newest version is available (or wait if they don't want to upgrade now) through volume licensing, this is just offering another plan. But somehow choice is a bad thing to you.

'Opt in or get out' isn't a msft policy. Choice will always be there in all the medium. Just as @nohone said.

Yep. Thats how it is. Thats why I jumped off the titanic before it split in half. Which is exactly what this latest shennigan is. The titanic in the nose dive and split in half now. Satya, good job buddy, Good Job. This will be rolling over to consumer very soon. You will NOT be able to buy a copy of windows 10, when you buy a new computer with it loaded on there, it will be free for 6 months or so, then 7.99 a month from there on out...You just watch.

To be honest I don't see this as working out. I mean it doesn't pay off to pay that much. It's only going to be a good call if you plan to use it for like a year or so... And if you use it a bit longer than that, the full licence would cost you less, and from that point onwards you're just losing money.

Enterprise had to turn around of 3-5 years, so the is installed long term, not like clothes that are bought daily, weekly, or monthly.

It seems like IT profs here like it. They know their numbers, and requirement for security. You don't just compare with win10pro licence.

I disagree as I think on my current EA, I think I pay $15-$30/computer (based on 200 computers) which is either $3000 or $6000/year respectively. However, via the service model would be $1400/year for a saving of $1600 or $4600 depending on the rate I currently pay on my enterprise agreement which I will verify today.

This is good news as I have my company on office 365 and all of our computers are already upgraded to windows 10 (300 computers); now u need to like at how much I pay per computer through my enterprise agreement and compare it to the subscription based pricing : ) I'm stoked about this! I'd also like to know if it will function like thin clients were supposed to.

May be you can share indirectly in percentage. Both subscription based and one-off price plans are negotiable for each enterprise.
With this in mind, nobody will really know your number. No?

Out of curiosity, how is it done now and how is this different? And Is "Enterprise E3" different than Enterprise, because I've only heard of Consumer, Pro (and education), and Enterprise editions of windows 10.

This isn't a SKU. It's just a new way to purchase windows similar to O365

Which brings me back to my first question: how is done now?

THIS SPECAL ENTERPRISE VERSTION OF WINDOWS 10 HAD BETTER BE GOOD. IF IT MEETS WHAT IT DEPARTMENTS WANTS THEN IT WILL BE A TRUE WIN FOR THE ENTERPRISE BUSINESS OF MCROSOFT WHICH IS WHERE MICROSOFT MAKES A HUGE PERCENTAGE OF IT'S MONEY

and, for about the past year, almost all of its OS money

Per user subscription licensing for windows has been available since July 2014. This post is referencing a rebranding and the addition of Windows per user to the Cloud solution provider (CSP) program. Nothing more than that... Posted via the Windows Central App for Android

Was there anyone that noticed after AU that our windows 10 License is saved same way as office, microsoft account, and now we can switch machines as we see fit. Just release old machine and use on new. Like all our upgrades are Retail versions :)