Microsoft's Windows 10 20H1 release will be first to RTM in December under Azure schedule
20H1 is Microsoft's first version of Windows 10 to be finalized under the Azure development cycle.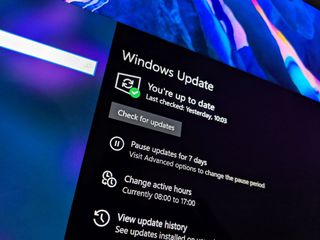 (Image credit: Windows Central)
What you need to know
Windows started operating under Azure's development schedule earlier this year.
This means feature updates will now be finalized in December and June.
Windows 10X will RTM with 20H2 in June 2020.
Microsoft's upcoming 20H1 release of Windows 10 will be the company's first version of the OS to be finalized in December, three months earlier than usual, as a result of Windows moving under Azure and adopting the "semester" based development cycle that Azure is already using. Mary-Jo Foley was first to reveal that the Windows dev cycle was being changed up earlier this year, but here's what this all means for Insiders.
In the past, Windows 10 feature updates were typically finalized in March and September, but now, these OS releases are expected to be done in December and June instead. This doesn't mean Microsoft is giving feature updates less development time; this is just a result of Microsoft outright shifting the development cycle of Windows 10 updates by two to three months. Each release still gets the usual seven to nine months in development.
Microsoft was able to make this change thanks to a decision it made when first moving Windows under Azure. To allow the Azure and Windows development schedules to align, it needed to skip a feature release. Windows 10's 19H2 release is the result of this, being an update that isn't a proper OS release like previous ones before it.
This means Windows 10's 20H1 release is just about done. It was marked as feature-complete internally back in August, and Microsoft has been mostly focused on fixing up bugs and polishing the OS for release ever since. This is why Insiders have not seen any substantial new features in 20H1 builds for a couple of months, because the 20H1 release is done. We've got a month or so left of development before Microsoft signs-off on 20H1 in mid-December.
Windows 10 20H2
This also means that work on the next Windows 10 feature update after 20H1, known as 20H2 has already started development internally, and Insiders should begin receiving 20H2 builds in the next couple of weeks. On this new development cycle, 20H2 will RTM in June 2020. This is important, as this release will play a vital role in the availability of Windows 10X on new foldable PCs expected to start shipping in fall 2020.
Now that 20H2 can RTM earlier in the year under the new dev schedule, Microsoft can use 20H2 as the shipping version of Windows 10X that's preloaded onto devices like the Surface Neo. This means Windows 10X will RTM in June alongside 20H2, and not with 20H1 as we had initially assumed. Microsoft needs the extra development time to make sure Windows 10X is as good as it can be at launch.
Regarding desktop releases, does this mean new feature updates will be made available to the public earlier than previously? Right now, I'm not too sure. As 20H1 will be done in December, Microsoft could start shipping the update to the public as early as January, but none of my sources seem to be clear if that's actually what's happening. Microsoft may decide to keep pushing out new feature updates in the spring and fall, utilizing the Slow and Release Preview ring for extensive testing of the final build before it goes to the public.
Update October 29, 2019: I'm hearing that Microsoft intends to get the RTM build out to Insiders in the Slow ring around mid-December. It'll then go to the Release Preview ring in January, before being released officially to the public in March/April, just like previous updates. So RTM is earlier, but public availablity is around about the same.
Either way, Windows is now operating under Azure's development schedule, and that means we can expect to see new feature updates finalized earlier than we've seen in the past. What are your thoughts on these changes? Let us know in the comments.
Zac Bowden is a Senior Editor at Windows Central. Bringing you exclusive coverage into the world of Windows 10 on PCs, tablets, phones, and more. Also an avid collector of rare Microsoft prototype devices! Keep in touch on Twitter: @zacbowden.
Hi Zac, what is the exact benefit for MS having Windows and Server under the same dev cycle? Server doesnt get released as often as Windows features updates, right?

It's not Server, it's Azure. And it's just easier for everyone to be operating on the same schedule. It also allows updates go into testing earlier, and have the final build in testing with Insiders for longer before release as well. It's all in the name of ensuring quality.

Right, with Windows being the backbone of Azure. Thanks!

Two questions: 1. So 1909 was a one-off and we can expect future H2 updates to be full new builds once again?
2. Has there ever been an "official" mention of 2003 as the version number for 20H1? If so, we could probably expect the new build to remain in testing for three months and perhaps actually release in March as the number says. Or maybe the numbers will change as well so it would actually be 2001.

Yes Possibly. We don't know at this time.

Wouldn't it be nice if MS would just have their naming and messaging match their reality? If 20H1 releases (not RTM's as that is no longer a term) in December, that means its general release is in 19H2 not 20H1. Wasn't that technically when 1909 should have released? The second half of 2019, in the 9th month? 1909 hasn't even made it to general release and we are days from 1911. So they are about 3 months late on this fall's update, but are suggesting next spring's 20H1 update will actually come shortly, this year? If they are going to do Dec and Jun, this Dec is 19H2, not 20H1. 20H1 would be the June 2019 release...unless it slips. There is precedence for calling it what it is though, regardless of when it actually ships, see 1903/1909.

I think the "H" means "half", so 19H2 is for the second half of 2019. 20H1 may release to everyone in January, so it would still make sense. Also, with "1909" it doesn't mean it should have been released in September. It's just when they stop adding features, or something like that.
Windows Central Newsletter
Thank you for signing up to Windows Central. You will receive a verification email shortly.
There was a problem. Please refresh the page and try again.