Windows 10 PC cumulative build 14393.105 rolls out to all users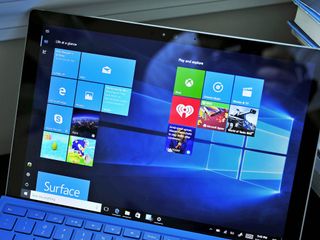 Microsoft is now rolling out the cumulative build 14393.105 to Windows 10 PC users in the Production (final) ring. The build was launched on Tuesday night to Release Preview Insider members.
This new build has the support number KB3176938 and contains a number of bug fixes and improvements for people who have the Windows 10 Anniversary Update installed on their PCs. Microsoft previously released build 14393.103 last week to the Release Preview and Slow Insider rings, so this latest build is likely just a minor change to that update. Here's what's included:
Improved reliability of the Windows Ink Workspace, Microsoft Edge, File Server, Windows kernel, Microsoft Component Object Model (COM), Cluster Health Service, Hyper-V, Multi-Factor Authentication (MFA), NTFS file system, - PowerShell, Internet Explorer, facial recognition, graphics, Microsoft Store and Windows Shell.
Improved performance for the speed of purchasing Store apps.
Improved battery life of wearable devices (such as the Microsoft Band) while Bluetooth is connected and idle.
Improved compatibility of using Xbox One controllers with various games.
Addressed issue with incorrect character mapping between Japanese and Unicode for the question mark (?) symbol.
Addressed issue that prevents the download and initialization of .NET objects in Internet Explorer.
Improved support for new near-field communication (NFC) chips for Windows 10 Mobile.
Addressed issue with game or app audio not resuming after ending a call on Windows 10 Mobile.
Addressed additional issues with compatibility, Remote Desktop, BitLocker, PowerShell, Direct3D, networking policies, Dynamic Access Control (DAC) rules, Microsoft Edge, Connected Standby, mobile device management (MDM), printing, Fingerprint logon and Cortana.
Windows Central Newsletter
Get the best of Windows Central in in your inbox, every day!
dear god I installed it 2 hours ago and I was like want is going on... I am not an insider .... oh well nice to know that nothing wrong is going on ...

Doesn't appear to be rolling out to Mobile yet, so I'd hesitate to say "all users"

Oh snap! My miss, and my apologies Daniel

It does. Of course, it says 'Mobile' quite a bit in the notes though so I can see where people will get confused. Looks like a mobile release should be coming along soon though. Anyway, time to find out if this finally stops the black-screen-after-logon bug which is really awful. Some of that stuff the file system and Bitlocker may be relevant. Here's hoping...

My Xbox ONE is receiving an update right now...

Yep, my Xbox one just bumped to build 14393.1045

Yes, but shows mobile in changelog in article.

Agreed - updating my laptop now, but says that Phone is up to date

I Had tiped 1hour ago I think then they woke up :p

Or, alternatively, IFA is going on with product announcements, which are are priority vs. small bug fix update ;)

Hey Daniel Rubino !
I want to ask a question Why you shutdown #askdan series that was really good initiate.

The improvement on wearable battery life is real! MS finally fixed the battery drain on the MS Band 2 and it is back to lasting 2 days vs the 4-12 hours on previous builds.

I can confirm this for release preview build .103 on mobile.

My B2 has always lasted for up to 36 hours unless GPS is used for hours. If it improves then that is good.

I don't understand...how did a PC/mobile build affect the Band 2' battery life? Does this happen when you set up the band to sync with the phone/pc all the time...?

It has something to do with Bluetooth not idling, basically like keeping the connection active and running 100%. My Band 2 and others wouldn't last a full day of just wearing it. It was an actual, show stopping bug to those it affected. I'm glad MS fixed it! My Band 2 battery life is perfect now.

Wonder if they've fixed the copy-paste bug in this release.

What is the copy-paste bug? I've been wondering the past week or so if there's a memory leak on large paste operations.

Hoping to see Mobile update very soon!

No mention of a fix for the SSD/HDD freezes. Was really hoping to see this

Still doesn't fix Logitech Launcher_Main.exe error. Grrrrrr!

Thanks, could not find this update. Found out that my brand new HP Spectre did not even had the AU. Installing that now so this update can follow.

Can somebody tell me how Windows 10 updates work? Like whenever a new cumulative update is available, win10 (through windows update) downloads the whole cumulative update and applies the patch or only downloads just the new code and applies it. Bcos I feel the download time with every increment of the os is increasing and just wanted to know how windows 10 is actually handling the updates??

Except for extreme different builds, where the whole ISO gets downloaded, the following cumulatives are just as big as the revised files. Problem is that the next cumulative contains again files changed in the past cumulative, plus new ones, hence the name CUMULATIVE, so yeah, they get slightly fatter month after month, until a new build is revealed.

As for me and Lenovo Miix 700 ideapad, I had some really bad troubles when I first got it. It shipped and came out of the box with W10. But since then I've had several patches and cumulative updates, anniversary update and then more patches and cumulatives. And Windows 10 is running like a PRO! But I do know that everyones individual system is different, so yes I would think and hope that the updates are working for you. What is exactly going on?

As usual, it messes up Outlook Live Icon. Back to erroneous number on live icon and task bar.

What about freezing issue?

As far as I can tell, access to SYSVOL is still broken in 105, as it was in 103. Ah well, what do I know, I'm just an insider network admin who found that this breaks network access, uninstalling doesn't help, and you have to reinstall Windows from ISO. Good luck fellow admins!

FYI, that issue is fixed in .105 but if the machine had .103 already, it has to be upgrade installed back to something before .103.

105 seems fine on my Surface 3. Now W10M in a few weeks (or less?) for us non-insider folks. Interested in the band battery life improvements.

Does anyone know if this is going to Mobile? Or does it even need it?

This update forced me to re-install my audio interface software. Windows 10 has only been getting worse for me. explorer.exe keeps freezing, has to be restarted a few times a day. Very frustrating!

I am still waiting for any update for W10M. I am having issues installing apps in store ever since the last update came out. My phone shows version as 14393.67. Is everyone on that one? Non-insider guy here.

Having installed this update on my Surface Pro, I've noticed that my Wifi adapter isn't working and my Bluetooth connection is gone. I noticed this issue, when I went to use Bluetooth to connect my phone for internet connection. Kinda stuck at the moment. I don't want to do a complete reset, but I may have to.

That might be the case there to do a reset

I am unable to install this update on my pc as after restart, during installation of update and at around 97% is completed and it says "we couldn't complete the update Undoing changes" !!! What's that ? And what should I do ?

Working great on my 640xl...except call recording STILL MISSING...

Still waiting for the UA to merge on my main laptop and W10 Pro. My W10 Home tablet is already updated to this release.

It should be on pro. I have pro and it should be there
Windows Central Newsletter
Thank you for signing up to Windows Central. You will receive a verification email shortly.
There was a problem. Please refresh the page and try again.