Windows 10 PC preview build 14942 released for Fast ring Insiders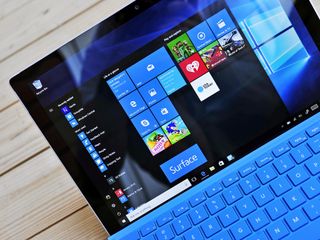 Microsoft has released a new Windows 10 PC preview build for members of the Windows Insider program in the Fast ring.
The new version number for the preview build is 14942 and was revealed by Microsoft's Windows Insider head Dona Sarkar. This new preview release does not come with one for the Windows 10 Mobile audience. However, it does contain a lot of new features for PC owners. Let us know what you think of this latest preview build for Windows 10 in the comments!.
Windows Central Newsletter
Get the best of Windows Central in your inbox, every day!
https://blogs.windows.com/windowsexperience/2016/10/07/announcing-window...

Funny, this is the second build since the rs2 started for the insiders only for the PC with no love for the mobile which is supposed to be the center of the attention for rs2
MS we need some explanation here
as much I have a total faith on MS yet this is not helping the mobile platform :(

Which they also said before RS2 and also did with RS1 builds. So, nothing spectacular here.

They have yet to say no build for Mobile. Can't complain about something until they say it. It's happened before that a PC build has released hours before a mobile one has come. The day's not over yet.

i always believed in MS, that it will strongly support W10M, but past few months , it now seems like they are running away from their promise. And FYI, in Redstone 2 too, no major improvements will be done for mobile apart from continuum. which i'm really not interested in, and most mobile users too. I want mobile specific features.

And your source of this information?? The insider team are in it for the long run. Do you really think HP would be involved if no movement? Mobile is delayed due to bug fixes. These have been prioritised before a new build flights. Research is a wonderful tool.

I know they have worked so hard till now.. but its what I m seeing. they are just talking about continuum for mobile. that's all I hear every time.

They are STILL working on a priority bug fix! The explanation is clearly available on twitter. @donasarkar.

Some interesting new features added to this build looking at the changelog

I like the new features to the Task Manager and my favorite is the fix of Windows Defender's high CPU usage randomly. I've had this for years and was driving me nuts why it was randomly using so much of my CPU. I may go back to using it to try it out now. Defender isn't bad at all, but there is better free options.

expecting something new in mobile build... Waiting for 2nd Tuesday....

Nice stuff!!! I hope that the mobile build already brings the new continuum features. Anyway, good times for insiders!

Insiders with continuum enabled devices you mean

Dona has tweeted that Mobile is having a priority bug fix session. So don't hold your breath. I'm sure people would moan and ***** if things aren't fixed. Oh, they already do?? Never noticed ;-)

How much data is needed to get this build??? I want to know if I should keep my remaining data for the mobile OS release

Those are some very good changes, being able to hide the app list is a very frequent complain. I also like the increased range for Active Hours but I think keeping it at 12 hours for Windows 10 Home is a very bad choice that barely makes any sense. It's deliberately hostile to home users. And what's the point anyway? Fortunately there is still plenty of time until Redstone 2 so I hope they actually backtrack on their decision to put Home users in pointless disadvantage.

NO MOBILE build this week. Dona just tweeted.

Mobile really needs an update...

Looking forward to the next build, current build is "not very good" too many bugs. Yeah, I know its not for a primary phone, but MS need to test it before we do. My be real bad to delay this release, not expecting too much.

Looking forward to the next build, current build is "not very good" too many bugs. Yeah, I know its not for a primary phone, but MS need to test it before we do. My be real bad to delay this release, not expecting too much.

Son slow I managed to post twice

Tried installing...goes through the process and then..."reverting to previous version..." and leaves me at 14936. Am I alone? Is there a fix?

The same thing happens to me. I've tried twice and stops at 81%.

I hope this doesn't happen to me cos I just downloaded it now... And will be installing it tomorrow.

Anyone else having a problem with both the Facebook and Messenger apps not displaying correctly after upgrading to 14942? Both are cutting off the bottom and right sides of the app in both full screen and window modes. I uninstalled/reinsatlled messenger, no change.

Yes, I have the same problem. Not only FB and Messenger but also Maps too.
​I have only one solution - the problem does not exists in the tablet mode (but only when you adjust the taskbar to disappear).

And one more: what a resolution do you have? I have 3200x1800. When I use 100% then no issue. The problem is when I choose 125%, 150%, 175% etc...

Too bad only for PC. Perhaps next week.

Get to 80% of the install and Hangs, 2 Machines, same problem. Any fixes?

I think there's something broken on build 14393.222 for PC coz I have moved all 3 of my pcs to fast ring and every time I do a search for 14942 I get an error message tried reinstalling all 3 PCs fresh installs and the min they get put on fast ring its a message some where along the line of " There where problems installing updates, but we,ll try again later, if you keep seeing this and want to search the web or contact support for information, this may help: (0x80240439). On all 3 pcs but only when I turn to fast ring.

I am just having trouble downloading from the windows store. Trying to install Gears of war 4 but as it is such a large download of 80GB i can't do it in one sitting. I finally got it to continue downloading but when it finished it just started downloading all over again. How do i get this to download once and recognise it as an installed app please?

Anyone have any issues installing this build? It gets to 80% and just stays there. This is on a Dell Inspiron.